Slow Cooker Shredded Chicken
12
Published Dec 30, 2019, Updated Sep 16, 2021
This slow cooker shredded chicken recipe is so easy and makes the best shredded chicken every time — only 4 ingredients needed!
I love having shredded chicken on hand for easy meal prep. It's a lean protein and is so dang versatile, I feel like it can be added to most meals! With that said, there are so many different ways to cook shredded chicken and I've tried just about every method, but using the slow cooker is hands-down my favorite method.
I first shared my slow cooker shredded chicken method in the post for my healthy curried chicken salad, but the instructions are kind of hidden in that post, so I figured I'd create this post as a resource so it's easy to find whenever you want to make shredded chicken. That said, once you make it for the first time you likely won't need to look at a recipe again — it's that easy.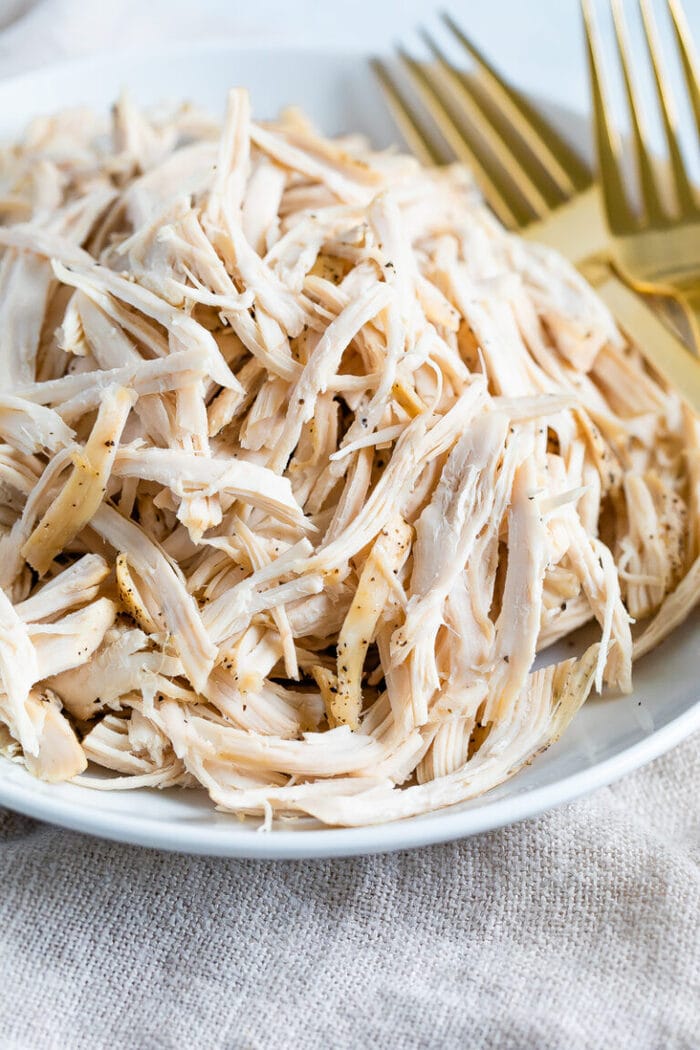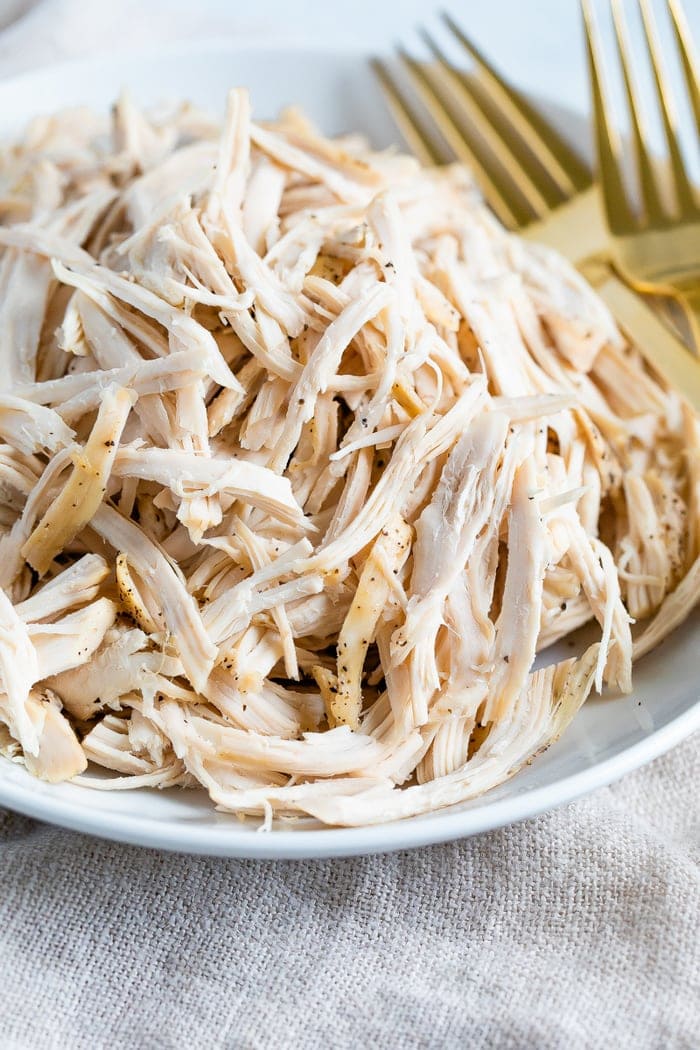 Slow Cooker Shredded Chicken
While this method takes longer than the rest, I still love shredded chicken made in the slow cooker. It cooks up perfectly every time. It's not too dry, not too wet… and it's easy to shred.
To make it, simply put your boneless skinless chicken breasts or boneless skinless chicken thighs in the slow cooker, season with any seasonings you want to add, cover and cook on low for 3-4 hours or on high for 2 hours. That's it! I know it's tempting to want to add liquid, like water or broth to the slow cooker with your chicken, but you don't need it — the chicken will release it's own juices and it won't dry out! I do like adding a little apple cider vinegar to help tenderize the meat, but it's optional.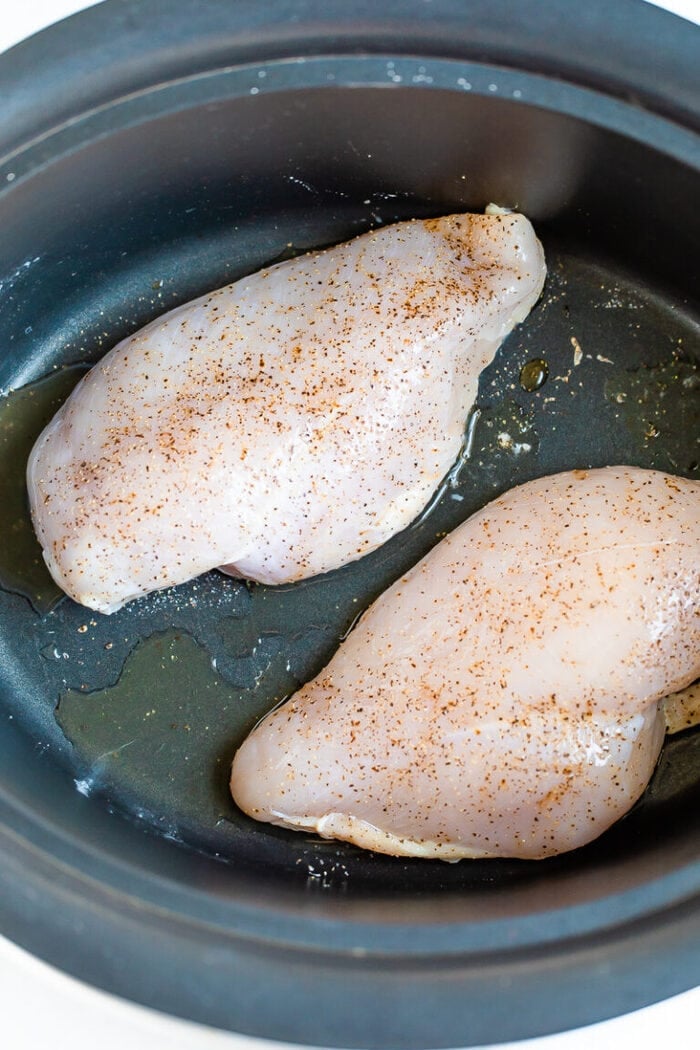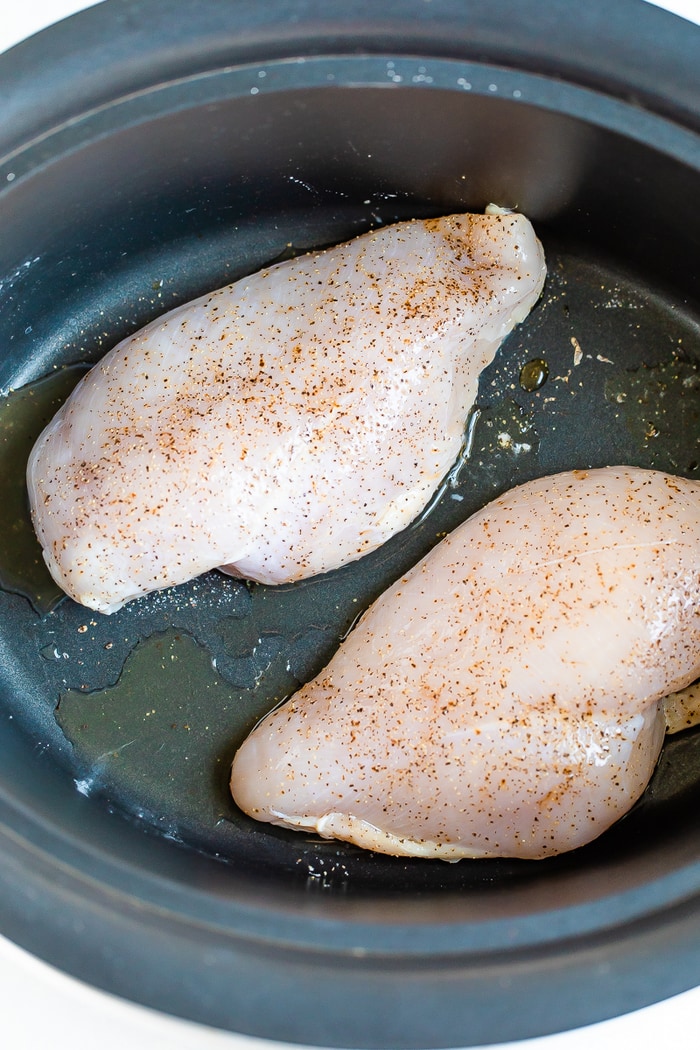 The Best Way to Shred Chicken
Once the chicken is cooked let it cool down a bit and then it's time to shred it. I recommend shredding the chicken while it's still warm because it's much easier than shredding cold meat.
With two forks – place cooked chicken on plate or shallow bowl and use two forks to pull apart pieces of the meat
With your hands – sometimes it's easier to use your hands to pull the pieces apart! Just be sure the chicken is cool enough to touch if you're using your hands.
With a mixer – just place the cooked chicken in a large mixing bowl and use a hand mixer on low to break the chicken into pieces. You can also use a stand mixer with the paddle attachment. This is a big time saver, especially if you're shredded a large quantity.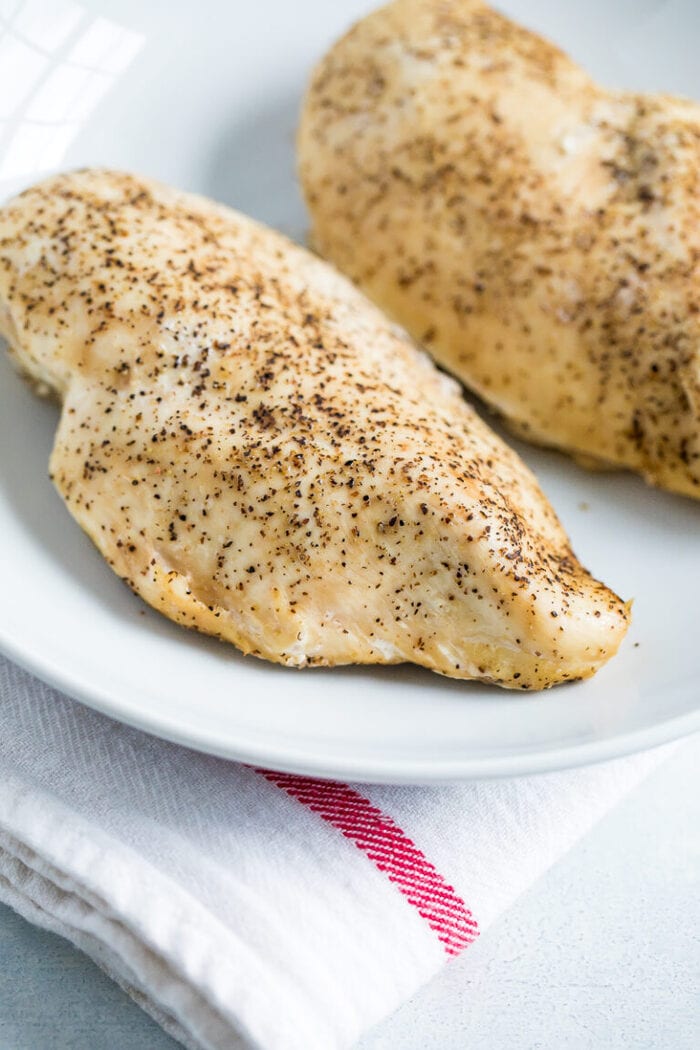 Other Ways to Cook Shredded Chicken:
Instant Pot
This method is new to me as I didn't get on the Instant Pot train until about a year ago, but it's awesome because it is SO FAST! Place four boneless, skinless chicken breasts in the Instant Pot and add 1 cup broth or water and any seasonings you'd like. Put the lid on, turn to seal, cook for 10-15 minutes, depending on the size of your chicken breasts. Once done cooking, quick release the pressure. Remove the chicken and shred with two forks or by hand. Shredded chicken in under 30 minutes? YUP!
Stove Top
Place chicken and any vegetables or seasoning in a sauce pan or pot. Cover the chicken completely with broth or water and bring to a boil. Reduce heat and simmer for 20 minutes or until chicken is cooked through. Remove the chicken and shred with two forks or by hand. This method is awesome because you can cook tender, shredded chicken without any kitchen appliances on the counter!
Oven
Place chicken in a baking dish and add any seasonings you'd like. Add a little bit of water to the bottom of the pan and cover with foil or an oven-safe lid. This makes sure your chicken doesn't come out super dry! Bake at 375ºF for 25-35 minutes, until the chicken is cooked through. Remove from the oven and shred away!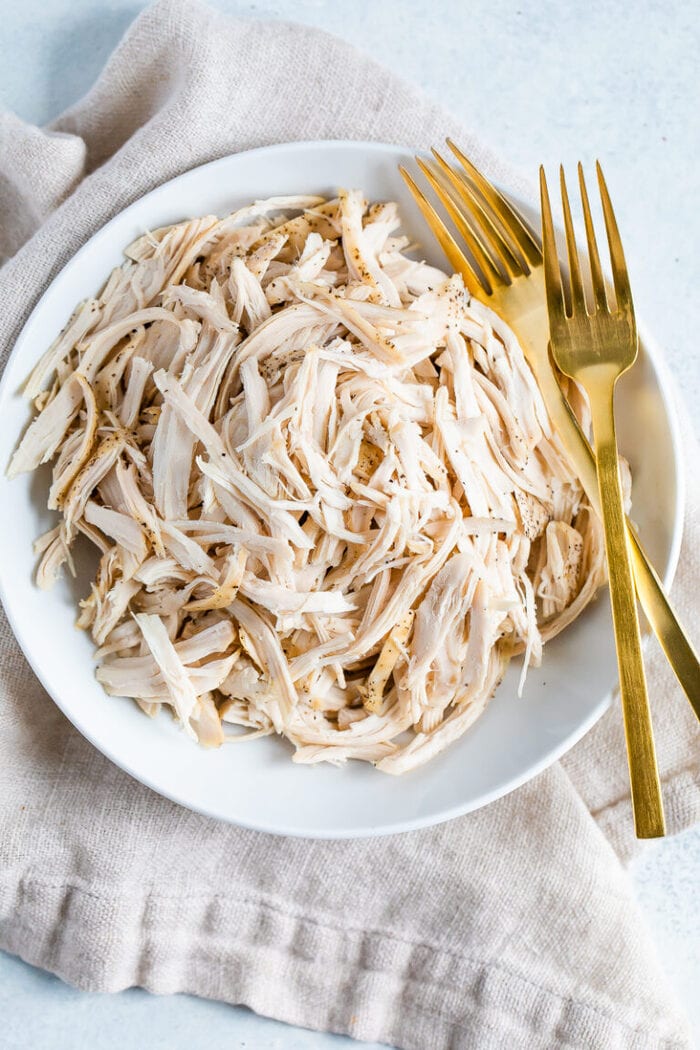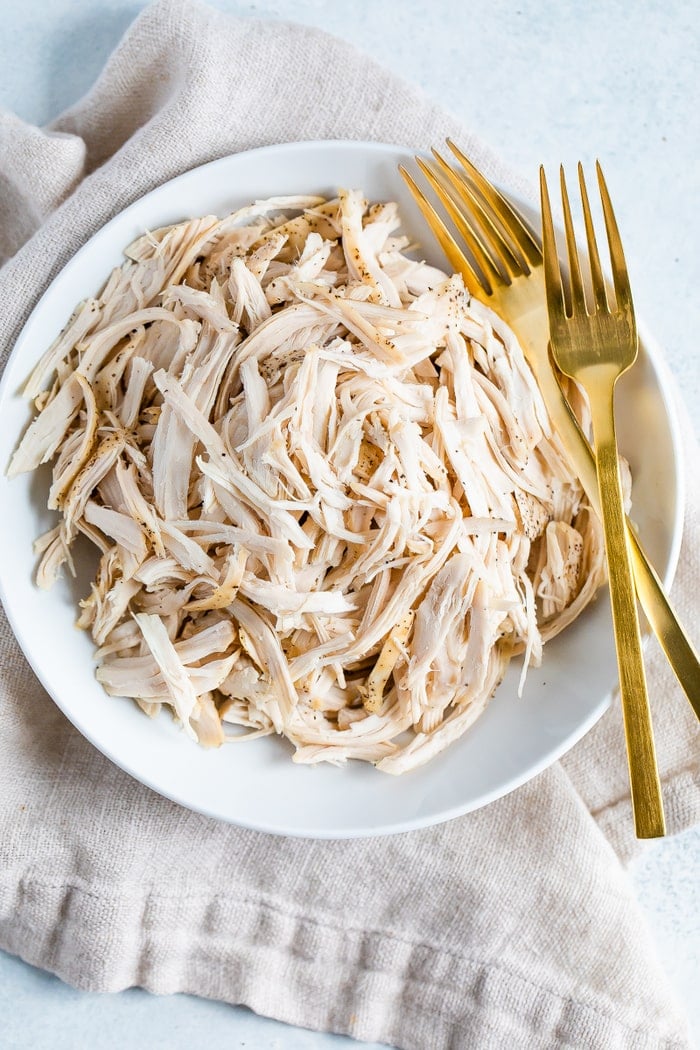 Ways to Use Shredded Chicken
Oh my! There are so many different ways to use shredded chicken in recipes including:
BBQ Chicken – Add BBQ sauce to your shredded chicken and enjoy on a sandwich or salad.
Mexican Shredded Chicken – Add taco seasoning and salsa to your shredded chicken and enjoy in tacos or as a taco salad.
Chicken Salad – I have a delicious curried chicken salad recipe, but a simple chicken salad with chopped celery, nuts, grapes/raisins and mayo is also delicious! Another option: almond butter chicken salad.
Stir Fry – Toss shredded chicken into a stir fry for a delicious, protein-rich meal.
Tacos or Fajitas – Tacos just got so much easier with pre-cooked chicken! Add your favorite taco toppings and call it a day. I love using it for my chicken enchiladas too!
Soup – Add shredded chicken to pretty much any soup for added protein and flavor. I love adding chicken to veggie and broth based soups!
Can You Freeze Shredded Chicken?
Yes! This is a great meal planning hack – shred your chicken ahead of time and freeze for the week (or weeks!) ahead. Pro tip: portion out your chicken rather than putting a whole bunch in one freezer container, that way you can just take out the container or ziplock and add the meat to your soup, skillet or sauce.
Healthy Recipes with Shredded Chicken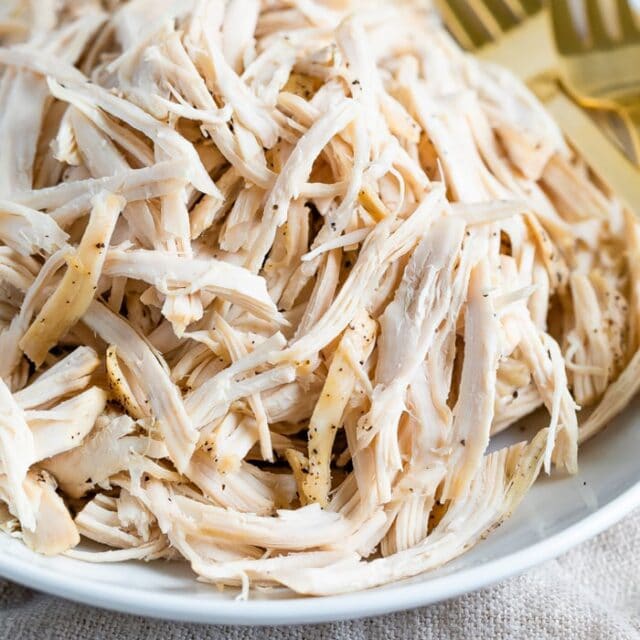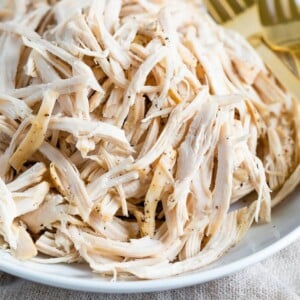 Slow Cooker Shredded Chicken
This slow cooker shredded chicken recipe is so easy and makes the best shredded chicken every time — only 4 ingredients needed!
Ingredients
1-2

lbs

boneless

skinless chicken breast

sea salt and ground pepper

1

Tablespoon

olive oil

optional

2

Tablespoons

apple cider vinegar

optional
Instructions
Place boneless skinless chicken breasts inside your slow cooker. Liberally sprinkle both sides of each breast with sea salt and ground pepper.

Add olive oil and apple cider vinegar to the slow cooker, if using.

Set your slow cooker to cook on low for 3-4 hours or high for 2 hours.

Test to make sure your chicken is cooked through. You can use a meat thermometer to be 100% sure (the meat needs to be 165°F internally). I usually just make sure all the meat is white, cooked through and pulls apart easily.

The last step is to transfer the cooked chicken to a plate and use 2 forks or a 

meat shredder

 to shred the chicken.
Nutrition
Serving:
1
/4 recipe
|
Calories:
250
kcal
|
Protein:
44
g
|
Fat:
9
g
|
Saturated Fat:
1
g
|
Monounsaturated Fat:
4
g
|
Cholesterol:
110
mg
|
Sodium:
928
mg
|
Potassium:
425
mg
Nutrition information is automatically calculated, so should only be used as an approximation.