This pistachio salmon salad has a Middle Eastern feel with baby spinach, quinoa, chickpeas, carrots, dates and spicy harissa dressing. It's a delicious meal-sized salad that will fill you up without weighing you down. 
I'm excited to be teaming up with Dole Fresh Vegetables as an ambassador again this year. They provided me with organic salad samples for the purpose of this post, as well as compensation for my time. As always, all opinions are my own.
I know I say this constantly, but I think I've found my new favorite salad! Perfectly baked salmon with a pistachio crust, sweet dates, crunchy carrots, chickpeas and quinoa all with a spicy harissa dressing… what more could you ask for?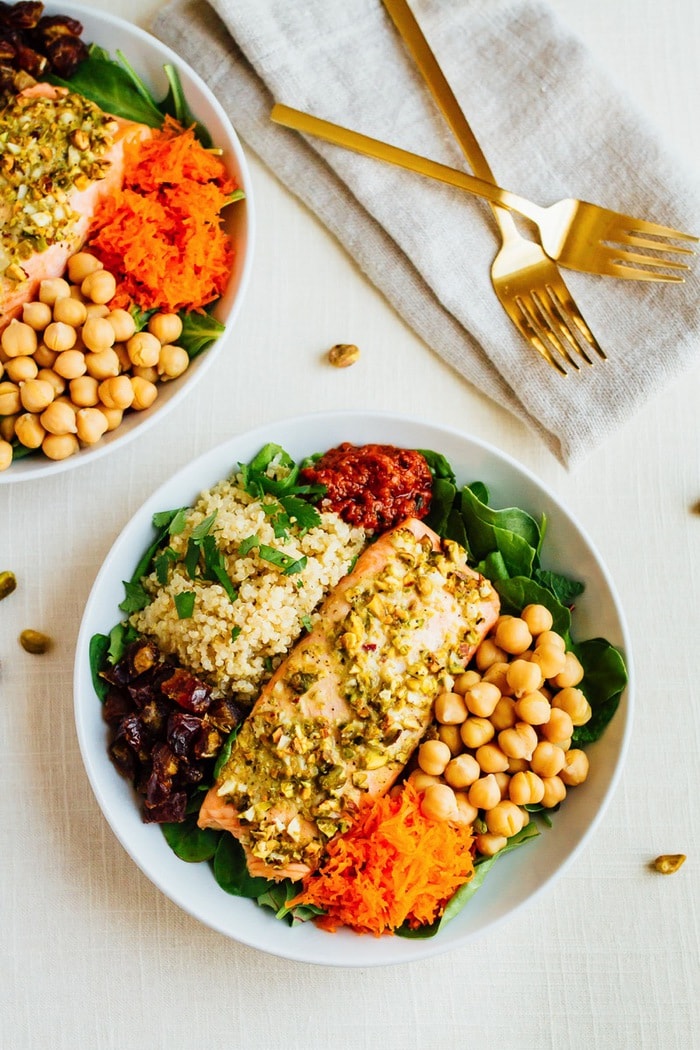 Seriously though, I feel like this salad is something you'd find on the menu at a nice restaurant. It's THAT good! The variety of flavors and textures, plus the fact that it's meal-sized and filling allows you to have it for dinner and feel 100% satisfied instead of deprived or hungry again in a couple hours.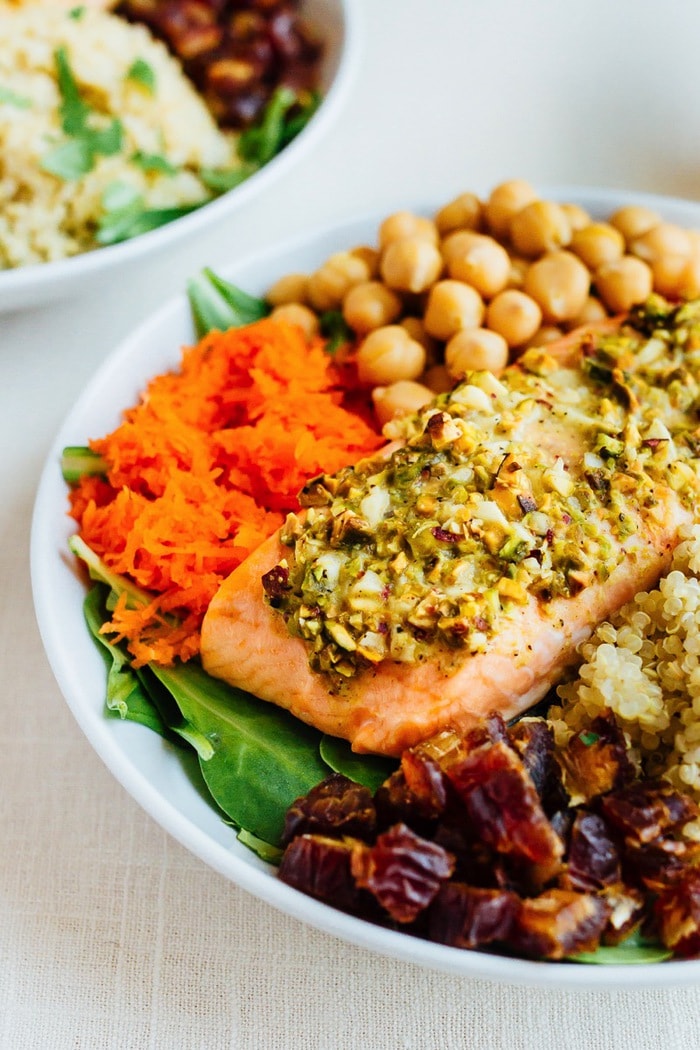 The combo of the pistachio crusted salmon with the dates, chickpeas and harissa dressing gives this salad a Mediterranean/Middle Eastern feel that I simply adore. Everything is so fresh with a nice balance of sweet, savory and spicy.
If you're unfamiliar with harissa, it's a spicy chile paste that's used in North African and Middle Eastern cooking. I am obsessed with the stuff and put it on everything… I even use it like a dip for carrots! It's really spicy but so good! We like the Cava brand, but Trader Joe's sells it as well. If you're having trouble finding it, check the ethnic section of your grocery store or your local Middle Eastern market. You could also get fancy and make homemade harissa.
If you don't like spicy things, I'd recommend skipping the harissa dressing and trying my zesty tahini dressing instead.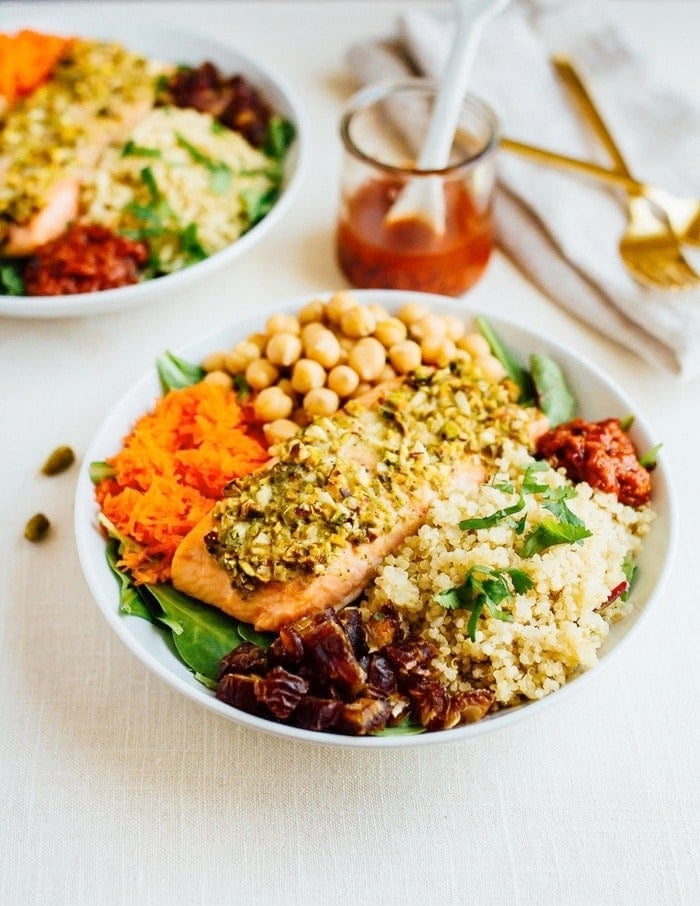 The base of the salad is a big pile of Dole® Organic Super Spinach. Because spinach is on the 2017 dirty dozen list I'm always looking for organic options and this variety is unique because it's a blend of organic baby kale, baby chard, mizuna and baby spinach. The mizuna has a mild peppery flavor which gives the blend a bold and zesty flavor that I love! Added bonus, the organic blends are sold at Kroger, which is where I do most of my shopping these days.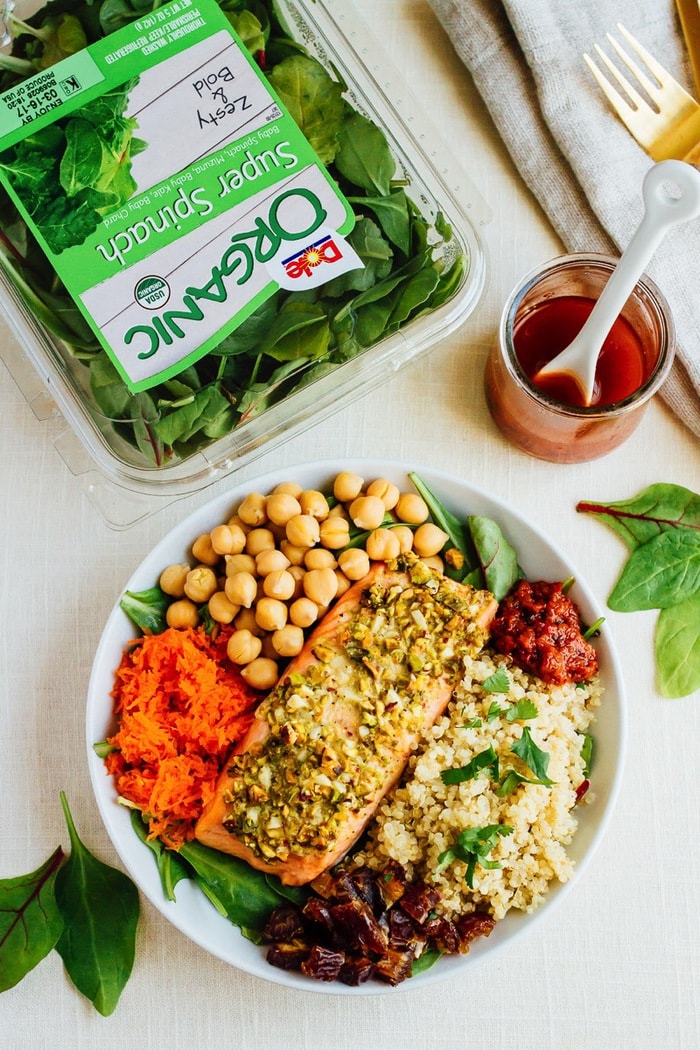 Everyone at team EBF has been loving this salad. I've made it a couple times and Maria has made it for her family twice already. We hope you love it as much as we do!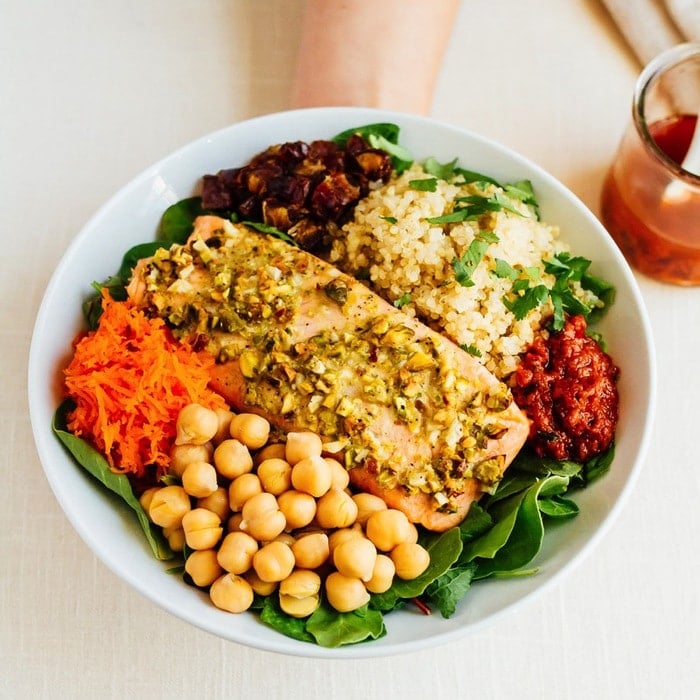 Print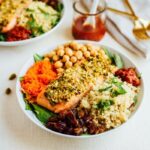 Pistachio Salmon Salad with Harissa Dressing
Author:

Prep Time:

15 mins

Cook Time:

15 mins

Total Time:

30 mins

Yield:

2
---
Ingredients
Pistachio Salmon
2 4-6 oz salmon filets
2 Tablespoons lemon juice
1 teaspoon dijon mustard
1 clove garlic, minced
1/4 teaspoon sea salt
1/4 teaspoon ground pepper
2 Tablespoons finely chopped salted pistachios
Salad
1 5 oz container of Dole Organic Super Spinach Salad Mix
1 cup cooked and cooled quinoa*
1/2 cup cooked chickpeas
1/2 cup shredded carrots
1/4 cup chopped dates
fresh chopped parsley, for serving
Spicy Harissa Dressing
1-2 Tablespoons prepared harissa paste
1 Tablespoon apple cider vinegar
1 Tablespoons water
1/2 Tablespoons maple syrup
1 teaspoon dijon
---
Instructions
Preheat oven to 375° F. Place salmon filets skin side down on a baking sheet lined with foil. Mix the lemon juice, mustard, garlic, salt and pepper together in small bowl. Spread mixture over both pieces of salmon and top each with 1 Tablespoon of chopped pistachios. Bake salmon in preheated oven until the salmon is cooked through, about 15-20 minutes.
While salmon is cooking, make dressing by whisking together all the ingredients in a small bowl. Also, prep two salads. Start with a base of spinach and add half of the quinoa, chickpeas, shredded carrots and dates to each salad bowl or plate.
When salmon is cooked, remove from the oven and place one filet on each salad. Top each salad with fresh parsley and serve with spicy harissa dressing on the side.
---
Notes
*Be sure to cook quinoa (according to package instructions) ahead of time. You'll want it to be cool or at room temp for the salad.
**Use the harissa dressing sparingly to make sure it's not too spicy. If you don't like spicy foods, try my zesty tahini dressing instead.
---
Nutrition
Serving Size:

1 salad bowl

Calories:

704

Sugar:

12g

Fat:

27g

Carbohydrates:

89g

Fiber:

18g

Protein:

39g