All the flavors of pad thai in salad form, this Kale and Cabbage Pad Thai Salad is my take on the Sweet and Spicy Kale Pad Thai from Whole Foods. 
Whenever we're shopping at Whole Foods I'm always tempted to grab something from the salad bar for my next meal. One day while in the general salad bar vicinity, I noticed an advertisement for something called "Value Meals" in the prepared foods section. The meals include one entrée and two side items from the prepared food case. There are usually three options featuring one entrée — vegetarian for $6, seafood for $8 and meat for $10. I quickly realized that going with the veggie entrée and two sides is significantly cheaper than stuffing my salad container to the brim and paying by weight. I guess that's the reason it's called a value meal!
Anyhow, by getting the value meal quite a few times I've been able to try almost all the Health Starts Here salads for my side items and I found one that I absolutely LOVE. It's the Sweet and Spicy Kale Pad Thai.  It has all the flavor of pad thai and an awesome crunch, but no noodles. After ordering the salad too many times to count, I decided I should probably make my own version at  home, which I've done with many of my favorite Whole Foods items including the Garlicky Kale and Crackling Cauliflower.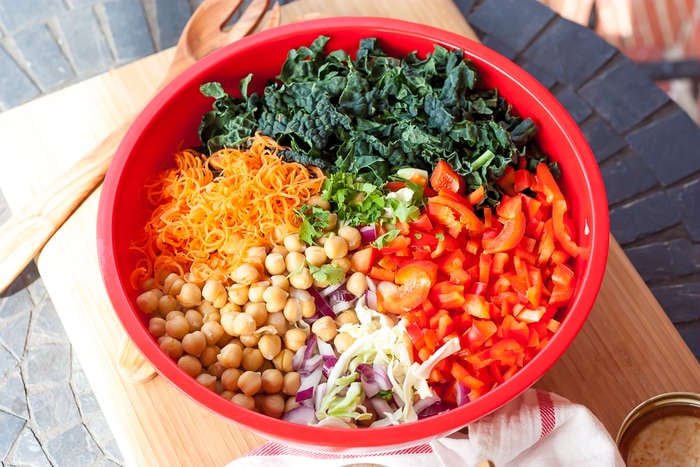 So here's my version of the kale pad thai salad. I haven't done a side by side taste test to see if the flavor is spot on but I do know that the homemade version is delicious.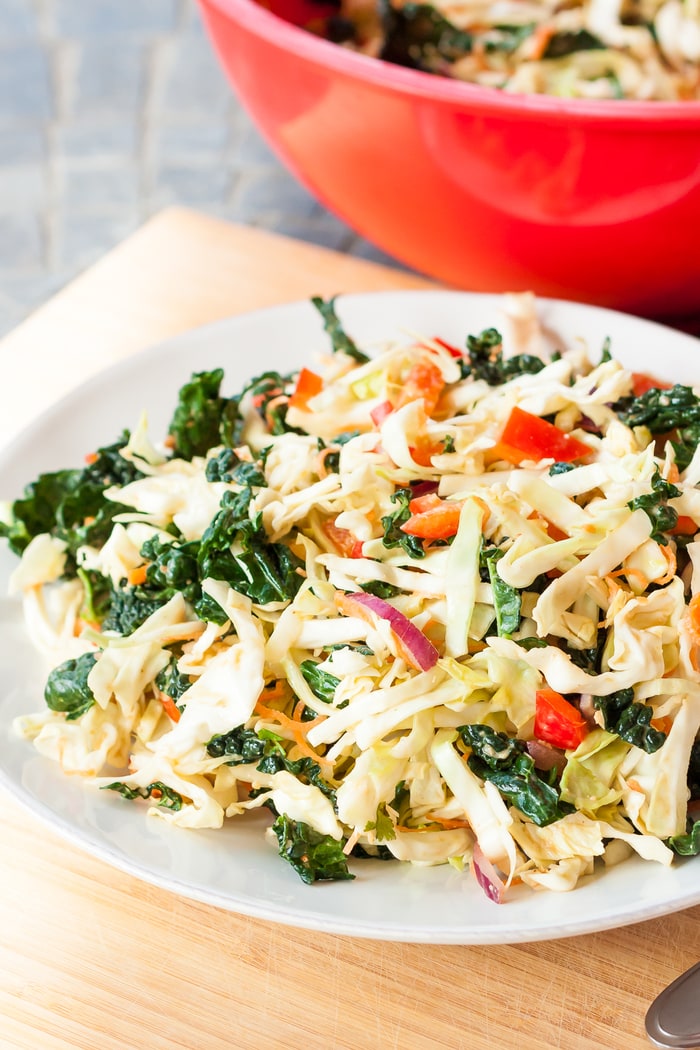 I also like how bright and colorful it is. Filling your plate with colorful foods is not only healthful, but it can also boost your mood! Win, win.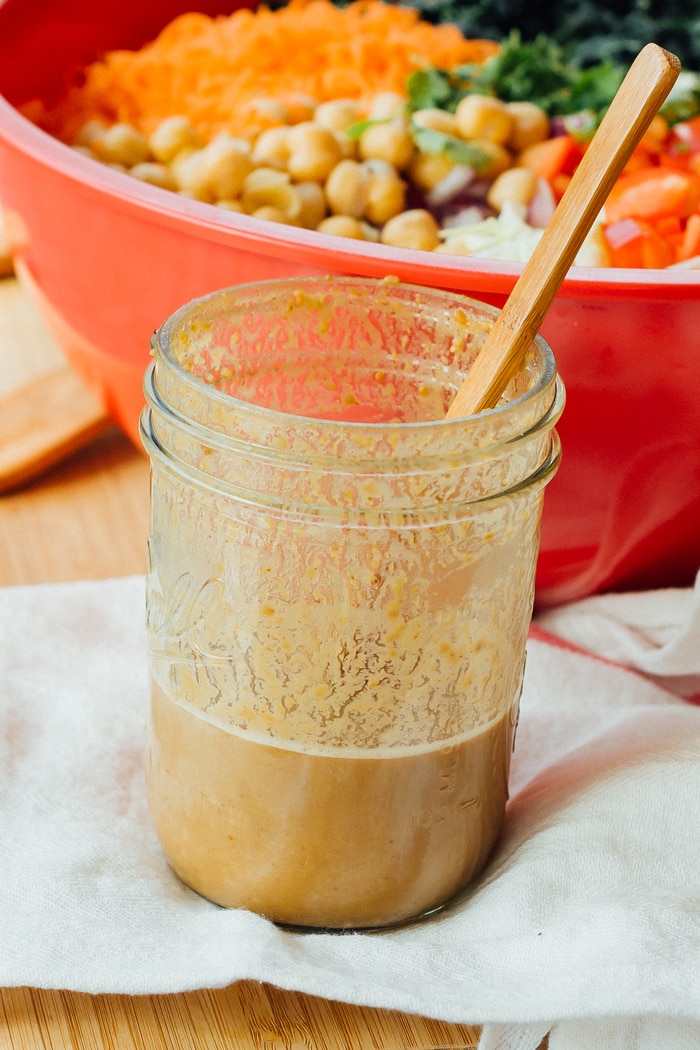 All of the veggies included in the salad are tasty on their own, but what really makes this salad is the dressing. It has all the flavors you'd expect from a Thai dressing but I used Bragg's liquid aminos in place of soy sauce and skipped the fish sauce, which is a usual suspect in Thai sauces.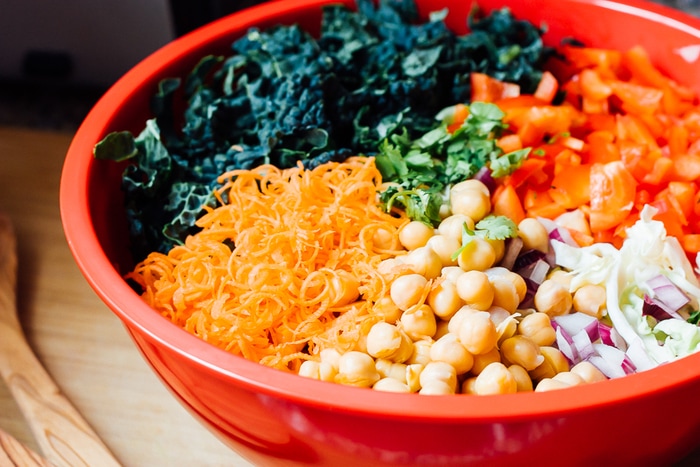 Yum! Isaac and I have been eating it as a side with lunch and dinner over the past couple days and absolutely love it.
Print
Kale & Cabbage Pad Thai Salad
Author:

Yield:

4
---
Ingredients
1/2 small head of green cabbage, thinly sliced
1 bunch of kale, thinly sliced
1 cup red onion, chopped
1 cup red bell pepper, thinly sliced
2 carrots, peeled and thinly sliced
1 Tablespoon fresh cilantro, chopped
1 (15 oz) can chickpeas, rinsed and drained
Light Pad Thai Dressing
1/4 cup peanut butter
juice of 2 limes (about 4 Tablespoons)
2 Tablespoons Bragg's Liquid Aminos (or low-sodium Tamari)
2 Tablespoons water
1/2 Tablespoon toasted sesame oil
1 Tablespoon maple syrup
1 teaspoon sriracha (or more depending on your tastes)
1 teaspoon fresh grated ginger
1 teaspoon garlic
---
Instructions
Combine all dressing ingredients into a jar and stir or shake until smooth. It might be hard to stir the peanut butter at first, which is why shaking might be your best bet.
Make sure all your veggies are chopped into bite-size pieces and toss into a large bowl to combine. Toss in chickpeas and top with dressing. Mix until all ingredients are well coated, serve and enjoy!
---
Notes
Light Pad Thai Dressing recipe adapted from Oh She Glows.
---
Nutrition
Calories:

313 |

Sugar:

12g |

Fat:

12g |

Carbohydrates:

42g |
I've received quite a few requests lately to start including nutritional information for my recipes so I decided to calculate the calories, fat, protein, carbs and sugar for this recipe. Let me know if this is helpful for you. In case anyone is curious, I use the recipe feature in myfitnesspal.com for the calculations.