The weather is cooling off here in Richmond and this weekend was absolutely gorgeous. Perfect for sipping beer and dining al fresco with friends… which is exactly what we did on Saturday night courtesy of Lauren and her hubby, Kyle. The duo hosted another fantastic vegetarian beer dinner at their home and it was a blast. (See my recap from last year here.)
The theme of the dinner was Farewell Summer, Hello Fall and each couple brought one dish and beer (or cider) to go with it. Here's the line-up for the evening.
Vegetarian Beer Dinner Menu
Small Plates:
Lauren & Kyle: Mini Pesto Pizzas with Victory Prima Pils
Liz & Alex: Spring Mix Salad with Avocado and Grapefruit and Crispin Honeycrisp Cider
Brittany & Isaac: Cracklin' Cauliflower and Isaac's home-brewed rye ale
Sydney & Andrew: Eggplant, Chickpea and Potato Curry and 3 Brothers The Great Outdoors
Ashley & Bob: Cauliflower Cous Cous and Lagunitas Little Sumpin' Wild
Desserts:
Shannon & Evan: Apple Pie and Left Hand Milk Stout Nitro
Alex & Brock (Isaac's brother): Destructed Apple Pie and Cider
The food and beer were amazing and the company even better. Having a potluck with a bunch of food bloggers is pretty much the best thing ever. 🙂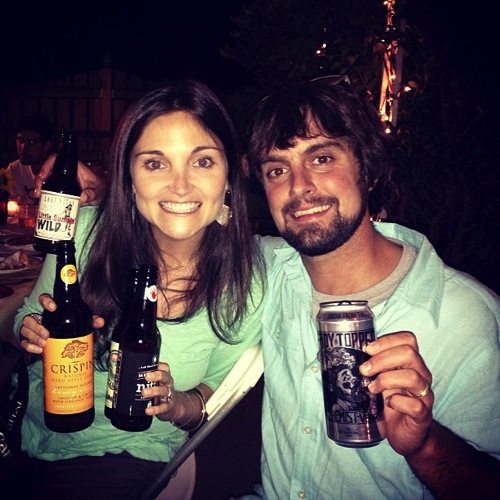 Two happy campers.
As I mentioned above, Isaac and I brought his home-brewed rye ale and my contribution was a double batch of Cracklin' Cauliflower.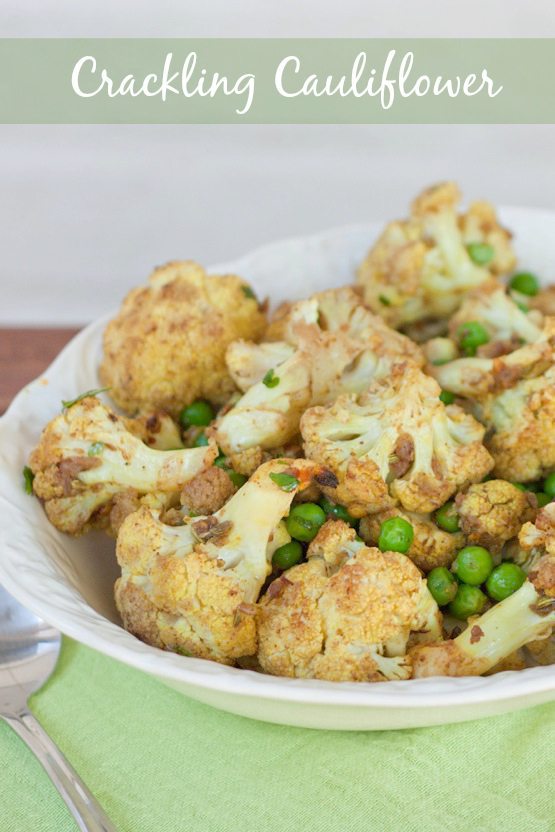 Cracklin' Cauliflower is my second favorite thing from the Whole Foods salad bar (Garlicky Kale is my first, in case you were wondering) and like most food related things I fall in love with, I recreated this dish at home so I could make it whenever my heart desires. Which is awesome because it's hit or miss when my Whole Foods will actually have this available on the bar.
So about the dish, the base is roasted cauliflower and it includes a number of fragrant spices including curry, garam masala, fennel seed, fresh ginger and garlic. Don't let the spices scare you though… I think I got my garam masala, fennel and curry from Penzey's Spices, but you should be able to find them all at most grocery stores. And other than measuring, throwing the spices into a bowl and roasting the cauliflower, this dish comes together rather quickly — unless of course you accidentally get the curry sauce on your white pants and have to do an emergency load of bleached whites in the process. Not that I would know about that or anything…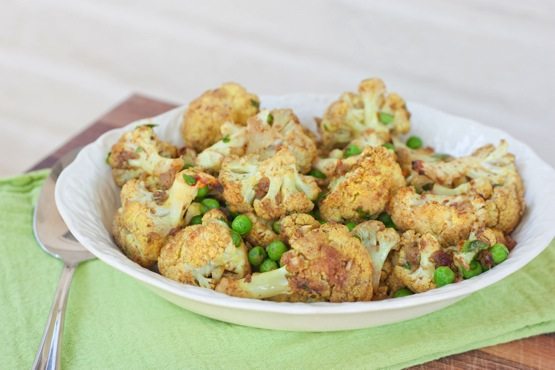 The texture of the roasted cauliflower is perfect (not too crunchy and not too soft) and it takes on the flavor of the curry sauce so well. You get a nice spiciness from the ginger and red pepper, which is balanced by a sweetness from the peas.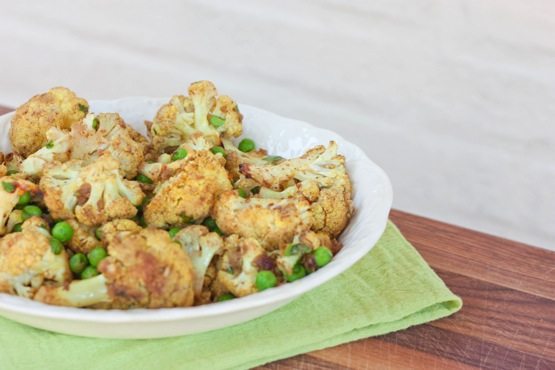 4-6
adjust servings
Ingredients
1

bunch cauliflower, chopped into florets

1/2

large red onion, diced

1/4

cup olive oil

1/2

tablespoon curry powder

1/2

tablespoon garam masala

1/2

tablespoon fennel seed

1/2

teaspoon crushed red chile flakes

1

teaspoon salt

2

cloves garlic, minced

1

tablespoon fresh ginger, grated

1

teaspoon ground pepper

1

cup frozen peas

1/4

cup cilantro, chopped
Instructions
Preheat oven to 400°
Take frozen peas out of the freezer and let thaw while preparing the cauliflower.
Combine oil and spices (curry powder through ground pepper) and toss with cauliflower and red onion until all pieces are well-coated. Place cauliflower in a baking dish and roast for 25 to 30 minutes, stirring about every 15 minutes for even cooking. The cauliflower should be crisp-tender and golden brown when done.
Place in a serving bowl, then stir in peas and cilantro. Let cool a bit and serve.
So now you know one of my favorite potluck friendly dishes. What's your go-to potluck dish?