This festive lentil loaf is packed with flavor and makes for a lovely vegetarian main-entree for a holiday meal. Vegan, gluten-free and loaded with fiber!
Thanksgiving is quickly approaching and I know many people are starting to plan their Thanksgiving dinner menu. With that in mind I think I'm just going to deem it Thanksgiving inspiration week here on EBF because I have quite a few holiday worthy recipes to share, including this vegetarian lentil loaf!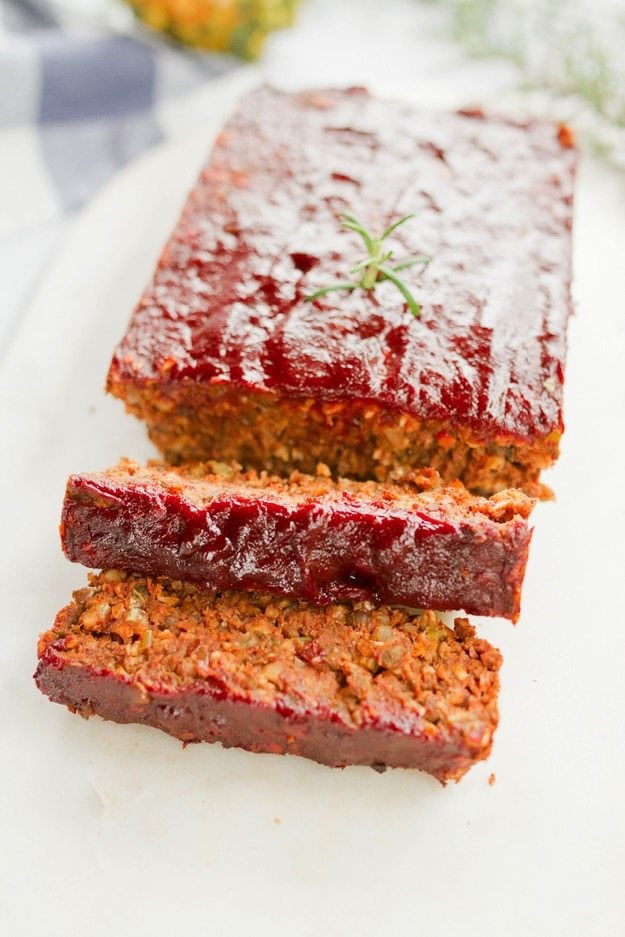 So this loaf — it's kind of like the meatloaf my mom used to make only it's made with lentils instead of meat, way more veggies and a homemade maple sweetened glaze rather than store-bought ketchup. It's amazingly flavorful and works beautifully as a vegetarian main-entree for a holiday meal. That said, don't be surprised if you find the meat-eaters in your life enjoying it as well. I had quite a few meat-lovin' guys as taste-testers and they all agreed that it was delish!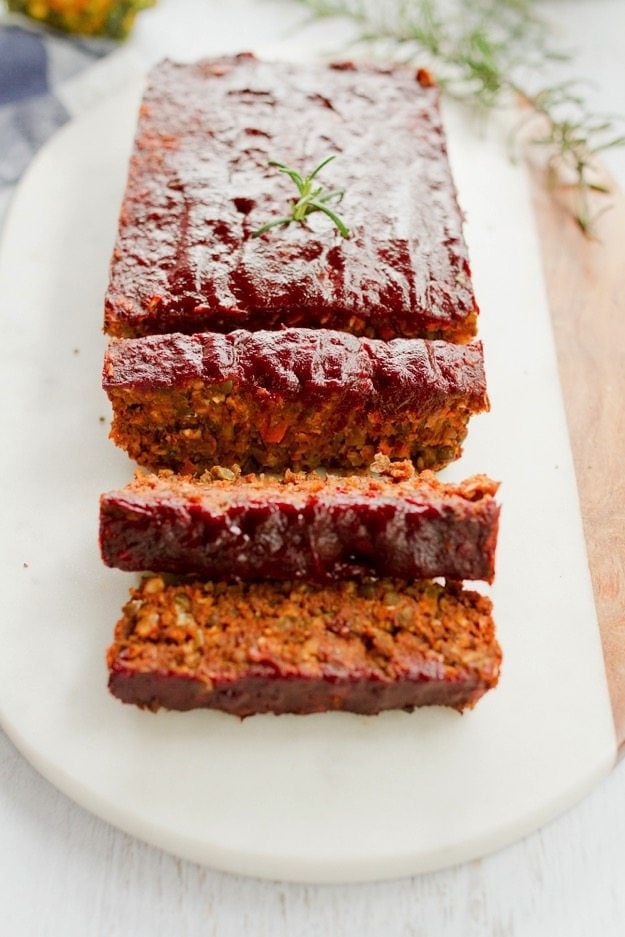 To make sure the loaf had plenty of flavor I pre-cooked the onion, garlic, carrot and celery and added a variety of spices to the mix. For texture I used chopped toasted walnuts and reserved about 1/2 cup of the lentils to stir in after pulsing the mixture in the food processor.
Ya'll know I'm all about crispy, crunchy textures so having a bit of texture is the loaf was important to me. Each bite of the loaf has a little bit of crunch rather than being a total mush-fest.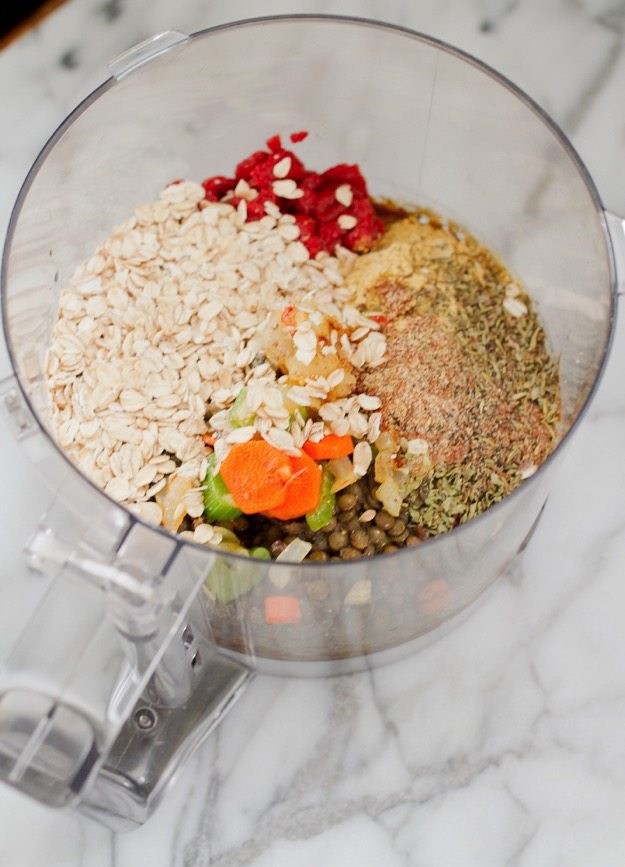 Like traditional meatloaf, I wanted my lentil loaf to have a sweet and savory tomato based glaze, but I also wanted something homemade and free of refined sugar. Maple syrup is one of my favorite natural sweeteners and I knew it's subtle sweetness would pair nicely with the flavors of the loaf so I started experimenting. It only took four ingredients before I found a combo that I really liked. It gives the loaf the perfect amount of sweetness and a bit of a nostalgic factor for those of us that were served traditional meatloaf as kids. Just remember to use 100% pure maple syrup, not the processed syrups for pancakes. Literally the first ingredient on those syrups is corn syrup or high fructose corn syrup… no thanks!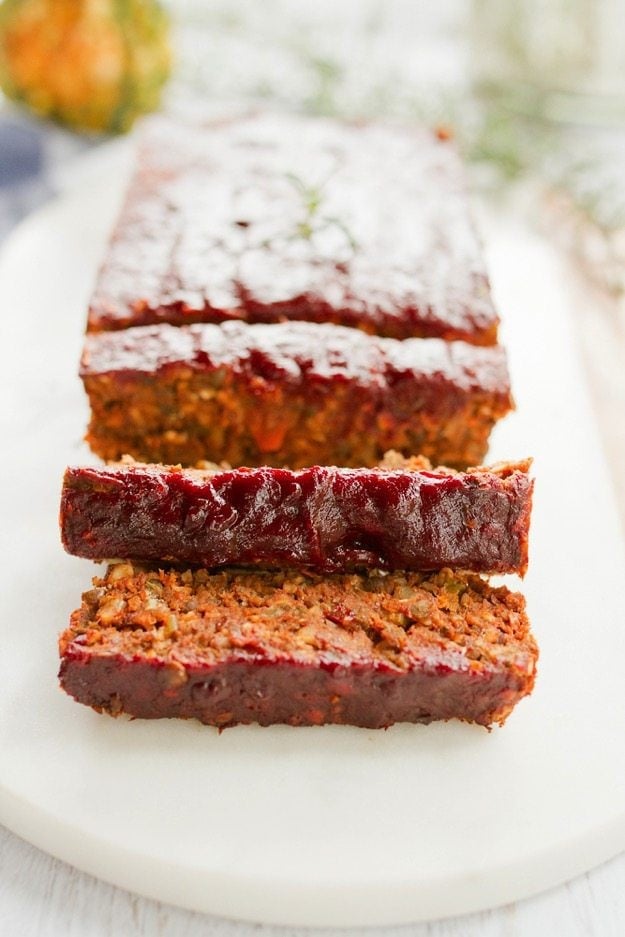 If you haven't tried a lentil loaf before and are a little apprehensive, just think of it as a big lentil burger shaped like a loaf of quick bread. That's essentially what it is. The nice thing about this particular loaf (besides the flavor) is that it holds together really well and doesn't crumble when you cut it for serving.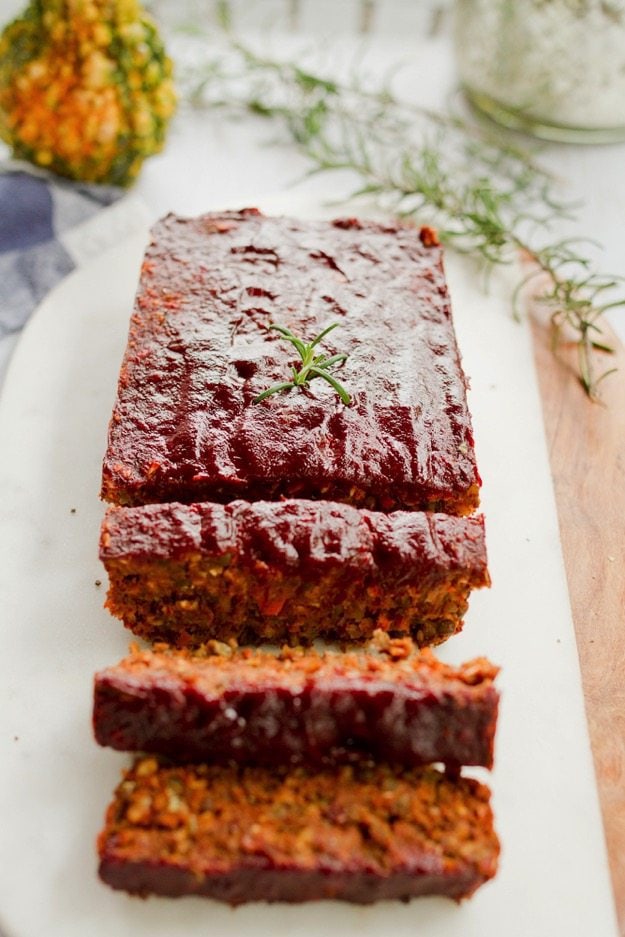 Print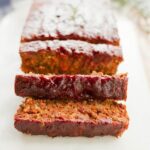 Lentil Loaf with a Maple Sweetened Glaze
Author:

Prep Time:

20 minutes

Cook Time:

35 minutes

Total Time:

55 minutes

Yield:

8

Category:

Lunch/Dinner

Method:

Bake

Cuisine:

American
---
Description
This festive lentil loaf is packed with flavor and makes for a lovely vegetarian main-entree for a holiday meal. Vegan, gluten-free and loaded with fiber!
---
Ingredients
1/2 cup dry brown (green) lentils
1 1/3 cup water
1 bay leaf
1 Tablespoon olive oil or avocado oil
1/2 large onion (about 1 heaping cup), chopped
3 cloves garlic, minced
1 stalk of celery, chopped
1 carrot, peeled and chopped
1/2 cup chopped walnuts
1 cup rolled oats*
3 Tablespoons tamari
3 Tablespoons tomato paste
2 Tablespoons ground flaxseed
2 Tablespoons nutritional yeast
2 teaspoons pure maple syrup
1 teaspoon apple cider vinegar
1/4 teaspoon dried thyme
1 teaspoon dried oregano
1 teaspoon dried basil
1/4 teaspoon cayenne pepper
1/4 teaspoon ground pepper
1/4 teaspoon sea salt
Maple Sweetened Glaze:
2 Tablespoons tomato paste
1 1/2 Tablespoons pure maple syrup
1 Tablespoon balsamic vinegar
pinch of sea salt
---
Instructions
Pre-heat oven to 375°F.
Prepare lentils by rinsing them and adding to a pot with water and a bay leaf. Bring the water to a boil, then reduce heat down and simmer covered until all the liquid is absorbed and lentils are tender (about 15-20 minutes). Remove from heat, discard the bay leaf and set the lentils aside to cool. This step can be done in advance.
In the meantime toast walnuts by spreading them onto a baking sheet and toasting in the oven for about 8-10 minutes. Remove from oven and let cool.
Heat oil over medium heat in a medium sauté pan and cook onions, garlic, carrots and celery until they've softened and become fragrant. About 5-10 minutes. Once cooked remove from stovetop to cool.
Add lentils (reserve ½ cup for later), cooked veggies, toasted walnuts, oats, tamari, tomato paste, ground flaxseed, nutritional yeast, maple syrup, apple cider vinegar, thyme, oregano, basil, cayenne pepper, ground pepper and sea salt to the food processor. Pulse until mixture is just combined and the texture is to your liking. You want the mixture to be combined enough to stick together, but you don't want it to be completely pulverized.
Stir in the reserved lentils and press mixture into parchment lined loaf pan. I used a 9″ x 5″ x 2½".
In a small bowl stir together glaze ingredients and spread the glaze over top of the loaf.
Bake covered with foil for 25 minutes. Uncover and bake for about 8 more minutes. Let the loaf rest 15 minutes before cutting and serving. Enjoy!
---
Notes
*In order to keep the loaf gluten-free I used certified gluten-free rolled oats. If being gluten-free isn't a need, regular oats will certainly work.
---
Nutrition
Serving Size:

1 slice

Calories:

306

Sugar:

6g

Fat:

8g

Carbohydrates:

44g

Fiber:

18g

Protein:

17g
Keywords: vegan lentil loaf, vegetarian lentil loaf, lentil loaf, best lentil loaf
If you decide to try the vegan lentil loaf, please let me know how it turned out in the comments or share a photo on social media. Just remember to tag me @eatingbirdfood so that I see it!
This post is part of a partnership with Pure Canada Maple. Maple syrup is one of my favorite natural sweeteners and as always, opinions are my own.