This lentil tuna salad combines beluga lentils with canned tuna, fresh veggies and a turmeric dressing. It's absolutely delicious and perfect for sharing at summer cookouts and parties. I received free samples and compensation by Genova in exchange for recipe development. All opinions are my own. 
You know the feeling when you make a recipe and realize it's pretty much amazing? It's one of those recipes you mark down as a favorite, bookmark it if it's in a cookbook or pin it if it's online. You're so excited about it that you want to share it with everyone you see, but instead you eat it all yourself in two days because it's so good and you can't resist.
Well, that's what happened to me recently. You would think this might happen with some amazing dessert, but for me it happened with this lentil tuna salad.
Of course it happened with salad for me…. the salad obsession continues.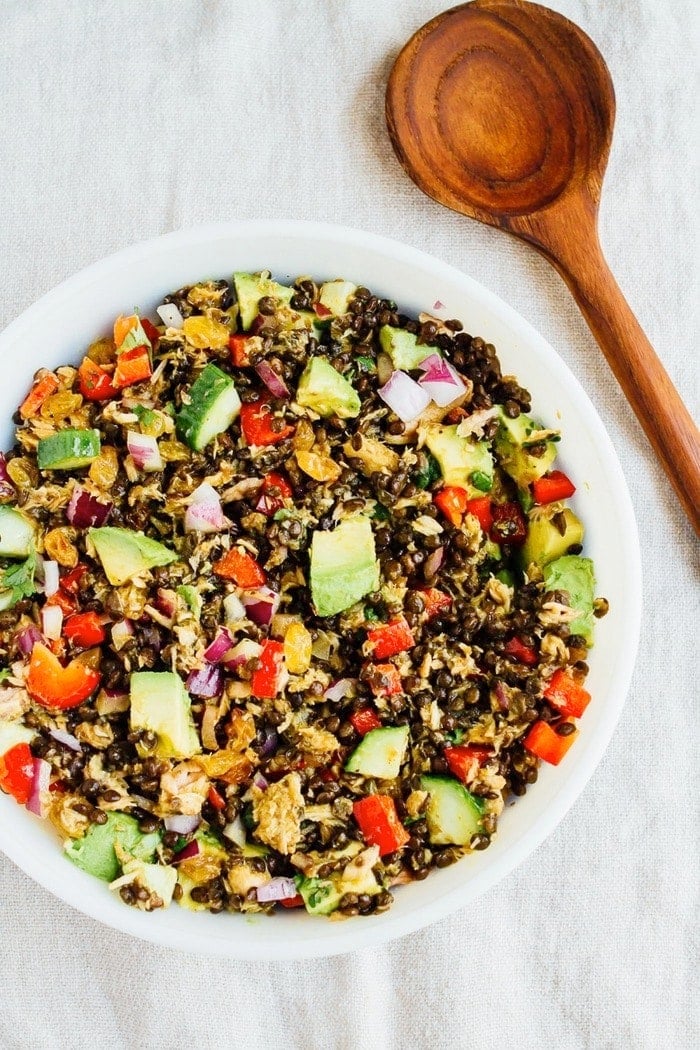 Anyhow, I'm super excited about this particular salad because it's loaded with tons of healthy ingredients, has a flavorful dressing and is the perfect dish to bring to a summer cookout or bbq.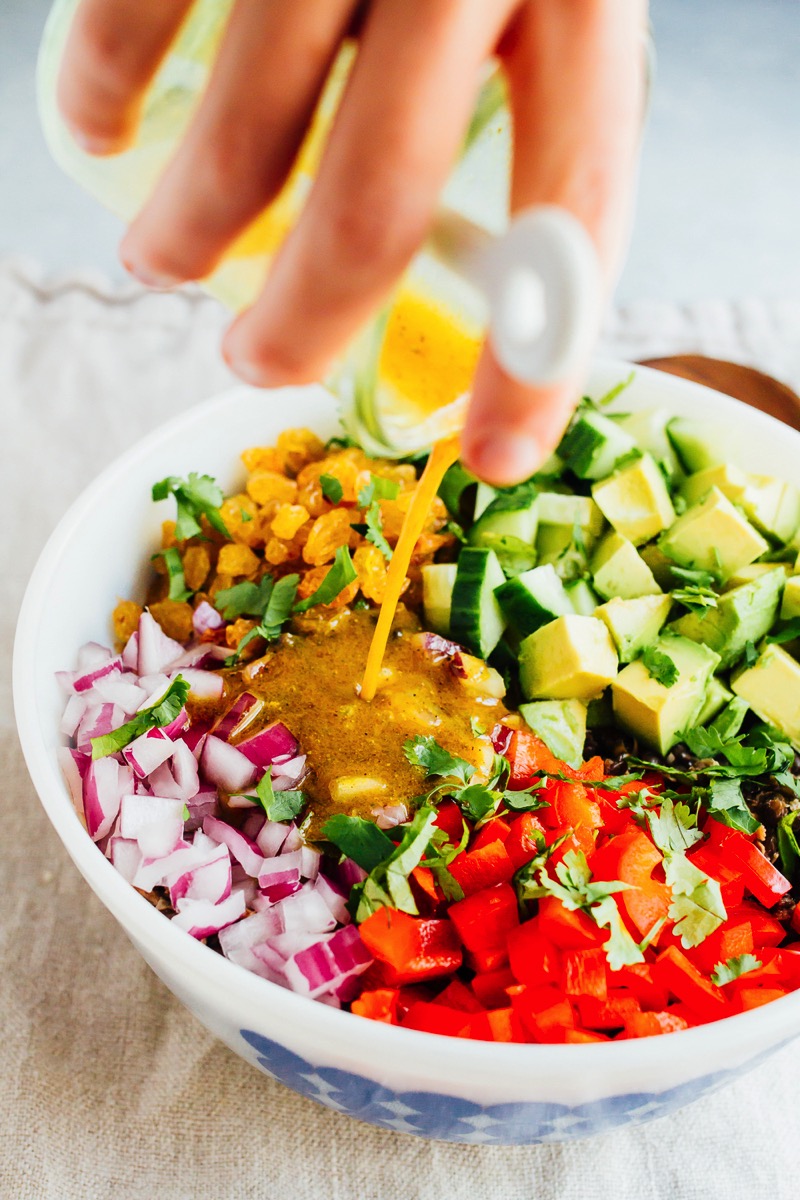 One of my best tips for eating healthfully at summer cookouts is to bring a healthy dish to share. That way you know there's at least one nutritious thing to enjoy and you get to introduce your friends and family to something healthy and delicious.
That said, most of your standard bbq side dishes are pretty heavy on the carbs and fat without a ton of protein, but this one has the full package of carbs, healthy fats and protein from the tuna and lentils.
You could literally eat this salad as a meal… served over a bed of greens or as a dip with crackers. Which btw, makes it a great Sunday meal-prep recipe as well. Once you have the salad made you can use it for lunches and snacks throughout the week!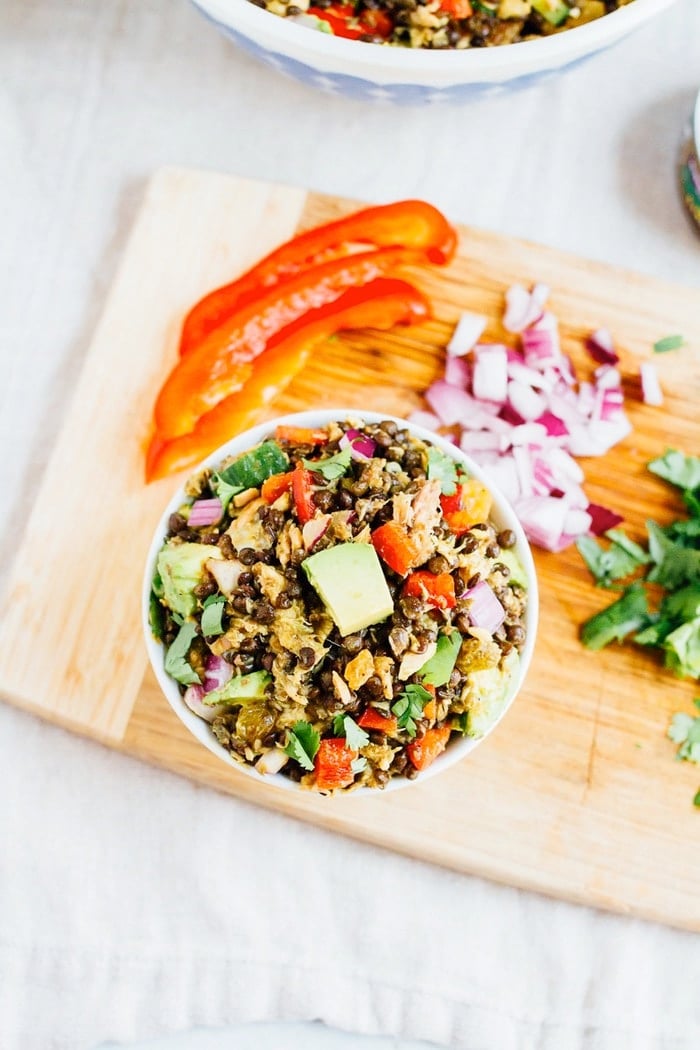 For the tuna I used Genova's albacore tuna packed in olive oil. It's wild-caught, delicious and comes in easy to open cans. No can opener needed! I talked more about Genova tuna in my Simple Lemon Tuna Salad post so be sure to check that out if you want more details.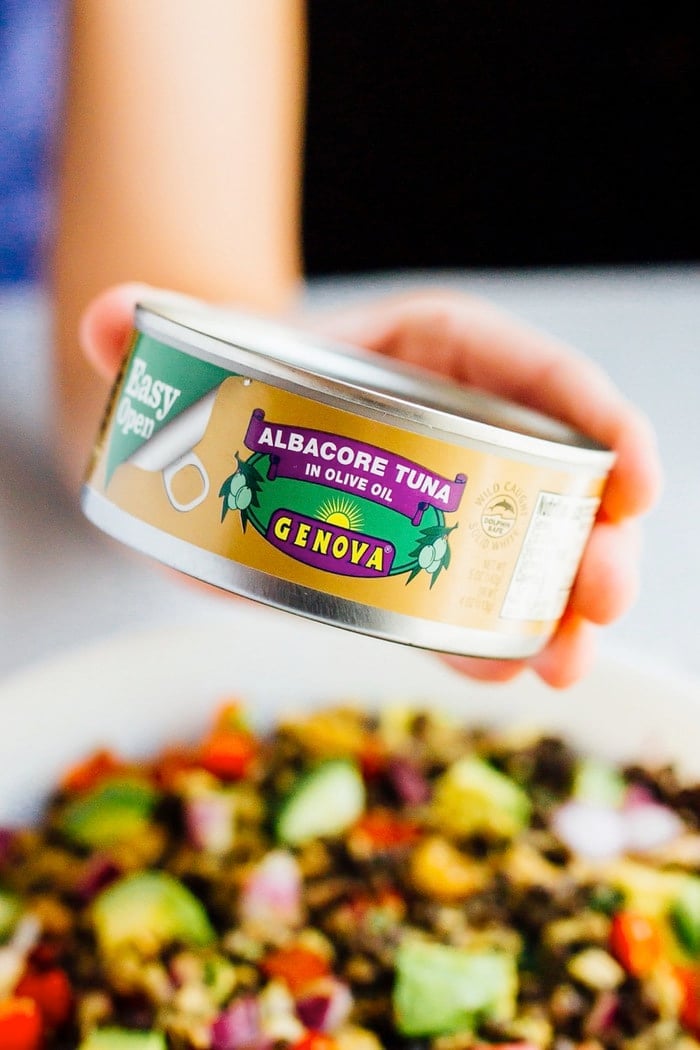 In general, the salad ingredients are pretty simple so what really makes this salad is the apple cider vinegar turmeric dressing. It has this sweet and spicy thing going on that works so well with the lentils, tuna and veggies.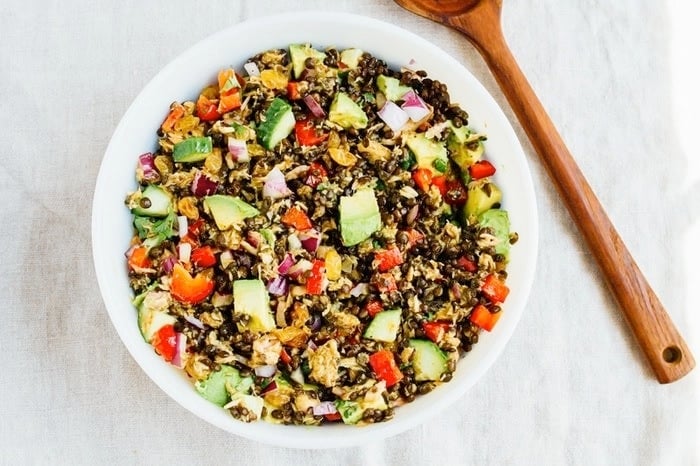 I also love the pop of sweetness from the golden raisins and the creaminess that the avocado adds.
Nutritional side note: beluga lentils (black lentils) are high in anthocyanins, the same antioxidants found in deep purple fruits like blueberries and plums which are being studied for their memory-boosting and cancer-fighting properties. I'm personally always happy when I find recipes that use lentils because you don't have to soak them (although you certainly can) and they cook up quickly, in about 20-25 minutes or so.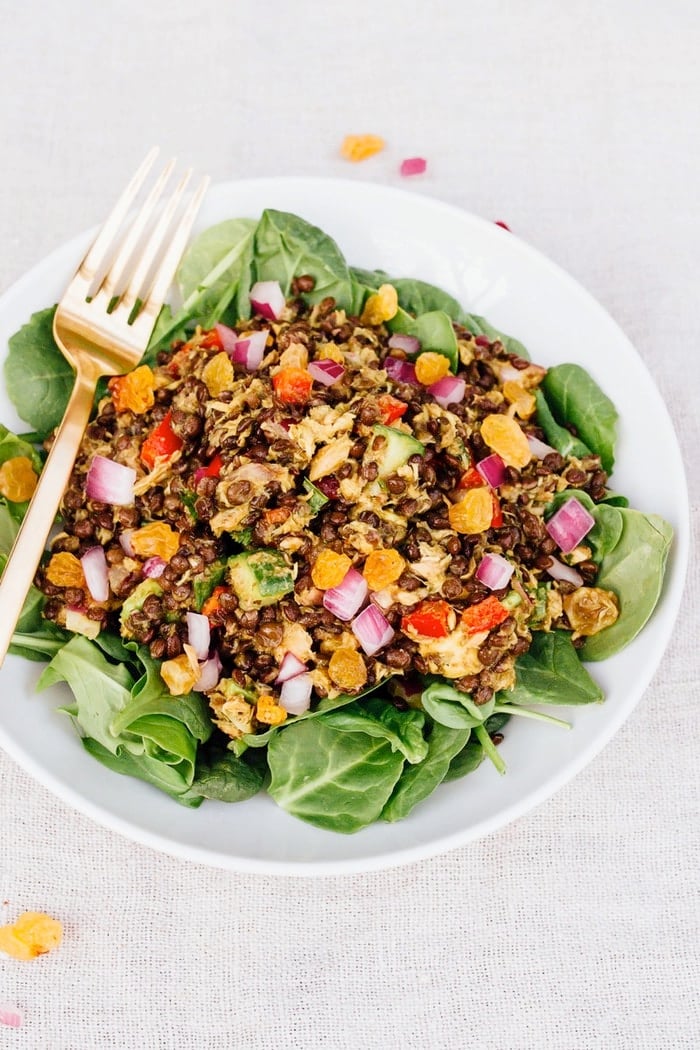 Ready to try this lentil tuna salad recipe yourself? Here you go!
Print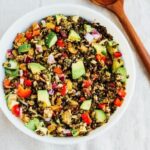 Lentil Tuna Salad
Author:

Prep Time:

20 mins

Cook Time:

25 mins

Total Time:

45 minutes

Yield:

14
---
Description
This lentil tuna salad combines beluga lentils with canned tuna, fresh veggies and a turmeric dressing. It's absolutely delicious and perfect for sharing at summer cookouts and parties.
---
Ingredients
1 1/2 cups black beluga lentils, sifted and rinsed
3 cups water
pinch of sea salt
2 Genova Albacore Tuna in Olive Oil in Easy-Open Can, drained
1/2 cup chopped red onion
1/2 cup chopped red bell pepper
1/2 cup chopped cucumber
1/4 cup golden raisins
1/4 cup chopped cilantro
1 avocado, chopped
Apple Cider Vinegar Turmeric Dressing:
1/4 cup apple cider vinegar
1 Tablespoon maple syrup
1 Tablespoon dijon mustard
1 teaspoon turmeric
1 teaspoon sea salt
1 teaspoon pepper
1/4 teaspoon cayenne
1/4 teaspoon cinnamon
dash of nutmeg
1/3 cup olive oil
---
Instructions
Cook lentils: Add lentils, 3 cups of water and a pinch of salt into a medium saucepan. Bring to a boil, reduce heat, partially cover and simmer until lentils are soft, about 25 minutes. Drain through a fine strainer and rinse quickly with cold water to cool. Drain again, set lentils aside and allow to cool. This step can be done ahead of time. Just cook your lentils, cool and store them in the fridge until you're ready to make the salad.
In a large bowl, add the cooled lentils, tuna, red onion, bell pepper, cucumber, raisins and cilantro into a large bowl and toss to combine.
In a small bowl or measuring cup, mix together apple cider vinegar, maple syrup, mustard, turmeric salt, pepper, cayenne, cinnamon and nutmeg. Whisk in olive oil and toss over the lentil tuna mixture. Refrigerate until ready to eat. Add the chopped avocado just before serving. Salad should last 2-3 days in the fridge.
---
---
Nutrition
Serving Size:

1/2 cup

Calories:

208kcal

Sugar:

3g

Sodium:

264mg

Fat:

10g

Saturated Fat:

1g

Trans Fat:

0g

Carbohydrates:

19g

Fiber:

4g

Protein:

13g

Cholesterol:

4mg