4-Ingredient Almond Flour Crackers
270
Published May 17, 2021, Updated Jun 12, 2023
Homemade almond flour crackers with 4 simple ingredients: almond flour, water, flaxseed and salt. They're low-carb, gluten-free and delish!
If you're on the hunt for delicious, low-carb crackers, you're in the right place. These crackers are rich, buttery and super easy to whip up with only four ingredients!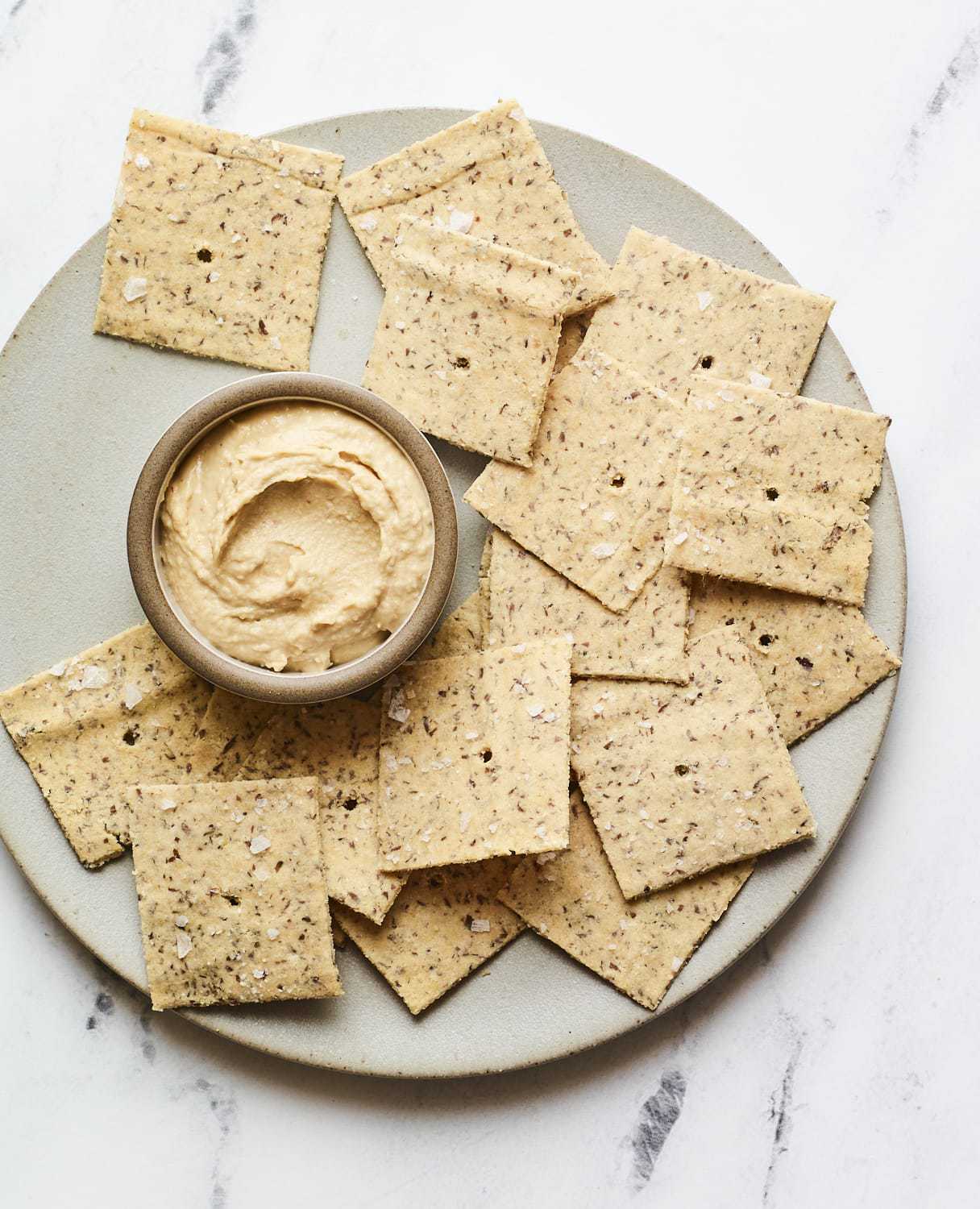 Aren't Homemade Crackers Hard to Make?
If you're unsure about making your own crackers, you're not alone! To be honest, it took me years to finally try my hand at it. I always thought they were difficult to make or took too long. It turns out that they're really easy and require no time at all to whip up!
Are Almond Flour Crackers Healthy?
One of the main reasons I like making my own crackers is that I know exactly what they're made out of. Most crackers you find at the store have a super long ingredient list full of fillers and preservatives. And they're usually made with processed white flour.
There is little nutritional value in most store-bought crackers, but these almond flour crackers are different. They have no added sugar and they're loaded with fiber, protein and healthy fats thanks to the almond flour.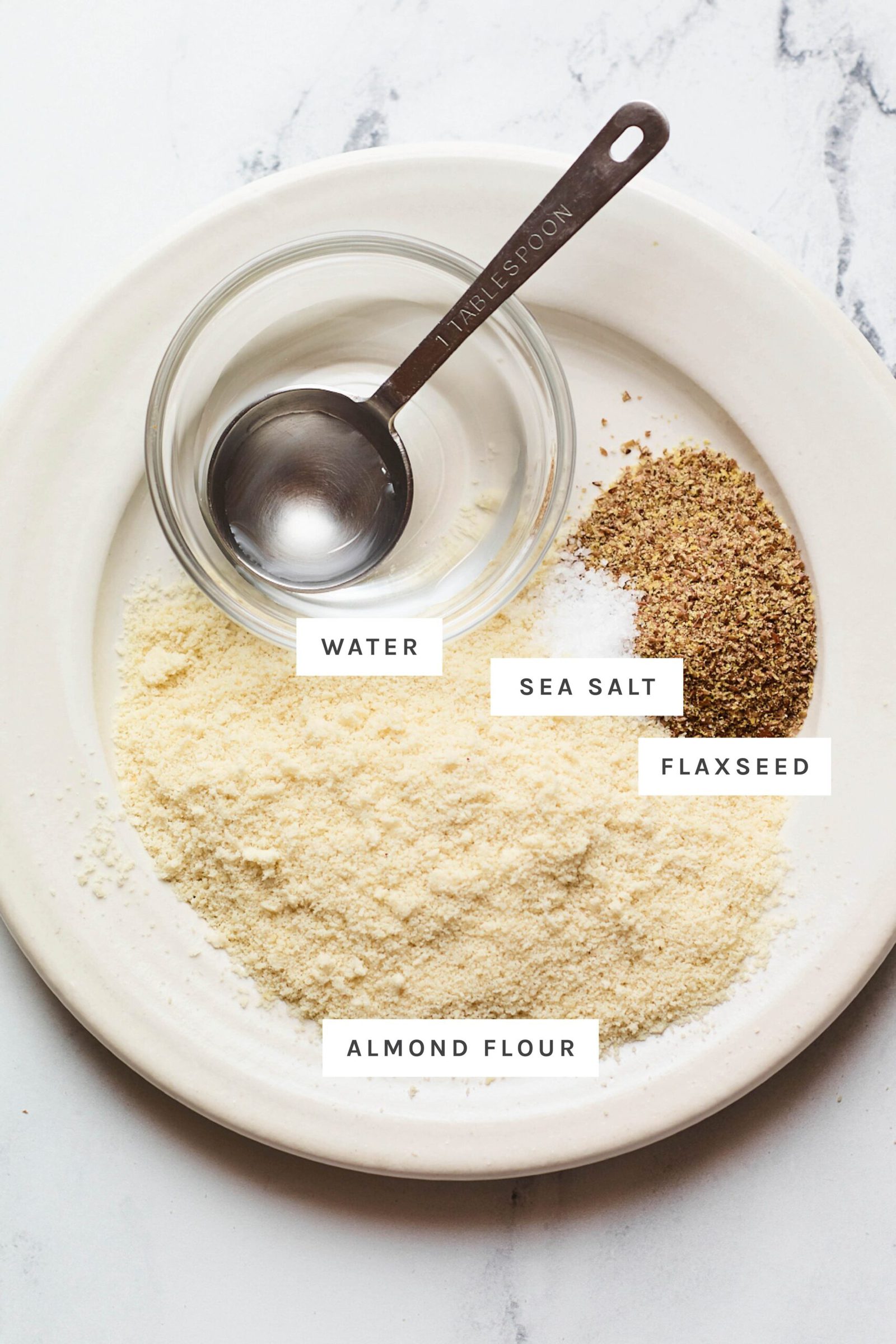 What You Need to Make The Crackers
Here are the simple ingredients you need to make these almond flour crackers: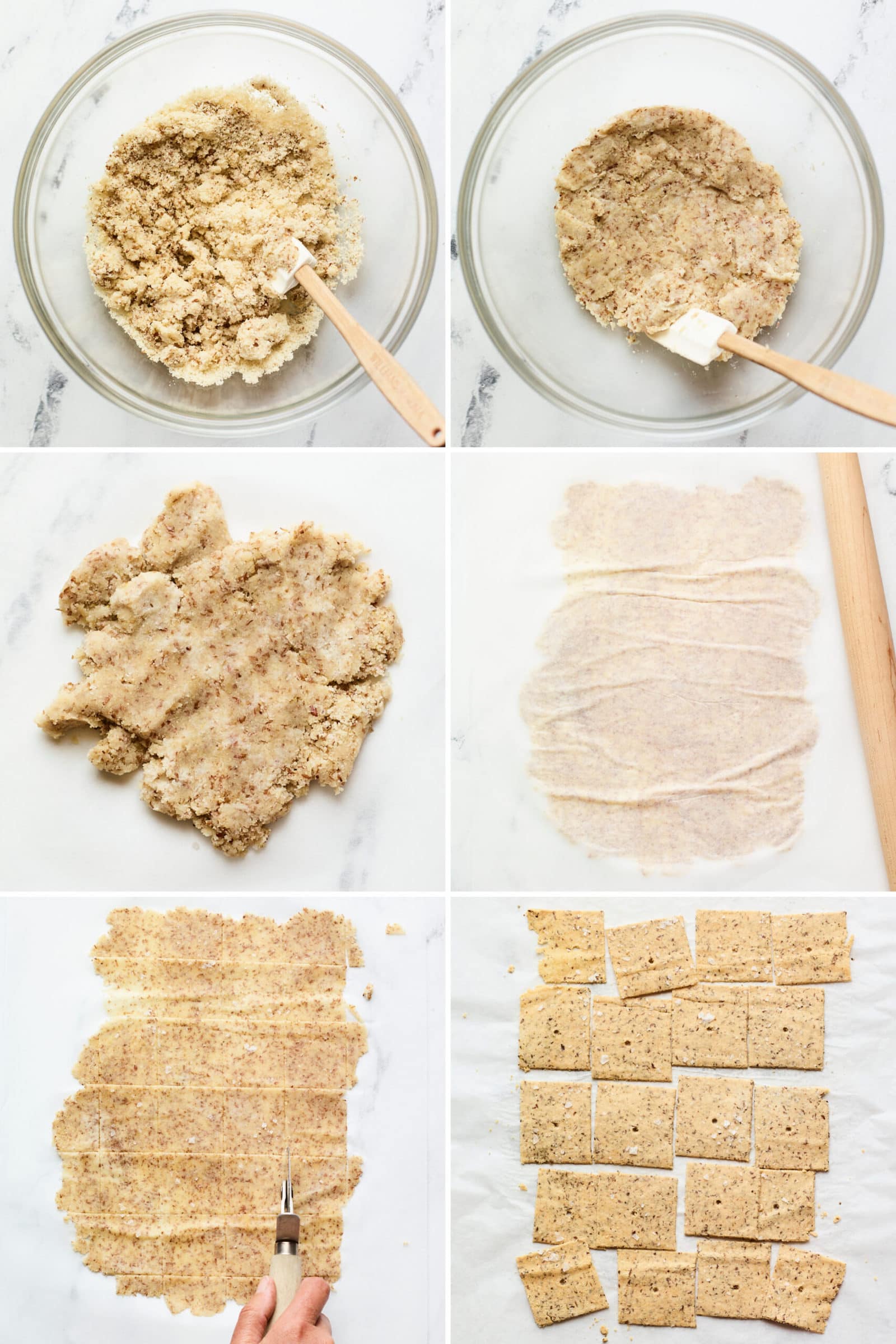 Optional Mix-ins
I kept the recipe simple with sea salt and no additional spices or herbs, but you can add any seasonings you'd like. Here are some ideas: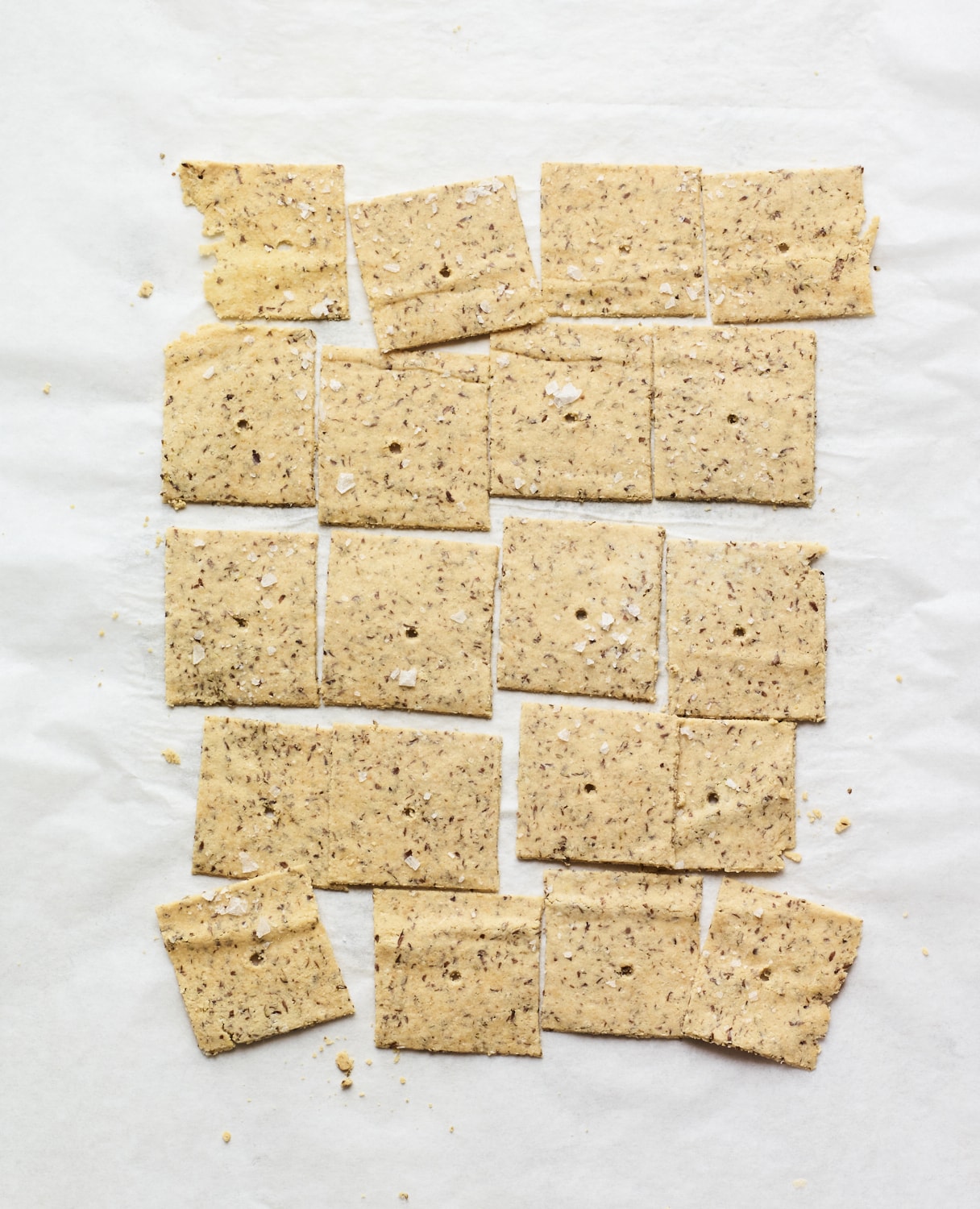 How to Serve Homemade Crackers
If you're like my husband, you judge crackers based on their ability to hold hummus. Lucky for him (and you!) these almond flour crackers are extra sturdy and perfect for holding copious amounts of hummus… or cheese… or whatever topping you like!
Here are some of our favorite ways to eat them:
How to Store Homemade Crackers
These almond flour crackers store super well! Allow them to cool completely before storing. You can keep them in an airtight container or a bag and keep them on the counter or in your pantry for 4-5 days.
If you need to store for longer, you can freeze these crackers for up to 1 month.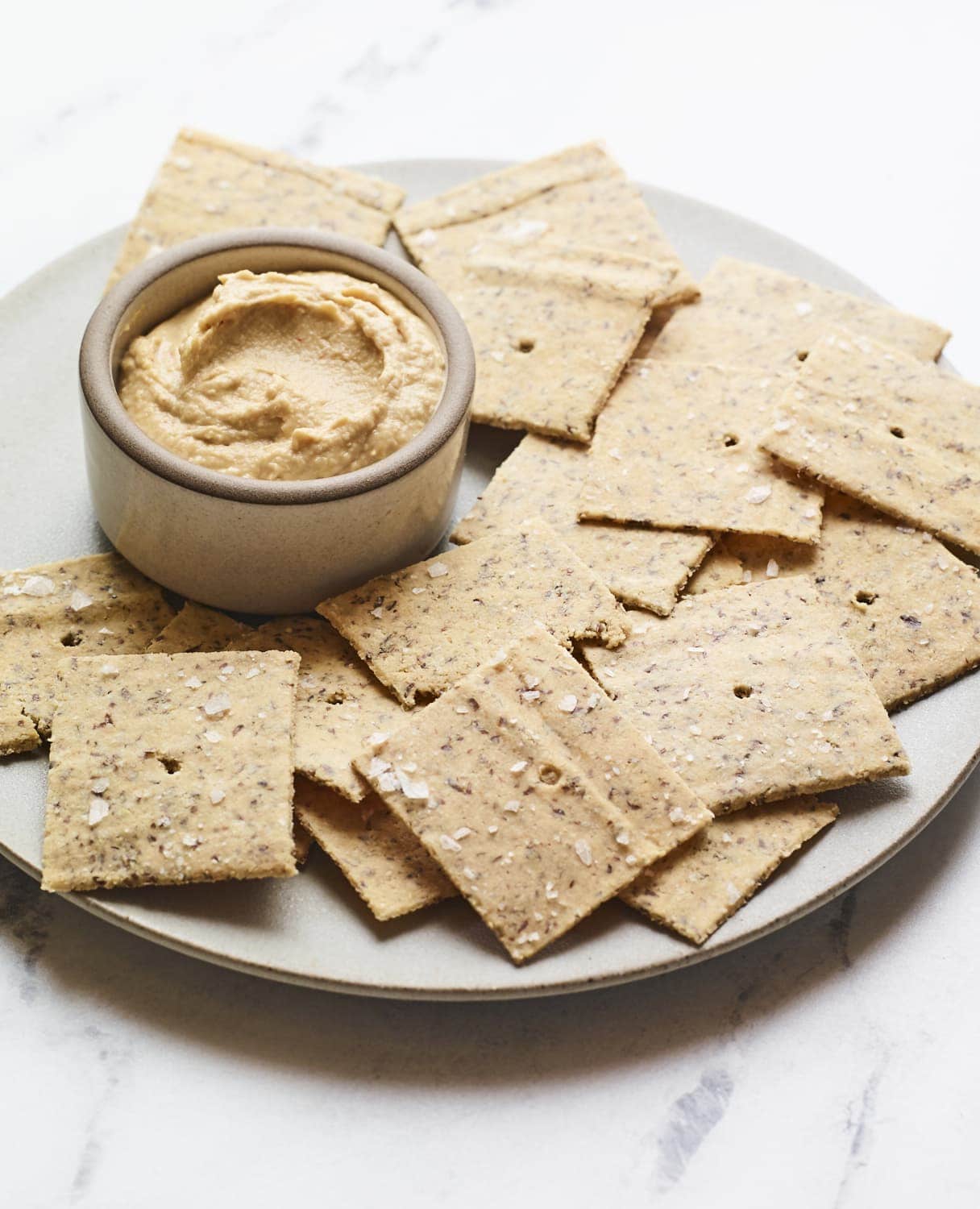 More Savory Snack Recipes to Try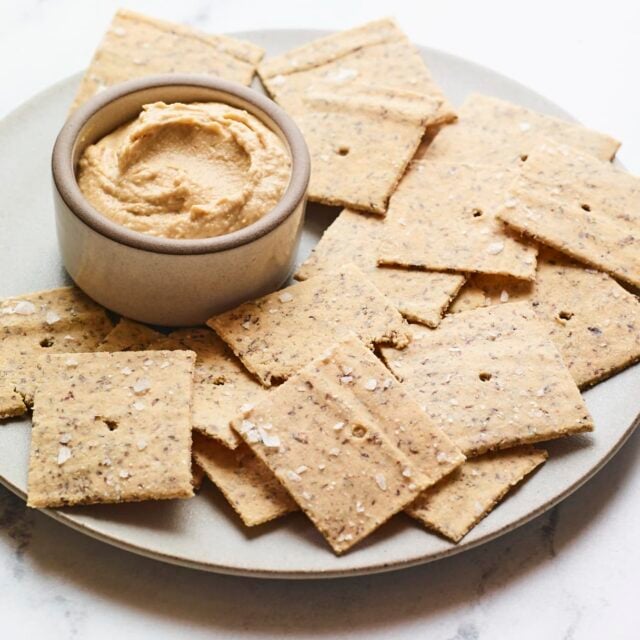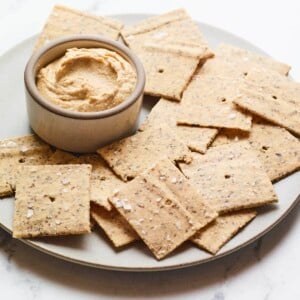 Almond Flour Crackers
Homemade almond flour crackers with 4 simple ingredients: almond flour, water, ground flaxseed and sea salt. Rich, buttery, crunchy, gluten-free, vegan and perfect for dipping into hummus!
Instructions
Add almond flour, water, ground flaxseed, and sea salt into a medium sized bowl and stir together until the mixture turns into dough.

Place the dough on a piece of parchment paper and cover with a second piece of parchment.

Pat it out with your hands and then use a rolling pin to roll out the dough. You'll want the dough to get pretty thin — about an 1/8 of inch thick. Try to keep form the dough into a rectangular shape, but it's okay if it's not perfect.

Once the dough is rolled out, remove the top sheet of paper and sprinkle a bit of flaked sea salt over the dough. Use your hands to press the salt down to help it stick. This step is optional, but the flaked sea salt makes the crackers really pretty.

With the top sheet of parchment removed, use a pizza wheel or knife to cut the dough into small squares. I made mine about 1/2 -1 inch. If you want to get fancy you can use a tooth pick to create a little hole in the center of each cracker.

Carefully transfer crackers (still on parchment paper) to a baking sheet and bake the crackers for 20-25 minutes or until the crackers turn golden brown and crispy. The pieces on the outer edges will get brown faster than the center pieces. You can transfer those that are golden to a cooling rack and put the pan back in the oven to bake the remaining crackers.

Let the crackers cool completely, either on the baking sheet or on a cooling rack. Enjoy immediately after cooling.

Place any leftover crackers in an airtight container or bag. Crackers will keep on the counter or in the pantry for about 4-5 days.
Nutrition
Serving:
10
crackers
|
Calories:
155
kcal
|
Carbohydrates:
6
g
|
Protein:
6
g
|
Fat:
11
g
|
Sodium:
266
mg
|
Fiber:
3
g
|
Sugar:
1
g
Nutrition information is automatically calculated, so should only be used as an approximation.