I tempted you with my no mayo tuna salad earlier this week on Instagram and I know many of you are interested in seeing the full recipe sooo… happy Friday to you, the recipe is here!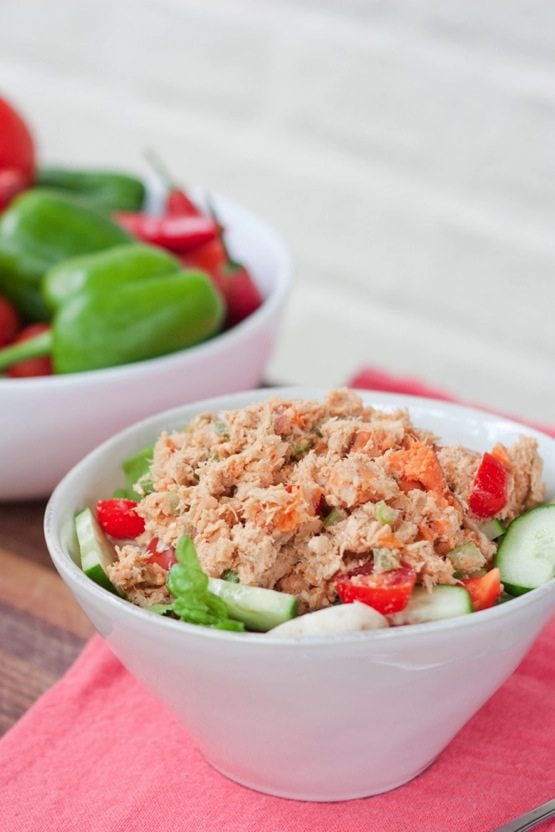 There isn't anything too crazy about this little recipe, but there is a special ingredient involved = baked sweet potato chunks.
Most weeks I bake 1 or 2 sweet potatoes in the oven and once they're cool I store them in the fridge for meals throughout the week. (Here are my tips on how to perfectly bake (or microwave) a sweet potato for salads.) They're a great whole-food source of carbs and I like to put them on or in just about anything (especially salads), which is why I decided to add some to my tuna salad.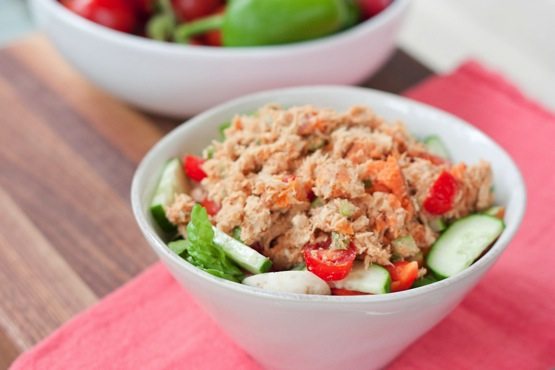 It worked out great and now I'm obsessed with this tuna salad — maybe even more so than this hummus barbecue tuna salad recipe that I dearly love. It's extra healthy with no added oil or mayo and it has a nice crunch from the celery, plus a subtle sweetness that only sweet potatoes can give. I think you're going to like it too!
I made a batch on Sunday night and ate it over salad for lunch on both Monday and Tuesday. It held up well and tasted great both days.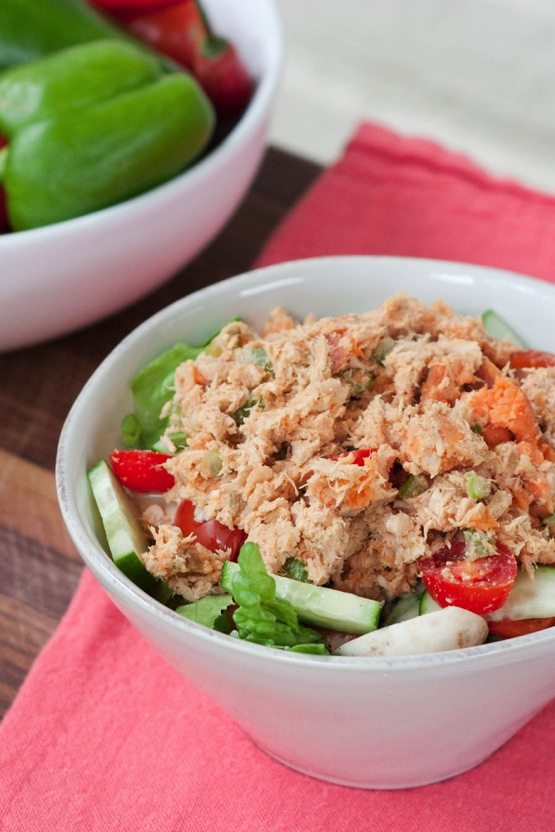 No Mayo Sweet Potato Tuna Salad
2
adjust servings
Ingredients
1

(5-6 oz) can unsalted tuna, packed in water

1/2

cup baked and cooled sweet potato chunks (about half of a medium sweet potato)

1/4

cup chopped cherry or grape tomatoes

1/4

cup chopped celery

1

finely chopped scallion, green part only

2-3

Tablespoons hummus (I used garlic)

1

Tablespoon dijon mustard

sea salt and ground black pepper, to taste
Instructions
Drain tuna and place in a small bowl. Use a fork to break the chunks into small pieces.
Add sweet potato chunks, tomatoes, celery and scallion and mix together. Add the hummus and mustard, to moisten the tuna to your preference. I used about 2.5 Tablespoons of hummus.
Sprinkle with sea salt and freshly ground pepper.
Serve.I enjoyed the tuna salad on top of a salad with romaine lettuce, cucumbers and mushrooms but you could easily place it between two slices of whole grain bread (like Ezekiel bread) to make a healthy tuna sandwich.