This curried chickpea salad is loaded with crunchy veggies and seasoned with traditional yellow curry. It makes for a filling lunch served over greens!
I'm sure most of you have caught on to the fact that I LOVE curry. Traditional Indian and Thai curries, of course. But I'm also obsessed with curried flavored things like the Cracklin' Cauliflower from Whole Foods. Needless to say I'm a curry addict and I'll add curry powder to just about anything. (Curried Egg Salad, anyone?)
And this curried chickpea salad is no different. I'm obsessed with it and so is Isaac. We've literally made it 4-5 times in the last few weeks.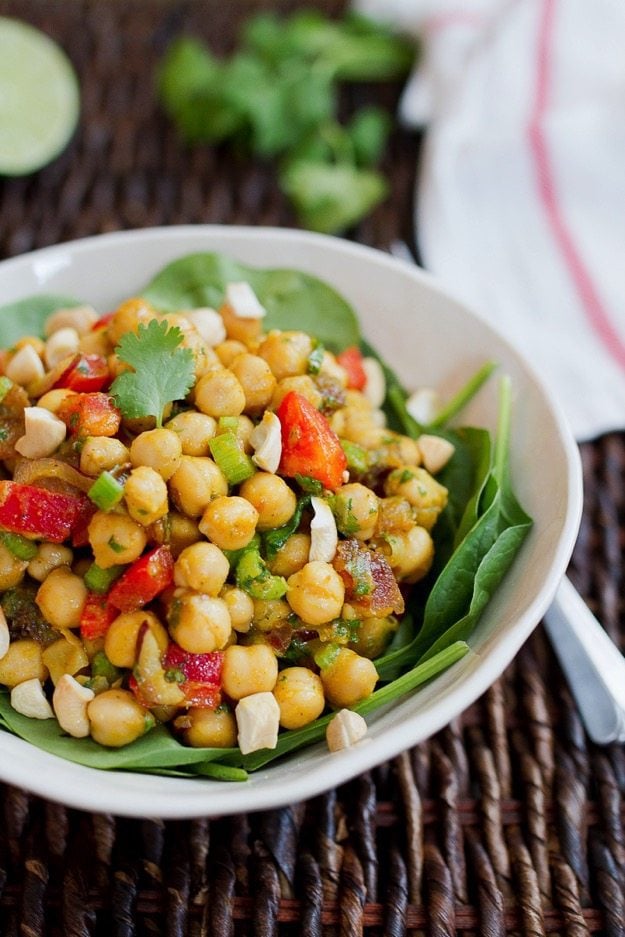 The thing about curry powder is that you don't have to add much. A little goes a long way because it's so flavorful.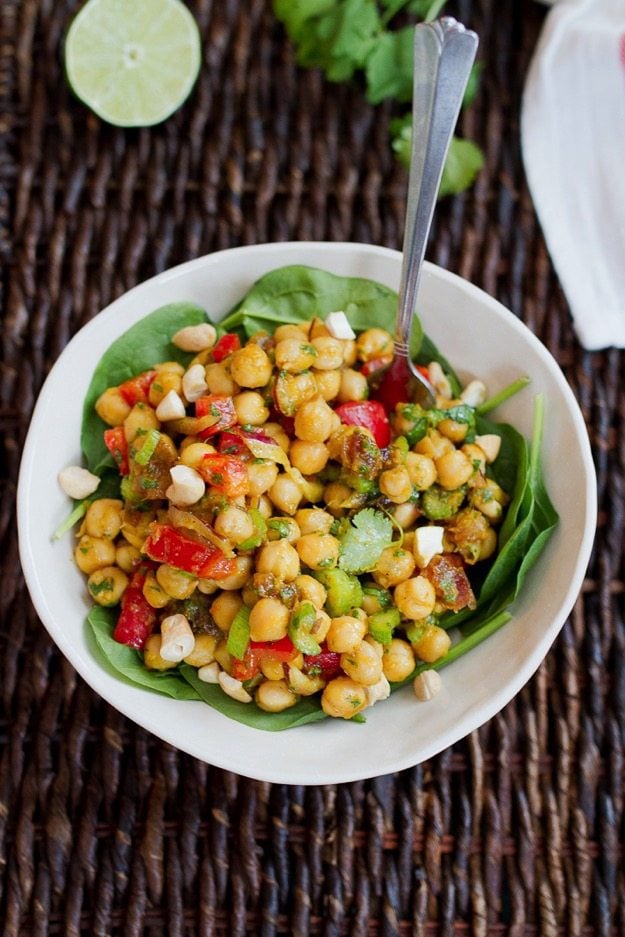 This salad is a winner because it's amazingly easy to toss together. If you use canned beans there's no cooking involved — just a bit of chopping.
The chickpeas are filling and loaded with fiber, the veggies add a nice little crunch, you get a hint of sweetness in each bite from the dates and everything is covered in a curry dressing. What more could you ask for? Oh, cilantro? No worries! It's got that too!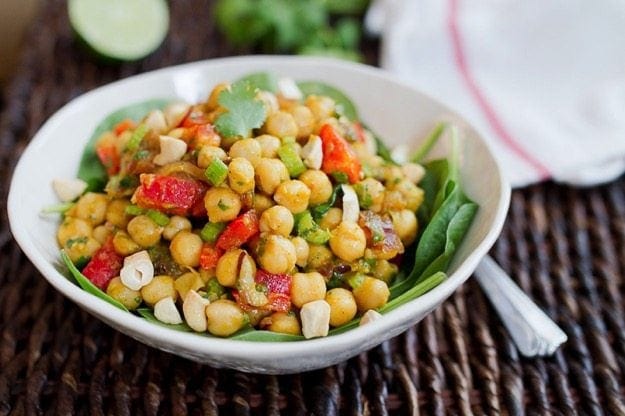 The salad is perfect served over greens for a quick lunch. Or eaten straight from the fridge for a snack. It happens, don't judge. 🙂
4
adjust servings
Ingredients
2

Tablespoons extra-virgin olive oil

juice from 1/2 a lime

2

teaspoons apple cider vinegar

2

teaspoons curry powder

2

teaspoons pure maple syrup

1/2

teaspoon sea salt

1/2

teaspoon turmeric

1/4

teaspoon garam masala

2

(15 oz) cans chickpeas, rinsed and drained

1

cup chopped red bell pepper

2

celery hearts, chopped

4

Medjool dates, pitted and chopped (or 1/2 cup raisins)

2

Tablespoons finely chopped red onion

1/3

cup fresh cilantro, chopped

chopped cashews (optional)

spinach or spring mix for serving
Instructions
Combine all the dressing ingredients (oil, lime juice, apple cider vinegar, curry powder, maple syrup, salt, turmeric and garam masala) in a large bowl.
Add chickpeas, celery, red pepper, dates, red onion and cilantro to the bowl and stir to combine. Serve chickpea salad on a bed of spinach or spring mix and top with cashews, if using.