Homestyle vegan chicken salad made with tofu, almonds, celery, onion and raisins tossed in a creamy vegan dressing. This salad is delicious, protein packed and great for sandwiches and wraps. 
The warm weather has me craving salads again and I've even started thinking about a 2017 salad challenge. Last year's challenge was a total blast with 10 full days of eating delicious salads! Who's up for salading with me again this year? Let me know in the comment section.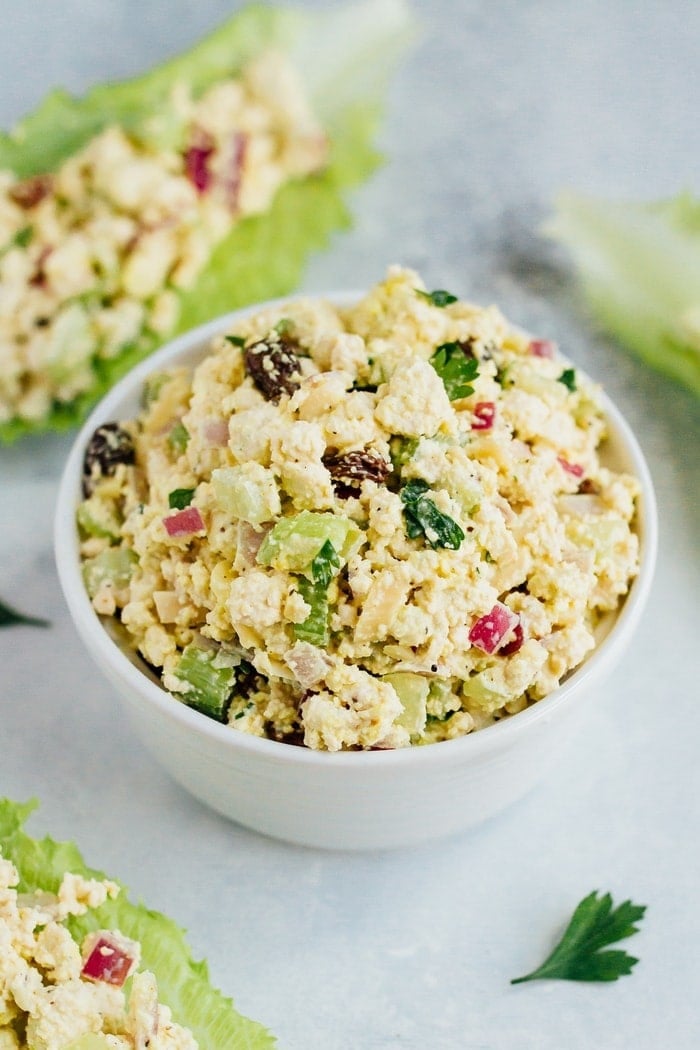 Anyhow, let's chat about today's recipe!
The whole idea for this salad came from a friend. She mentioned that she LOVES the Vegan Chicken Salad from the Whole Foods prepared foods section but that it hasn't been there in a few months. I have a knack for recreating recipes from my favorite spots so I quickly offered to try recreating it so she could make her fav vegan chicken salad at home.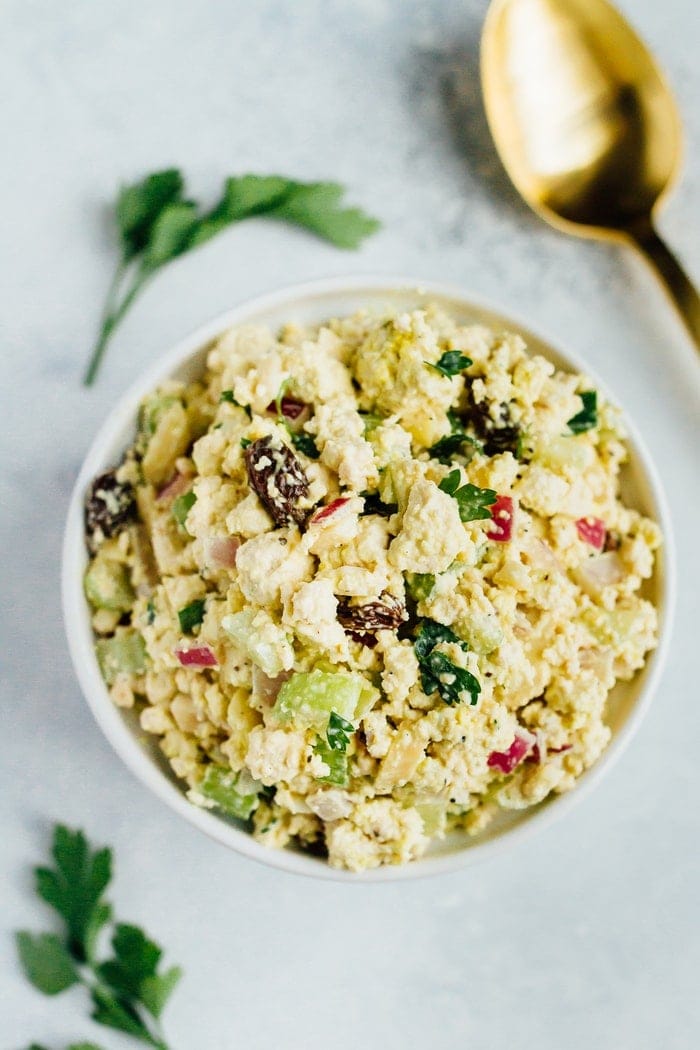 After a little research I discovered that there are two different types of Vegan Chicken Salad served at Whole Foods — one that uses soy "chicken" nuggets as the base (meh!) and one that uses tofu. I'm not a huge fan of processed soy products, plus the tofu version seemed lighter and healthier so I went that route. Hopefully it's the one my friend likes. Fingers crossed.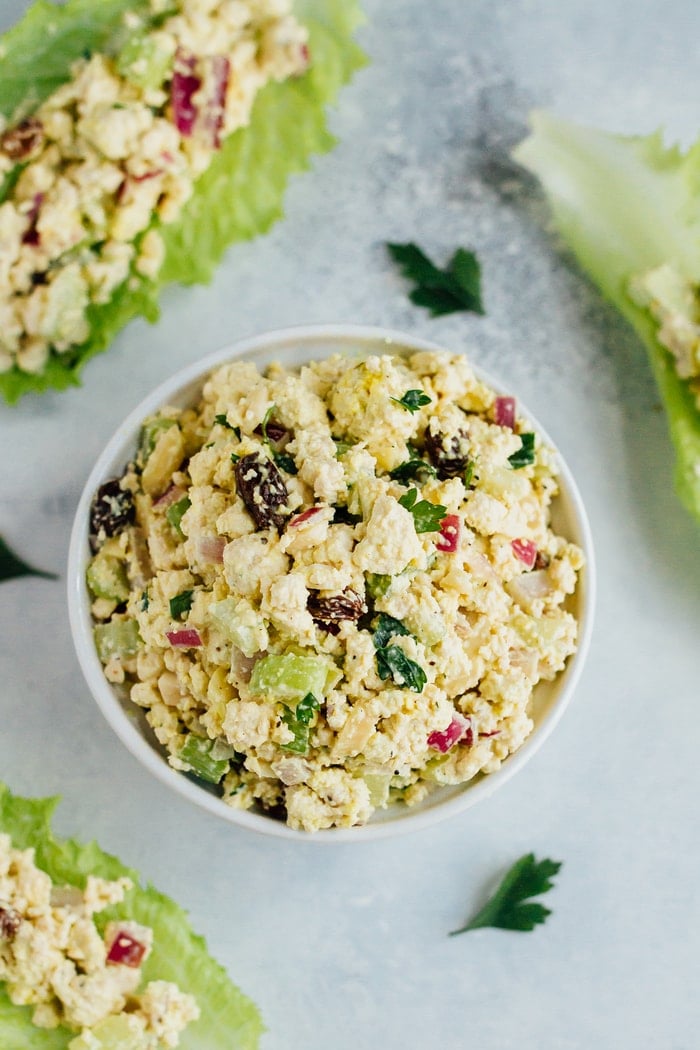 I've actually never had the vegan chicken salad from WF but I'm loving this version SO much. It's loaded with flavor, has a nice crunch and works great for sandwiches and wraps. I even had two meat-eating guys try the chicken salad and they both said it was great so boom!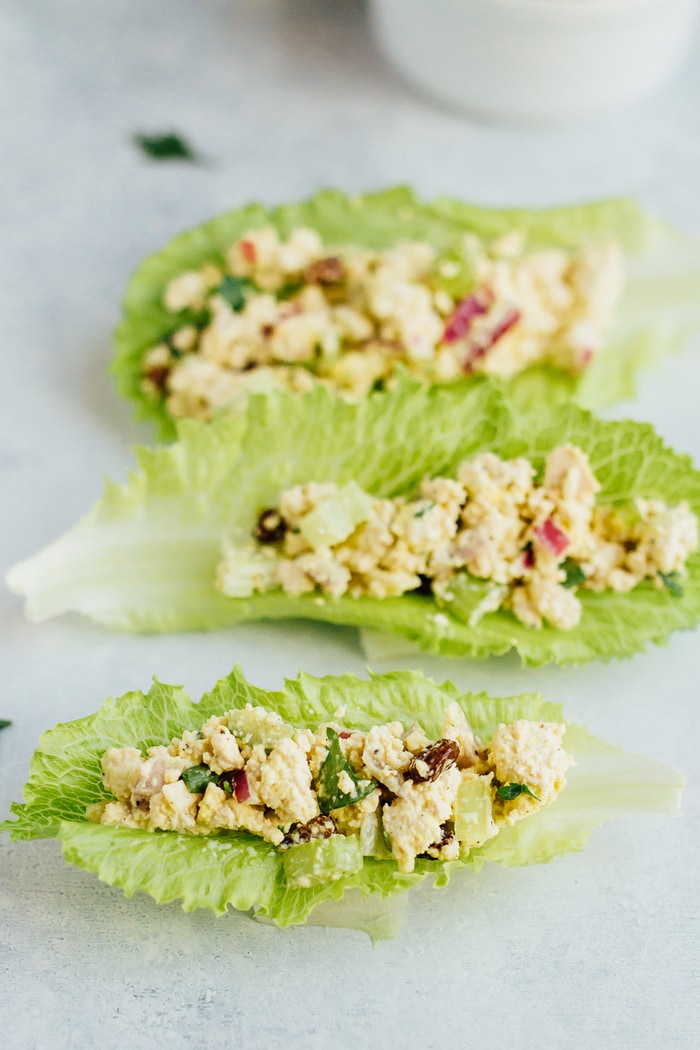 And on a nutrition side of things, the salad is pretty healthy — the tofu is loaded with plant-based protein so each serving gives you 15 grams! Plus, you're loading up on all the veggies in the salad as well. There is mayo involved, but as long as you buy a high-quality (no funky ingredients) vegan mayo, you're good to go. You could also test out making homemade vegan mayo. If you're not 100% vegan, you could try using avocado mayo, which I really like as well.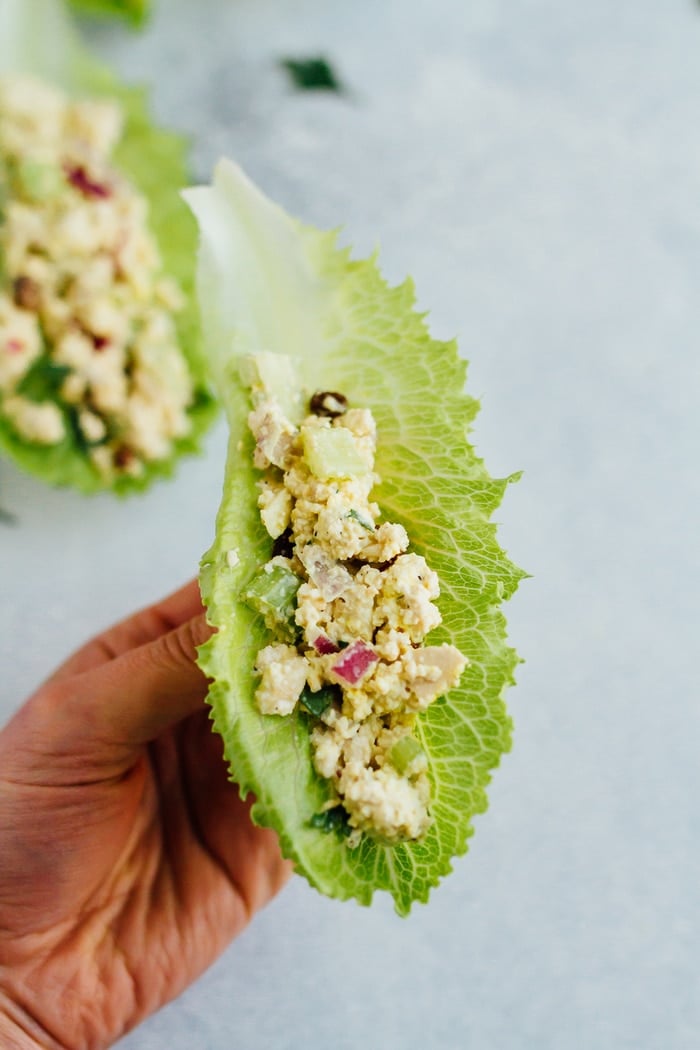 The recipe makes quite a few servings so you could easily make a batch at the beginning of the week and have it on hand for lunch over several days. I loved using it for lettuce wraps or over a bed of greens with some additional veggies but you could easily put it between two slices of bread or stuff it into a pita as well. It's such an easy lunch option!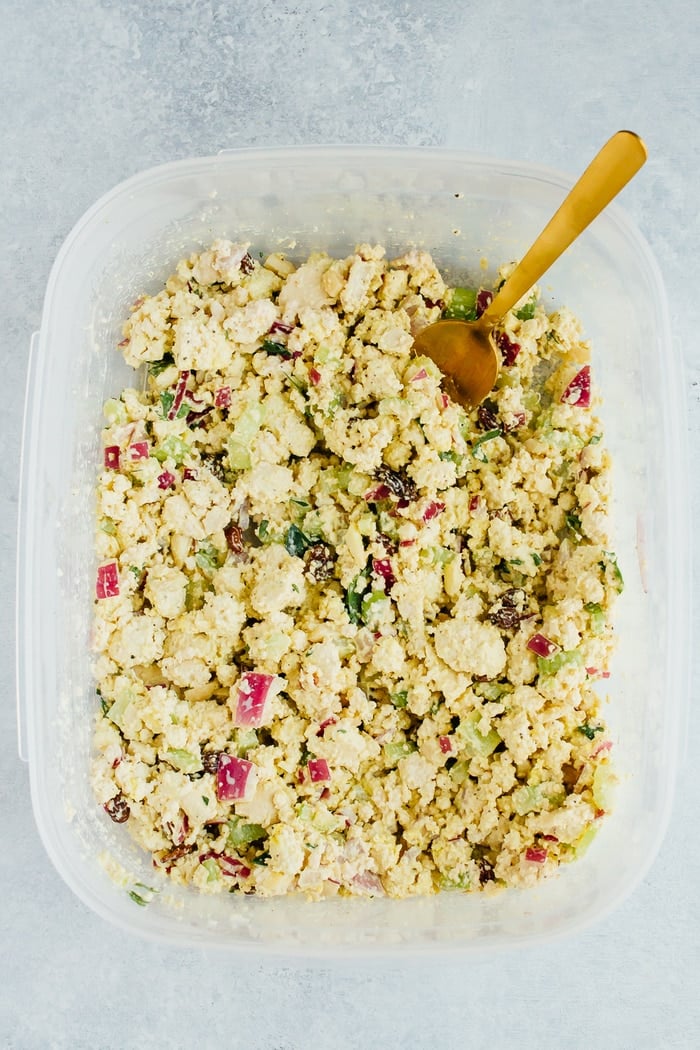 Print
Simple Vegan Mock Chicken Salad
Author:

Yield:

4
---
Ingredients
1 lb extra firm tofu, drained and pressed
1 cup finely chopped celery
1/2 cup finely chopped red onion
1/4 cup silvered blanched almonds, chopped
1/4 cup raisins
6 Tablespoons vegan mayonnaise
2 Tablespoons apple cider vinegar
2 Tablespoons maple syrup
2 teaspoons olive oil
1/2 teaspoon ground pepper
1/2 teaspoons sea salt
1/4 teaspoon dill
pinch of turmeric
2 Tablespoons fresh parsley, chopped
2 Tablespoons fresh dill, chopped
---
Instructions
Crumble tofu into small pieces in a medium to large size bowl.
Mix celery, onions and almonds with tofu.
In another bowl whisk together the dressing ingredients: mayonnaise, apple cider vinegar, maple syrup, olive oil, pepper, salt, dill and turmeric. Toss fresh parsley and dill on top and give the mixture another stir to combine everything.
Add dressing to the tofu mixture and stir well to combine. Enjoy immediately. Leftovers should last 4-5 days in the fridge.
---
Nutrition
Serving Size:

1/4 of recipe

Calories:

303

Sugar:

13g

Fat:

18g

Carbohydrates:

22g

Fiber:

3f

Protein:

15g
PS – I'm a huge fan of using raw red onions in salads, but they can be a bit pungent. If you want,  you can remove some of their astringent flavor by soaking them in cold water before adding them to raw salad recipes like this!