This mattar tofu is a healthy, vegan version of an Indian food classic, mattar paneer. Tofu works perfectly as a sub for the paneer cheese.
Isaac and I LOVE Indian food. Typically we just go to Lehja when we're craving it, but lately I've been on a mission to learn how to make some of my favorite dishes at home.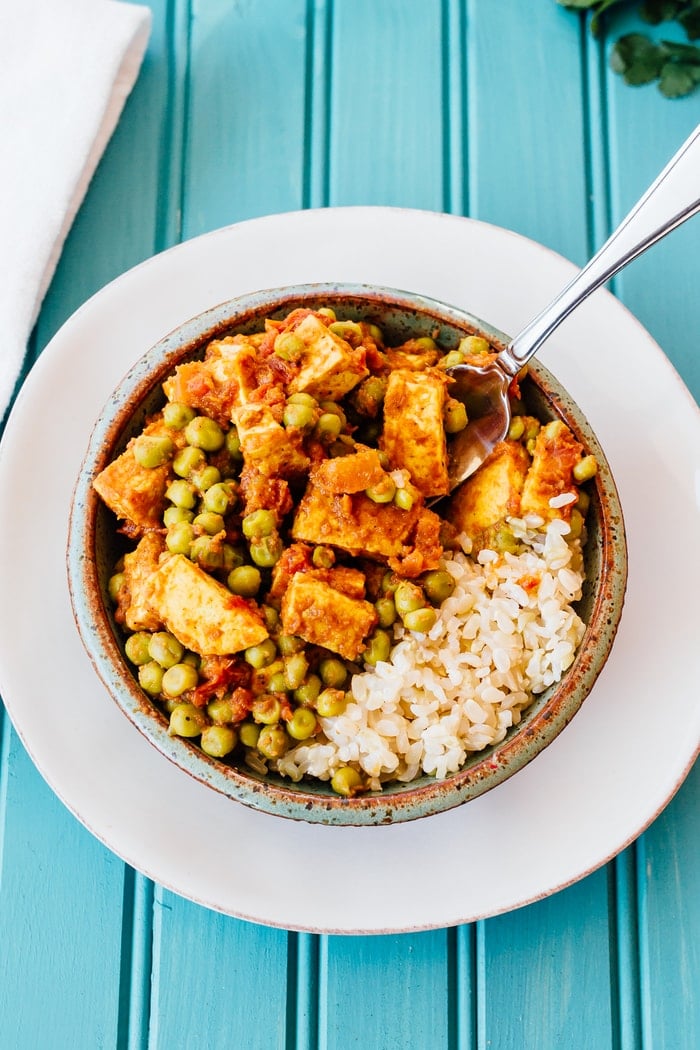 My first experiment was Gina's channa masala recipe. It turned out to be delicious so this week I decided to try a vegan version of mattar paneer using tofu instead of the paneer. Paneer is a soft cheese with a similar consistency to tofu so I thought it would work out well.
Oh my goodness you guys… it turned out fantastic!  I was so happy with the results and ended up having the mattar tofu for dinner that night as well as lunch and dinner the next day. It's THAT good.
The tomato based sauce pairs nicely with the tofu cubes and the peas add a nice hint of sweetness. I had forgotten how much I love peas!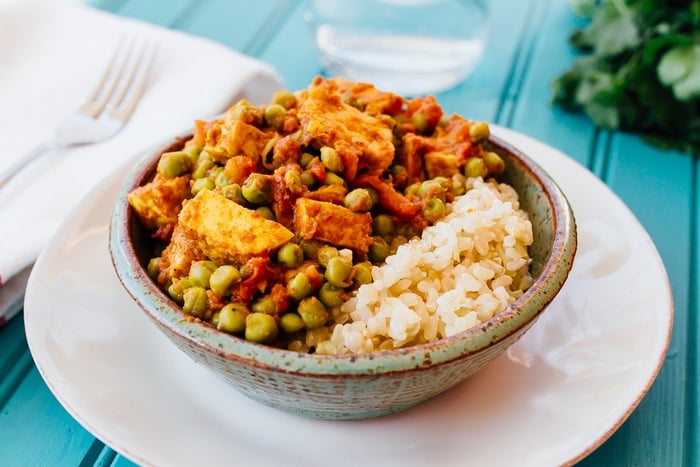 This meal totally takes me back to the days I used to buy Amy's Organic Frozen Mattar Tofu meals. Honestly those meals are some of the only frozen meals on the market that I'll buy, but this is even better because it's home cooked. 🙂
Is it bad that I already want to make it again?!? I don't think so.
Mattar Tofu (vegan + gluten free)
3 servings
adjust servings
Ingredients
1

(14 oz) package organic extra-firm tofu, cut into small cubes

1 1/2

Tablespoons coconut oil

1

inch piece of fresh ginger

1

clove fresh garlic, minced

1

medium yellow onion, chopped

1/4-1/2

teaspoon cayenne pepper

1/3

cup water

1/2

Tablespoon garam masala

1/2

Tablespoon ground coriander

1/4

teaspoon ground turmeric

1

teaspoon salt

1/8

teaspoon black pepper

1

(14 ounce) can diced tomatoes with juice

1/2

cup vegetable broth

1

bag frozen baby peas, thawed slightly

fresh chopped cilantro, for topping (optional)
Instructions
Placed onion, ginger, garlic and cayenne pepper into the container of a blender or food processor along with ⅓ cup water and blend until the mixture turns into a smooth paste. Set aside.
Heat coconut oil in a large sauté pan. Once hot add tofu cubes in a single layer and stir-fry until golden. This shouldn't take very long. Once golden place tofu cubes onto a plate and set aside.
Carefully add the contents of the blender into the same sauté pan you used for the tofu. Just be very careful with this part as the paste may splatter. Cook, stirring constantly until the paste turns a light brown color (about 5-6 minutes).
Add the garam masala, coriander, turmeric, salt, pepper and tomatoes. Stir and cook for a few minutes longer. Add in vegetable broth and peas, mix well and bring mixture to a boil.
Cover, lower heat and simmer gently for 10 minutes. Lift cover and add the tofu cubes. Simmer ten minutes or until tofu and peas are heated through. Top with a little cilantro and serve with brown, basmati or jasmine rice.
Do you like Indian food? What's your favorite dish?