A quick and easy coconut curry shrimp dish that comes together in less than 20 minutes. Serve over brown rice or quinoa for a speedy weeknight meal. This post is sponsored by Kroger. All thoughts and opinions are my own.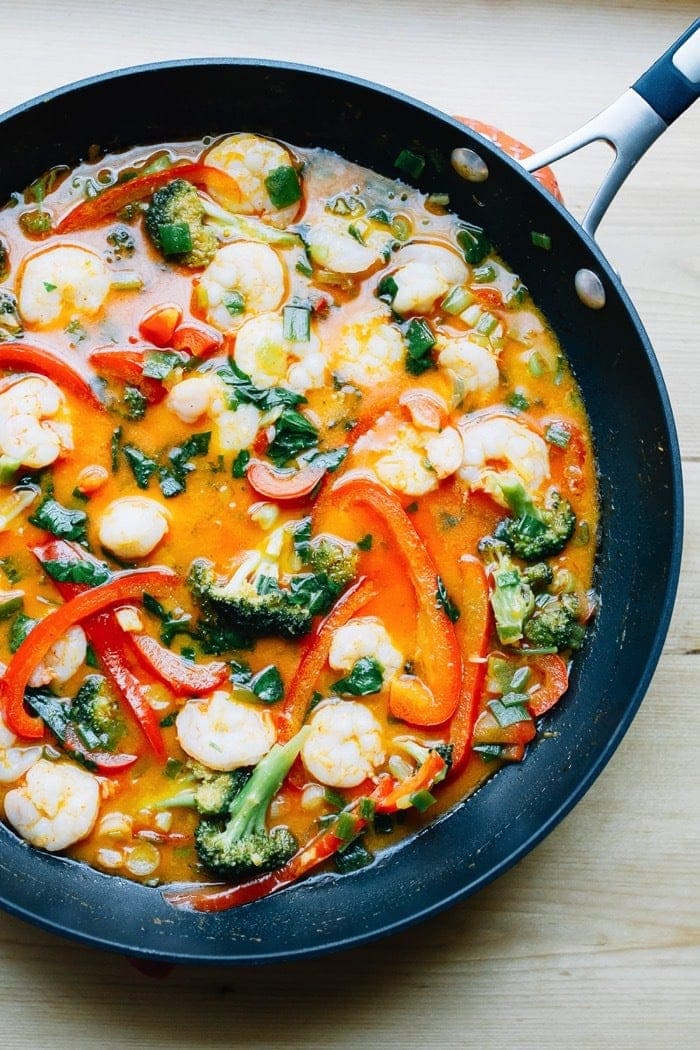 If you're anything like me you're always looking for healthy weeknight meals that taste awesome, but don't take forever to make. I like to spend time in the kitchen (obvi, considering this blog is about 75% food), but even I can't tolerate recipes that take longer than 30 minutes on a weeknight. Mostly because I'm typically starving come dinner time, but also because I'd much rather spend my evening going for a walk with Olive, doing a house project or relaxing with Isaac.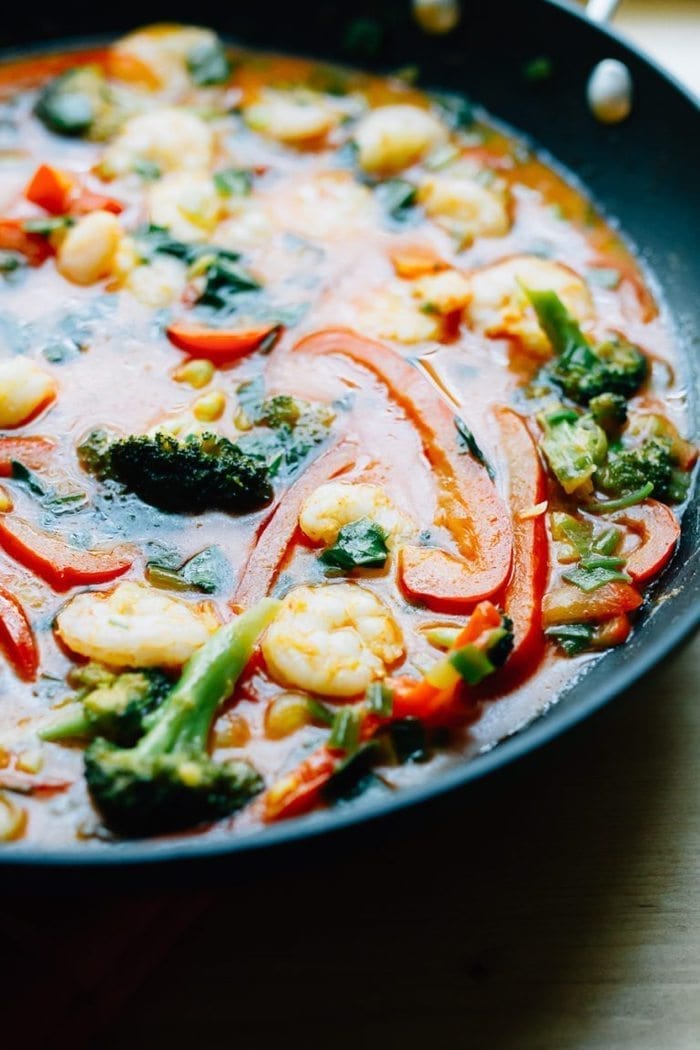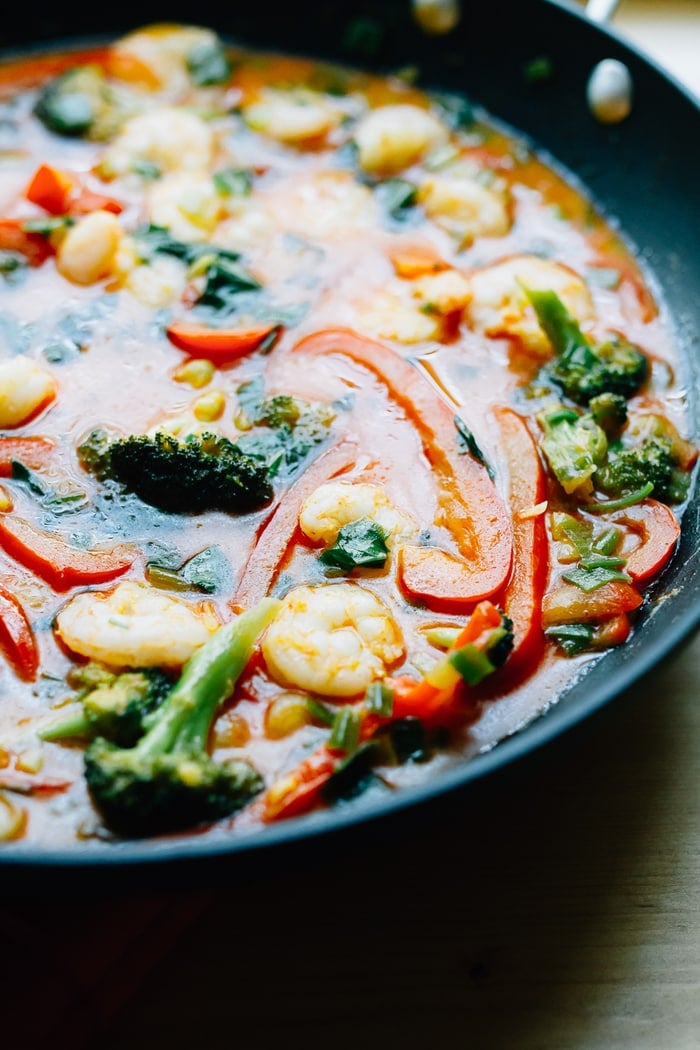 For this reason I gravitate toward quick, one-pan recipes like this coconut curry shrimp! With a help of jarred red curry paste, you can easily toss together this flavorful dish in less than 20 minutes! It's loaded with nutrient-dense veggies, the shrimp offers a good source of protein and the healthy fat from the coconut milk makes the dish extra creamy, satisfying and filling.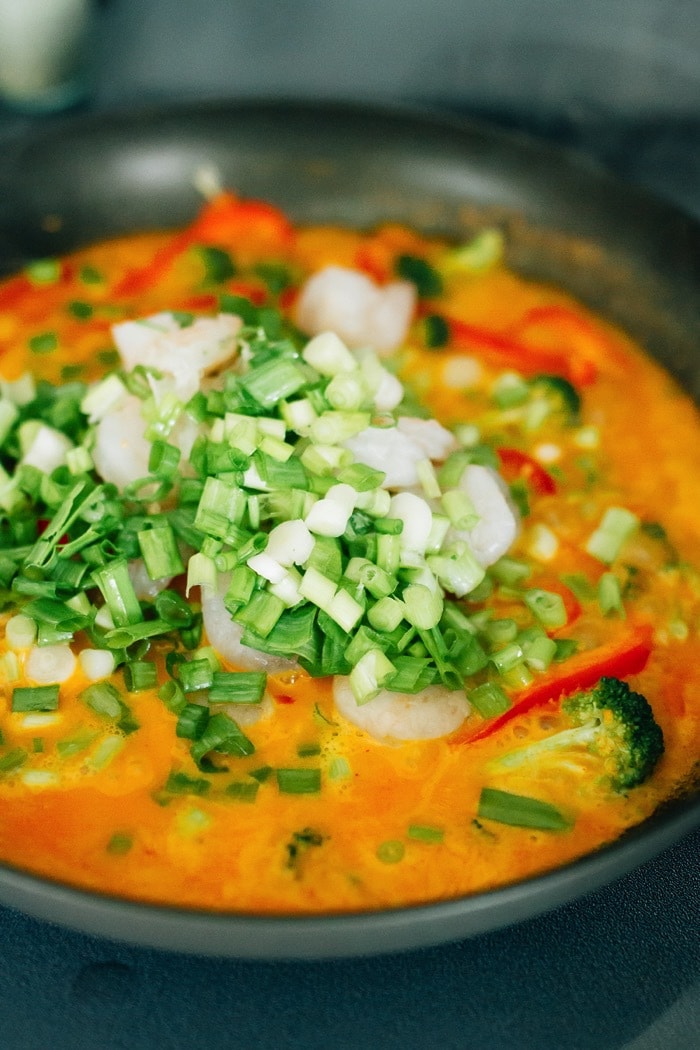 It works great served over a whole grain like quinoa or brown rice. I actually used a blend of both. If you're grain-free or looking for a low-carb option, cauliflower rice will work too.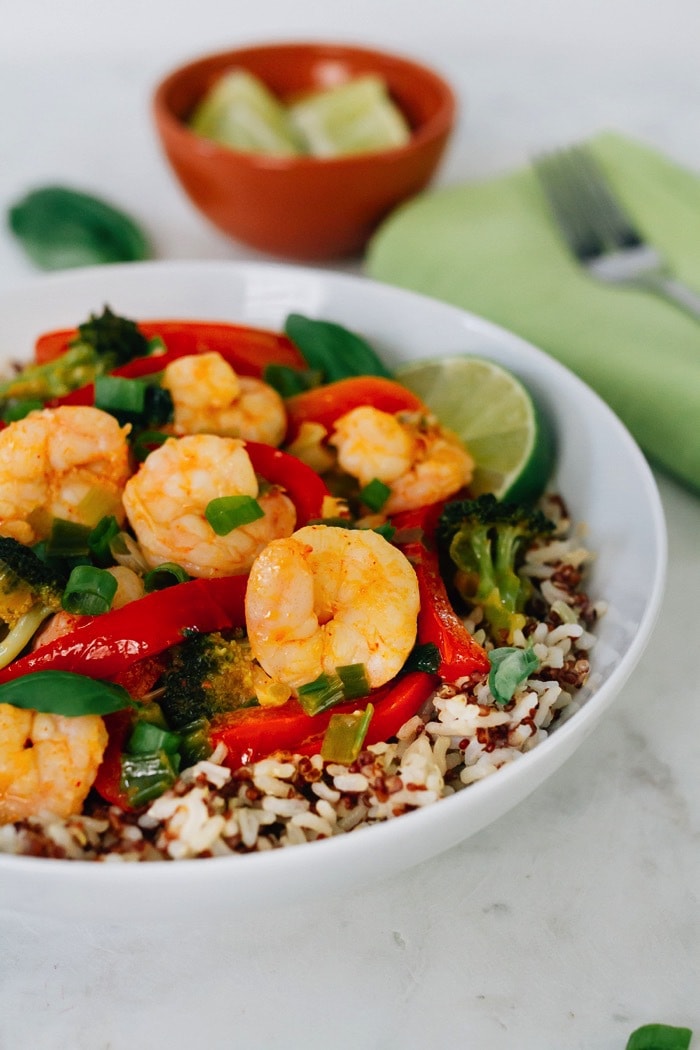 We pretty much always have a can of coconut milk in the pantry and frozen shrimp in the freezer so I know this easy coconut curry shrimp dish will be happening around here on the regular. The nice part is that you can easily swap out the veggies based on what's in season and what you have on hand. I love the bell peppers and broccoli, but I bet the curry would be amazing with butternut squash… especially as the weather gets cooler. Ahhh, just thinking about butternut squash gets me excited for fall.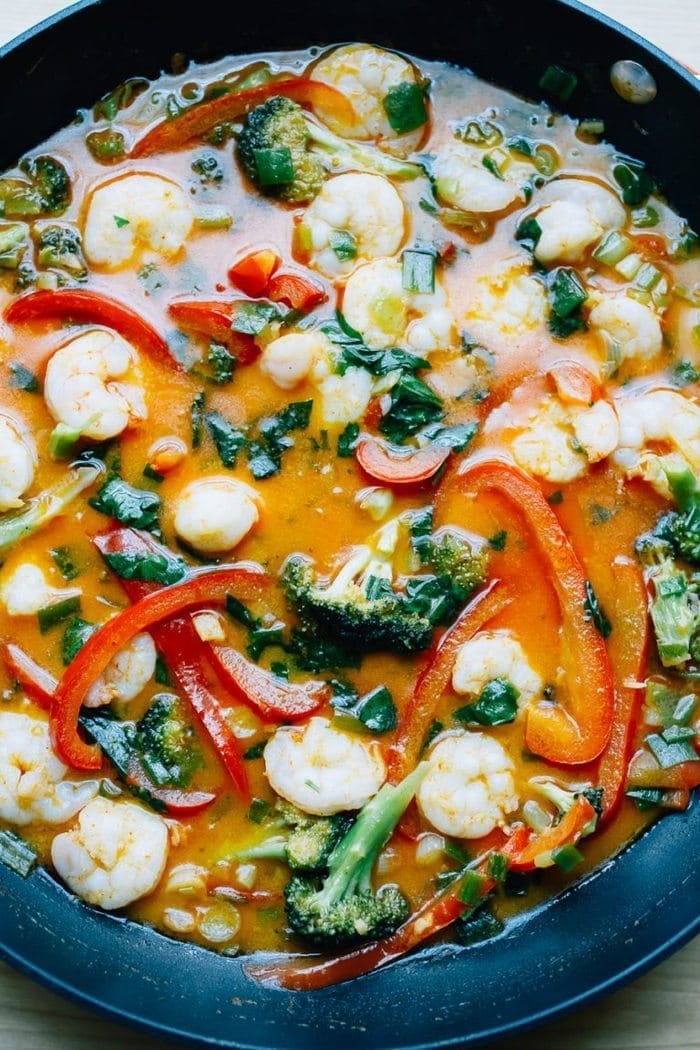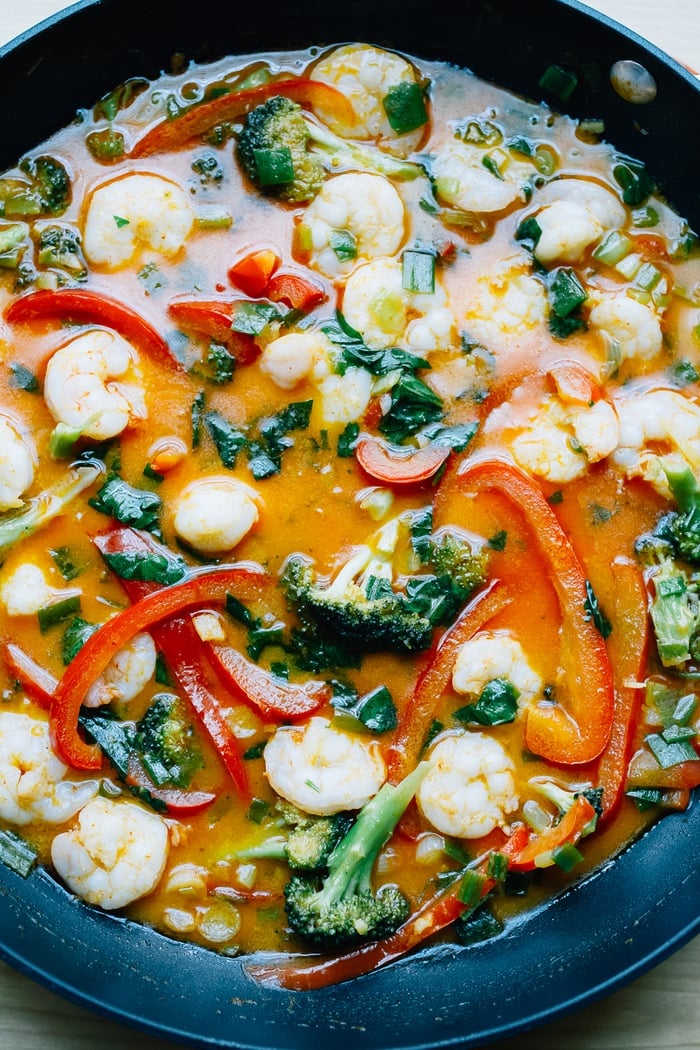 Ready to try this coconut curry shrimp? Here's the recipe:
Print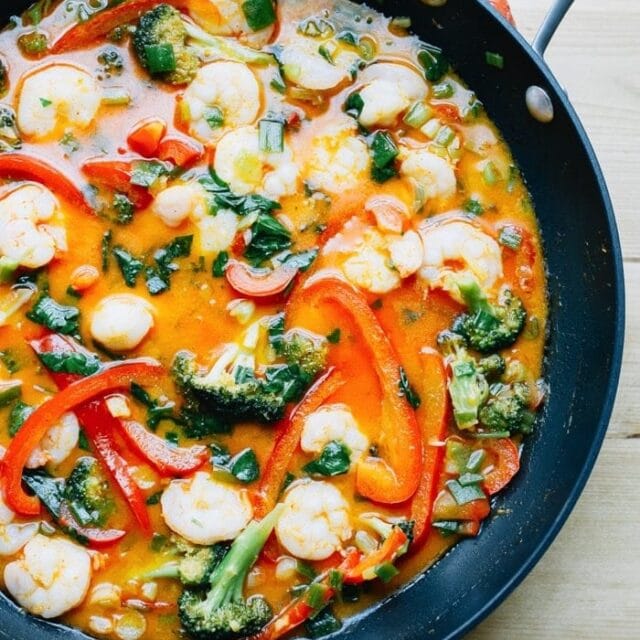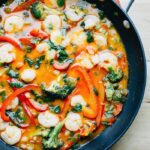 Easy Coconut Curry Shrimp
Author:

Brittany Mullins
Prep Time:

5 mins

Cook Time:

20 mins

Total Time:

25 mins

Yield:

3

1

x
---
Description
Shrimp and veggies in a creamy coconut milk red curry sauce. Serve over quick cooking brown rice or quinoa for a speedy weeknight meal.
---
Scale
Ingredients
1/2 tablespoon

coconut or avocado oil

2 teaspoon

s minced garlic

2 teaspoon

s minced ginger

1

red bell pepper, sliced thin

1 cup

fresh broccoli florets

1

13.5 ounce can coconut milk (lite or full fat)

2 tablespoon

s red curry paste

10 ounce

bag of frozen peeled and deveined shrimp, thawed

1

bunch scallions, cut into 1/4 inch pieces (save a few for garnish)

1/4 teaspoon

sea salt

1/4 cup

fresh basil, chopped
lime wedges, for garnish
cooked brown rice or quinoa, for serving
sriracha, for serving (optional)
---
Instructions
Heat oil in a large skillet over medium heat. Add in garlic, ginger and red bell pepper, cook for about 5 minutes or until fragrant. Add in broccoli, coconut milk, curry paste and salt, stir and bring mixture to a low boil for about 5 minutes.
Add shrimp and scallions into the pan, stir and cook for 5 minutes. Remove pan from heat and stir in fresh basil. Serve curry over cooked brown rice, quinoa or a mixture of the two. Garnish each serving with a few scallions and a lime wedge.
---
---
---
Nutrition
Serving Size:

1/3 of recipe with 1 cup brown rice

Calories:

610 |

Sugar:

7g |

Fat:

31g |

Carbohydrates:

65g |

Fiber:

6g |

Protein:

24g
Okay, and while we're on the topic of quick and easy, I have to tell you about Kroger's new ClickList service where you can shop online and pick up your order at the store.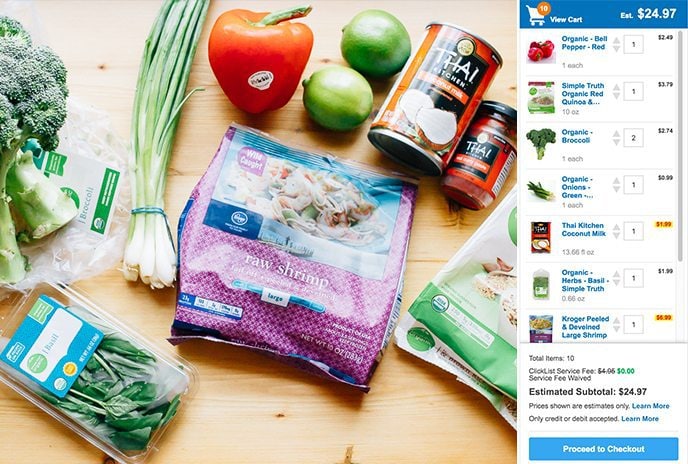 I used it to order everything I needed for this recipe and it was pretty awesome. As a food blogger I basically live at the grocery store and although I kind of love food shopping, it was so convenient to swing into the Kroger parking lot, have my groceries brought out to me and leave within minutes. Plus, I didn't have to figure out how to carry three cases of LaCroix to my car. #winning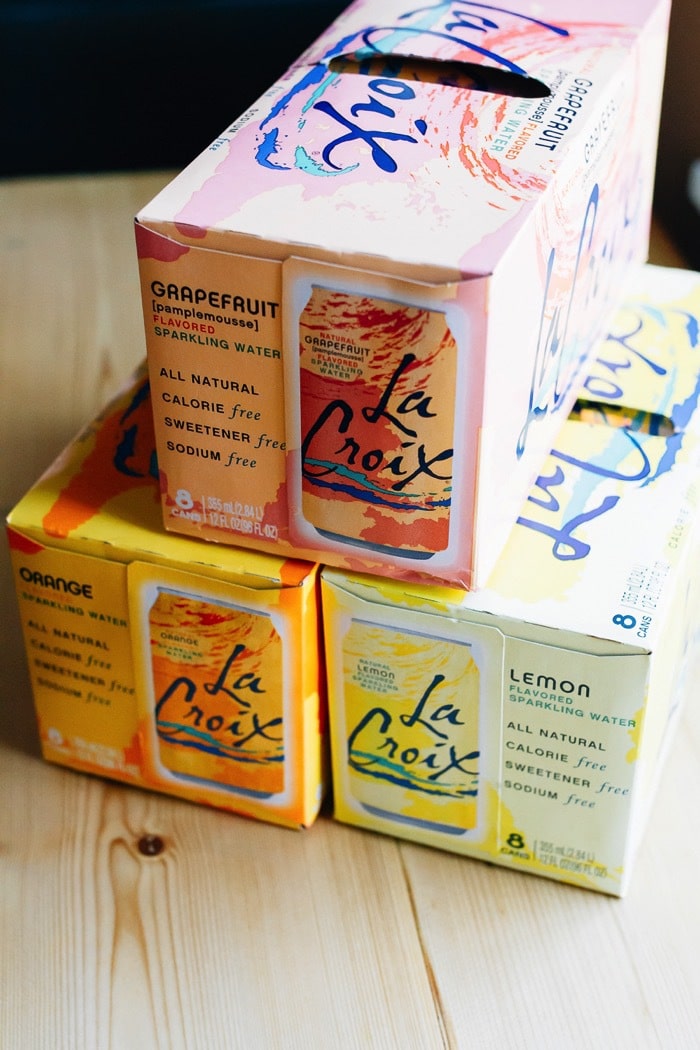 I know for a fact that if we had kids I would use this service all the time. No questions! But I can definitely see myself using it now, especially for our weekly grocery staples because it's super simple to add recently purchased items to your shopping cart. All my go-to staples like avocados, sweet potatoes, almond milk, hummus and yogurt were at the top right when I created my account so I didn't even have to search for them to add them to my cart.
The online site is easy to navigate, the search function worked great and I was able to find and order everything I needed for this recipe (plus a few bonus items) without any trouble. All the weekly in-store sale prices were applied and the attendant who delivered my groceries to the car even asked if I had coupons during the check-out process. I know coupons are kinda old-school, but I still use them occasionally so I was pumped that they asked.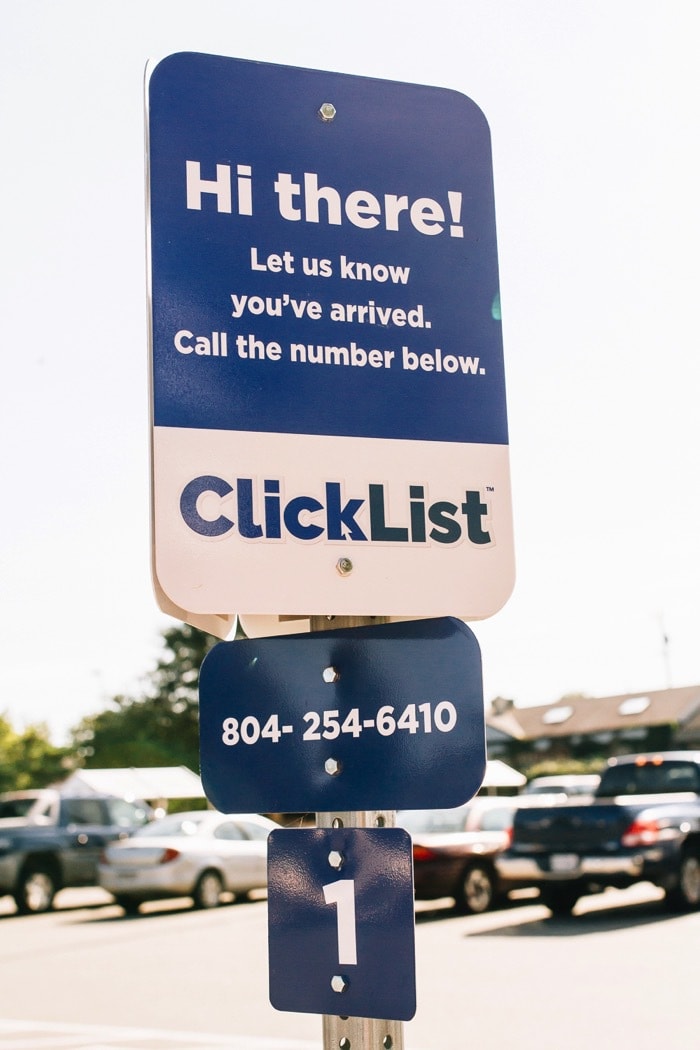 To pick up the groceries I simply parked in a ClickList spot, called the number on the sign and waited for an attendant to come out with my groceries. I paid with my debit card and drove away. Easy peasy.
Overall, I was really pleased with how smooth everything went. I was actually able to get a bunch of extra work done with the time I saved by ordering online, which is always a good thing!!
Have you ever tried online grocery shopping? How'd it go?