The perfect healthy weeknight meal, this flavorful Thai Green Curry with Shrimp comes together in less than 30 minutes! Can be served over brown rice or zucchini noodles for a low-carb dish.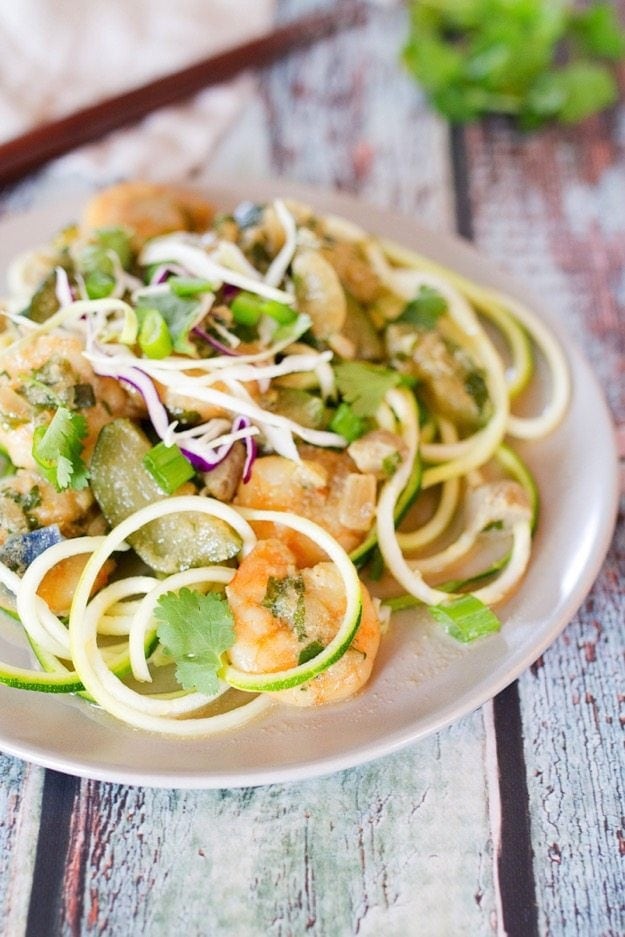 What's for dinner? It's the perpetual question — we're either getting asked it or we're asking ourselves it. Am I right? A couple months ago (around the holidays) I noticed that Isaac and I weren't planning dinners very well.
I know I've mentioned it before, but I've never been a huge meal planner. We have a stocked pantry and once I pick up from fresh staples from the grocery store I'm pretty good at tossing meals together with what we have. That approach works, but we ended up eating a lot of the same meals or just grabbing take-out from our favorite Vietnamese restaurant instead of cooking. The take-out situation happened twice in one week before I finally I decided I needed to do a better job at planning. I mean, I like make-your-own spring rolls, but grabbing take-out twice in one week isn't ideal.
So for the past few weeks I've been sitting down on Sunday, picking out at least 3-4 dinner recipes to make and going to the store to grab the items I need. I typically write down a planned dinner for each night of the week, but sometimes we'll switch up which night we have what — just based on prep time or what foods we're in the mood for. It's been working out pretty well. Not only have we been eating healthier, we've also been trying a bunch of different recipes, which has made dinner fun again.
One dinner we've been loving lately is this Thai Green Curry dish.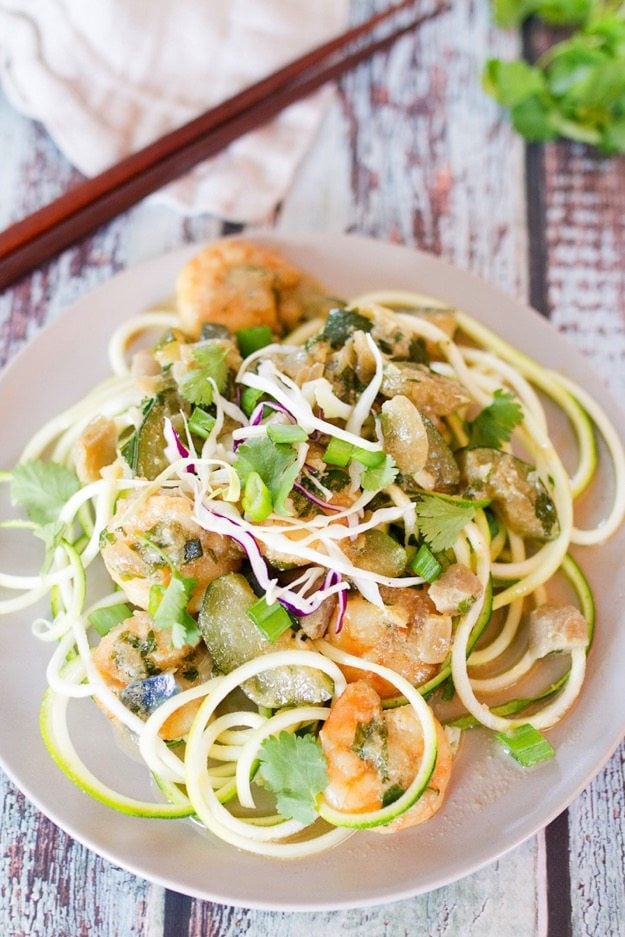 It has protein-packed shrimp, a bunch of fresh veggies and a creamy coconut sauce with fresh herbs and spices. It's healthy comfort food and amazingly satisfying on a chilly winter evening! Sautéed curries like this are awesome because they don't take very long to cook (especially with quick-cooking shrimp)! It's also super easy to switch up the veggies based on what you have on hand. For this version we used shredded cabbage (which I bought already shredded from Whole Foods — such a time saver!) and zucchini. Next time I'll be adding broccoli and snow peas for sure.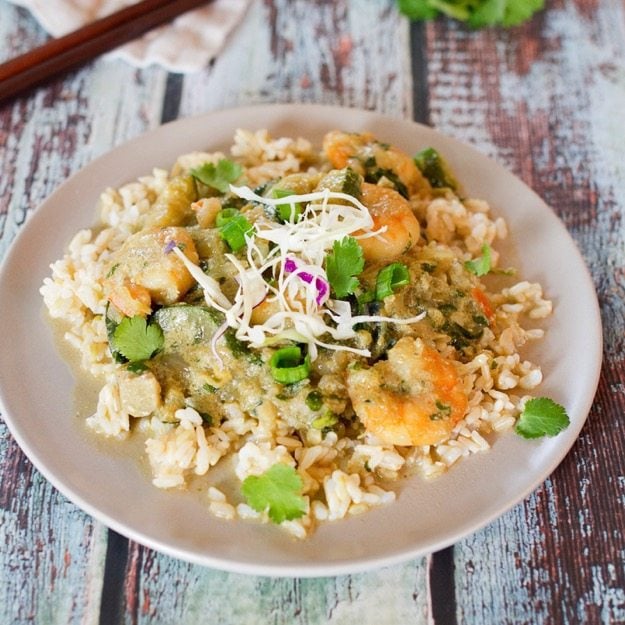 As I mention in the recipe you can serve the curry over zucchini noodles (either raw or quickly sautéed) for a low-carb option or if you need some extra carbs in your life go with rice. Both ways are delicious. Just don't forget the extra green onions and cilantro. Oh, and the sriracha!! 🙂
Thai Green Curry with Shrimp
4
adjust servings
Ingredients
1 1/2

Tablespoons sesame oil

1/2

yellow onion, chopped

3

cloves garlic, minced

1

Tablespoon grated fresh ginger

2

Tablespoons Thai Green curry paste

1 13

oz. can of coconut milk

1

zucchini, chopped

1

cup shredded cabbage

juice of one lime

1

Tablespoon low-sodium tamari (or soy sauce)

1/4

teaspoon cayenne pepper

1

lb. peeled and deveined shrimp

1/4

cup fresh basil, chopped

1/4

cup fresh cilantro, chopped

zucchini noodles or cooked rice for serving

1/4

cup chopped green onion, for garnish

sriracha, for serving
Instructions
Heat oil over medium-high heat in a large skillet. Add onion, garlic and ginger; sauté until fragrant, about 3-5 minutes. Add in curry paste; sauté 1 minute. Add coconut milk, zucchini, cabbage, lime juice, tamari and cayenne pepper to the skillet. Combine and turn up the heat to medium-high so the liquid starts to simmer. Cook for about 5 minutes.
Add shrimp to the pan and cook until shrimp are pink and cooked through, about 3-4 minutes. Add basil and cilantro to the pan and toss to combine. Remove skillet from the heat.
Serve curry over zucchini noodles (can be raw or quickly sautéed) or cooked rice. Garnish each plate with green onion, fresh cilantro and a little sriracha if you need more spice. Enjoy!