Tofu can be intimidating if you've never cooked with it before. What is it? How is it made? Is it healthy? What can you make with tofu? I'll tackle all of these questions in this tofu 101 blog and recipe roundup.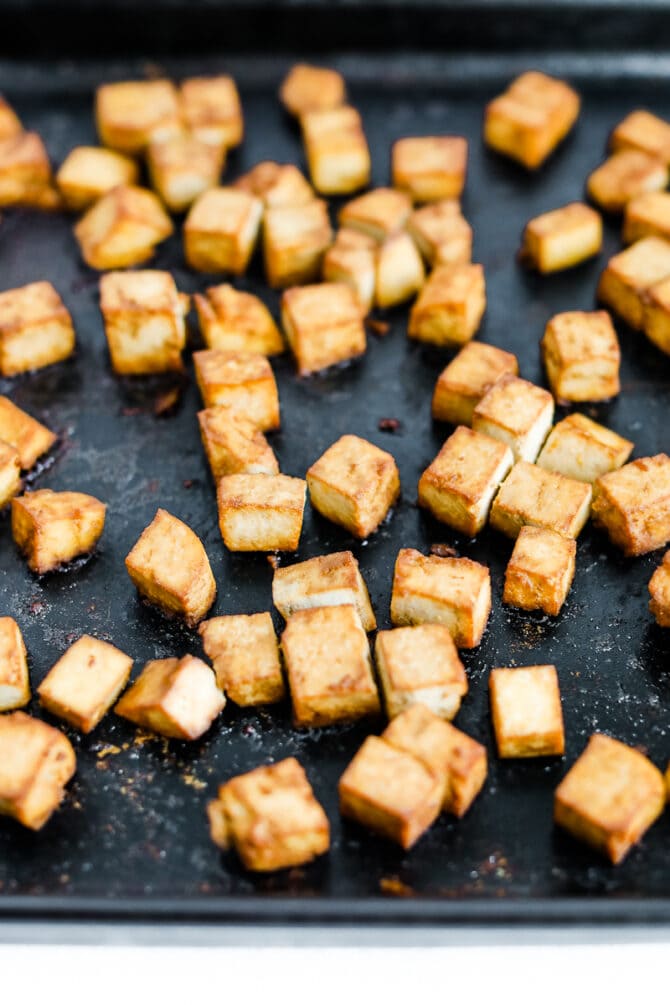 How is Tofu Made?
Tofu is made from condensed, unfermented soy milk that's been processed into soymilk curds which are pressed into blocks to make tofu.
What is the Difference Between Tempeh and Tofu?
Tempeh is made of cooked, whole soybeans that are fermented and formed into a firm, dense block. The texture is chewier and it tastes nuttier and earthier than tofu. Tempeh is less processed, higher in protein and fiber and lower in fat than tofu but the flavor is stronger and a little less versatile than tofu. Learn more about tempeh.
Tofu is made from curdled soy milk which is drained and pressed into a block. It is smoother and creamier than tempeh and can be sliced, diced or mashed in recipes. It's more processed, but easy to digest, low in calories and high in protein.
Is Tofu Healthy?
Tofu and soy specifically has had a lot of controversial studies come out in recent years. On one hand, it has shown to improve cholesterol levels, fertility and menopause symptoms. On the other hand, too much soy has been linked to breast cancer, thyroid issues and interfering with male hormones. What I found interesting though is that a lot of the negative conclusions have been made from animal studies… not human. (source) In fact, in human studies, the estrogen effects of soy seem to either have no effect at all, or to reduce breast cancer risk (especially in Asian countries, where lifelong intake is higher than the US). (source)
Soybeans are also the number one genetically modified crop in the world. I personally try to avoid GMOs for health and environmental reasons so I look for non-gmo verified and/or organic labels when I'm buying tofu or other soy products. Just FYI – all organic items are non-gmo.
All in all, I stand by "everything in moderation." Too much of any one thing isn't good for you, soy and tofu included. And in general, I usually try to get my soy intake through the less processed options like edamame, tofu and tempeh rather than soy products like soy milk or soy-based protein powder.
Tofu Nutrition
Tofu is naturally gluten-free and low in calories. It has zero cholesterol and is packed with iron and calcium. It's a great plant-based protein with about 15g of protein per serving.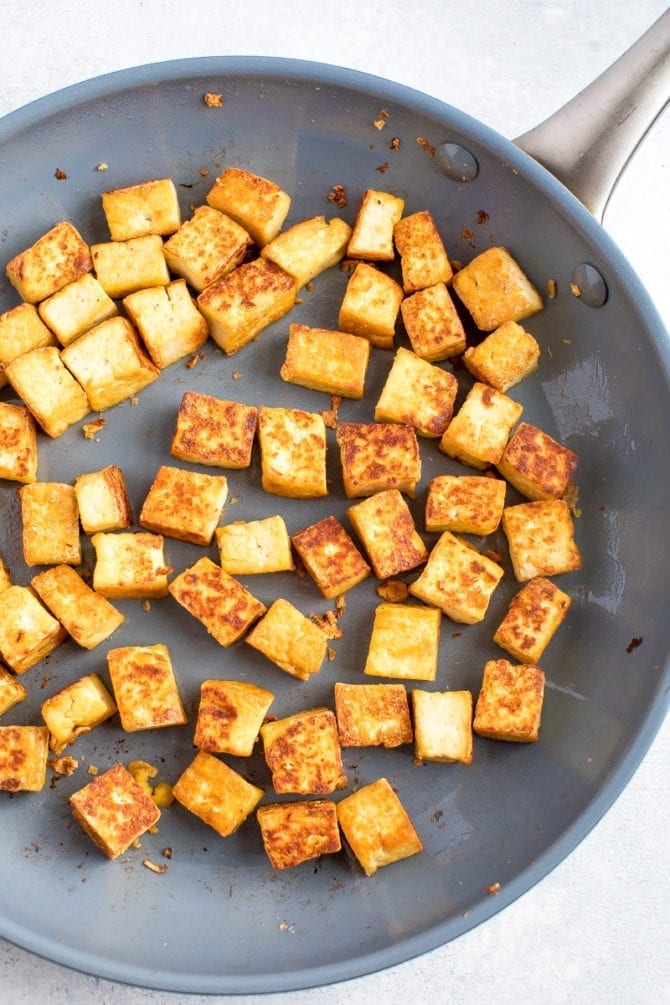 How to Cook Tofu
You'll want to drain and press your tofu before cooking. Cut a slit in the tofu package and drain all of the water out. Create a tofu press by wrapping the tofu block in paper towels or a clean dish towel and set the block on a baking sheet or cutting board – just make sure it's a flat surface! Stack a few heavy items on top to press the extra moisture out. I love using a cast iron skillet, canned food or cookbooks. It can take 30-90 minutes to press most of the moisture out. Pressing the tofu takes out the extra moisture so it will crisp nicely and absorb the flavors in the dish.
Once pressed, cut your tofu how you'd like to eat it – typically I cut mine into small cubes or strips. At this point you can either marinate the tofu or throw it right into the pan with your other seasonings.
Tofu Recipes
Tofu was one of the first plant-based proteins I experimented with. I will be the first to tell you… if you don't prepare it correctly, it doesn't taste the best BUT when used properly it is so delicious! It can be intimidating to try a new ingredient but I promise tofu is not scary once you dive in. Below are some of my favorite tofu recipes!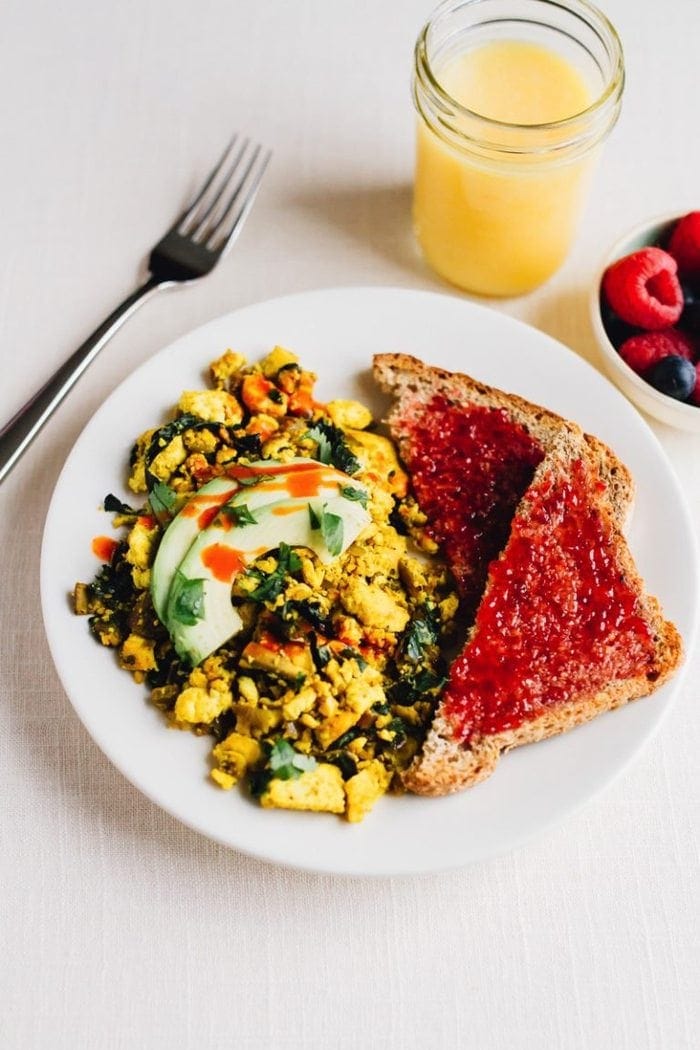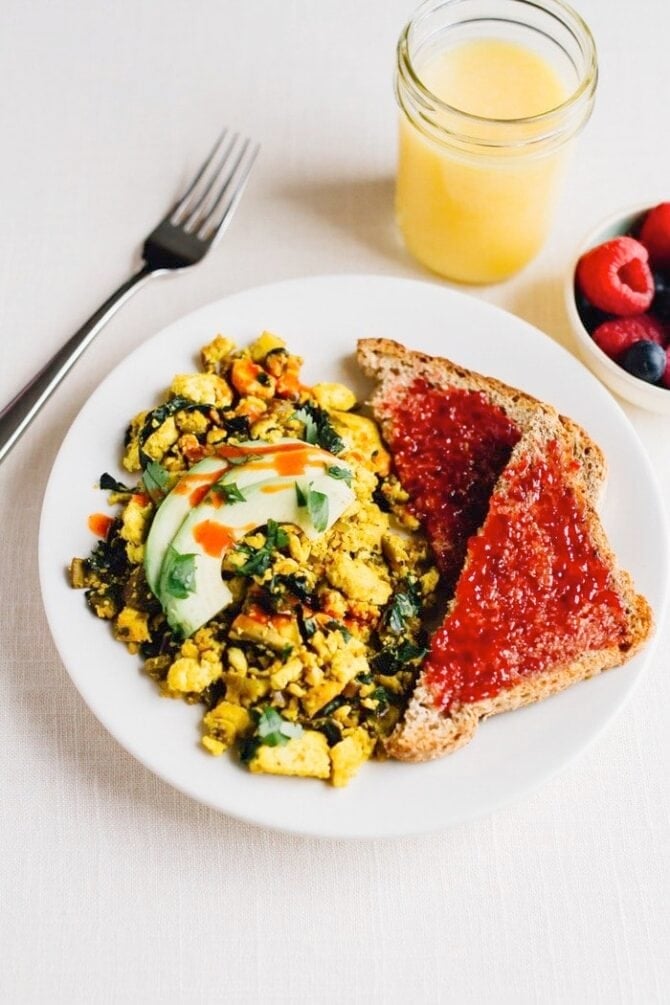 Breakfast Tofu Recipes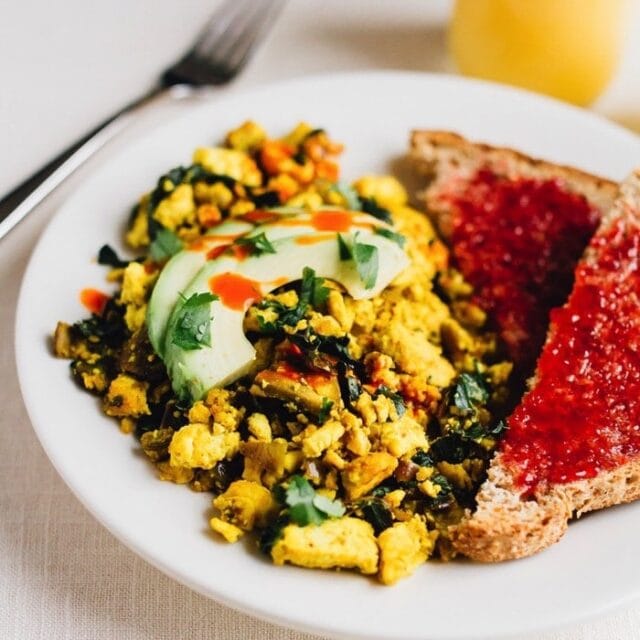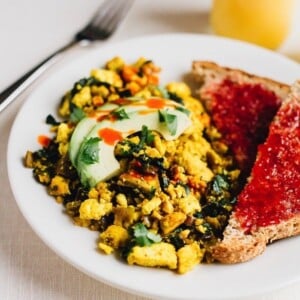 Tofu Scramble
This vegan tofu scramble is packed with flavor, has a great texture and easily lends itself to any additional veggies or spices you'd like to add in! Delicious served with sliced avocado and toast.
View Recipe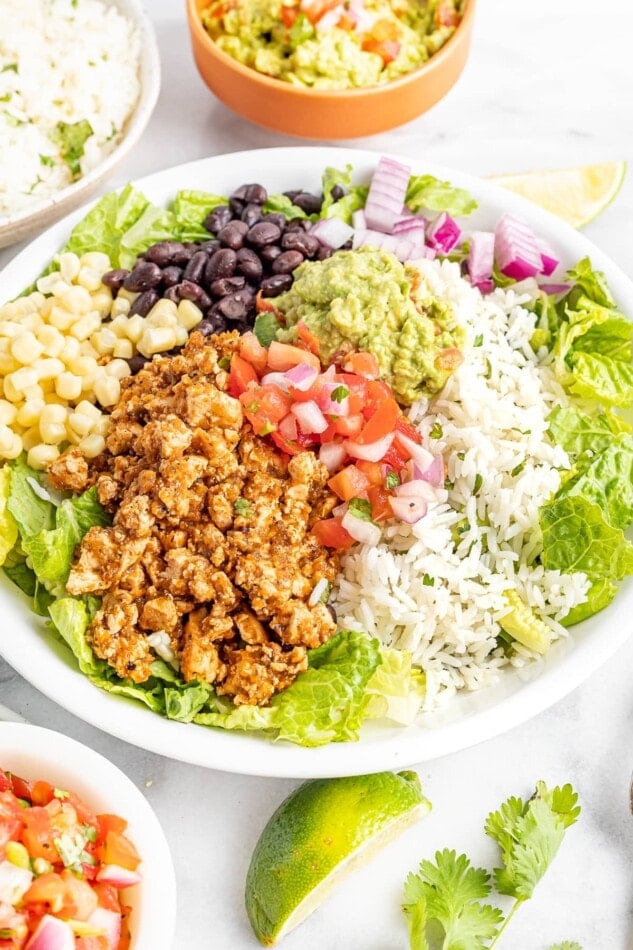 Main Course Tofu Recipes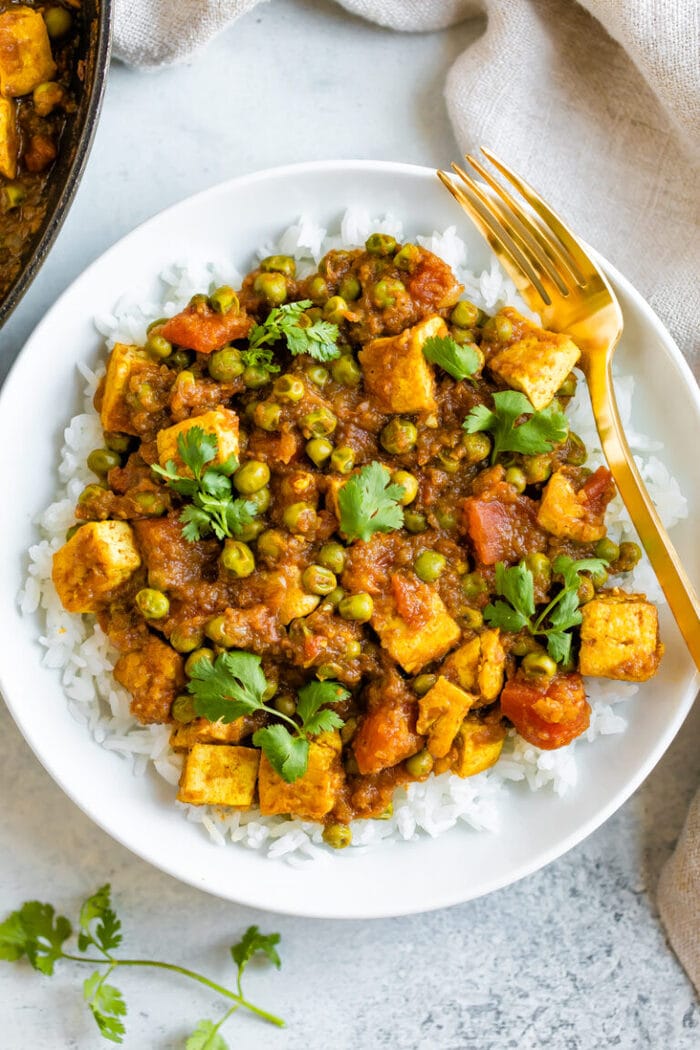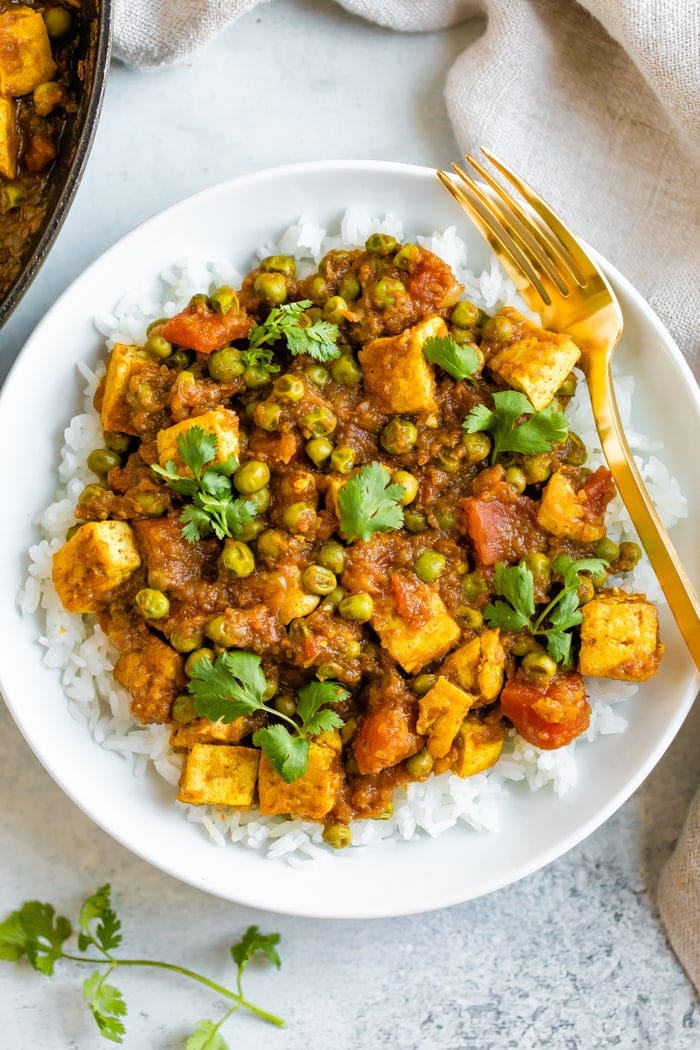 Tofu Dessert Recipes
More Recipe Collections You Might Enjoy