These tuna stuffed bell peppers are healthy, delicious and a great weeknight meal option.
I feel as though my life is finally getting back to normal. Things were kind of crazy there for a while with wedding planning. We were so busy in the last few weeks leading up to the wedding that our schedules were completely thrown off and my stress levels were at a record high. Granted I'm still working on wedding related duties (namely writing thank you cards and figuring out what to do with all our wedding stuff) but my stress levels seem to be getting back to normal. The honeymoon definitely helped.
That said, I came back from our honeymoon in need of a serious detox. Island life = eating out for every meal, lots of rum punch and piña coladas and laying on the beach. So… over the past few weeks I've been putting a lot of energy into the things I know I need to be doing to feel 100%. I've been doing more yoga, drinking more water, getting to bed earlier, planning and preparing meals, etc. It's been really nice.
Last night was one of the first Saturday nights in a while that I've had the opportunity to hang out at home, relax, make dinner and just chill. Isaac was out with a friend so I needed something for dinner that was quick and easy. I knew I wanted to use some of the fresh bell peppers I had picked up from the farmers market and I immediately started thinking of stuffed pepper ideas. Once I realized I didn't have any black beans in the pantry I decided tuna stuffed peppers would be good.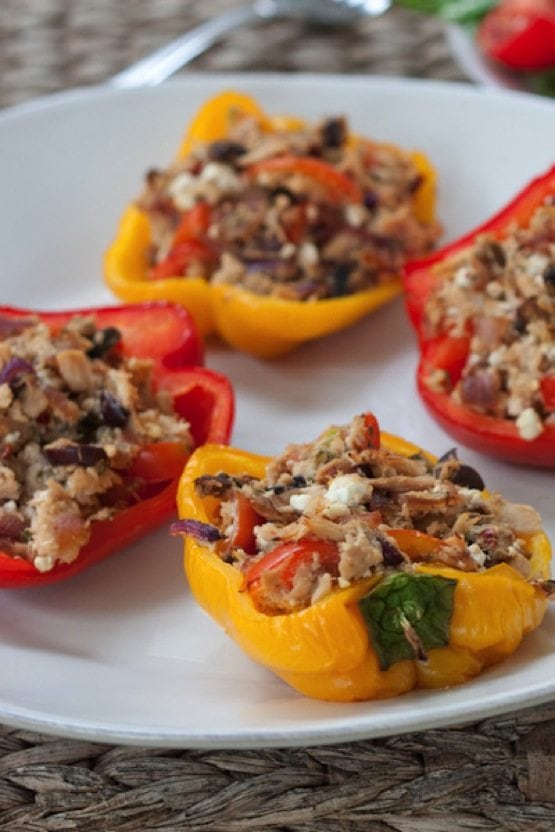 Turns out tuna doesn't photograph very well. They taste better than they look, I promise.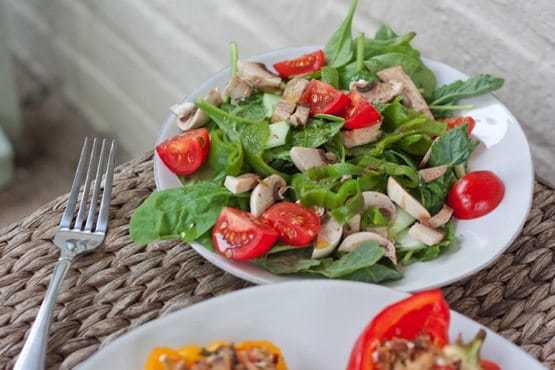 I paired the peppers with a salad. It wasn't anything special, just a simple salad with greens, mushrooms, tomatoes, green peppers and a drizzle of pineapple white balsamic and olive oil. But I'll go ahead and feature it here so y'all have something pretty to look at. 🙂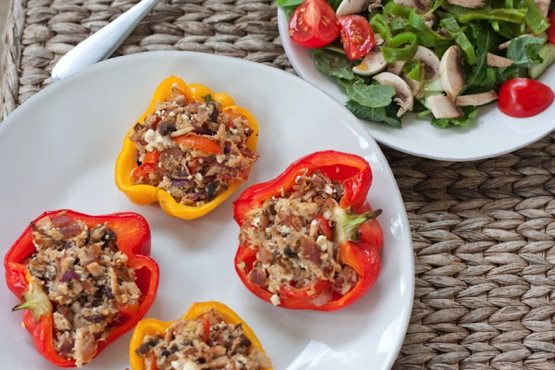 So yeah, even though these stuffed peppers may not be the most photogenic thing I've ever posted, they're so simple to make, amazingly flavorful and perfect for a quick healthy weeknight meal. The tuna mixture has a richness to it from the olives, oil and cottage cheese but it's super healthy: one serving (2 stuffed pepper halves) has only 220 calories, 23 grams of protein, 17 grams of carbs and 8 grams of fat.
With stats like that, this tasty recipe is definitely a keeper. I'm excited to have another recipe to add to my weeknight meal rotation.
Print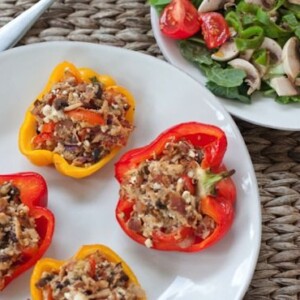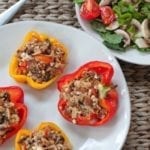 Healthy Tuna Stuffed Bell Peppers
Author:

Eatingbirdfood.com
Prep Time:

10 mins

Cook Time:

20 mins

Total Time:

30 mins

Yield:

2

1

x
---
Description
These tuna stuffed bell peppers are healthy, delicious and a great weeknight meal option. 
---
Scale
Ingredients
2

medium bell peppers (orange, yellow or red)

1/3 cup

red onion, chopped into small pieces

2

button mushrooms, chopped into small pieces

1

5-oz. can water-packed tuna

1/2 cup

chopped cherry tomatoes

1/4 cup

chopped kalamata olives

1/4 cup

no salt added cottage cheese (I use the Friendship brand)

1 Tablespoon

fresh lemon juice

1 teaspoon

extra virgin olive oil

1/2 teaspoon

dijion mustard

1/2 teaspoon

dried parsley

1/2 teaspoon

dried oregano
crushed red pepper (optional)
freshly ground black pepper
sea salt
---
Instructions
Preheat oven to broil. Place whole peppers onto a baking stone or sheet and broil for 5-7 minutes, turning once mid-way through broiling. Watch the peppers carefully so you don't complete char them. Remove from the heat, and place on a plate to cool.
Turn oven from broil to 350°.
While waiting for the peppers to cool, make your tuna filling. Spray a skillet with cooking spray and sauté the onions and mushrooms until soft and fragrant, sprinkle with sea salt and black pepper while cooking.
Add cooked onion and mushroom into a medium size mixing bowl.
Add tuna, tomatoes, olives, cottage cheese, lemon juice, olive oil, mustard, parsley and oregano to the bowl as well. Break apart tuna with a fork and stir all the ingredients together. Season to taste with crushed red pepper and ground pepper (it should not need any additional salt).
Once the broiled peppers are cool enough to handle, carefully cut the peppers in half, remove seeds and membranes (be careful as it may still be hot inside). Lay the 4 pepper halves on the baking stone and fill with the tuna mixture. You should have just enough tuna to fill the 4 pepper halves. If you have extra, you can eat it on the side or save it for later.
Place peppers in the oven for 10-15 minutes, until warm all the way through. Remove from oven, serve and enjoy.
---
---
Notes
You'll notice that I broiled the peppers before stuffing and baking them. I did this because I wanted the pepper to be roasted and soft rather than raw and crunchy. That's just how I prefer stuffed peppers. If you'd rather them be crunchy. Feel free to skip the broiling portion of the recipe.
---
Nutrition
Serving Size:

1 halves

Calories:

204

Sugar:

10g

Fat:

5g

Carbohydrates:

18g

Fiber:

6g

Protein:

23g
If you happen to be planning your meals for the week today, this would be a great recipe to add to the list. 🙂 Happy Sunday!