This simple tuna curry bowl is made with pantry/freezer staples and comes together in less than 20 minutes so it's perfect for a quick and healthy weeknight meal! Paleo, grain-free, gluten-free and low-carb. I received free samples and compensation by Genova in exchange for recipe development. All opinions are my own.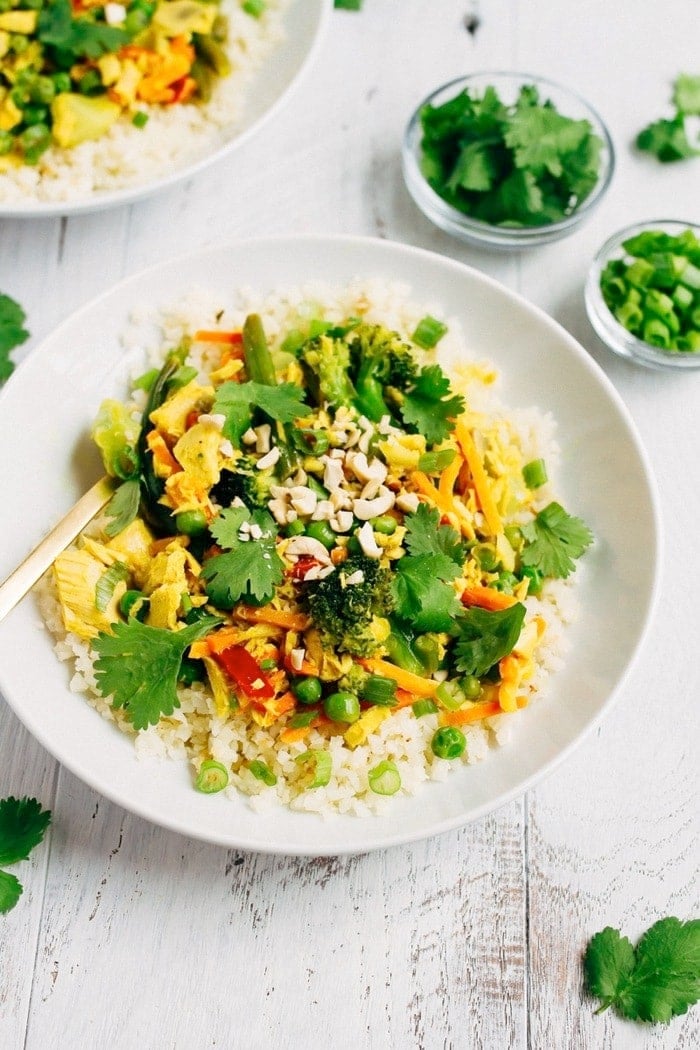 I LOVE all things curry. Yellow curry, red curry, green curry… I seriously can't get enough. My current collection of curry recipes is already pretty expansive, but today I have a new one for you.
A tuna curry bowl served over cauliflower rice that's super simple and only takes about 20 minutes to whip up!
I think you're going to like it.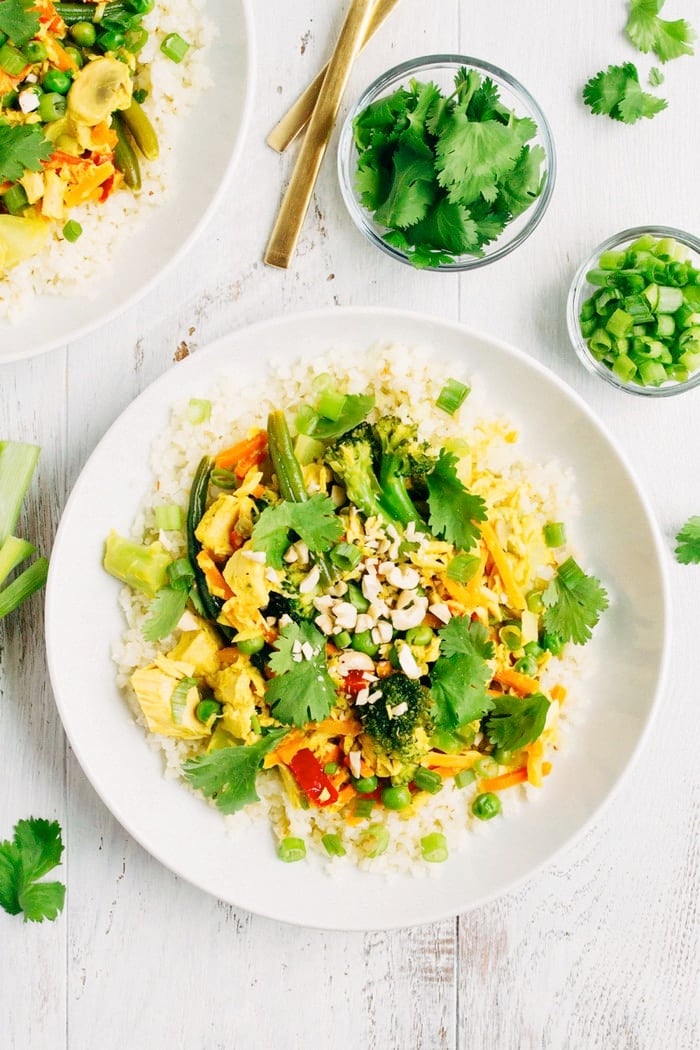 The flavor is delicious and it's pretty darn healthy too! Lots of protein, veggies and healthy fats, plus no gluten or grains.
If you're paleo, gluten-free, grain-free or low-carb you'll love adding this dish to your collection of go-to weeknight meals.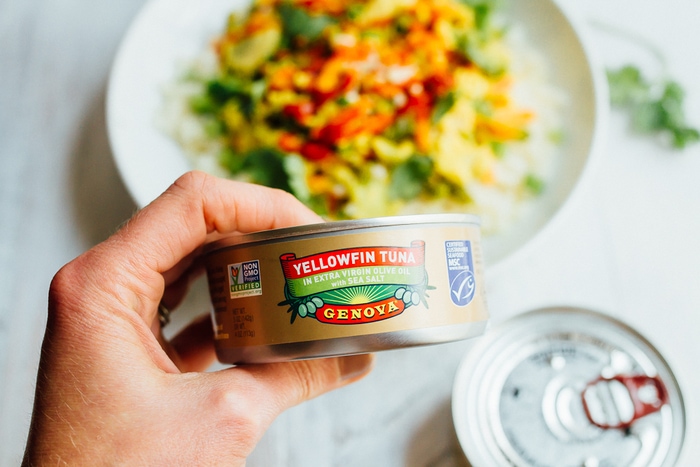 I'm excited to be partnering with Genova tuna to create this recipe. Their canned tuna is some of the best tuna I've tasted. It doesn't smell or taste super fishy and when you open the can you see actual chunks of fish. It's wild-caught, non-gmo and Marine Stewardship Council (MSC) certified, which means the fish are responsibly caught by a certified sustainable fishery. Learn more about the MSC certification here.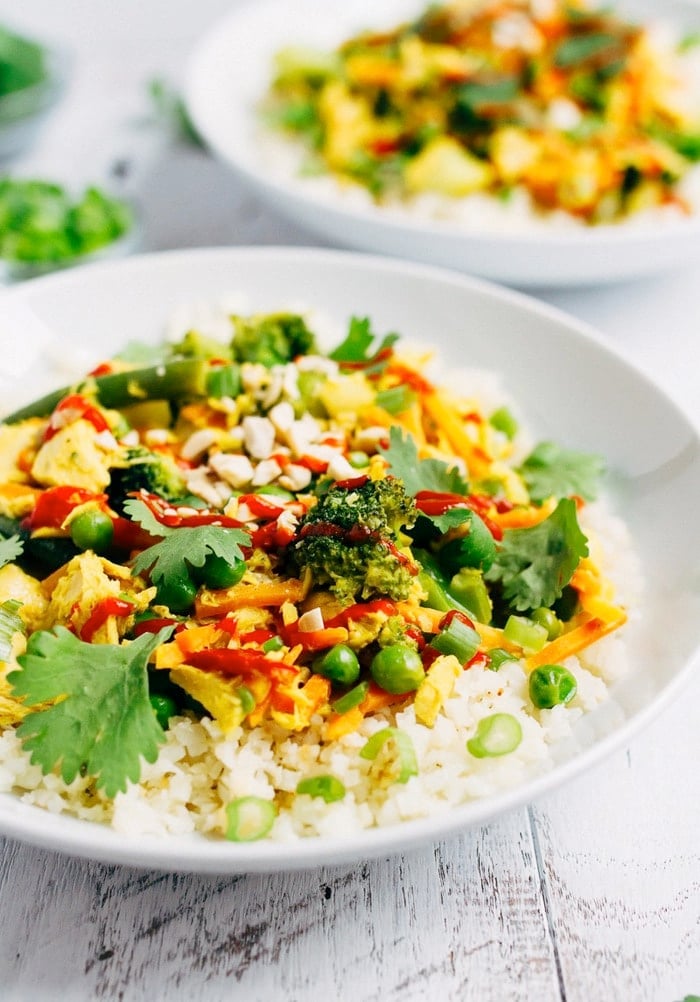 All of the ingredients for this curry tuna bowl are frozen or shelf-stable so the recipe is pretty budget-friendly and perfect for those nights you find yourself saying, "Shoot, we didn't plan anything for dinner."
I don't know about you, but we always have a few cans of tuna and coconut milk in the pantry, as well as, a bag of stir-fry veggies and cauliflower rice in the freezer. If these items aren't something you always keep on-hand, here's your sign! Stock up when the ingredients are on sale and you'll have them ready to go whenever you need a quick meal.
Trust me… everyone needs a quick go-to meal like this tuna curry bowl in their back pocket.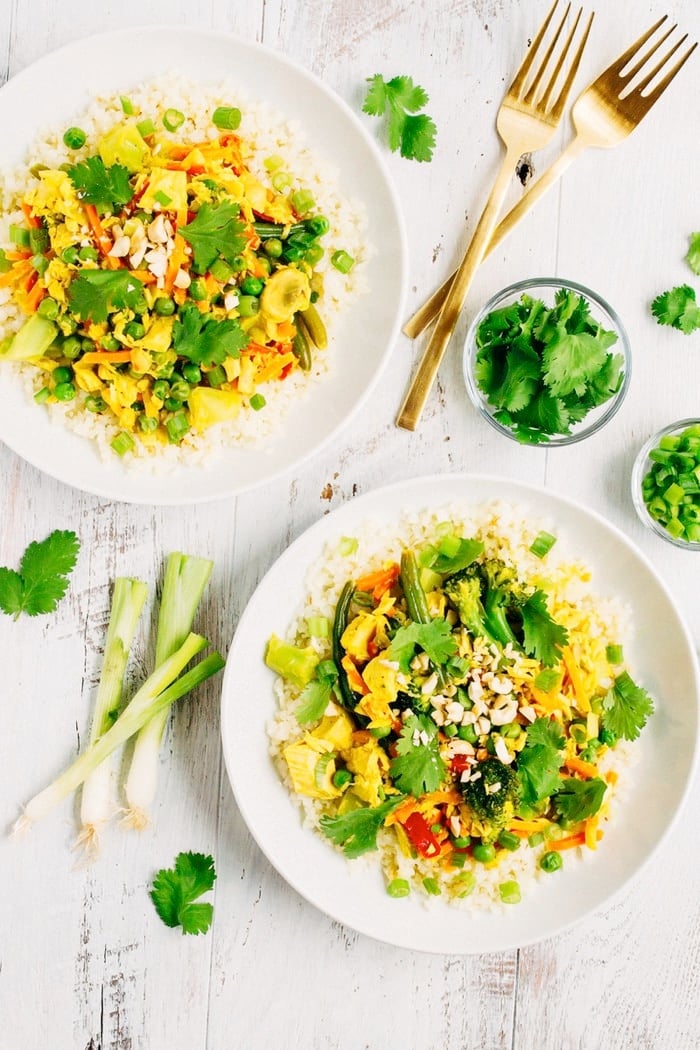 Tuna Curry Bowl with Cauliflower Rice
4
adjust servings
Ingredients
1

Tablespoon coconut oil

1

teaspoon grated ginger

2

cloves garlic, minced

1

Tablespoon yellow curry powder

1 15

oz can coconut milk (regular or lite)

1

Tablespoon coconut aminos or tamari

1

Tablespoon lime juice

1/4

teaspoon cayenne

1

teaspoon turmeric

1/4

teaspoon black pepper

1 16

oz bag frozen stir-fry veggies

1 12

oz bag frozen cauliflower rice, cooked according to package

2 5

oz cans Genova Yellowfin Tuna in Extra Virgin Olive Oil with Sea Salt, drained

3

green onions (greens only), chopped

1/4

cup cilantro, chopped

1/4

cup cashews, chopped

sriracha (optional)
Instructions
Heat coconut oil in a large skillet over medium high heat. Add ginger and garlic and sauté until fragrant, about 3-4 minutes. Add stir-fry veggies and cook for another 3-4 minutes. Stir in spices (curry powder, turmeric, cayenne and black pepper) and then add coconut milk, coconut aminos, and lime juice into the skillet as well.
Continue stirring and bring mixture to light boil. Reduce heat and stir in tuna. Cook additional 1-2 minutes until just heated through. Serve tuna curry over cooked cauliflower rice. Garnish each portion with green onion, cilantro and cashews. Top with sriracha (or your favorite hot sauce) and enjoy!
Be sure to let me know if you try this recipe.  Leave a comment here or share a photo via social media and tag me (@eatingbirdfood) or use the hashtag #eatingbirdfood in the post. Seeing you try my recipes makes me all warm and fuzzy inside and it's honestly what keeps me posting. That and your comments. I simply love connecting with you!