Caesar Salad with Shrimp
6
Published Aug 01, 2018, Updated Sep 19, 2022
This caesar salad with grilled shrimp is loaded with toppings including sweet potato croutons, avocado, parmesan cheese and a creamy avocado caesar dressing.
Have you tried my new avocado caesar dressing yet? I have to say, it's delicious on a traditional caesar salad and also amazing on this caesar salad with grilled shrimp!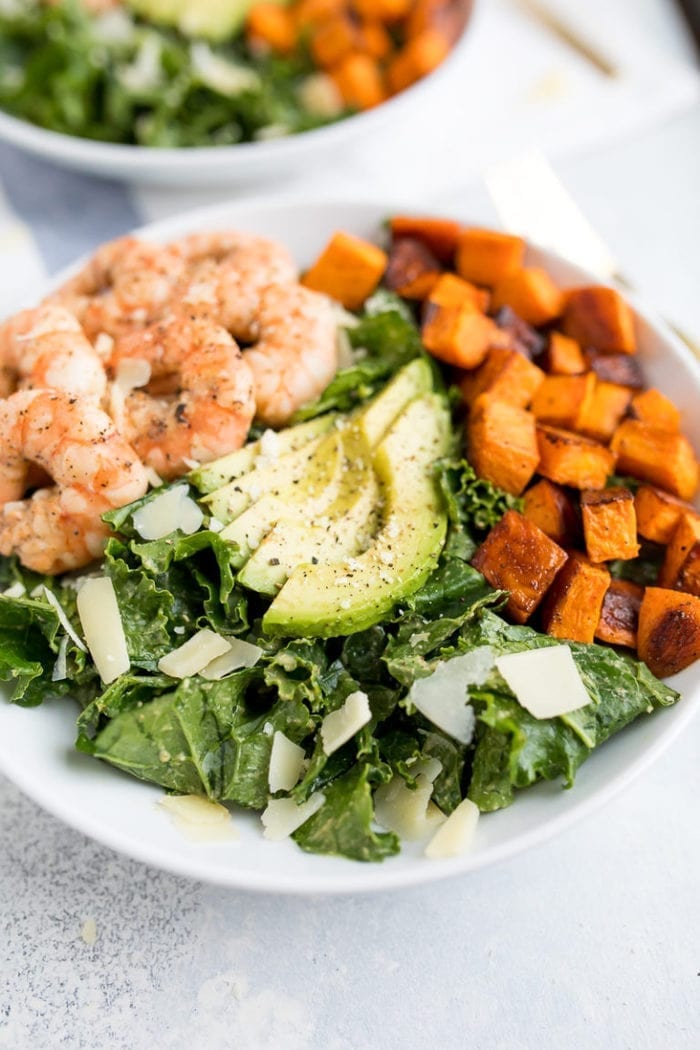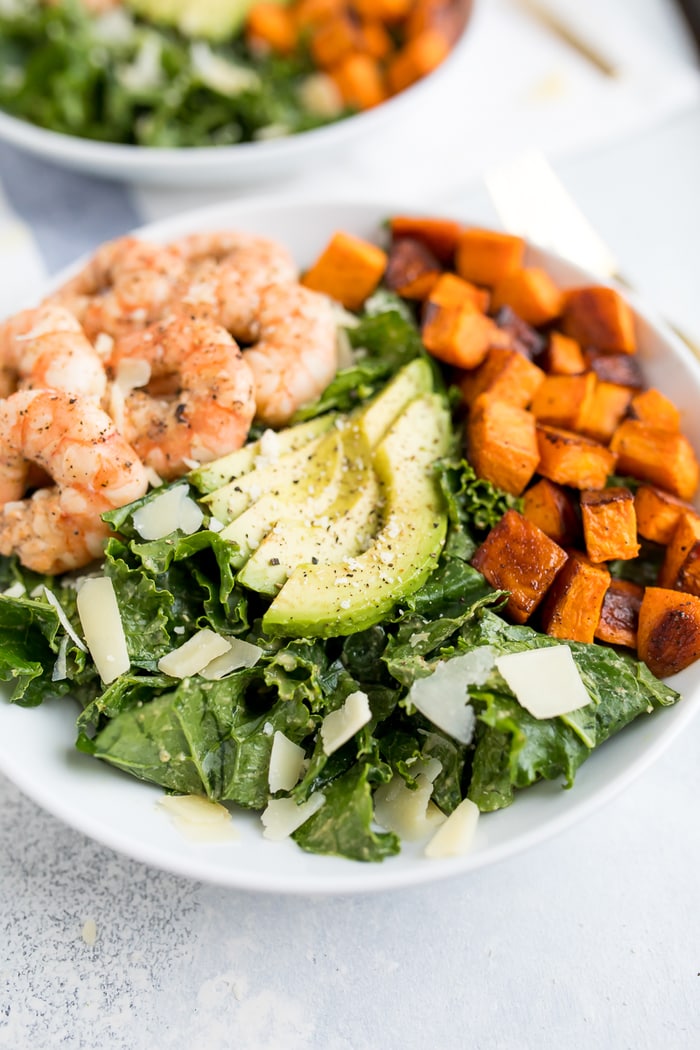 This recipe doesn't get much easier, and I think that's because the dressing packs a punch in the flavor department so you don't need to add a ton of other flavors and ingredients! Let's break down what's in this salad…
Shrimp Caesar Salad Ingredients
Kale – A powerhouse green. It's anti-inflammatory, which everyone could use more of if you ask me! It's also an antioxidant so it helps detox your body, and is high in a lot of great vitamins and minerals your body needs to function at its best. If you're not a kale fan, don't sweat! Swap it out for the greens of your choice… I promise the salad will still be delicious!
Sweet potato croutons – I've lost count of how many times I've talked about these on my blog, but if you haven't made them yet, you're missing out! I strive to have these made every week so I can throw them into every salad (or even snack on, because they're that good)! Not only are they are a great source of fiber, vitamins and minerals, but they also bring a great texture and color to the salad. (#important to someone like me who takes a lot of food photos!)
Grilled lemon pepper shrimp – I personally love shrimp or chicken on my caesar salads, but feel free to use your own personal favorite protein (animal or plant-based). Just make sure you don't skimp on the protein in this salad – the magic combination to getting and staying full is healthy carbs, healthy fat, and lean protein. I also have to mention, the lemon pepper flavoring on this shrimp complement the dressing perfectly!
Avocado caesar dressing – Magical, delicious and healthy. What more could you want? This dressing takes approximately 15 seconds to make (and very few dishes), so don't let lack of time keep you from making it from scratch! It can even be made ahead of time (you're welcome, meal preppers!).
Avocado – when in doubt, put an avocado on it. The dressing recipe only calls for 1/3 of an avocado, so unless you already ate it, you've got 2/3 of an avocado left to top your salad with! The healthy fats will help you feel full and stay satisfied for longer (which in my opinion is super important when eating salads).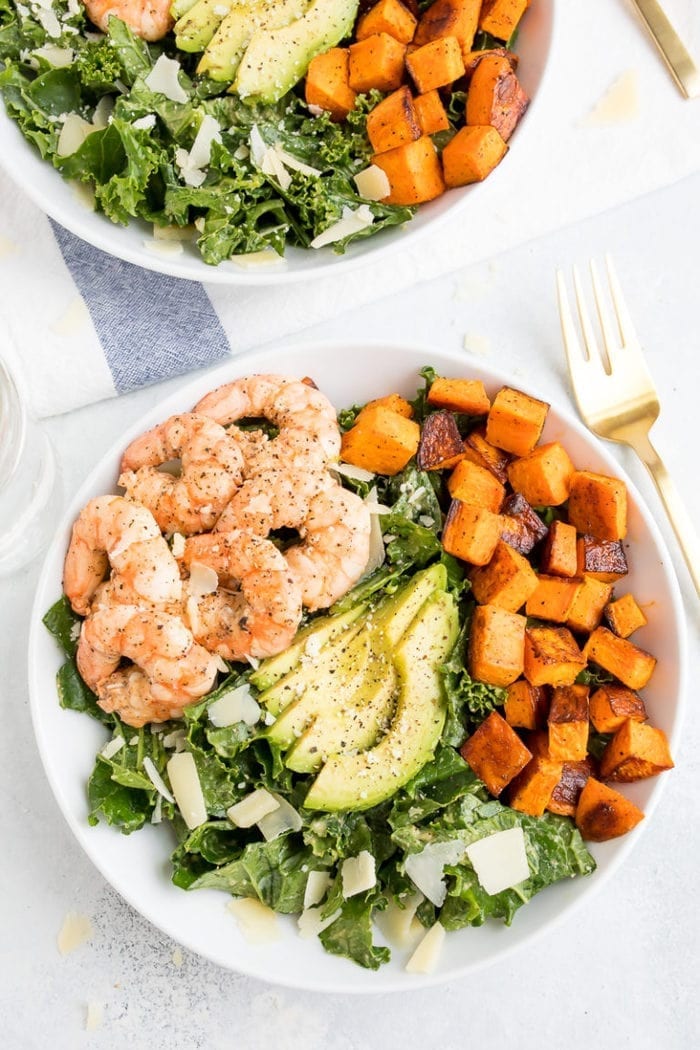 More Popular Salad Recipes
More Shrimp Recipes
Be sure to check out all of my salad recipes as well as my healthy salad dressings.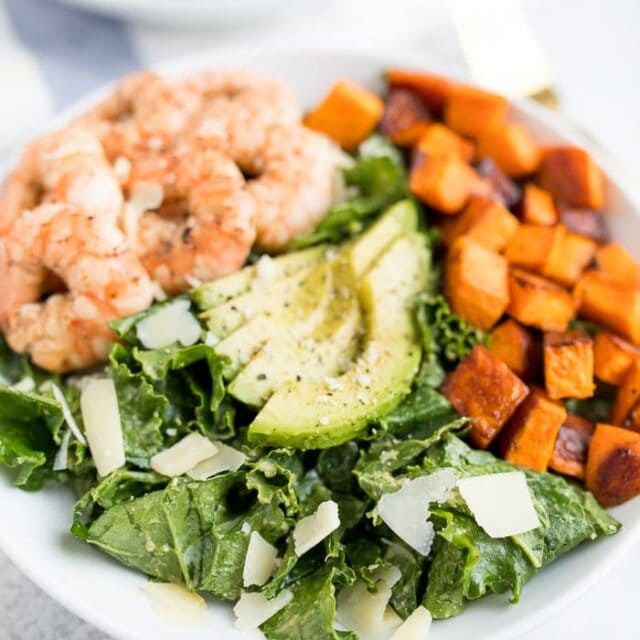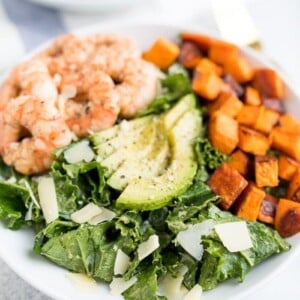 Caesar Salad with Shrimp
This caesar salad with shrimp is topped with sweet potato croutons, avocado, parmesan cheese and a creamy avocado caesar dressing.
Instructions
Roast your sweet potato croutons and grill the lemon pepper shrimp.

Add chopped kale to a big bowl. Drizzle ½ of the avocado caesar dressing over kale and toss. Taste and add more dressing, if desired (I like the kale well-coated so I use the whole batch of dressing).

To serve, add dressed kale into serving bowls and top with sweet potato croutons, grilled shrimp and avocado slices.
Nutrition
Serving:
1
/4 recipe
|
Calories:
435
kcal
|
Carbohydrates:
26
g
|
Protein:
38
g
|
Fat:
20
g
|
Saturated Fat:
4
g
|
Polyunsaturated Fat:
2
g
|
Monounsaturated Fat:
10
g
|
Cholesterol:
154
mg
|
Sodium:
1575
mg
|
Potassium:
544
mg
|
Fiber:
12
g
|
Sugar:
7
g
Nutrition information is automatically calculated, so should only be used as an approximation.