A lovely kale and cabbage salad with broccoli florets, chickpeas and sunflower seeds coated with a light apple cider vinegar goddess dressing. Vegan, gluten-free and paleo! 
In case you haven't noticed, I have a tiny crush on kale. I like to have it on hand every week to make something — like this salad, or this one or quiche or maybe a juice and a green smoothie… I'll stop there because I think you get my drift. Anyhow, this week I decided to stray from my normal go-tos and came up with something new.
It's not revolutionary as it's just a kale salad but the ingredients are quite cleansing and the dressing is super simple to make, yet still robust with flavor. I think you guys are really going to enjoy it!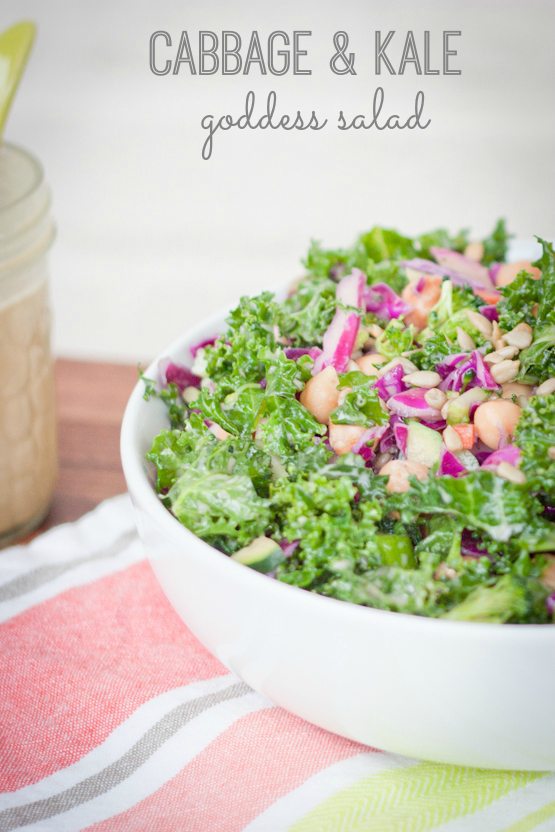 And I can't say that I came up with this salad idea all on my own, I was inspired by this holiday detox salad recipe from What's Cooking Good Looking, a new blog I'm loving as of late. Not only do I heart the blog name (so cute), but Jodi's recipes are right up my alley. Seriously… just check out her latest post for baked sweet potatoes with mustard greens, leeks, white beans + a cilantro tahini. Yes, please! Already pinned that bad boy.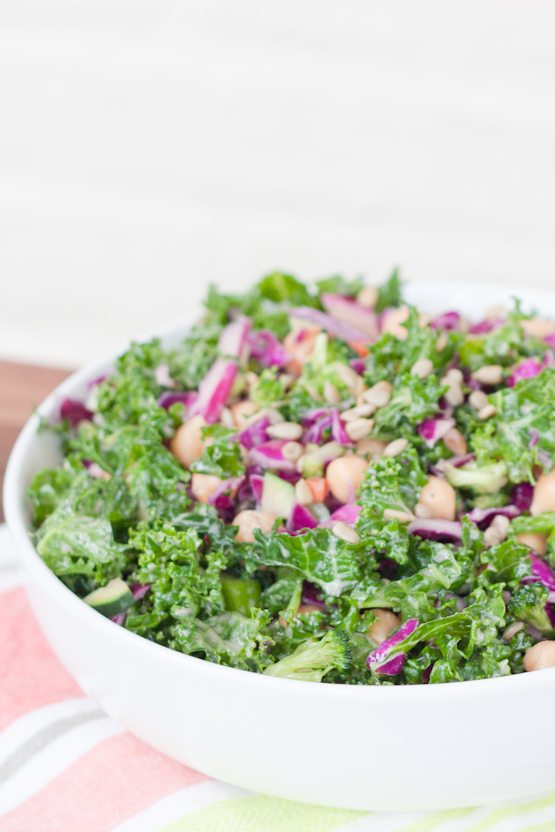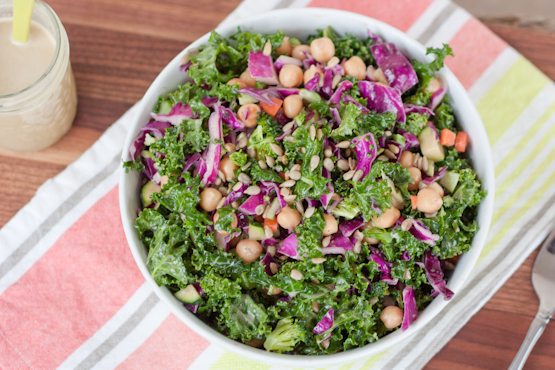 The dressing I used is completely different from what the original recipe calls for, but it pairs quite nicely with the salad. The flavor reminds me a lot of Annie's Goddess Dressing, but a bit thinner and without the tahini.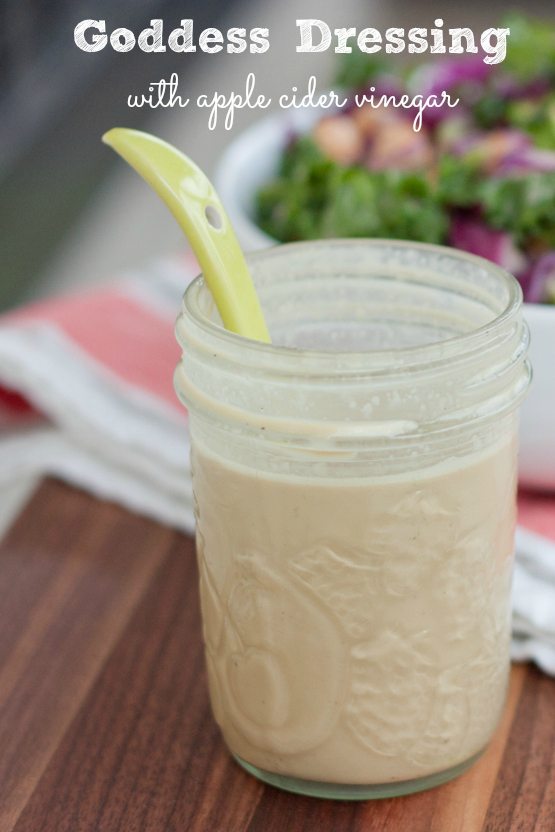 The recipe for the dressing makes more than enough to dress the salad so you'll have left overs to use on other salads or as a topping for another dish. I can attest to the fact that it tastes delicious on tofu, veggies and quinoa.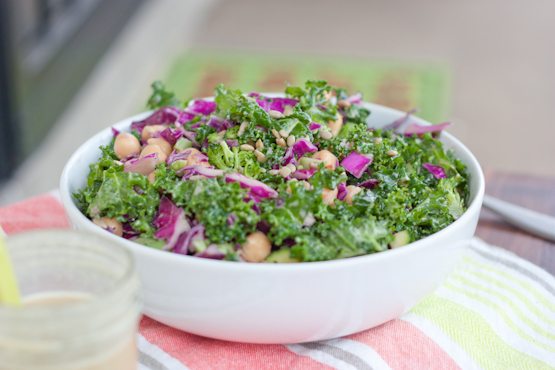 Print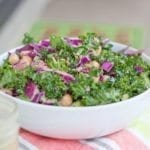 Kale & Cabbage Goddess Salad
Author:

Prep Time:

20 mins

Total Time:

20 mins

Yield:

6
---
Description
A lovely kale cabbage salad with broccoli florets, chickpeas and sunflower seeds coated with a light apple cider vinegar goddess dressing.
---
Ingredients
4 cups kale (approx. 1/2 bunch), de-stemmed and shredded
4 cups red cabbage, shredded
1 medium crown of broccoli, chopped into bite-size pieces
1 (15 oz) can of chickpeas, drained and rinsed
1/3 cup roasted unsalted sunflower seeds
Goddess Dressing:

3 cloves garlic
1/2 cup nutritional yeast
1/4 cup coconut aminos or Bragg's liquid aminos, tamari or soy sauce
1/3 cup apple cider vinegar
1/4 cup water
ground pepper, to taste
1/3 cup extra-virgin olive oil
---
Instructions
Combine all dressing ingredients except olive oil into a blender. Blend until smooth and slowly add in the olive oil with the blender on a low setting. I made the dressing in my Vitamix, but if don't have a blender you can easily make it by whisking all the ingredients together as well. Just make sure you mince your garlic.
Make sure all your salad ingredients are chopped into bite-size pieces and toss into a large bowl to combine. Toss in chickpeas and sunflower seeds and top with dressing (I used about 1/2 the batch, but feel free to add as much or as little as you'd like). Massage the salad with your hands until all ingredients are well coated. Enjoy!
Oh and I wanted to say thank you for all your support on my 
last post
. I really appreciate it! A couple of you expressed concern about that fact that I didn't have enough rest days in my workout schedule. If you know me, you'll know that I am a huge proponent of rest days and listening to my body. I usually take my full rest days on Saturdays if I feel like I need one. In addition, I didn't really explain my 30-60 minute cardio days well. Some cardio days I go all out and do a high intensity cardio workout  but others I might just walk for 30 minutes or read a book while cycling, which isn't intense and can be counted as an active rest day. Hopefully that helps clear things up a bit.
PS – Have you heard or tried
Buti Fitness
? It's a workout that combines yoga and dance moves and I just learned about it this week from the 
10-minute Buti workout that was posted on FitSugar
. It definitely looks interesting and I'm intrigued. Trying the 10-minute workout is now on my weekend to-do list. I'll let you all know what I think. 🙂