Kale and Cabbage Salad
30
Published Apr 22, 2019, Updated Oct 12, 2023
A crunchy kale and cabbage salad with broccoli florets, chickpeas and sunflower seeds all coated with a light nutritional yeast dressing. Vegan, gluten-free and paleo!
In case you haven't noticed, I have a tiny crush on kale. I like to have it on hand every week to make something green. Some of my favorites include this garlicky kale salad, this detox salad, a kale and feta quiche or even a green juice or green smoothie… I'll stop there because I think you get my drift. Anyhow, this week I decided to stray from my normal kale recipes and I came up with something new.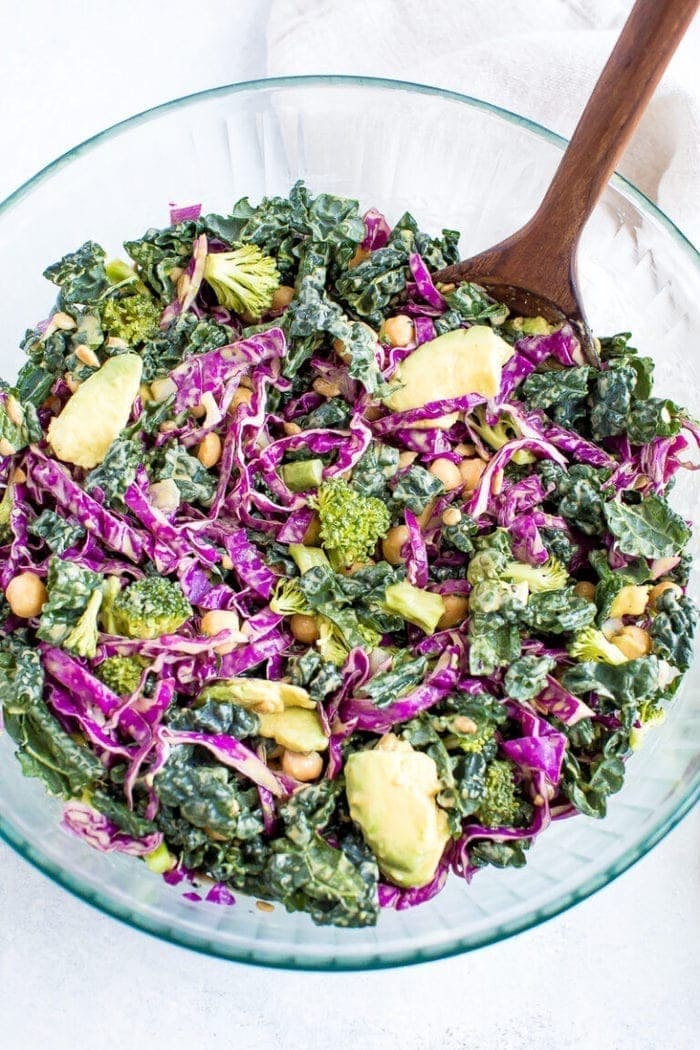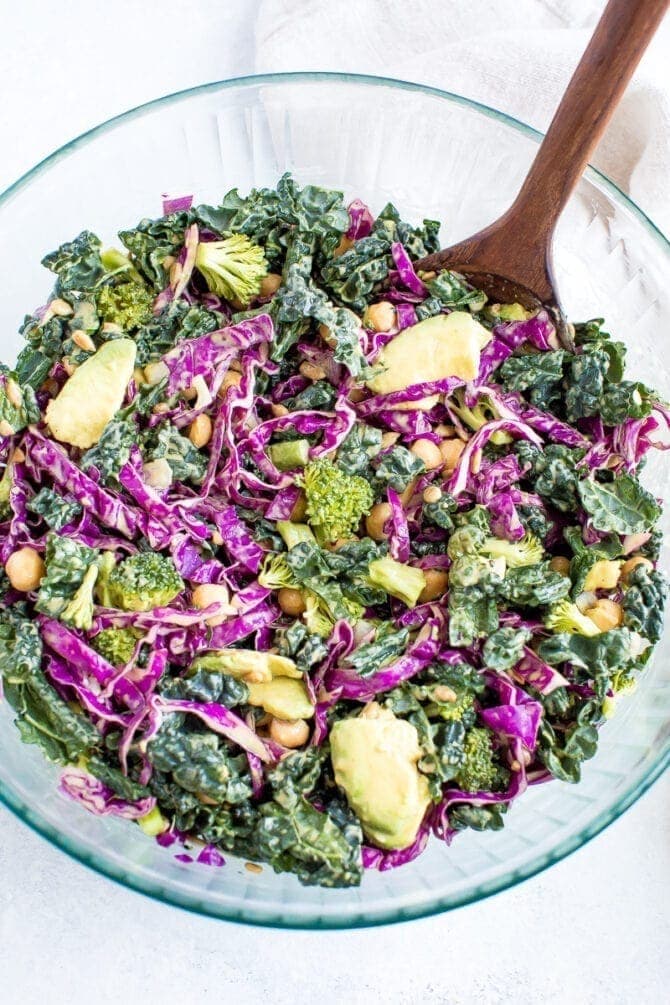 It's not revolutionary as it's just a kale and cabbage salad, but the ingredients are quite cleansing and the dressing is super simple to make, yet still robust with flavor. I think you're going to love it!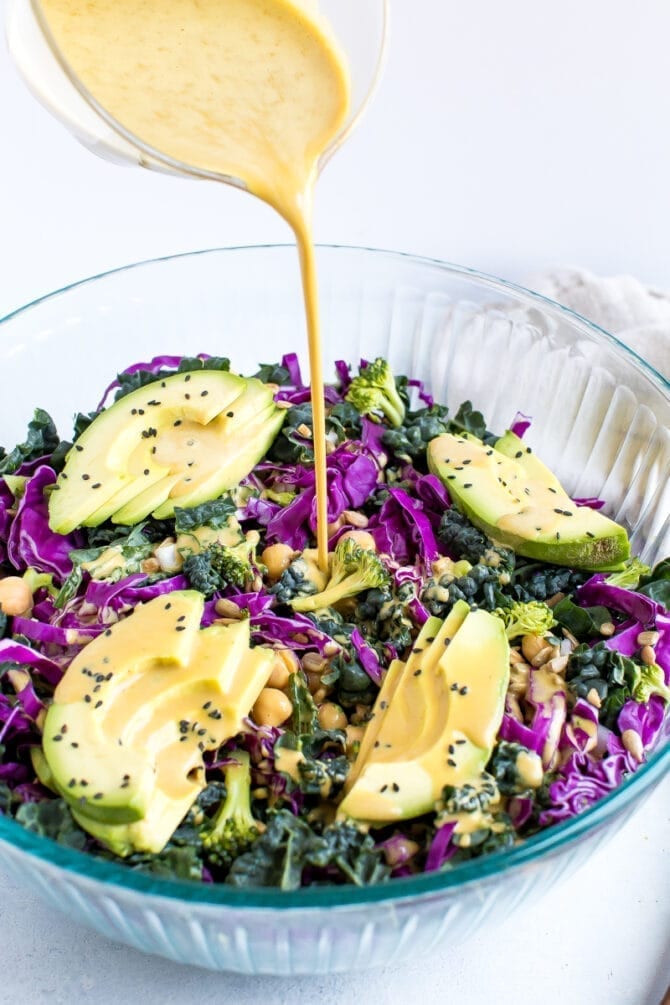 Benefits of Cruciferous Vegetables
One awesome thing about this salad is that it is loaded with a cruciferous vegetables, which are known for their health benefits.
These vegetables are nutrient dense and low in calories. Each vegetable has a different nutrition profile but in general cruciferous vegetables are usually packed with vitamin A, vitamin C, vitamin K and dietary fiber. In addition, they contain glucosinolates, sulfur-containing compounds that provide cancer-fighting properties.
Side Affects of Cruciferous Vegetables
I should also mention that although cruciferous veggies are packed with nutritional benefits there are some side affects.
The first is that all the fiber in these veggies can cause gas and bloating.
And when eaten raw these veggies release goitrogens through the digestion process. Goitrogens can increase the need for iodine and can cause damage to the thyroid gland. This is usually only an issue if you're eating large amounts of cruciferous vegetables or if you have an iodine deficiency or thyroid disfunction. If this is the case you should only eat cooked cruciferous vegetables and limit your consumption. And as always talk to your doctor about this if you have any concerns.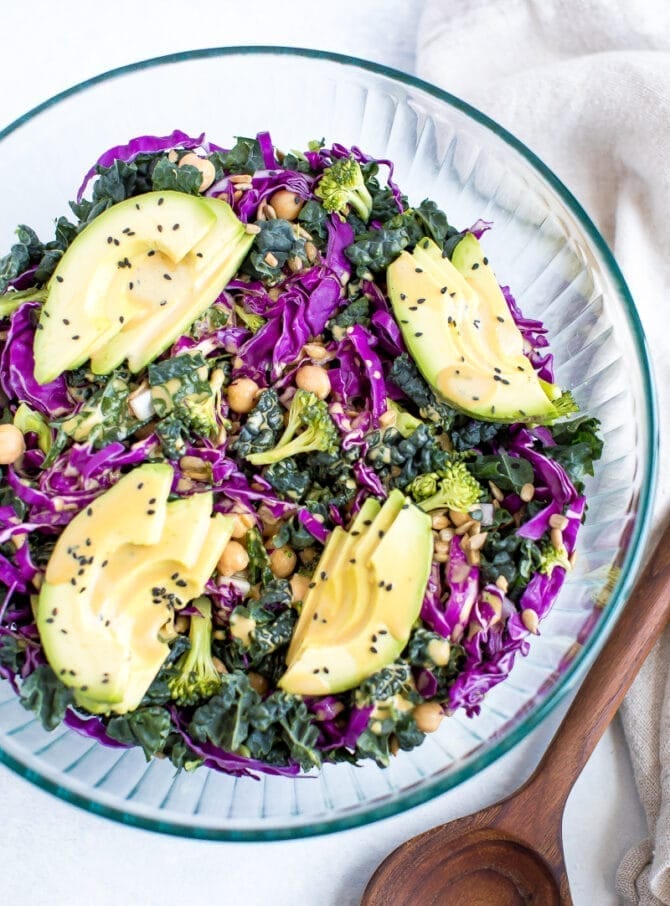 Save Time With Cruciferous Crunch
There are a ton of veggies in the cruciferous family including cabbage, kale, brussels sprouts, broccoli and cauliflower. For this salad we're using kale, cabbage and broccoli. This blend is similar the Cruciferous Crunch salad mix, one of my go-to healthy staples from Trader Joe's. Cruciferous Crunch has the same combo of veggies but also includes brussels sprouts. Pro tip: If you're running low on time and want to skip all the chopping, you could totally use 2 bags of the Cruciferous Crunch to make this salad!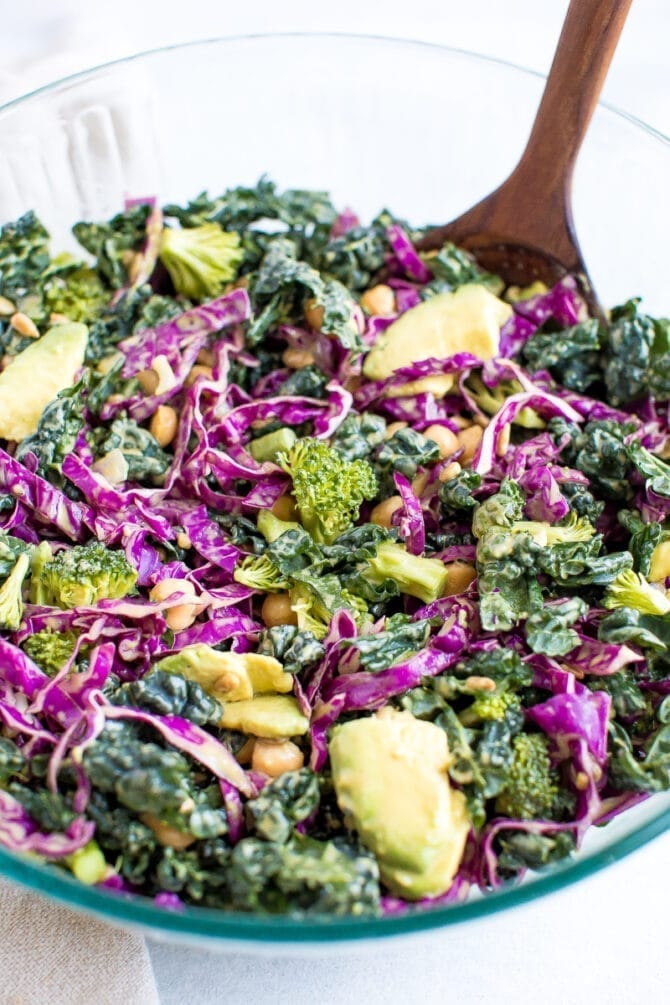 What to do With Leftover Dressing?
The recipe for the nutritional yeast dressing makes more than enough to dress the salad so you'll have some leftover to use on other salads or as a topping for another dish. I can attest to the fact that this dressing tastes delicious on tofu, steamed veggies and quinoa. It would be delicious on this sweet potato brown rice bowl.
Love Kale Salad? You Have to Try These
More Recipes with Cabbage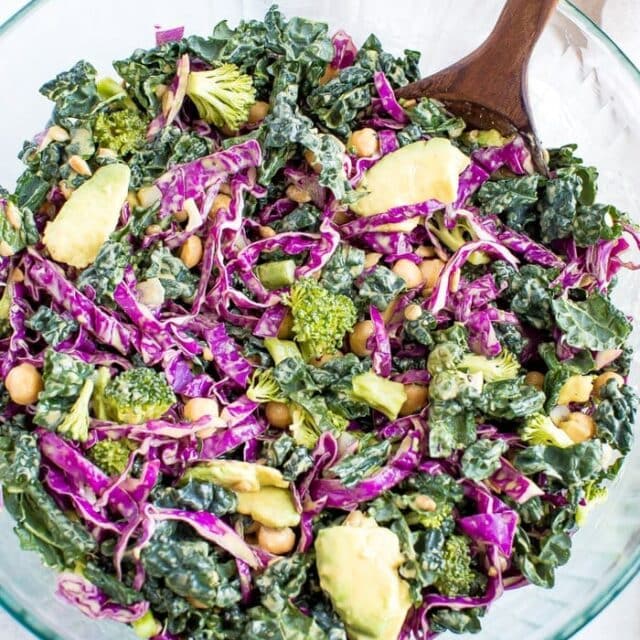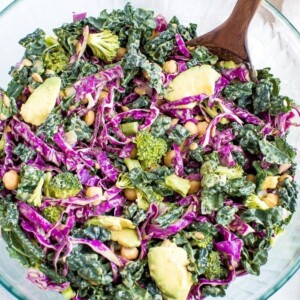 Kale and Cabbage Salad
A lovely kale cabbage salad with broccoli florets, chickpeas and sunflower seeds coated with a creamy nutritional yeast dressing. 
Ingredients
4

cups

kale

,

approx. 1 bunch, de-stemmed and shredded

4

cups

red cabbage

,

shredded

1

medium crown of broccoli

,

chopped into bite-size pieces

1

15 oz can of chickpeas, drained and rinsed

1/3

cup

roasted unsalted sunflower seeds

1

avocado

,

sliced

3/4

cup

nutritional yeast dressing,

see recipe
Instructions
Chop all your veggies into bite-size pieces and toss into a large bowl to combine.

Toss in chickpeas and sunflower seeds and top with dressing (I used about 1/2 the batch, but feel free to add as much or as little as you'd like). Use your hands to massage the salad, toss with a large spoon or put a lid on the container and shake until the salad is well coated.
Nutrition
Serving:
1
/6 of recipe with 2 T of dressing
|
Calories:
306
kcal
|
Carbohydrates:
32
g
|
Protein:
13
g
|
Fat:
15
g
|
Fiber:
12
g
|
Sugar:
5
g
Nutrition information is automatically calculated, so should only be used as an approximation.