Happy snow day! It's not really snowing in the city yet (just rain) but Isaac's school is closed for the day so he's pretty pumped. I've decided that working from home is great… until there's a snow day and you have no excuse not to go into the office. 😉
Oh well, today I have a delicious recipe I've been waiting to share. As you all know, I love kale! It's one of the most nutrient dense foods we can eat and it tastes good, so naturally, I try to include it in any dish possible. Recently I decided to make a crustless quiche and of course, kale needed to be involved.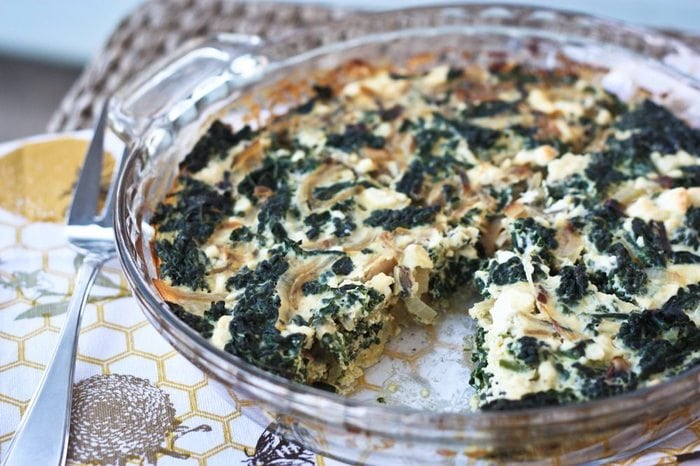 I must say that when paired with eggs and feta, kale makes quite a delicious quiche. This recipe is makes for easy breakfasts throughout the week, but is also special enough to make for brunch. It would be great to serve on Easter morning. If you serve it for brunch, I promise your friends and family will be so satisfied with the flavor, they won't even miss the crust.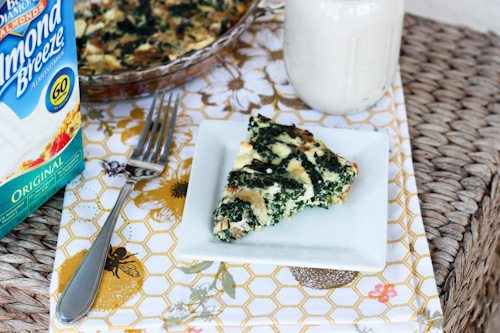 Kale and Feta Crustless Quiche
8
adjust servings
Ingredients
cooking spray or coconut oil

1

onion, halved and thinly sliced

2

cloves of garlic, minced

1/2

cup chopped mushrooms

1/2

teaspoon dried herbes de provence

1/2

bunch (about 3-4 cups) of kale, chopped

sea salt and freshly ground black pepper, to taste

3

eggs

1/3

cup egg whites

2/3

cup unsweetened Original Almond Breeze almond milk

1/8

teaspoon freshly grated nutmeg

1/3

cup feta cheese
Instructions
Preheat oven to 400°. Coat a 9-inch pie pan with cooking spray or coconut oil.
Coat a large skillet with cooking spray or coconut oil and turn heat to medium-high. Add onion, garlic, mushrooms, kale, herbes de provence, sea salt and pepper.
Cook mixture, stirring occasionally and adding a tablespoon or two of water if the pan gets too dry, until onions are translucent and kale and mushrooms have wilted.
In a small bowl, whisk together eggs, egg whites, almond milk and nutmeg. Season with an additional pinch of sea salt and pepper. Spread onion, mushroom and kale mixture on the bottom of prepared quiche dish. Sprinkle on the feta cheese.
Pour egg mixture over top and push under any ingredients not covered by the egg mixture to prevent burning. Bake uncovered until set and golden brown around edges, about 25 minutes. Let quiche rest at room temperature for 10-12 minutes, then cut into eight slices and serve.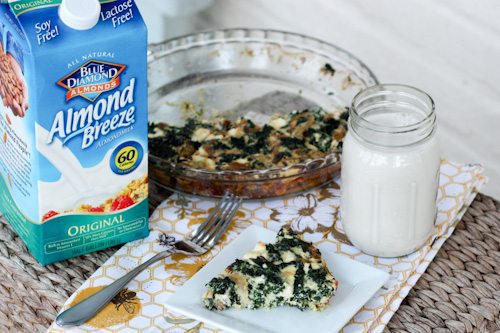 Savory, cheesy and healthy = what's not to love? I'm pretty positive that this is one of my favorite recipes that I've created for EBF. I couldn't stop eating it. And that says a lot for something that doesn't have peanut butter or chocolate.