Hormone-Balancing Paleo Power Breakfast
19
Published Sep 24, 2015, Updated Sep 16, 2021
I'M HOME! These past two weeks I've been traveling for blog related trips. Last week I was in Yuma, Arizona and this week was a quick visit to Charlotte, North Carolina. Both trips were crazy fun and I adore traveling but it kind of wipes you out! I feel like I'm still catching up on sleep, responding to emails I missed and settling back into my normal routine.
Speaking of routine, I'm pretty excited to be able to whip up breakfast in my own kitchen this morning.
As I work towards increasing the amount of healthy fats in my diet I've been eating more paleo-ish. I actually hate diet labels, but that's any easy way to describe how I've been eating lately. I'm calling it paleo-ish because I'm still doing some grains, beans and dairy occasionally, but I'm making sure to get plenty of fat and protein as well.
With that style of eating in mind I've been opting for eggs for breakfast over my normal bowl of oatmeal. Eggs alone don't really hold me over well so I've been making a power breakfast that really satisfies me in the morning and keeps me feeling full until lunch. I've found that for me FAT is the key to satiety for me.
Y'all are probably going to laugh at me for this but the breakfast I'm sharing today kind of reminds me of the Big Daddy Skillet from Aunt Sarah's. Have you ever had it before? If not, it's basically a huge plate of breakfast food (pancakes, eggs, bacon, sausage and home fries) that comes out on a hot skillet. When I was younger my mom and I used to spilt it and I loved that it came with a variety of stuff. This version also has a variety of flavors — it's just a tad more colorful and a wee bit healthier. 😉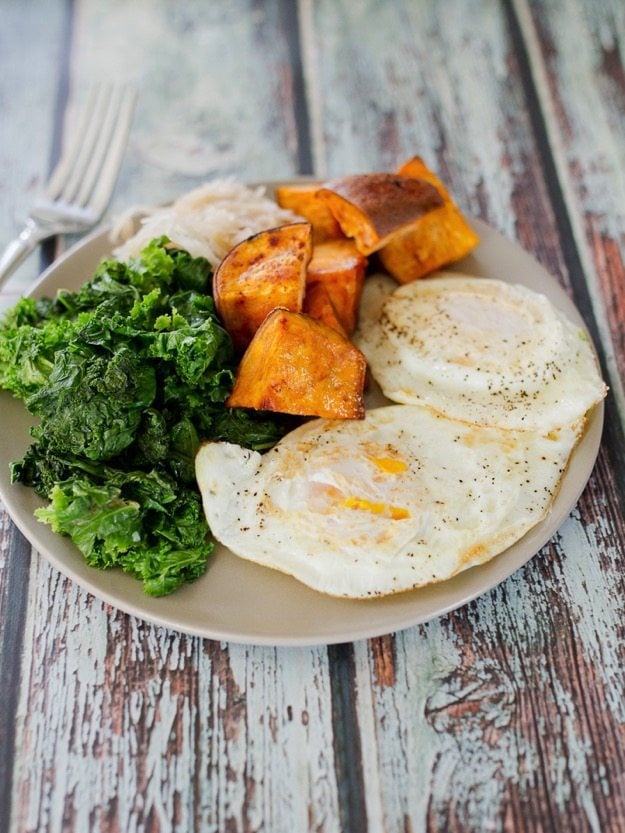 So last week I wrote about my favorite way to prepare sweet potatoes and I mentioned having them for breakfast. Well, here's the breakfast combo I was referring to.
I got the idea for this breakfast from Laura Hames Franklin's #superhumanbreakfast challenge. I participated in the challenge last year and I've been obsessed since. I honestly think this is one of the healthiest breakfasts around. It's comprised of all whole foods and balanced with protein from the eggs, a hefty dose of nutrients from the leafy greens, healthy carbs from the sweet potatoes, healthy fat from the coconut oil and has a probiotic -rich fermented component with the sauerkraut.
The combo will keep you full and focused all morning, give you plenty of energy and may even help balance your blood sugar and hormone levels. Eggs (with the yolks) and healthy fats like coconut oil contain cholesterol, the type that your body needs to create hormones. Cruciferous green veggies (like kale, broccoli, cabbage and brussels sprouts) are packed with nutrients and have a compound called indole-3-carbinol that helps balance estrogen.  Fermented foods like sauerkraut are loaded with probiotics that help increase the good bacteria in your digestive system and improve digestion so you're actually absorbing all the lovely nutrients in the food you eat.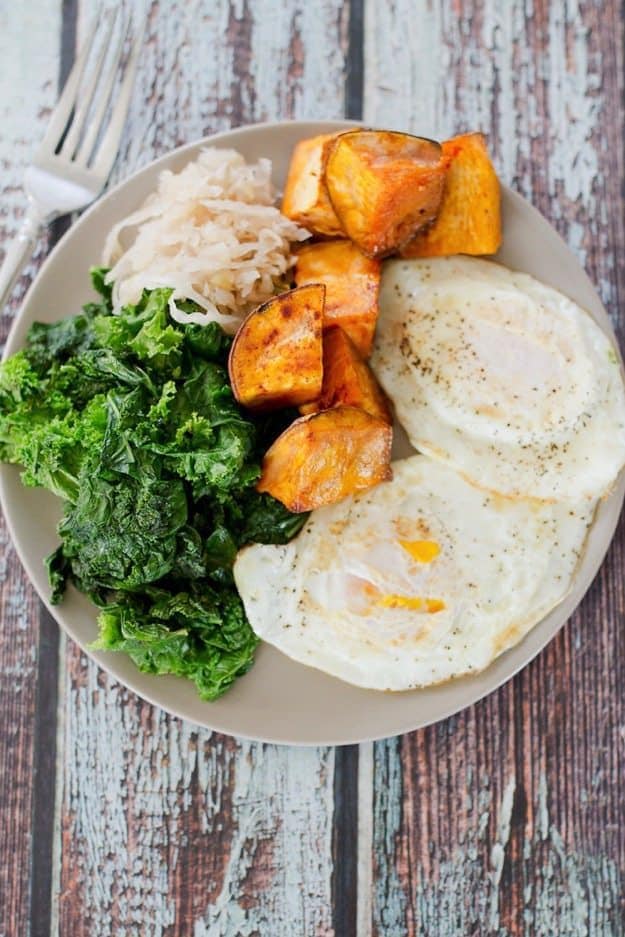 Here's a breakdown of hormone-balancing PALEO POWER BREAKFAST:
1-2 cups sautéed kale or other green leafy vegetable (swiss chard, spinach, collard greens, etc) — Simply add a little coconut oil, ghee or grass-fed butter into a hot sauce-pan or skillet. Toss in the green veggies and sauté until tender. Season with sea salt and pepper.
2-3 eggs — Cooked any way you please.
2 Tablespoons sauerkraut — I love a local company called Farmstead Ferments or the Farmhouse Culture brand.
1/2 cup coconut oil roasted sweet potatoes — Follow the recipe I posted here for the sweet potatoes. You can reheat them in the toaster oven or enjoy them cold from the fridge.
If this is too much to cook in the morning, save time by cooking the greens and roasting the sweet potatoes ahead of time. Hardboiled eggs can also be used instead of pan-fried. I should also note that this meal isn't limited to breakfast. Sometimes I'll make it for lunch or even dinner. Breakfast for dinner is a crowd-favorite over here so we love having this for din.
What's your go-to breakfast at the moment?