Grilled Shrimp
2
Published Jul 13, 2022, Updated Feb 22, 2023
The best grilled shrimp recipe. It's easy, flavorful and comes together in a matter of minutes! Just marinate the shrimp, toss it on the grill and let it cook for 2-3 minutes per side.
Isaac and I love grilling especially in the summer and one of my absolute favorite things to grill is seafood, specifically shrimp! I already have a grilled lemon pepper shrimp recipe on the blog, but today I'm sharing my go-to basic grilled shrimp recipe.
It's light, fresh, cooks up in a matter of minutes and is the perfect addition to just about any recipe. I love serving shrimp alongside veggies and a grain or adding it to pasta or a salad for a full meal.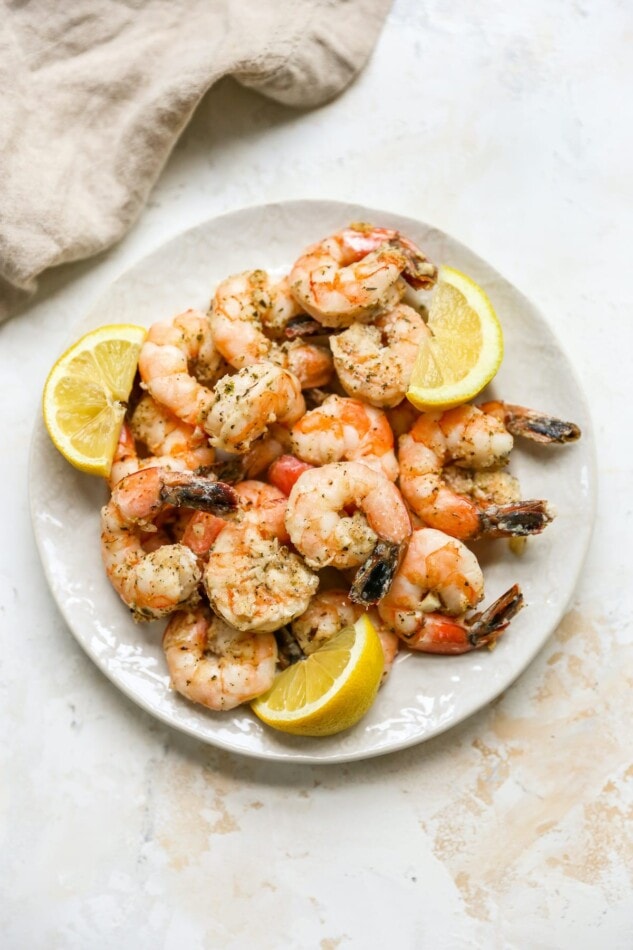 Why You'll Love This Recipe
It comes together in about 20 minutes, making it the perfect dish for busy weeknights.
The marinade infuses the shrimp with amazing flavor and the grill seals it all in!
It's super versatile. Pair grilled shrimp with some grains and veggies, toss them on a salad, stuff them in a wrap or taco, dip them in sauce as an appetizer … the options are endless.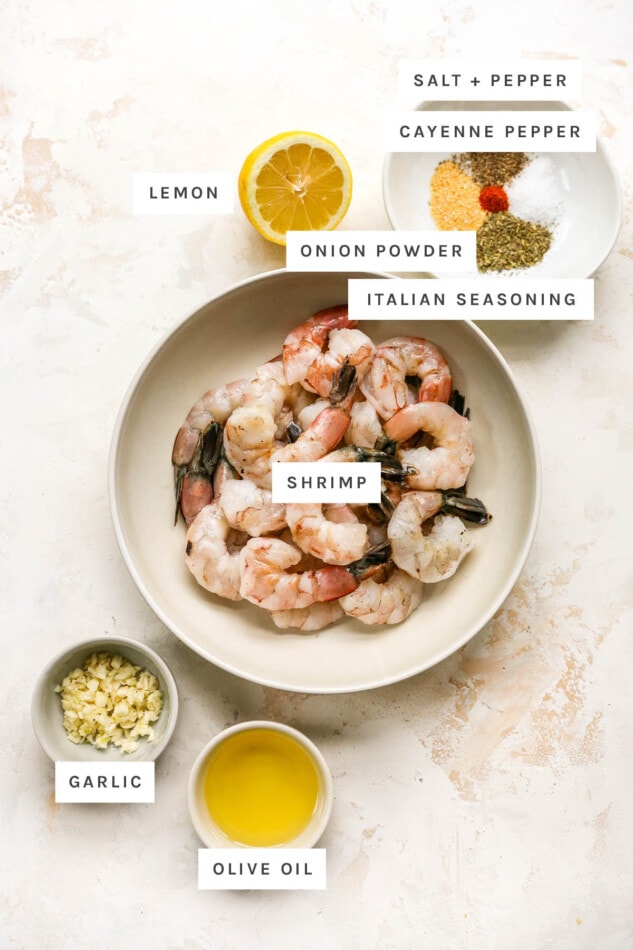 Ingredients Needed
raw shrimp – large or extra large peeled, deveined and rinsed shrimp are best for grilling. The size is large enough to not fall through grill grates but small enough to be tender and juicy. I usually pick the shrimp up from the seafood counter or a local seafood shop. If needed, the shrimp can be previously frozen.
lemon juice – the acidity helps break down the shrimp and tenderize it.
olive oil – this helps infuse the flavors into the shrimp and prevents it from sticking to the grill.
garlic – to give added depth of flavor to the marinade.
Italian seasoning – use a store bought mix, or make your own by combining dried basil, oregano, rosemary and thyme in equal portions.
onion powder, salt and black pepper – to bring all of the flavors together.
cayenne pepper – this is optional if you want to add a kick of spice to the shrimp. Red pepper flakes will also work.
lemon wedges – for squeezing over the shrimp to add a bright pop of flavor when serving.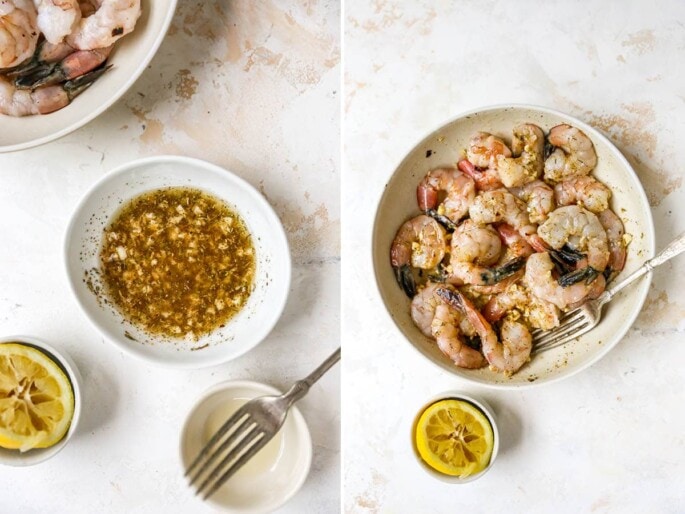 How to Make
If you need a quick weeknight meal, this grilled shrimp is a fantastic option. It cooks up so quickly. Add shrimp to the flavorful marinade, toss it on the grill and it's done in about 5 minutes!
Marinate shrimp – whisk lemon juice, olive oil, garlic, Italian seasoning, onion powder, salt, pepper and cayenne (if using) in a small bowl. Add shrimp and marinate for 10-15 minutes.
Grill shrimp – place shrimp on preheated grill and cook until pink and opaque, about 2-3 minutes per side. Serve hot with a squeeze of fresh lemon juice.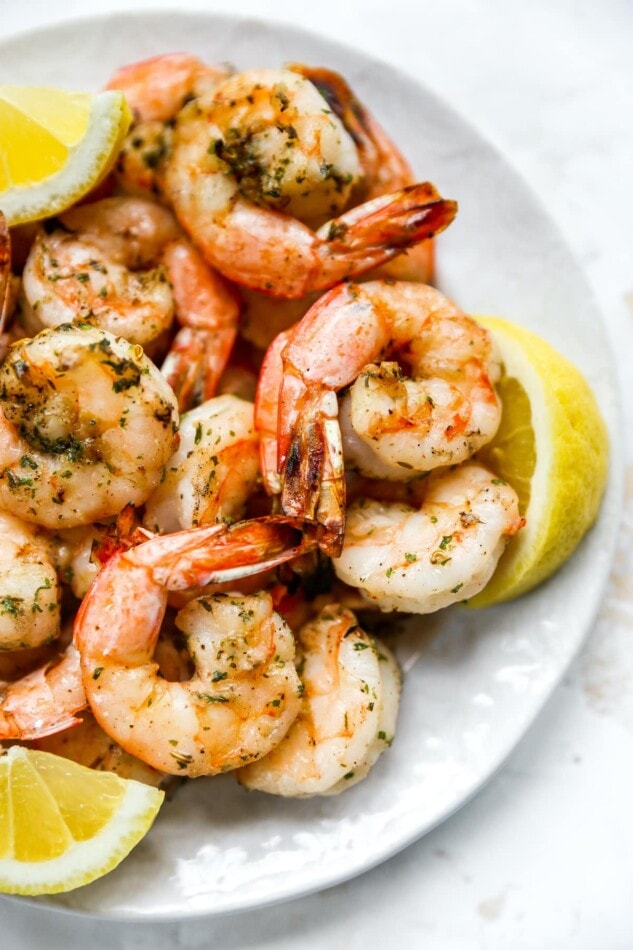 How to Serve
This is such a great recipe because you can easily add it to pasta or greens for some added protein and it pairs with so many different sides! I love serving it with a grain and vegetables but feel free to switch it up. Here are some ideas:
Salad options: Pair this grilled shrimp with salads like this grilled shrimp salad, garlicky kale salad, easy quinoa salad, healthy pasta salad, zoodle salad or asparagus salad for a complete meal.
Veggie options: roasted sweet potatoes, grilled sweet potatoes, air fryer asparagus, roasted broccoli, roasted summer squash and zucchini, apple cider vinegar brussels sprouts, easy roasted carrots, and cauliflower rice would all be amazing sides.
You could also toss this shrimp in a wrap by adding greens, extra veggies and a sauce. Or add it to tortillas for grilled shrimp tacos or shrimp fajitas. Swap out the fish in this fish taco recipe for your next Taco Tuesday meal!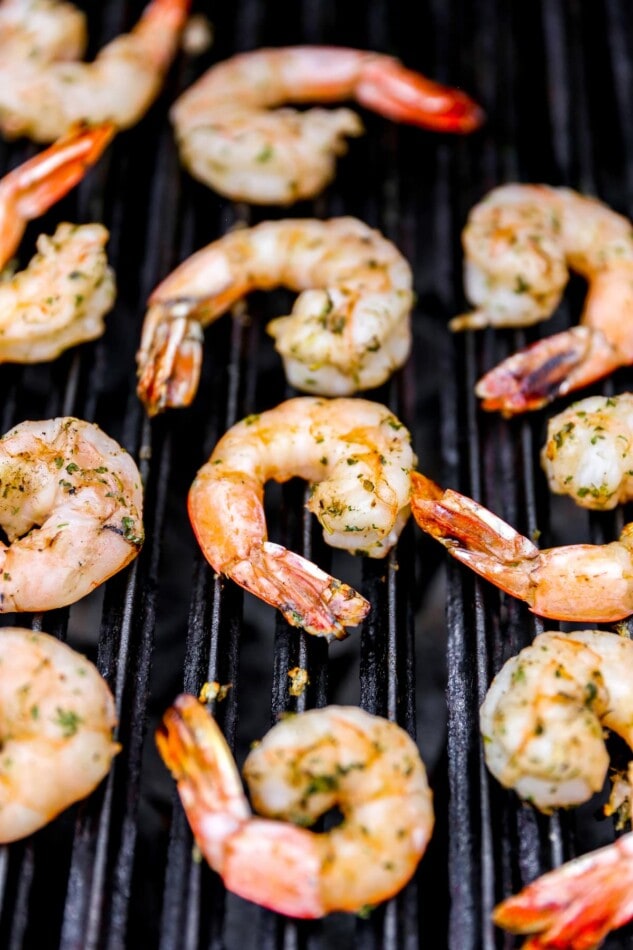 Tips for Success
Clean shrimp: Rinse shrimp thoroughly before grilling. Run under cold water to remove any debris, shells, etc. Pat dry.
Don't over-marinate shrimp: If you prepare the marinade ahead of time, don't toss the shrimp in until 10-15 minutes before ready to grill. Shrimp can "break down" and get mushy if it marinates too long.
Don't overcook shrimp: Overcooking will result in rubbery, tough shrimp! Be sure to remove shrimp from the grill just as soon as it turns pink.
If using skewers make sure to soak them beforehand: Wooden skewers need to be soaked in water so they don't catch fire on the grill. Tip: It doesn't take long for skewers to soak … place them in water while the shrimp marinates, and they'll be ready for the grill when the shrimp are!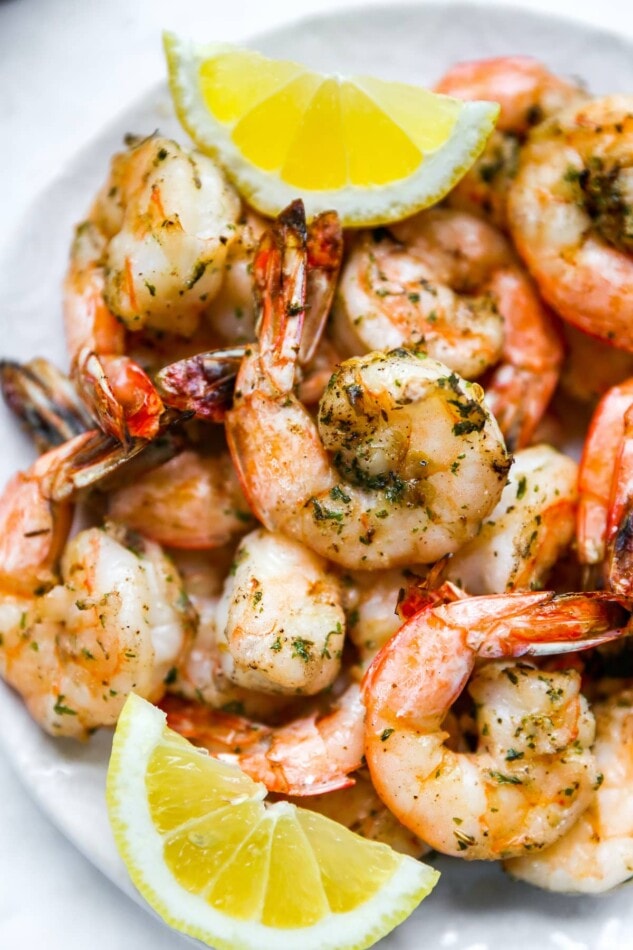 How to Store Leftovers
It's very important to properly store shrimp before and after grilling them. Follow these guidelines for safely storing shrimp:
Refrigerator: 1-2 days raw, 3-4 days grilled
Freezer: 3-6 months raw, 3 months grilled
To reheat grilled shrimp from frozen: Thaw in the fridge, keeping no more than 3-4 days, before reheating. Do not refreeze once frozen and thawed.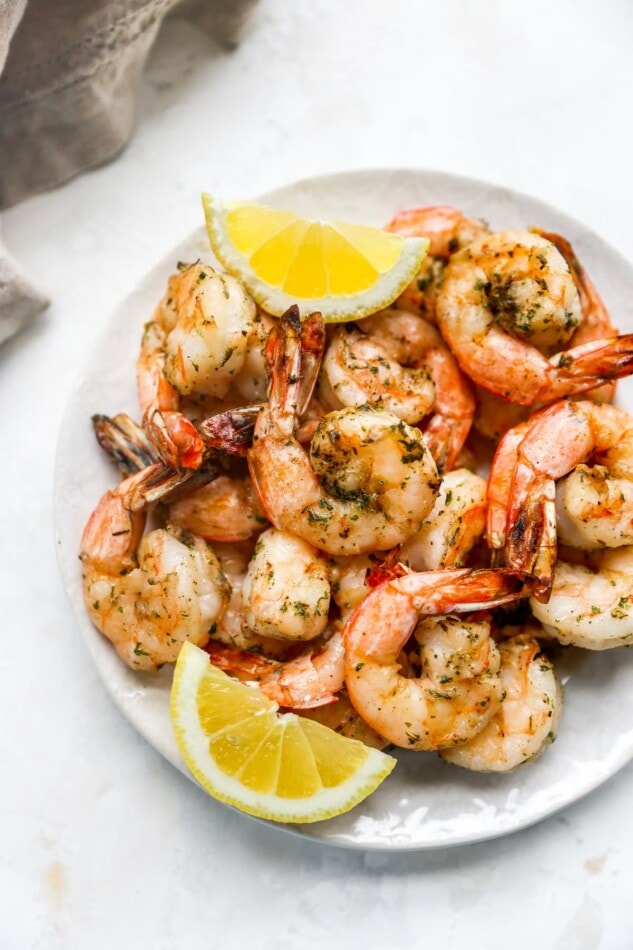 FAQ's
How can you tell when grilled shrimp is done?
Shrimp is done cooking when it's an opaque white with pops of red or pink and it's curled into a C shape. It should only take 2-3 minutes per side to cook your shrimp!
How long do you need to marinate the shrimp for?
Marinate shrimp for the time stated in the recipe. Because shrimp is so tender, marinating typically takes minutes compared to other proteins, and the more acidic a marinade is the less time you will need. It's important not to over-marinate or your shrimp will become mushy! 
Should grilled shrimp be on skewers?
They can be if you'd like! Threading shrimp on skewers before grilling may make them easier to turn. Just keep in mind that it takes more time to thread onto skewers, and wooden skewers need to be soaked first so they don't catch fire on the grill.
Can I use frozen shrimp?
You can definitely use frozen shrimp for this recipe, but I recommend thawing before tossing them in the marinade and grilling. Ideally, you want shrimp to be fully thawed and as dry as possible to effectively soak up as much of the flavorful marinade as possible. 

If you are planning ahead, simply place frozen shrimp in the refrigerator overnight. If you forget, you can also place frozen shrimp in a large bowl of cold water the day of and depending on the size of the shrimp, it should defrost in about 15-20 minutes. Just remember to rinse and pat dry before marinating and grilling.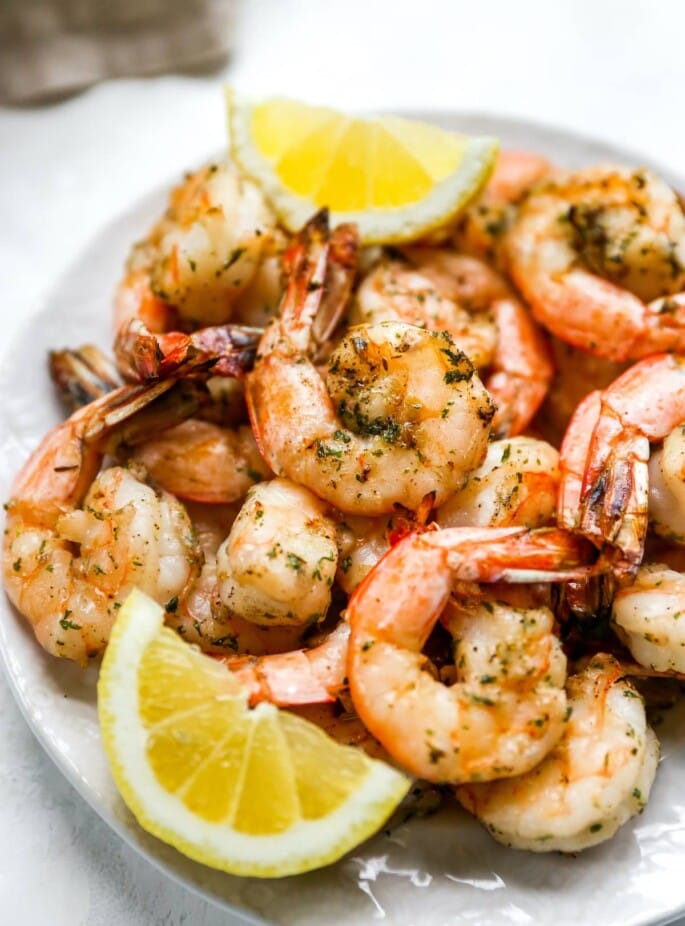 More Shrimp Recipes to Try
Looking For More Grilling Recipes? Try These
Be sure to check out the full collection of shrimp recipes here on EBF!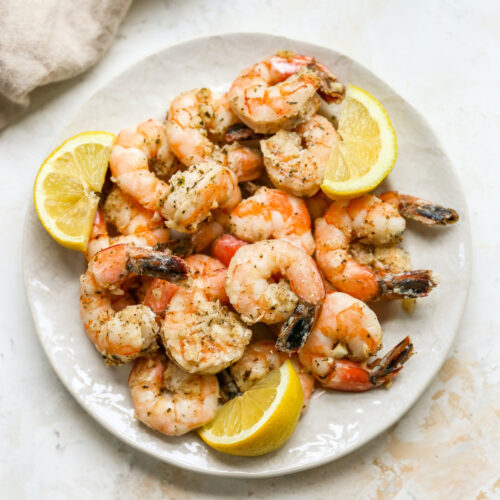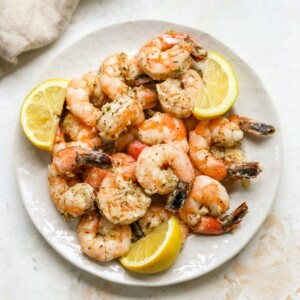 Grilled Shrimp
The best grilled shrimp recipe. It's easy, flavorful and comes together in a matter of minutes! Just marinate the shrimp, toss it on the grill and let it cook for 2-3 minutes per side.
Ingredients
1

lb.

large or extra large shrimp

,

peeled and deveined

2

teaspoons

lemon juice

2

Tablespoon

olive oil

2

cloves

garlic

,

minced

½

teaspoon

Italian seasoning

¼

teaspoon

onion powder

½

teaspoon

salt

¼

tsp

black pepper

Cayenne pepper

,

optional

Lemon wedges

,

for serving
Instructions
Fire up your grill or grill pan to medium high heat. Mix lemon juice, olive oil, garlic, Italian seasoning, onion powder, salt and pepper in a small bowl.

Add shrimp and toss to combine. Let shrimp marinate for 10-15 minutes.

Place shrimp directly onto the grill and cook until pink and opaque, about 2-3 minutes on each side. Remove from the grill and serve hot with lemon wedges to squeeze over shrimp.
Nutrition
Serving:
1
/3 recipe
|
Calories:
218
kcal
|
Carbohydrates:
1
g
|
Protein:
36
g
|
Fat:
9
g
|
Saturated Fat:
1
g
|
Polyunsaturated Fat:
1
g
|
Monounsaturated Fat:
7
g
|
Cholesterol:
245
mg
|
Sodium:
570
mg
|
Potassium:
416
mg
Nutrition information is automatically calculated, so should only be used as an approximation.