A clean eating shrimp salad with cooked shrimp, quinoa, blanched broccoli and roasted asparagus! Prepare everything ahead of time and throw it into a bowl for a quick and easy lunch or dinner.
During the week I'm always running around like a crazy woman and come home ravenous. Because of this I usually gravitate toward easy meals that I can throw together with things I have already prepped. <– Normally I make a big batch of plain quinoa and chop up fresh veggies over the weekend for this purpose.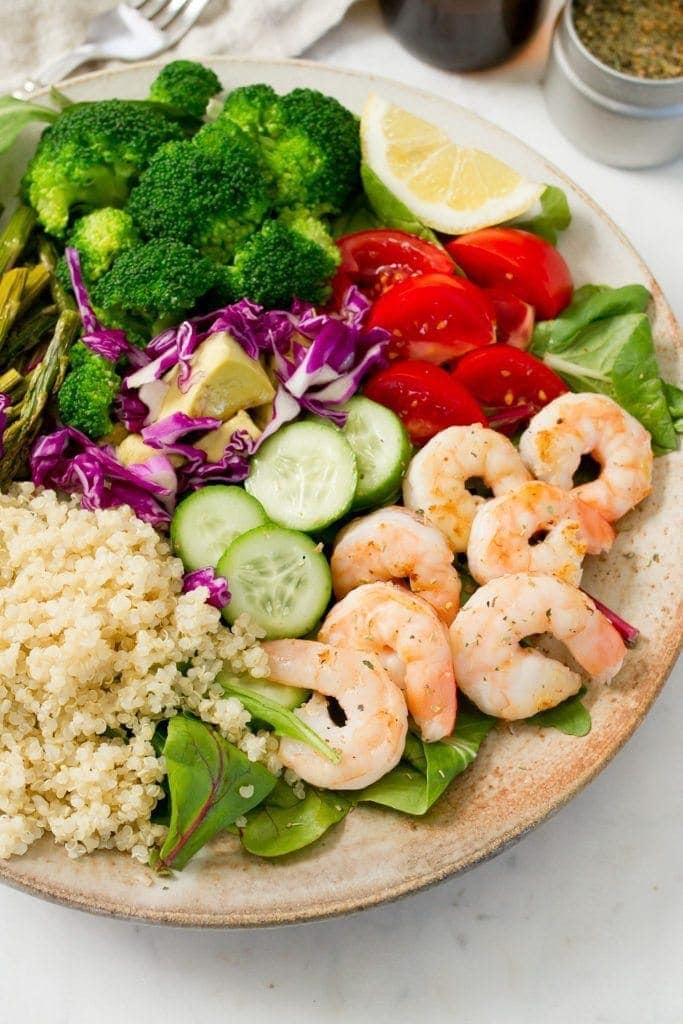 This shrimp salad totally fits the bill! It's got quinoa, cooked shrimp, blanched broccoli and roasted asparagus — all of which can be prepared ahead of time and thrown into a bowl come dinner time.
Blanching and roasting are two of my favorite ways to prepare veggies. I really like blanched broccoli because it's more palatable than raw broccoli, but still crisp and flavorful — not mushy and overcooked. And all roasted veggies are amazing in my book. They add such a robust flavor component to salads. Often times roasting veggies can take around 30-40 minutes, but the asparagus in this recipe is broiled so it takes less than 10 minutes! This is great for those days when waiting 40 minutes to eat feels impossible.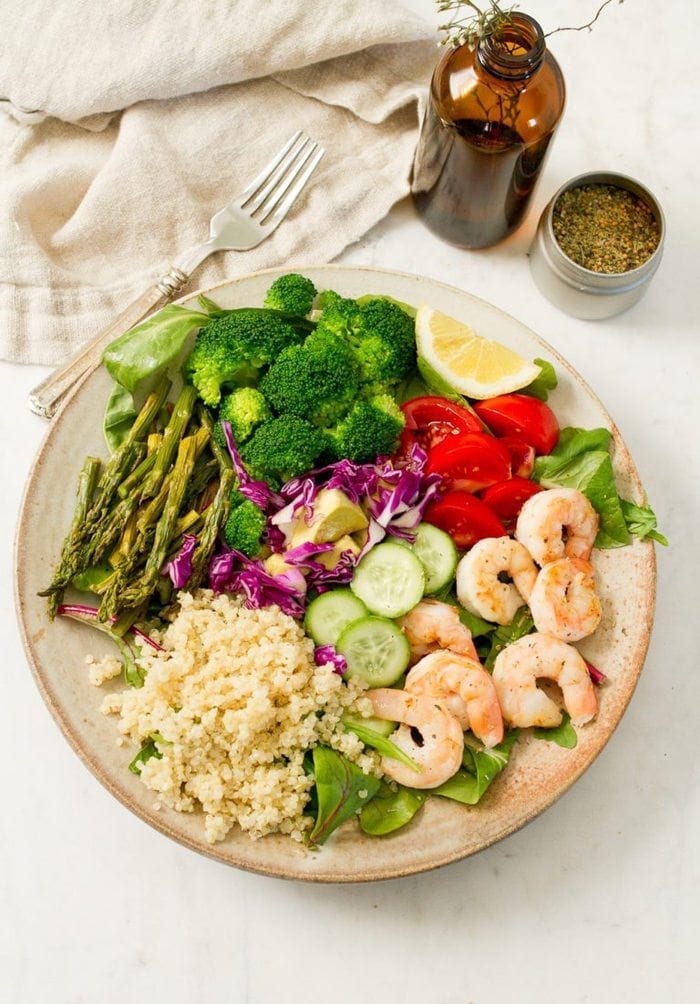 Print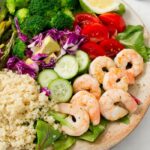 Clean Eating Shrimp Salad
Author:

Prep Time:

15 minutes

Cook Time:

10 minutes

Total Time:

25 minutes

Yield:

2

Category:

Salad
---
Description
A quick and easy recipe for a clean eating shrimp salad with cooked shrimp, quinoa, blanched broccoli and roasted asparagus! Prepare everything ahead of time and throw it into a bowl for dinner.
---
Ingredients
14 large cooked shrimp, peeled and deveined
2 cups raw broccoli, cut into bite size peices
1/2 pound of asparagus + 1 teaspoon olive oil and sea salt & pepper for roasting
1/2 cup shredded red cabbage
1 tomato, sliced into bite size pieces
1/2 avocado, sliced
1/2 cup quinoa, cooked and chilled
4 cups spring mix
balsamic vinegar
olive oil (optional)
ground pepper
---
Instructions
Blanch the raw broccoli:Bring a pot of water to a boil. In a large bowl, fill with half ice and water. Cut up the broccoli while you wait for the water to boil. Carefully, add in broccoli and cook for 1 to 2 minutes. The broccoli will become tender and bright in color. Scoop out broccoli with a slotted spoon quickly and immediately move into the ice water, keeping it in there for for about 30 seconds. Drain in a colander and set aside.
Roast the asparagus: Set oven to broil. Trim the tough ends of the asparagus and place it on a prepared pan. Sprinkle the asparagus with olive oil and toss around the pan to coat. Sprinkle with a the sea salt and ground pepper. Place in the oven and broil for 4-7 minutes. Don't overcook. Set aside.
Now, the easy part – start compiling your salad: Add 2 cups of spring mix to each salad plate/bowl and top with the shrimp, broccoli, asparagus, bell pepper, tomato, avocado, and quinoa. Drizzle with balsamic vinegar and olive oil, if using. Sprinkle with ground pepper and enjoy!
---
Notes
Be sure to read the full recipe before starting to prep the salad because some components (like roasting the asparagus, blanching the broccoli and cooking the quinoa) need to be done ahead of time.
You'll probably have some broccoli and asparagus left over if you use the amounts suggested in the recipe. Just store them in the fridge for later use.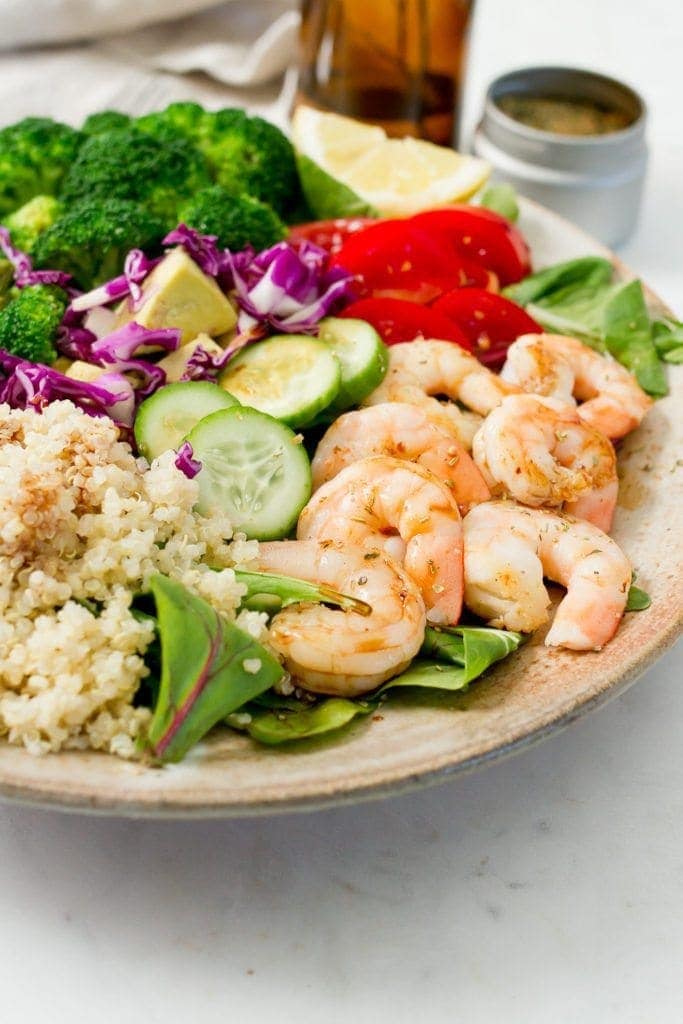 The beauty of this recipe is that you can easily tweak it by using your favorite vegetables and protein. I'm sure grilled salmon or tofu would work great instead of the shrimp.
I was being strict with my clean eating goals last week and only used a drizzle of balsamic vinegar and fresh ground pepper as a topping, but you could certainly use any homemade dressing you like and I'm sure a little cheese would be a nice addition as well.
If you try this clean eating shrimp salad be sure to let me know what you think by leaving a comment and a star rating below!