First thing first, EBF has a new design!! If you're reading from your e-mail or a reader, pop over to the actual site, check it out and let me know what you think. The amazing Julie of Deluxe Designs worked her magic and created a beautiful site that has a mobile friendly design, much improved recipe page, and a clean look. If you're looking for a web designer that knows her wordpress stuff, I'd highly recommend Julie — she was a breeze to work with! I also have to give a shout-out to Amy of Amy Benoit Photography as she's a camera master and the woman behind all my new photos! I'm really excited for the changes and I think you will like them as well. I'd love for you to leave me a comment with your feedback.
Okay — now for the FOOD! The weather has been beautiful here the past few days and we've literally been grilling out every night. Last night, Isaac and I celebrated Cinco de Mayo a bit early by making grilled fish tacos. They turned out so good that I knew I had to share them today.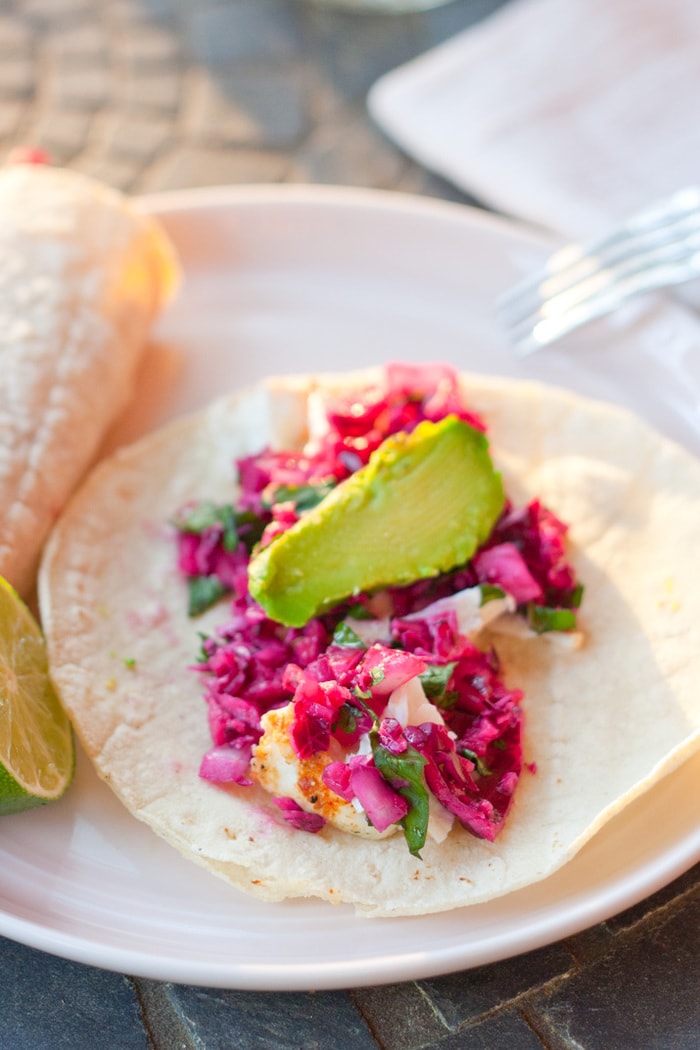 Perhaps you're having a little fiesta tonight and still in need of a good recipe — well, look no further. These tacos are healthy, flavorful and perfect for a warm, spring evening.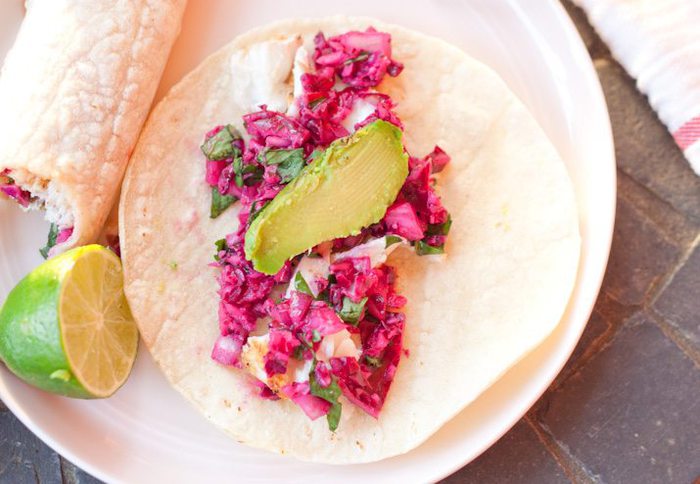 We cooked everything on the grill last night, including a side of broccoli and cauliflower with coconut oil. Our friends actually left their grill basket at our house a few weeks ago so we've been using it. OMG — how did I not know about the grill basket before? It seriously makes grilling small veggies and shrimp a breeze. We've threaten that we're not going to give it back to our friends (finders, keepers) but I'm betting they're going to find a way to steal it back. 😉 If that happens I've already decided that I want this one.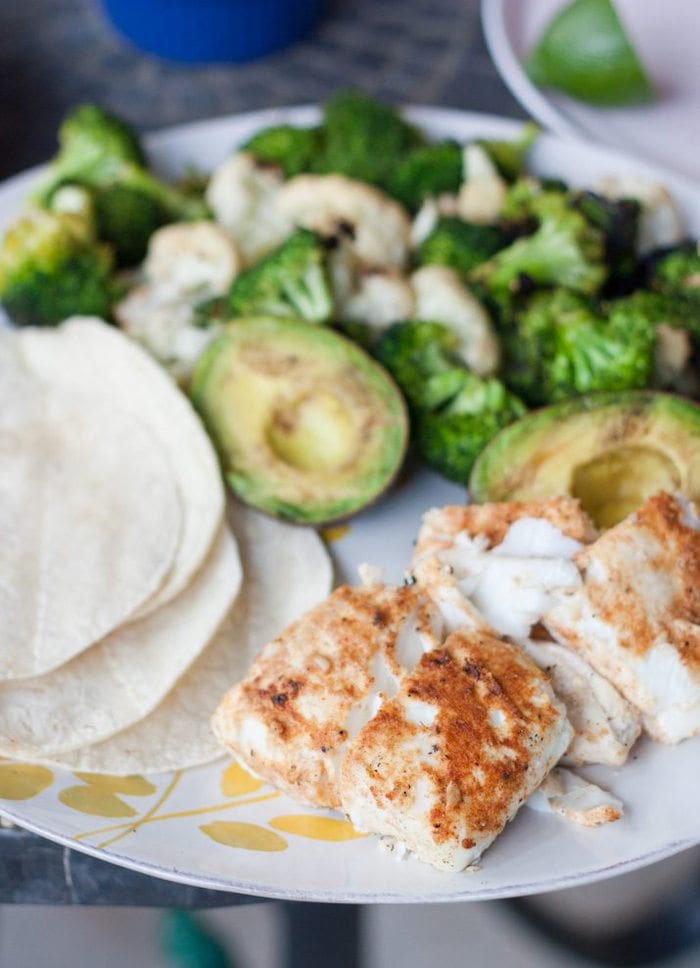 Oh, we also grilled our avocado. This is a new grilling realization too as I had never grilled avocado until this year. The idea of warm avocado was always kind of gross to me but oh man, grilled avocado is ah-mah-zing. So creamy and delicious! It's also super easy — all you need is an avocado, a little lime juice and olive oil. Next time you're grilling and have an avocado on hand, you gotta try it!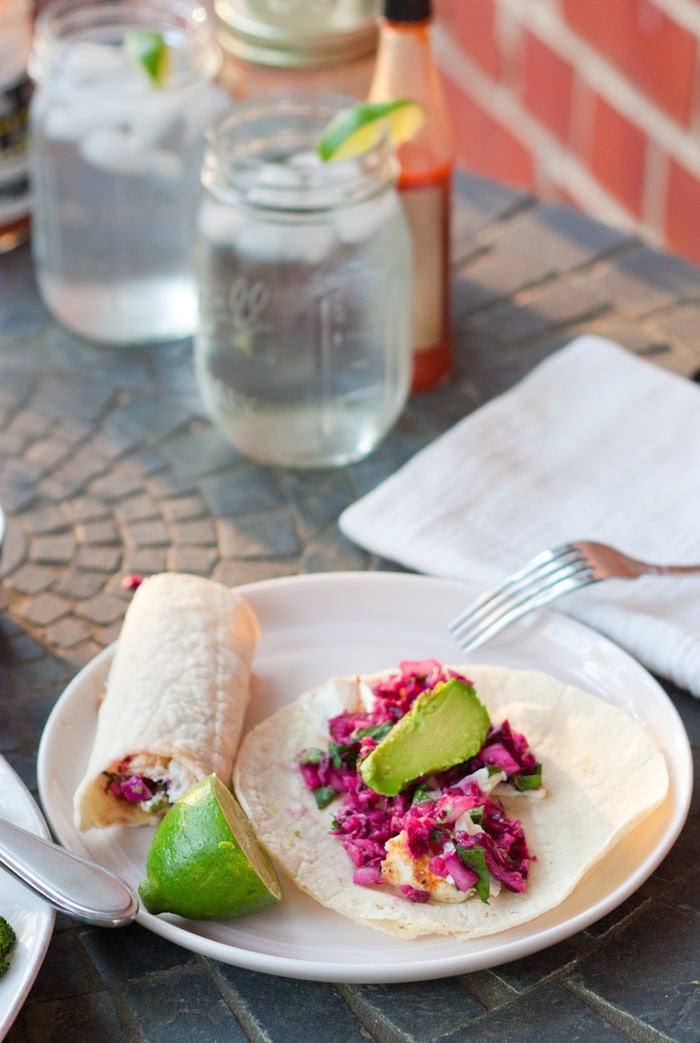 Back to the tacos. We grilled the fish (easy peasy) and then topped each taco with a honey dijon red cabbage slaw, slices of grilled avocado, salsa and hot sauce.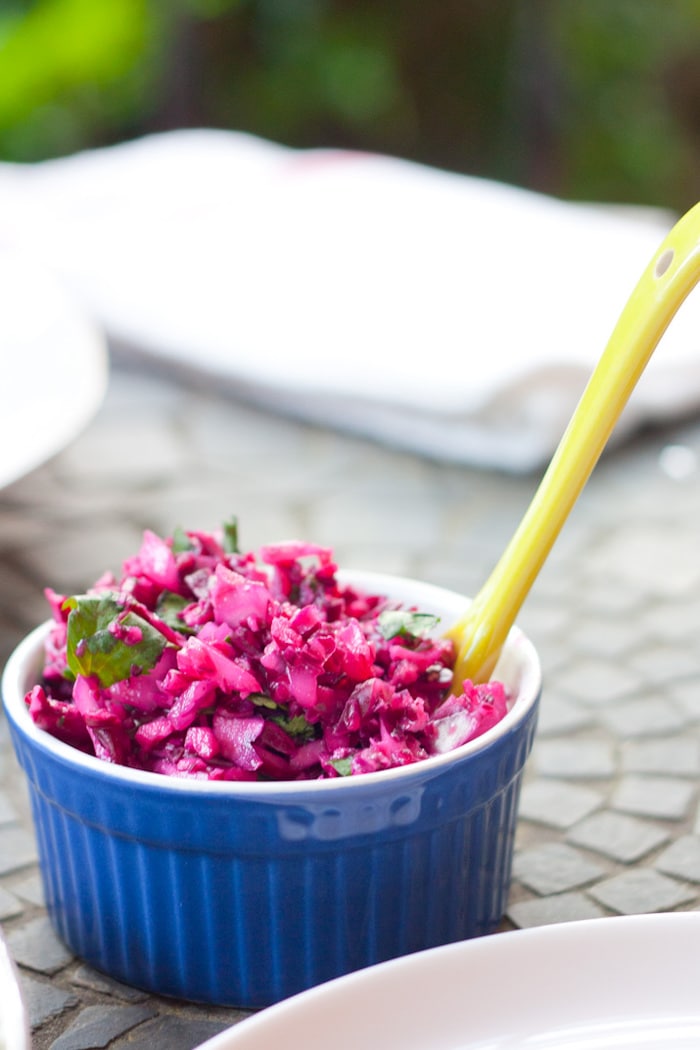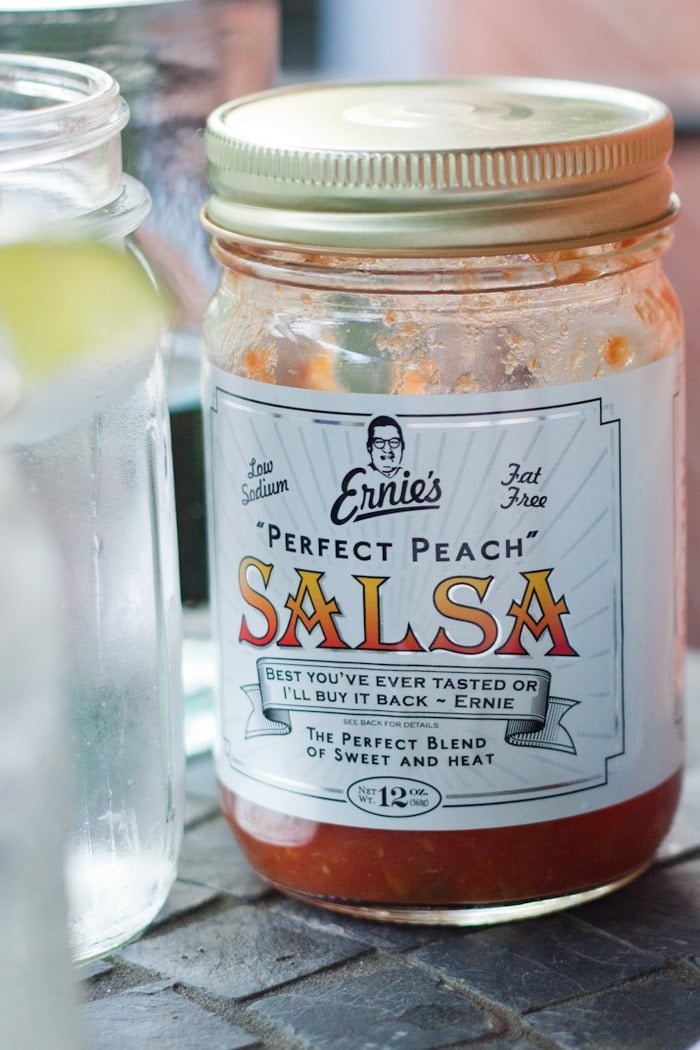 We used this delicious, locally made peach salsa from Ernie's Epic Foods. I actually met Ernie a couple weeks ago and he gave me a few jars of his salsa to try. So far I've tried the peach and the black bean and corn. The black bean and corn is good but I think the peach version is my favorite — the hint of fruity sweetness worked perfectly on the fish tacos.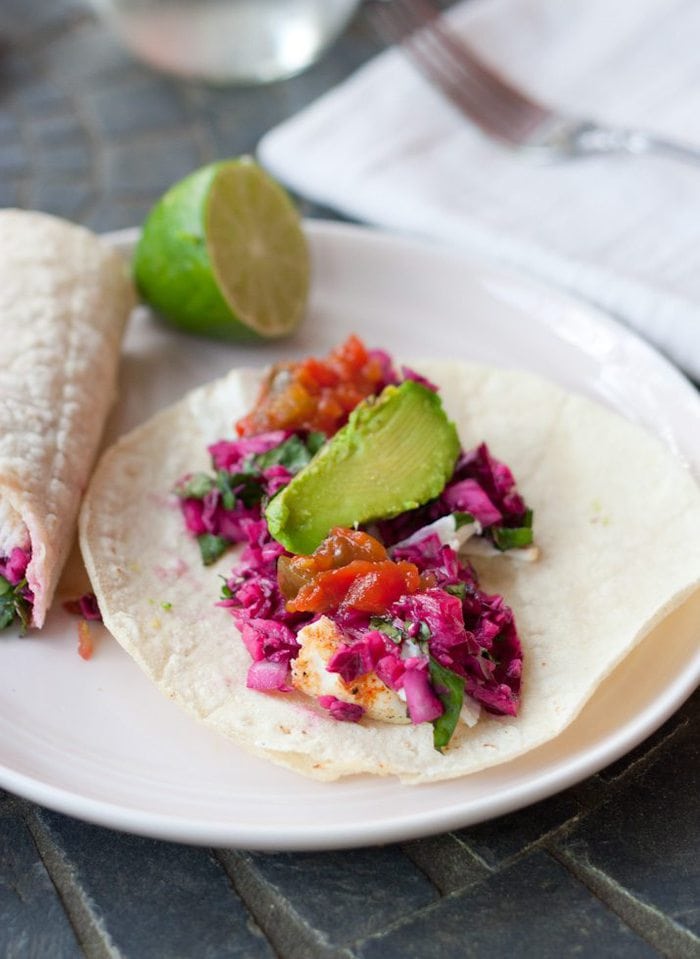 Needless to say, dinner was a huge success. We rarely make tacos at home but having them last night makes me want to eat them more often. They're so good and really healthy to boot! This recipe is even 21 Day Fix approved — if you're following the plan one serving (2 tacos with avocado) would be 1 yellow, 1 red, 1 blue and 1/2 green.
The recipe makes enough for five small tacos, which was the perfect amount for Isaac and I. He had three and I had two.

Clean Eating Grilled Fish Tacos
Make sure you have a few extra limes for serving -- a squeeze of fresh lime juice right before eating the tacos makes the flavors pop!
Ingredients
12 oz halibut or other white fish like rockfish, sea bass or tilapia (cut into 2 filets)
2-4 limes
½ teaspoon garlic powder
½ teaspoon cumin
¼ tsp cayenne pepper
pinch of sea salt
½ grilled avocado
salsa, for topping
hot sauce, for topping
5 small corn tortillas
Honey Dijon Cabbage Slaw
1 cup red cabbage, thinly sliced
⅓ cup red onion, thinly sliced
¼ - ⅓ cup cilantro, coarsely chopped
juice from 1 lime
1 teaspoon dijon mustard
½-1 teaspoon honey
¼ teaspoon salt
ground pepper, to taste
Instructions
Place fish in a glass pan and squeeze the juice from one lime over the fish. In a small bowl, whisk together garlic powder, cumin, cayenne and sea salt. Sprinkle over fish and gently rub the seasoning in. Allow the fish to marinate for 10 minutes or so.
Meanwhile, in a large bowl combine cabbage, onion, cilantro, juice from the lime, mustard, honey, salt and pepper. Toss to combine. Set aside.
Heat grill to medium-high and lightly oil grill-grate. Arrange tortillas in a stack and wrap with aluminum foil. Grill fish until cooked through, 3 to 4 minutes per side. Place tortillas on cooler part of grill (we used the top rack) until warm, 5 to 8 minutes, turning halfway.
For grilled avocado: Cut avocado in half and remove seed. Drizzle with fresh lime juice and brush lightly with olive oil. Gently place cut-side down and grill over hot coals for 2 to 3 minutes. Season with salt, to taste.
Break fish into large pieces. Taste slaw and season to your liking by adding more mustard, honey, salt and pepper if needed. Divide fish among tortillas and top with slaw, grilled avocado slices and your favorite salsa and hot sauce. Serve each taco with a lime wedge for squeezing over the taco before digging in. Enjoy!
Nutrition Information
Serving size:
2 tacos
Calories:
414
Fat:
11g
Carbohydrates:
40g
Sugar:
8g
Fiber:
7g
Protein:
37g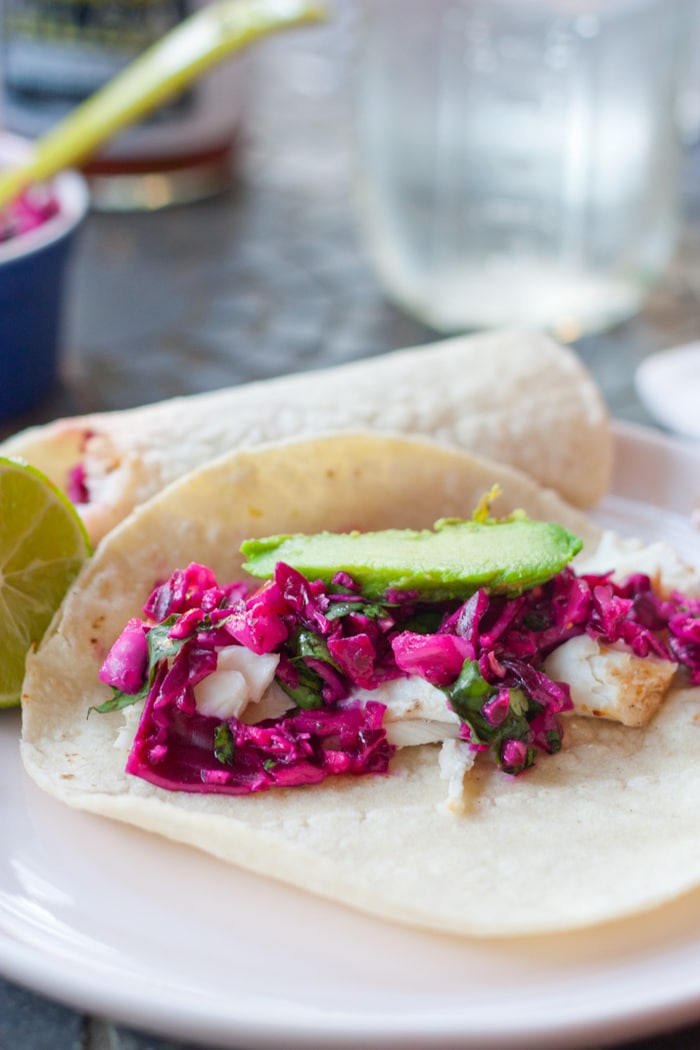 Are you doing anything to celebrate Cinco de Mayo today?
 This 
beach babe margarita
 is calling my name. 😉