A mother is a person who seeing there are only four pieces of pie for five people, promptly announces she never did care for pie. ~Tenneva Jordan
This quote is so true. All of the women in my life who are mothers are self-less, wonderful individuals that strive to make sure their loved ones are happy. They deserve love, hugs and an endless amount of appreciation each and every day… especially on Mother's Day!
Isaac and I are lucky ducks and have our families nearby so we were able to spend some quality time with both of our moms! We went to my sister's house for a cookout earlier in the day and then came back to Richmond to hang out with Isaac's mom and dad for the evening. It was a busy but fun-filled day!
I whipped up a new recipe for the cookout- a hearty, healthy mediterranean salad that appeals to almost everyone.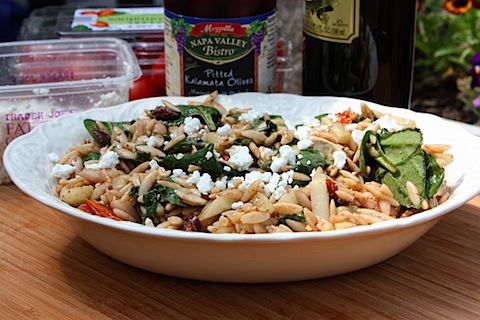 Despite my love for trying new recipes, it's always nice to have a go-to potluck recipe. I have a feeling this salad is going to become my go-to. The reasons:
Orzo is a quick cooking pasta so this dish comes together in a flash.
You can prep the salad ahead of time.
It can (and should) be served at room temperature.
I LOVE sun-dried tomatoes.
It's healthy and tastes delicious.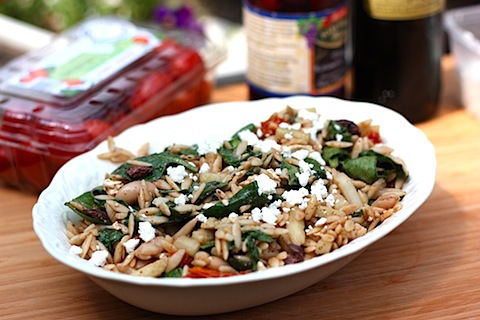 Easy Mediterranean Orzo Salad
Lightly adapted from a recipe in The Earthbound Cook / Print Recipe
Ingredients
1 cup whole wheat orzo pasta
4 oz. fresh baby spinach
1/3 cup sun-dried tomatoes, chopped
1 cup cucumber, diced
9-10 Kalamata olives, pitted and chopped
1/2 cup cannellini beans or other white bean
3/4 t dried oregano
balsamic dressing (recipe below)
sea salt and black pepper
1/2 cup crumbled feta cheese
Preparation
Bring a saucepan of water to a boil over high heat. Add orzo and cook according to the package directions until just tender, about 8-10 minutes. Drain, and rinse under cold water until the pasta cools to room temp. Drain well and transfer to a large bowl.
Add the spinach, tomatoes, cucumber, olives, beans and oregano to the orzo and toss to combine.
Add half of the balsamic dressing and toss again. Taste it and add more dressing if needed.
Season with sea salt and black pepper.
Serve at room temperature, sprinkled with feta.
**You can prep this salad the day before and keep it chilled, covered in the refrigerator. For the best flavor, let the chilled salad come to room temperature before serving.
Balsamic Dressing
Adapted from ED&BV Back to Basics Balsamic Vinaigrette
Ingredients
1/4 cup balsamic vinegar
1 1/2 T maple syrup
1 t dijon mustard
1 clove garlic
1/2 t sea salt
3 T olive oil
Preparation
Use a blender, hand blender or whisk to combine all ingredients. Serve.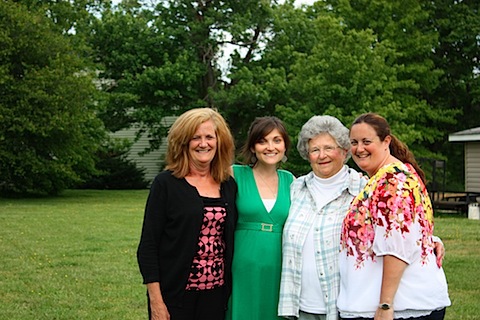 Happy Mother's Day to all the moms out there!