Disclosure: I was asked to participate in the McCormick Gluten-Free Recipe Mixes Launch as a member of the Healthy Aperture Blogger Network. I received free samples of McCormick Gluten-Free Recipe Mixes from McCormick mentioned in this post and I was compensated for my time.
Bean burgers are one of my favorite quick and easy meals. I've made so many different varieties with every type of bean, grain and veggie you can imagine and while I've liked all the bean burger recipes I've posted here on EBF previously, I think I've found my absolute favorite homemade black bean burger recipe to date.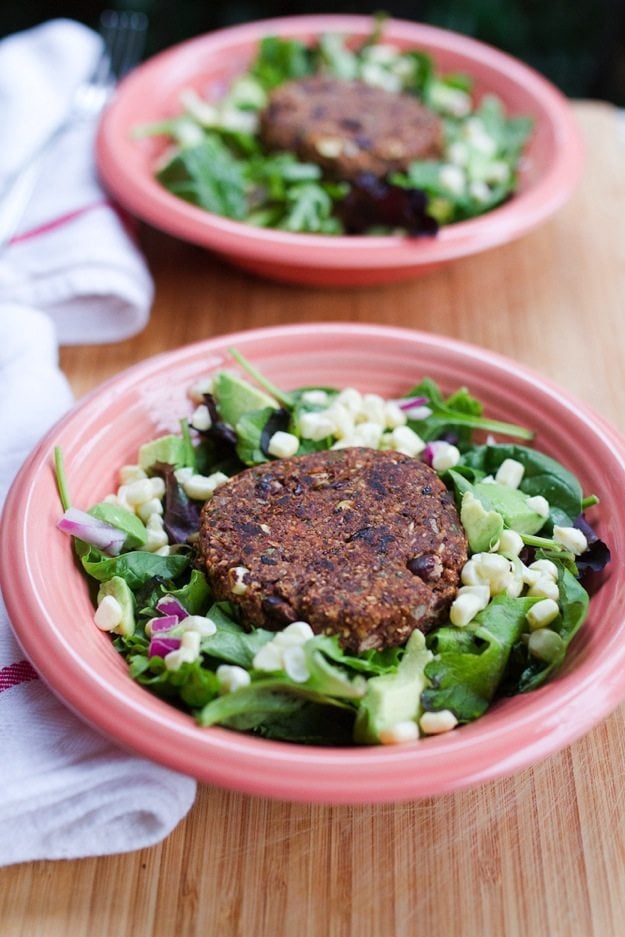 The most exciting part (for me at least) is that the burger holds together really well. Making a flavorful bean burger is easy — it's the texture that's the hard part, especially when you're trying to meet specific dietary needs. These burgers have no egg or bread crumbs so they're vegan and gluten-free, yet the patties stay together perfectly. I consider that a win!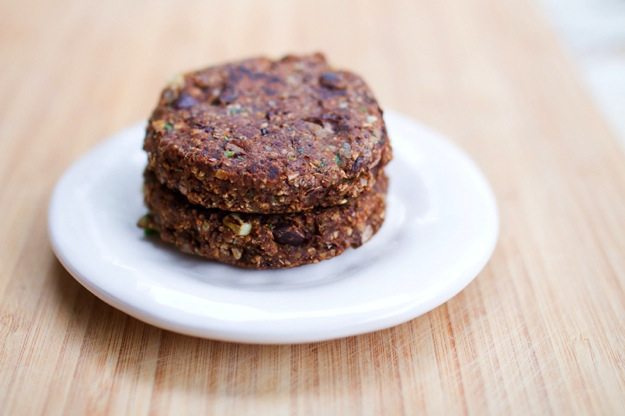 Speaking of dietary needs, I should probably mention that as of last week I'm following a gluten-free diet. I will definitely write a full post about this soon, but long story short I've been going to a functional medicine doctor (who I really like and trust) and after getting blood work done he prescribed a gluten-free diet. It's not what I expected to hear after getting my blood work back, but I'm optimistic that it will help me.
I'd actually agreed to do this campaign for McCormick's new gluten-free recipe mixes prior to knowing that I would soon be following a gluten-free diet, but it actually worked out quite well.
Certified by the National Foundation for Celiac Awareness, these new gluten-free gravy and recipe mixes are made with the natural goodness of herbs and spices, and no MSG or artificial colors and flavors. There are four products in the line (chili seasoning, taco seasoning and two gravy mixes) and I'll be featuring two recipes using the products this month. The first one is this bean burger.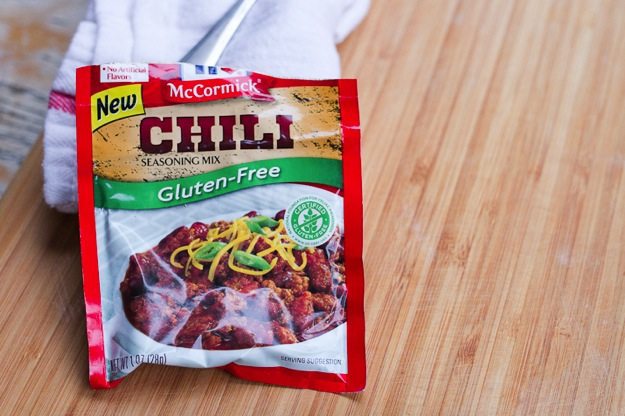 When I received the chili seasoning mix I knew I wanted to experiment and make something other than a pot of regular chili so that's why I decided to go the black bean burger route. The seasoning mix includes a bunch of traditional chili spices like chili pepper, cumin, salt, onion, garlic and green bell pepper — all of which pair nicely with black beans.
Using the seasoning packet made flavoring the burgers so easy. I simply tossed in a tablespoon of the mix rather than having to search through my spice cabinet for 7 different spices. And the flavor of these burgers is divine! I did amp up the spice level a little with cayenne pepper and hot sauce, but if you like things mild (or you're making this for your family), you can skip the extra spice and just use the chili seasoning mix — it's not too spicy.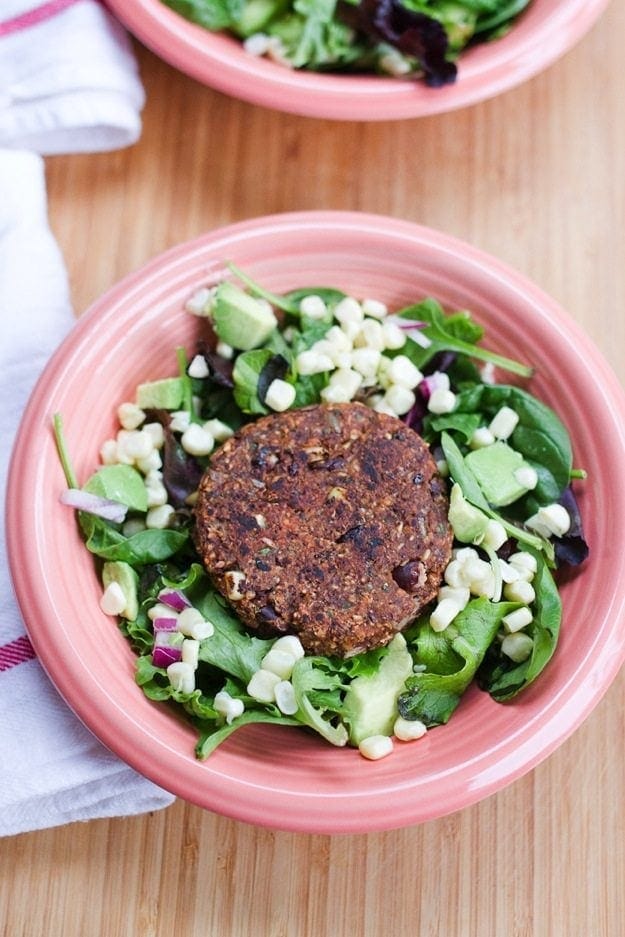 I served the burgers over spring mix topped with this raw corn and avocado salad. Oh man, this combo was absolutely delicious! Isaac, who is a beef burger with a bun kind of guy, loved this meal and kept raving about how amazing the bean burgers were.
I hope you like them as much as we do. 🙂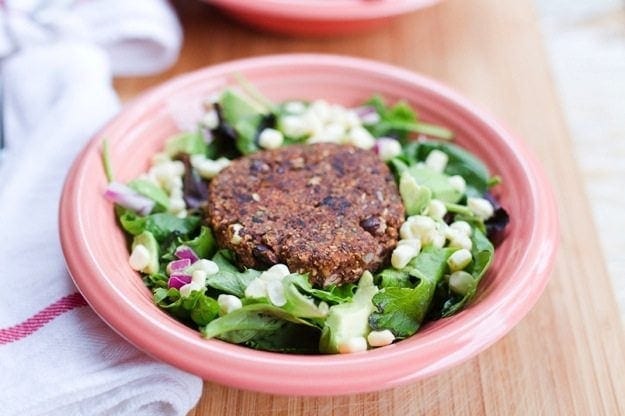 The recipe makes 5 burgers. We had two for dinner, and I kept one uncooked for lunch the next day and froze the remaining two uncooked patties for later.
Check out the recipe for details about how to freeze them!
Print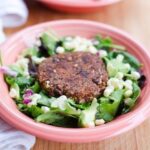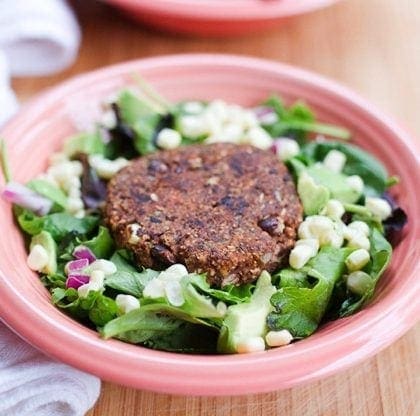 Spicy Chili Black Bean Burgers
Author:

Yield:

5 burgers
---
Ingredients
1/3 cup onion, chopped
1 clove garlic, minced
1 teaspoon coconut oil
1 Tablespoon flaxseed + 2 Tablespoons of water
1 cup gluten-free oatmeal
1 can black beans, drained and rinsed (divided)
1 teaspoon tamari
1 Tablespoon ketchup or tomato paste
2 Tablespoon pepitas
1/3 cup fresh corn (or thawed frozen corn)
1 Tablespoon McCormick Gluten-Free Chili Seasoning Mix
1/4 cup fresh parsley
1 teaspoon hot sauce
cayenne pepper, to taste
---
Instructions
Sauté the onions and garlic in coconut oil for about 5 minutes, until the onions begin to soften. Remove from heat and let cool.
Place flaxseed and water into a small bowl and whisk to combine. Set aside.
Place oatmeal in food processor and process into oat flour. Then add half of the black beans, the garlic and onion mixture, the flaxseed egg, tamari, ketchup, pepitas, corn, chili seasoning, parsley, hot sauce and cayenne pepper into the food processor with the oats. Process until well mixed. Add remaining beans and pulse the machine until they're combined into the mixture but not overly processed.
Place mixture in the fridge for 30 to 45 minutes to set-up a bit, then shape into 5 patties. I used a 1 cup measuring cup to "cut" the burgers into a perfectly round shape. You can use a peanut butter jar lid or a large cookie cutter for this too. Or just use your hands if you're not too concerned with the shape.
To cook the burgers, spray a little cooking spray into a non-stick skillet over medium heat. Cook each patty for about 7 minutes on each side or until the inside of the burger is hot and the sides have turned golden brown. To bake in the oven, place the patties on a baking sheet lined with parchment paper and bake for about 25-30 minutes at 350°F degrees, flipping once through cooking.
Makes 5 patties. If you want to freeze a few burgers for later, separate uncooked patties using parchment paper and place into a freezer safe, airtight container. They should keep for several weeks in the freezer. When ready to enjoy, let the patty thaw and then cook according to the instructions above.
---
Notes
Don't forget to process the oatmeal into flour prior to adding the other ingredients and don't skip refrigerating the bean burger mixture before forming into patties. Both of these steps are essential for getting the perfect texture.
---
Nutrition
Serving Size:

1 burger

Calories:

207

Sugar:

2g

Fat:

5g

Carbohydrates:

32g

Fiber:

8g

Protein:

10g
Have you ever used chili seasoning for something other than a pot of chili?