This post was supposed to go live yesterday but my laptop is on the fritz so most of my day was spent dealing with that. I went to the Apple store to get it looked at. Turns out they think it's the logic board so I had to bring the laptop home last night and back up all my data. Now I have to bring it back on Wednesday and leave it. Ugh! Not quite sure what I'm going to do without it for 5 days (!?!) but Isaac is working on arranging a deal for me to borrow a laptop so hopefully I'll still be able to check in and get the posts up that I was planning for this week. Wish me luck — it's in your best interest because I have a few goodies to share. 🙂
In other more delightful news, let's talk about today's recipe. It's potato salad and before you click away thinking that potatoes are too high in carbs or have too many calories for you, hear me out.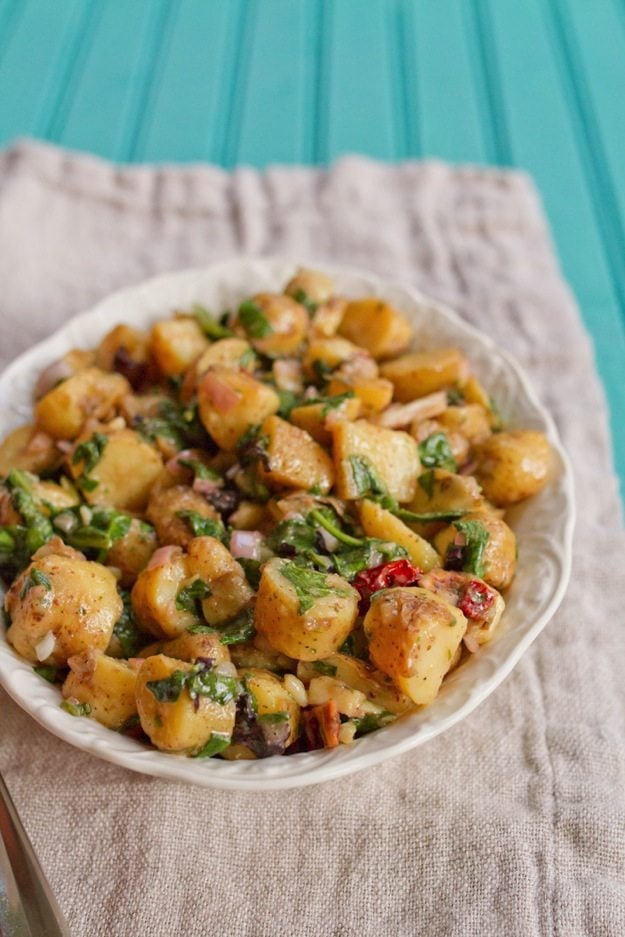 I grew up in a potato loving family. Lots of fried potatoes, mashed potatoes, baked potatoes, potato salads, etc. My mom always had a bag of russet potatoes on hand but rarely sweet potatoes, unless you count canned yams for sweet potato casserole. Nowadays I love sweet potatoes and sweet potato fries reign supreme (it's the sweet and salty combo!!) but I try to skip the fried varieties and make healthier baked or grilled versions to satisfy my cravings.
All that said, I still enjoy regular potatoes on occasion as well.
Potatoes often get a bad rap in the healthy eating/fitness world but they're actually a healthy vegetable. They're high in resistant starch, especially when cooked and cooled (like in this salad). And they're loaded with potassium, vitamin B6, vitamin C and fiber. Just don't forget to eat the skin — that's where a lot of the nutrients are.
So now that I've convinced the potatoes haters that potatoes are good for us, it's time to make this salad.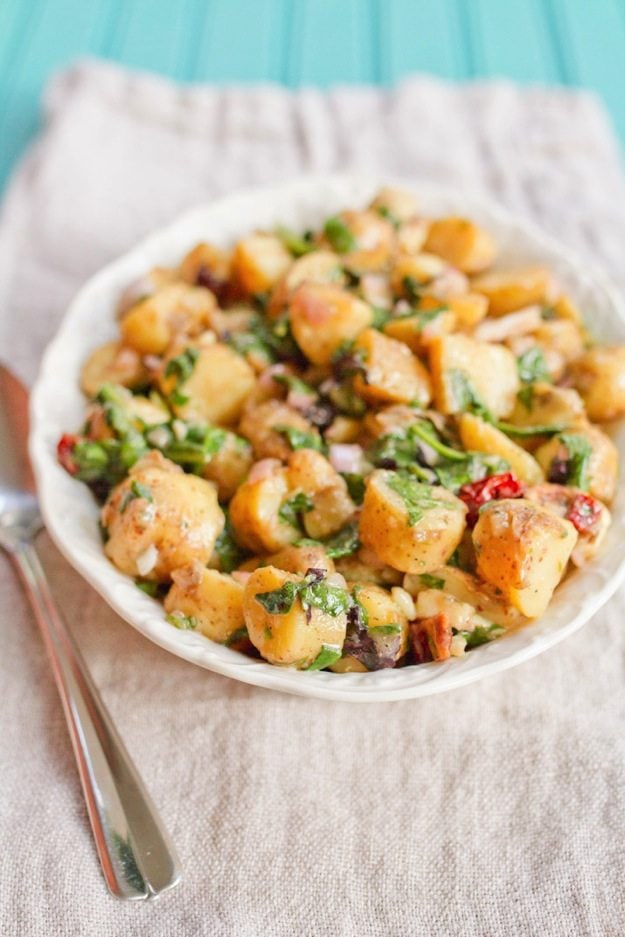 This isn't your traditional southern potato salad with mayo and egg, but trust me when I say it's really, really good. It only has a few ingredients so it's simple enough to make as a weeknight side but it's also delicious enough to bring to a cookout or potluck. Isaac and I both absolutely loved it so it will definitely be a recipe I make again.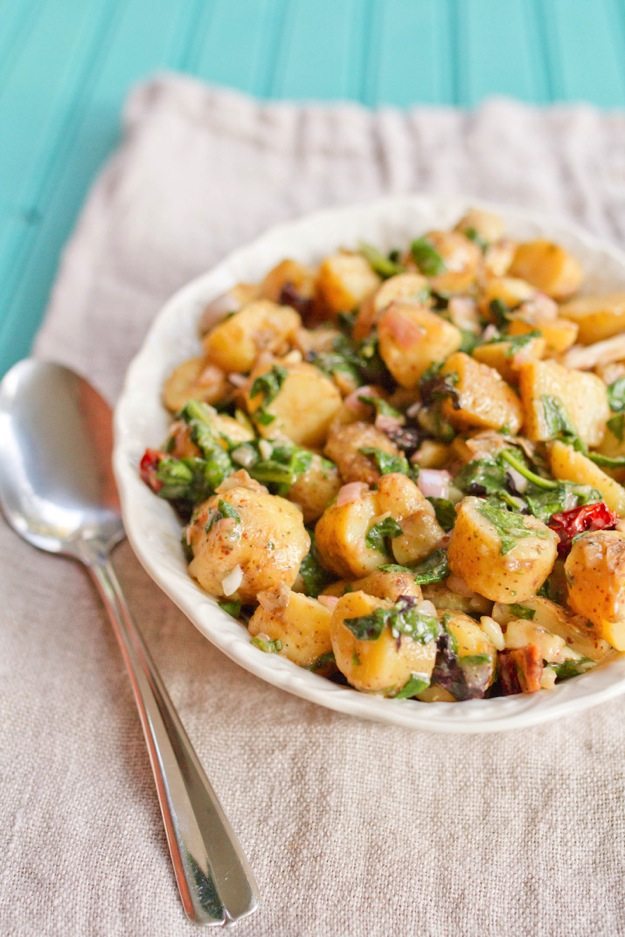 I kept this salad on the lighter side by using a vinegar based dressing and adding spinach (gotta get those green veggies in there). I love the addition of the sun-dried tomatoes as well — they add a little saltiness and a chewy texture that pairs nicely with the texture of the potatoes.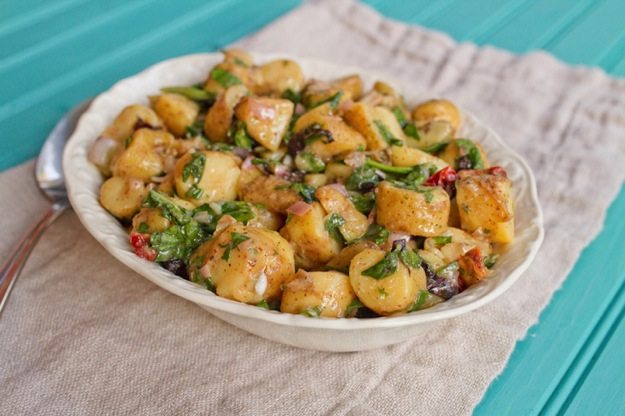 I had a big bag of shallots from the farmers market so that's why I choose to use those instead of red onion or garlic but here lately I've also realized that I prefer shallots to red onion. They lend the same oniony/garlicky flavor but I find them less pungent. I've actually heard people say that shallots are a great substitute for onions in recipes for people who don't like onions. For all my onion haters out there — have you tried shallots yet? Might be a good option!
Of course, if you don't have access to shallots, feel free to use minced garlic for the dressing and finely chopped red onion for the salad. It should still turn out just fine.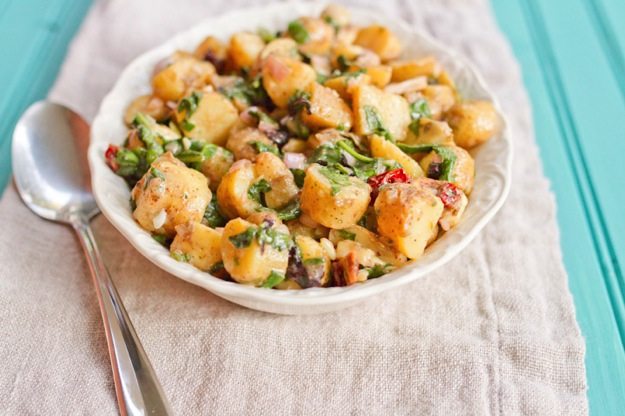 The recipe makes quite a bit so we've been eating the salad over the past few days — on its own as a snack, as a side dish with grilled protein or my favorite, as a topping for a big salad. I hope you like it as much as we do
Print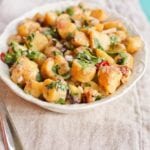 Healthy Fingerling Potato Salad
Author:

Prep Time:

15 mins

Cook Time:

20 mins

Total Time:

35 mins

Yield:

8
---
---
Ingredients
1½ pounds small fingerling or new potatoes
1 Tablespoon salt
2 cups baby spinach, chopped
1/4 cup shallots, peeled and chopped into small pieces
4 sun-dried tomatoes, chopped into small pieces
1 teaspoon fresh chives
1 teaspoon dried parsley
Dressing
1/4 cup red wine vinegar
1 Tablespoon minced shallots
2 teaspoons whole-grain dijon mustard
1 teaspoon maple syrup
1/2 teaspoon sea salt
1/8 teaspoon black pepper
2 Tablespoons olive oil
---
Instructions
Wash potatoes well and place in a large pot. Add enough cold water to cover by 3″. Stir in 1 tablespoon salt and bring to a boil. Reduce heat to medium and simmer until potatoes are tender, about 20 minutes. Drain and cool. Once cooled to the touch, cut the potatoes into 1/2" pieces and place in a large bowl with the spinach, shallots, sun-dried tomatoes, chives and parsley.
In a small bowl combine the vinegar, minced shallots, mustard, maple syrup salt and pepper. Whisk in the olive oil. Pour over the potatoes, toss to coat and serve. Store any leftovers in the fridge.
---
Nutrition
Serving Size:

1/8 of recipe

Calories:

127

Sugar:

3g

Fat:

4g

Carbohydrates:

18g

Fiber:

2g

Protein:

3g
Are you a potato lover, hater or do you fall somewhere in between? What's your favorite way to eat potatoes?