Whew! It's been a crazy week – being sick has made getting things done a lot harder. For instance working out – that's been on hold until I feel better. And blogging – I haven't had the energy to cook let alone sit in front of the computer at night so that is why I haven't really posted lately. In addition, this weekend was my bachelorette party so I'm not exaggerating when I say things have been a little cray cray.
More the bachelorette party (which was amazingly awesome) later, for now I have a tasty little veggie burger to share. I actually made the burgers last weekend and I've already had several requests for the recipe after posting a photo on Instagram so I figured I better share it soon. <– I'm eatingbirdfood on there, btw. Find me!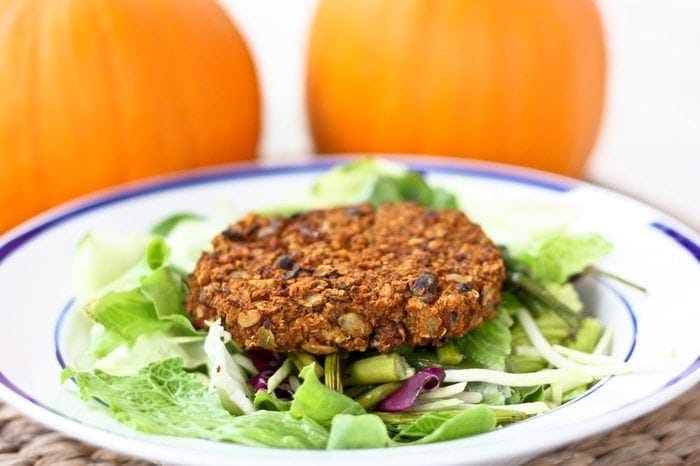 The recipe idea came about after I roasted a pie pumpkin on Saturday and had a big tupperware container of fresh pumpkin in the fridge that needed to be used. I've made black bean burgers with sweet potatoes before so I thought I'd try my hand at a burger with pumpkin. Everything tastes better with pumpkin right?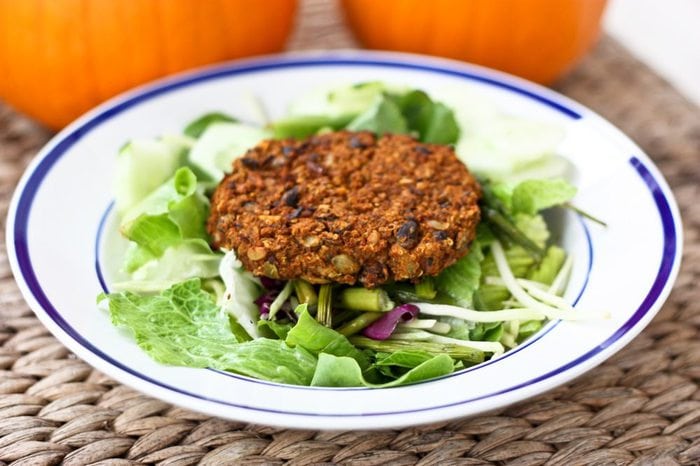 Print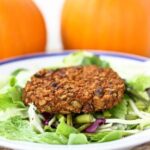 Curried Pumpkin Black Bean Burgers
Author:

Yield:

5
---
Ingredients
1 15 oz. can black beans, drained and rinsed
1 1/2 cup cooked quinoa
1/2 cup pumpkin (homemade puree or canned)
1/4 cup of pepitas (shelled pumpkin seeds)
1 clove garlic, minced
2 Tablespoons tomato paste
1 Tablespoon ground flaxseed
1 Tablespoon curry powder
1 teaspoon toasted sesame oil
1/2 teaspoon chilii powder
1/2 teaspoon cumin
1/2 teaspoon sea salt
ground pepper, to taste
---
Instructions
Add black beans, quinoa, pepitas and garlic into a food processor and pulse a couple times. The beans should be broken up but there should still be some small chunks. Don't over process, as you want your bean burgers to be a little chunky.
Transfer the bean mixture into large bowl and stir in all remaining ingredients and form into five to six patties.
Heat a skillet on medium, spray non-stick spray and add the patties, cook each side until browned, about 6-7 minutes total.
The best part about making these burgers on the weekend… you get to eat them for lunch all week. I highly recommend storing any leftover burgers in a tupperware container after they've been cooked and cooled and then reheating them on 350° in the toaster oven or regular oven. You can also reheat them on the stove top as well.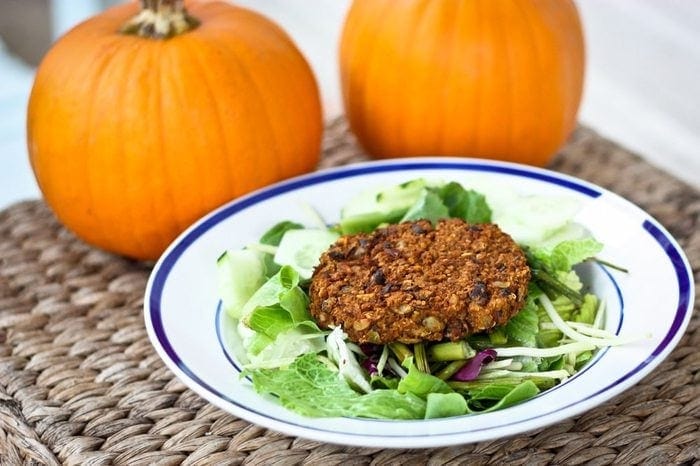 Instead of serving my burgers on a bun, I like to make a green salad dressed with balsamic vinegar and plop the veggie burger on top. After taking a photo, I chop up the burger and mix it into the salad. Definitely my favorite way to eat a burger!
I'm off to recover from the bachelorette shenanigans – mimosas, wine tasting, dinner and dancing will wear ya' out! 😉 I hope you are having a great weekend.