This Mexican shrimp cocktail is a healthy and flavorful dish with chilled shrimp in a tomato sauce with cucumber, avocado and cilantro. Serve cold with tortilla chips for a festive party appetizer or a quick weeknight meal.
Hello from Winnipeg! I'm here with a group of bloggers for a quick trip with General Mills. We're visiting an oat farm today which I'm pretty excited about. Oats are one of my favorite foods and I've never seen them being grown so it should be pretty cool!
Hopefully I'll have some fun photos to share after today's tour, but in the meantime I have a delicious recipe for you.
This year we spent 4th of July weekend with my family at the beach. While we were there my cousin's girlfriend, Danielle, made this awesome shrimp cocktail dip as an appetizer before dinner one night and everyone loved it! I forgot to ask her for the recipe, but once we got home I decided to try my hand at making it. I found this authentic Coctel de Camarones recipe that seemed similar so I used it as a guide and came up with the version I'm sharing today!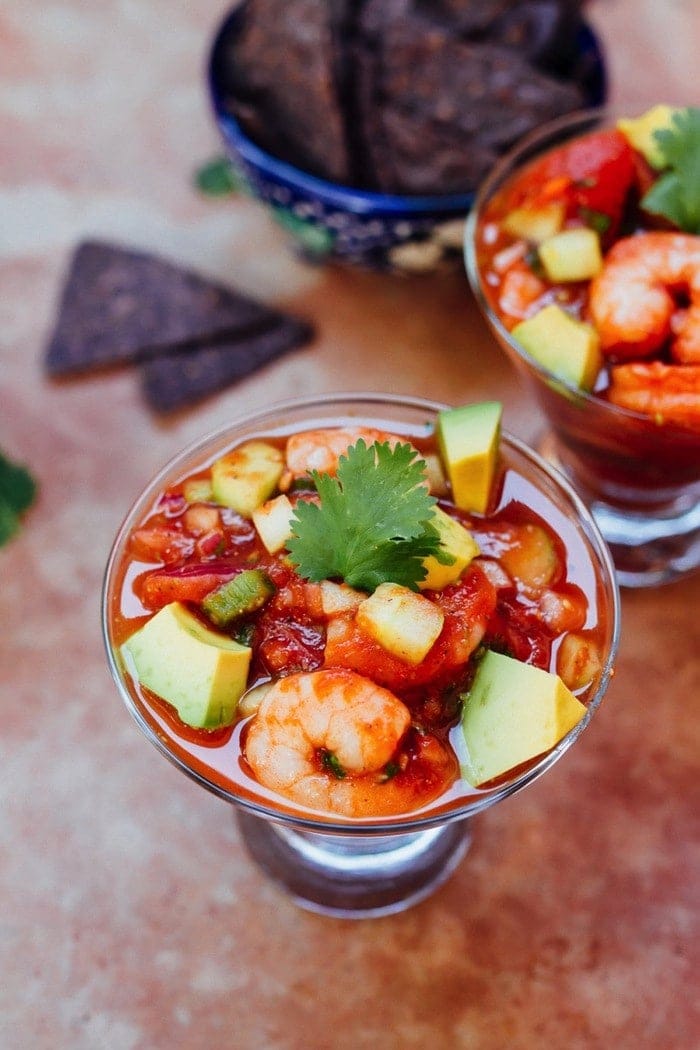 When I think of shrimp cocktail I immediately think of a fancy dinner party with cold shrimp and cocktail sauce for dipping. This recipe doesn't involve cocktail sauce at all. It's more like a shrimp salsa or like a gazpacho soup studded with shrimp.
Traditionally Mexican shrimp cocktail is made with a tomato juice mix like V8 or Clamato (tomato juice mixed with calm juice). I like thicker dips so we're skipping the juice and using tomato sauce instead. And for serving, it's often served with saltine crackers, but I love chips and salsa so serving this shrimp cocktail with tortilla chips is a no-brainer in my mind.
Chips and salsa aren't very filling on their own, but luckily this dip is like an amped up version. When you add shrimp and avocado to the mix you have a good amount of protein and healthy fats that fill you up and you're less likely to feel the need to eat a billion chips. Always a good thing. 🙂
And if you're not in the mood for chips you can eat the cocktail straight up with a fork or spoon. Like I said, it's also kind of like gazpacho!
It's the perfect summertime, beach vacay dish and works great as a full meal or as an appetizer if you're serving a crowd. As a party appetizer it will probably make more sense to serve it in a large bowl for dipping, but you can also serve it up in personal bowls/glasses like I've done here.
Whatever way you serve it, it's refreshing and super flavorful! I recommend serving it with my skinny paloma for a true Mexican fiesta.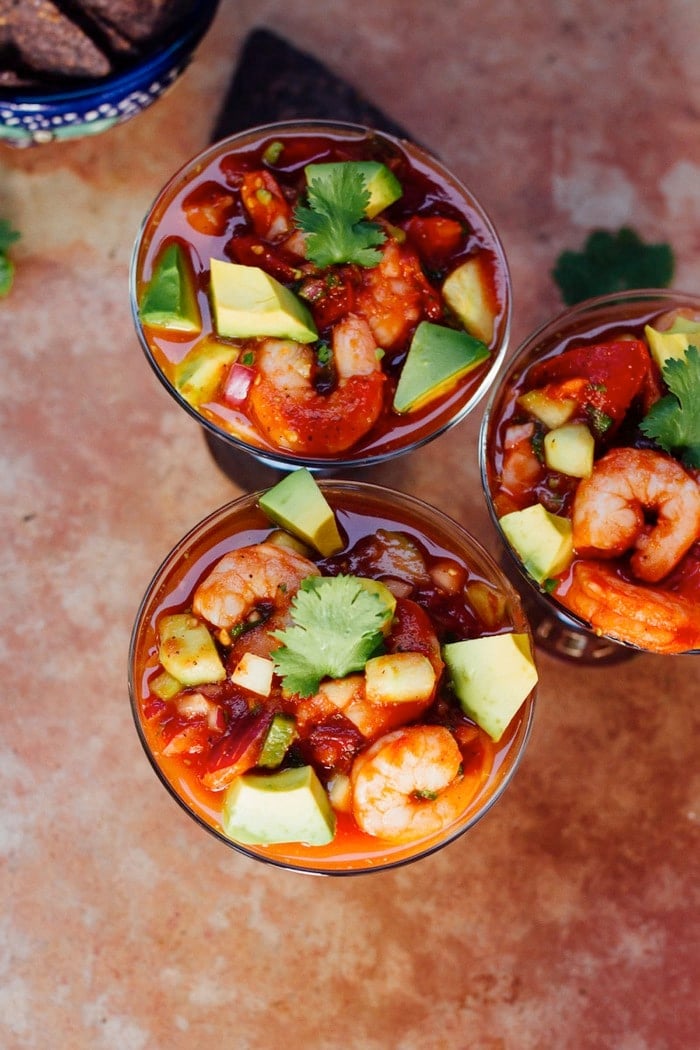 4
adjust servings
Ingredients
1

lb. cooked shrimp, peel and deveined

1 1/2

cup chopped ripe tomatoes with juice

1/4

cup ketchup

8

oz can of tomato sauce

1

cup finely chopped red onion

1

cup peeled and diced cucumber

1-2

stalks of celery, finely chopped

1/2

cup chopped cilantro

1

clove garlic, minced

1

jalapeño, seeds removed and finely chopped (optional)

juice from 1 lime

2

teaspoons Mexican hot sauce, like Cholula or Tapatio

1

teaspoon ground pepper

1/4

teaspoon sea salt

2

avocados, chopped into chunks

tortilla chips, for serving
Instructions
In a large bowl combine tomatoes, ketchup, tomato sauce, red onion, cucumber, celery, cilantro, garlic, jalapeño, lime juice, pepper and salt. Taste and add extra seasoning if needed. Cover, and refrigerate 2 to 3 hours to let the flavor build and chill the sauce. Add shrimp and avocado chunks right before serving. Serve in a large bowl or in small cocktail glasses with a side of tortilla chips for dipping.