Plant-powered blackened tempeh salad with fresh romaine, quinoa, red onion, bell pepper, avocado and a creamy orange tahini dressing. 
Are you ready for more salad action? I certainly hope so because not only do I have a lovely tempeh salad to share today, but I'm planning for this summer to be the summer of salads around here. I kicked things off with my Seven Slimming Meal-Sized Salads ebook  (which you should totally check out if you haven't already) and I'm planning a fun salad challenge for July as well. The challenge will revolve around eating one salad a day and I'm debating between having it go for one week or one month. If you're interested and have any thoughts about how long you'd like for it to last or what you'd like to see included (salad ideas, grocery shopping lists, etc.)  let me know in the comments. I want this to be something fun for us to do together.
Okay, so back to today's summer salad. I created it in partnership with Lightlife tempeh and the recipe itself is being shared over on their website, but I'm going to give you a little preview.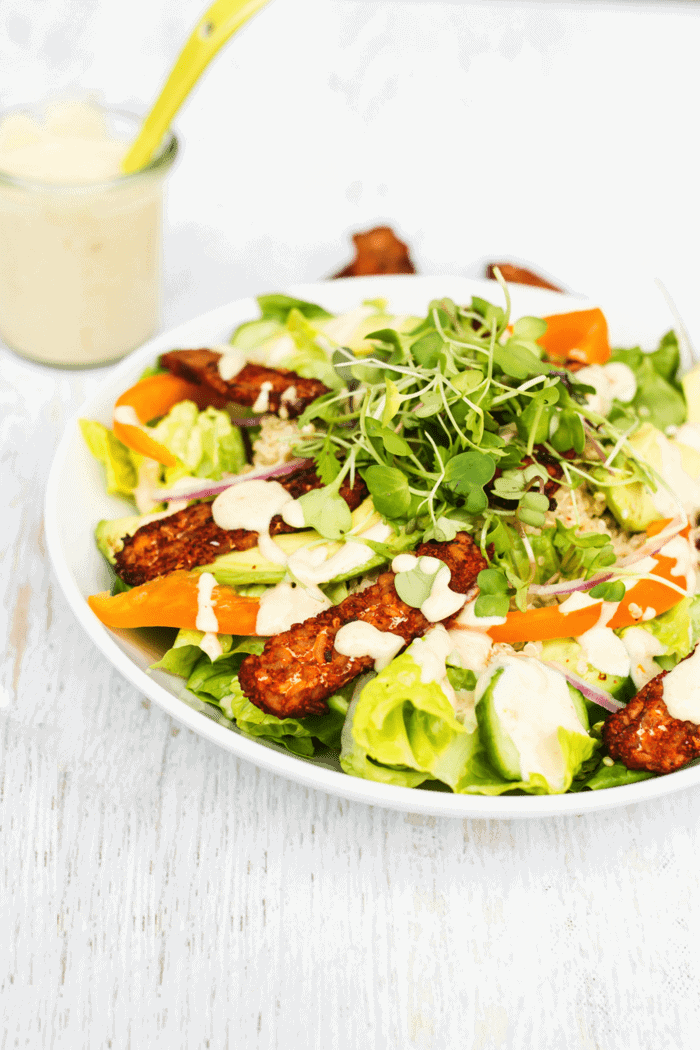 The salad is absolutely delicious and has all the components I look for when building a meal-sized salad:
lots of veggies (romaine, onion, bell pepper)
a good source of protein (tempeh + quinoa)
smart carbs (quinoa)  — You can check out my round up of quinoa salad recipes.
satisfaction factor (lots of flavor, different textures + a large serving size)
For the tempeh, I used Lightlife's 
wild rice tempeh
. It worked wonderfully in this recipe, but you can use any of their other types as well. The garden veggie, flax, soy or three grain would all work equally well. Just be sure to cut the tempeh into thin slices so that every piece gets seasoned and crisps up nicely during the roasting process.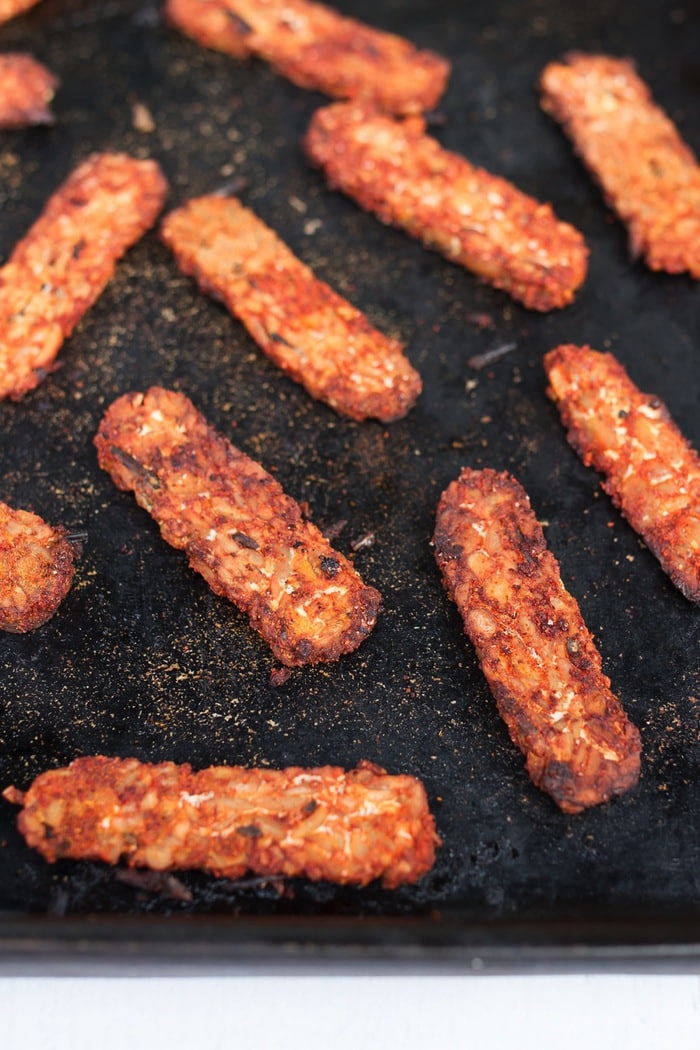 Blackening usually involves coating protein in a spice mixture and cooking in a cast-iron skillet, but I kept this recipe a bit more hands-off by roasting the spiced tempeh. Plus, it saved me the trouble of having to deal with our smoke detector going off, which inevitably happens every time I try to blacken something on the stove-top. <– Does this happen to everyone or is it just me?
The roasting process only takes about 20 minutes and the tempeh comes out of the oven warm and crisp — perfect for topping a romaine based salad.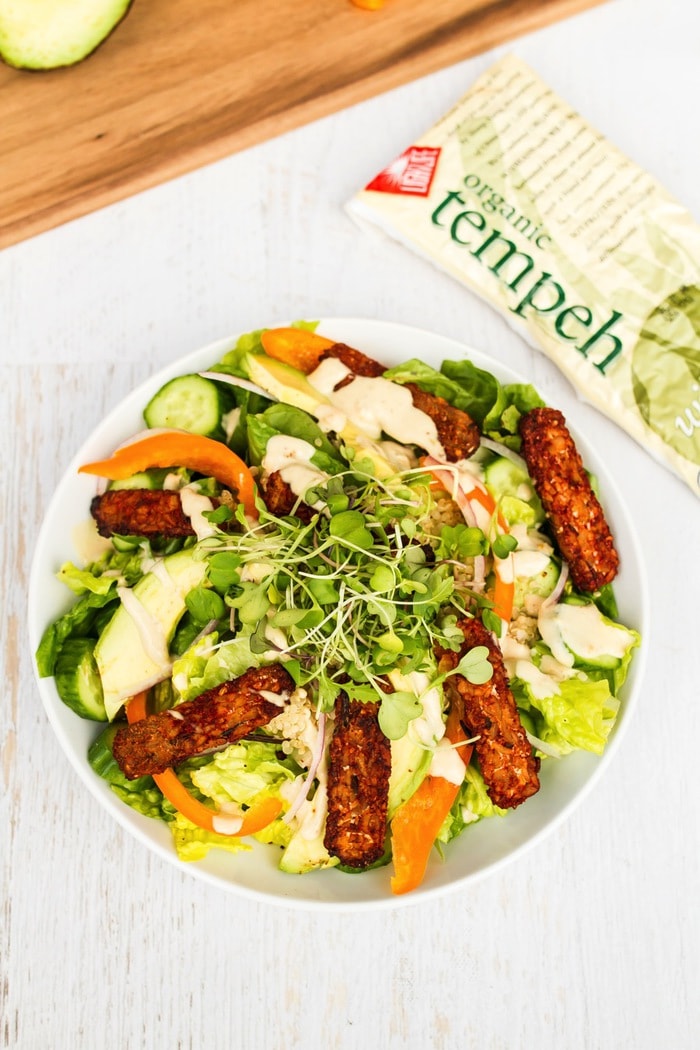 To balance out the spicy blackened flavor of the tempeh, I added fresh avocado slices and made a tahini dressing with a hint of orange juice and zest. The dressing is thick, creamy and a lovely compliment to the salad. I just love tahini dressings so much and this orange tahini combo is totally rocking my world.
I've used the leftover dressing for several salads since making this one and I'm hooked. For whatever reason I've never thought to add orange to a tahini dressing. I guess because I always use lemon, but it's awesome and a nice change of pace.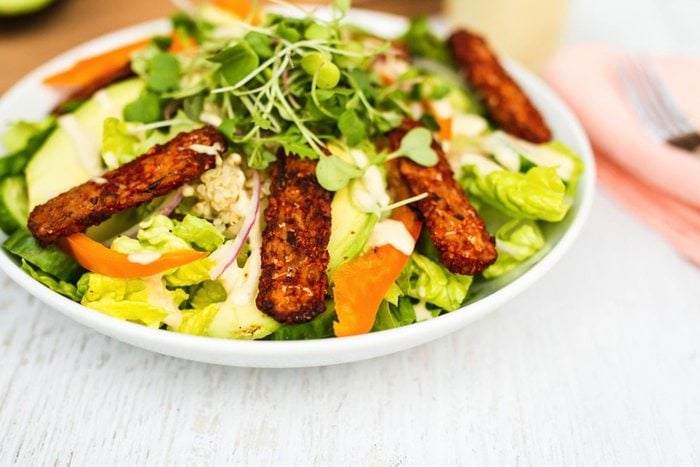 I like to top the blackened tempeh salad with micro greens or fresh herbs before serving. Totally optional, but it does make the salad look extra fancy. Enjoy!
This recipe was created as part of the Lightlife Blogger Ambassador Program. Thank you for supporting the brands that make EBF possible.