For dinner tonight, I got inspired by a recipe from the Eat-Clean Diet Stripped and made a cauliflower and tempeh dish with Indian spices. Besides making a mess when chopping the cauliflower, the recipe was super easy to put together and I loved the curry flavor. It definitely reminded me of my favorite Cracklin' Cauliflower recipe – this one is just missing the peas!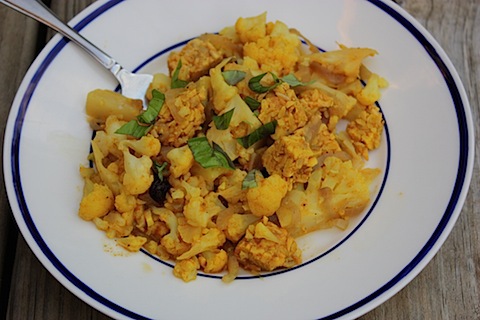 Curried Cauliflower with Tempeh
Inspired by Smack Your Lips Spiced Cauliflower and Tofu
Ingredients
1 tsp olive oil
1/2 medium red onion, thinly sliced
2 cloves garlic, minced
1 head cauliflower, cut into bite-sized pieces
8 oz tempeh, cut into 1/4-inch cubes (Lightlife's Three Grain is my fav)
1/4 cup raisins
1 tsp ground cumin
1/2 tsp ground coriander
1/2 tsp curry powder
1/2 tsp paprika
1/4 tsp cayenne
1/2 Tbsp sea salt
1/4 tsp freshly ground black pepper
1 cup reduced sodium vegetable broth
1 bay leaf
1/4 cup chopped fresh basil
Preparation
Heat oil in a large skillet over medium-high heat. Add onion and garlic and cook until starting to brown, about three minutes. Stir in cauliflower, tempeh, raisins, spices, salt, pepper, vegetable broth and bay leaf.

Bring to a boil, cover and reduce heat to simmer until cauliflower is starting to become tender, about fifteen minutes. Uncover and continue to cook until broth reduces by half, about five minutes.

Remove from heat and remove bay leaf. Garish with fresh basil and serve with a whole grain like brown rice or quinoa.
I enjoyed this dish warm and loved it. Isaac came home later and had it cold and said it was tasty that way as well. I'm already excited for leftovers tomorrow because curried dishes always taste better after having time for the flavors "marinate".
In other news, I've been trying to stick with a new goal of not eating 2-3 hours before bed. I did well while Isaac was out of town but tonight I gave in to the temptation of crackers and hummus that Isaac was eating when he got home late from Frisbee practice. After trying the hummus with a few crackers I decided I wanted to eat a make them sweet and more "dessert like" so I put almond butter on a few (probably around 8-10). I ended up eating the crackers and then ate a small bowl of cereal as well. I know it's not the end of the world but I still feel annoyed because I wasn't hungry! I was just eating because it was there AND the real issue is that I didn't stop with the crackers, I went ahead and ate cereal too.
Oh well, I'm not sure why I felt the need to get that off my chest but sometimes I think it seems like I eat 100% healthy all the time. I'm definitely not perfect and I still struggle with portion control and eating out of convenience or boredom instead of hunger. Tonight's a good example of that.
Tomorrow is new day and I'm ready to start it off with a early morning workout and healthy breakfast. Back on track…
Question for you – What's your favorite ethnic food? All my favorites were featured in this post – Thai, Japanese and Indian. What do you do when you slip up with your healthy eating goals?