Learn all about the health benefits of Apple Cider Vinegar (ACV) including clear skin, weight loss, balancing pH levels, detoxing and more. You've heard Dr. Oz talk about it, now learn more! 
I first learned about the health benefits of apple cider vinegar through Tosca Reno and the Tone It Up nutrition plan. Both plans recommend adding apple cider vinegar into your daily diet. Tosca recommends mixing 2 Tablespoons of raw, unfiltered ACV into a glass of water and the Tone It Up gals recommend a drink recipe called the Meta-D which has apple cider vinegar, water and a few other ingredients.
I started drinking it daily based on their recommendations and soon fell in love with it! It's such an easy thing to add your routine and the health benefits are amazing!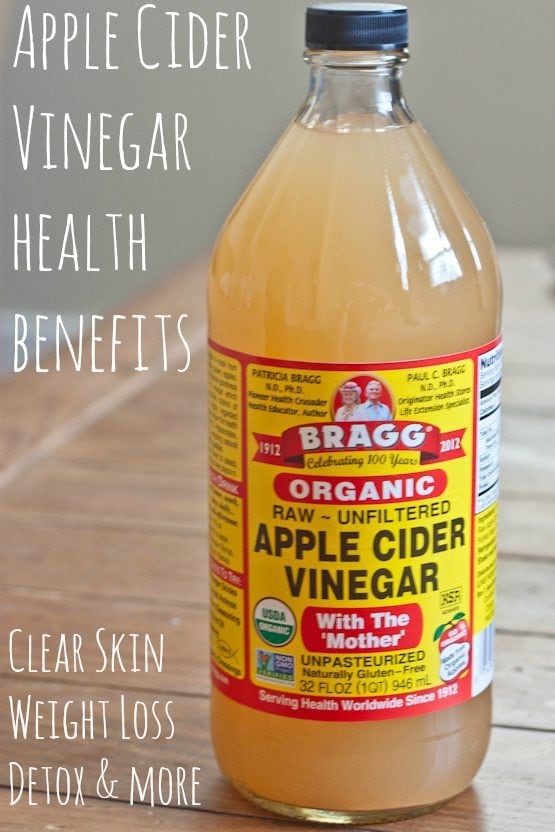 LEARN MORE ABOUT THE HEALTH BENEFITS OF APPLE CIDER VINEGAR:
Here are a few common questions around ACV…
What type of Apple Cider Vinegar should I use?
Only use raw organic apple cider vinegar that has the 'mother' of the vinegar still intact. The 'mother' is made up of strand-like enzymes of connected protein molecules with living nutrients and bacteria, similar to the 'mother' that's in Kombucha. Clear vinegar is processed and doesn't have any of the benefits that raw apple cider vinegar has. There are different brands out there but I use Bragg's Apple Cider Vinegar which I find at my local organic market, Whole Foods or on amazon (affiliate link).
Be sure to dilute ACV before applying it to your skin or drinking. Without being diluted, it can damage the tooth enamel and the tissues of your throat, mouth or skin. Many people also like adding a splash of fruit juice, honey or stevia to the ACV + water mixture to help make it more palatable.
What are the benefits of Apple Cider Vinegar?
Rich in potassium, a mineral that is often times lacking in adult diets. This mineral is key for growth, building muscles, transmission of nerve impulses, heart activity etc. It also helps to prevent brittle teeth, hair loss and runny noses.
Rich in acetic acid. This acid is said to slow the digestion of starch which can help to lower the rise in glucose that commonly occurs after meals.
Rich in ash which gives apple cider vinegar its alkaline property. This aids your body in maintaining proper pH levels for a healthy alkaline state. (It is particularly important if you drink a lot of coffee or wine.)
It can help regulate blood pressure and reduce bad cholesterol.
Rich in malic acid which gives ACV its anti-viral, anti-bacterial and anti-fungal properties.
May help improve bowel irregularity and helps to remove toxins from the body at a faster rate.
It can help clear up skin conditions and blemishes.
ACV helps with weight loss by breaking down fats so that your body can use them rather than store them.
A few lab studies have found that ACV may be able to kill cancer cells or slow their growth.
Have you noticed any changes in your body since drinking Apple Cider Vinegar daily?
It's hard for me to tell if the ACV drink is working wonders on my body and helping in ALL the ways I mentioned above, however I do know that my complexion has been really clear since I've started taking it and I crave the ACV drink every day now. In the morning I make my drink in a blender/shaker bottle and take it to work with me. I'll have it in mid-morning or after lunch with my afternoon snack. It definitely helps to keep me feeling full and less hungry.
How much do you drink and how do you prepare it?
I drink 2 Tablespoons a day, in the morning, and I usually make a drink like this apple pie apple cider vinegar drink or this apple cider vinegar and grape antioxidant drink.
In need of recipes to incorporate apple cider vinegar in your diet? Check out these: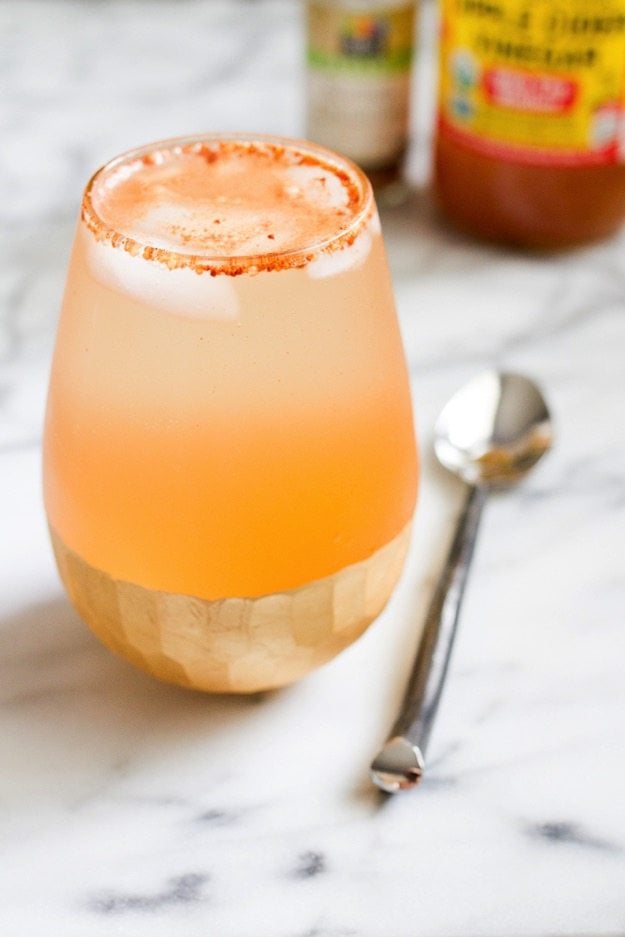 Apple Pie Apple Cider Vinegar Drink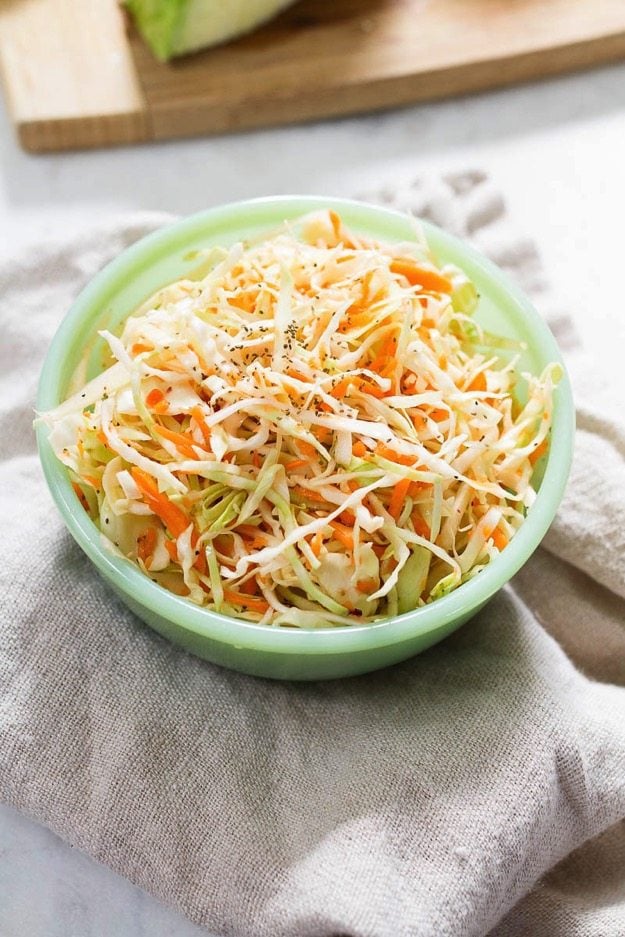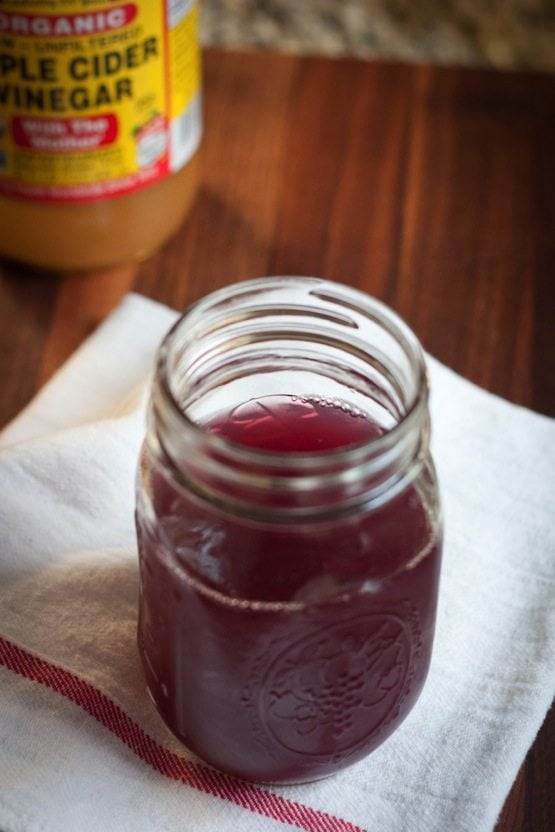 Apple Cider Vinegar & Grape Antioxidant Drink
Disclaimer – Due to the lack of supporting research, apple cider vinegar cannot be recommended for treatment or prevention of any health problems. Also, please consult with your physician, pharmacist, or health care provider before taking any home remedies or supplements. I'm just sharing my experience and what works for one person doesn't always work for another. 🙂
This post may include affiliate links. Thank you for your support.