Before you close the window thinking that I'm a crazy woman for putting pumpkin on my salmon, hear me out.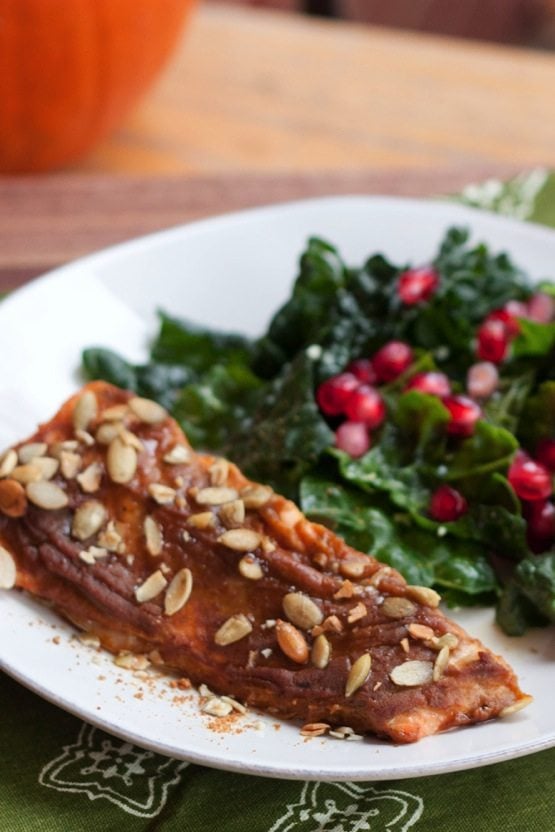 People use brown sugar and fruit to glaze salmon all the time. It only makes logical sense that a pumpkin spiced glaze/marinade would work well on salmon.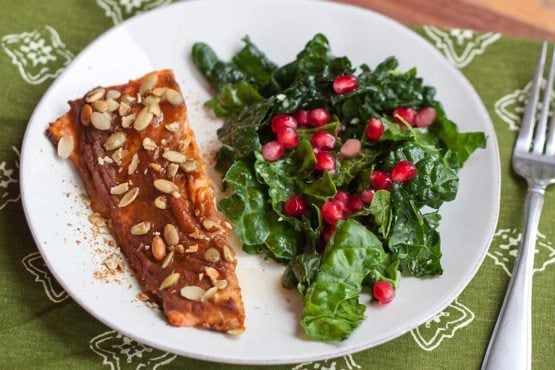 To test the theory, I made a quick pumpkin butter glaze by heating up pumpkin, coconut sugar and spices and slathering it on the salmon.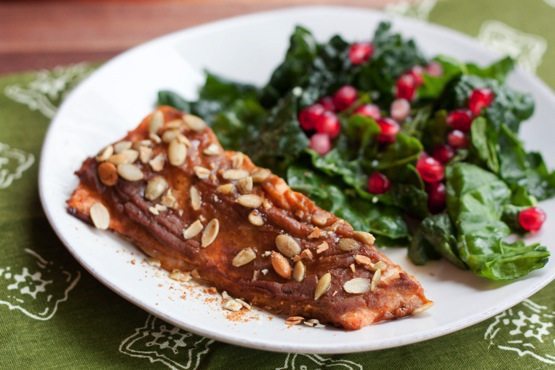 The result, a deliciously sweet and savory, pumpkin spiced salmon. I'm pretty sure this is going to be a staple dish in our house each fall. It's sooo good!
And for those of you that don't eat turkey, but do eat seafood, this would be a great main entrée for Thanksgiving!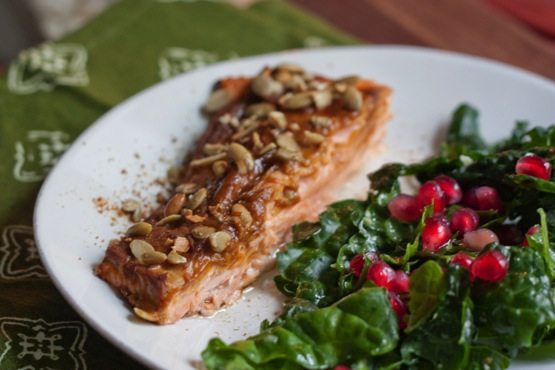 Print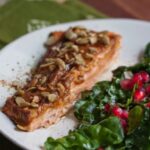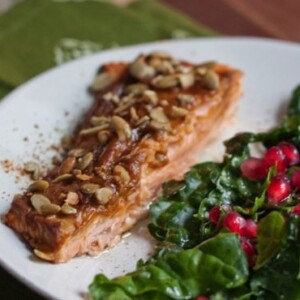 Pumpkin Spice Salmon
Author:

Prep Time:

10 mins

Cook Time:

15 mins

Total Time:

25 mins

Yield:

4
---
Description
If you have pumpkin butter on hand, you can simply use that in place of the pumpkin glaze. It might not taste exactly the same as my version, but it will be pretty close.
---
Ingredients
4 wild caught salmon fillets (about 4 oz each)
1/3 cup pumpkin
3 Tablespoons brown sugar + extra for sprinkling (I used coconut sugar)
1 teaspoon pumpkin pie spice
1/2 teaspoon apple cider vinegar
1/4 teaspoon sea salt
1/4 -1/3 cup roasted and salted pepitas, crushed a little
---
Instructions
Preheat oven to 400 degrees. With a rack in the center.
Make the glaze: In a small sauce pan on low, stir together pumpkin, sugar, pumpkin pie spice, apple cider vinegar and sea salt until sugar has dissolved and the mixture has thickened just a bit.
Arrange salmon fillets, skin side down, in a single layer in a baking dish. Spread pumpkin glaze over the fish, coating evenly. Sprinkle a quarter of the pepitas over each fillet.
Bake until fish is opaque but still bright pink inside, 15 to 20 minutes.
Serve with a an extra sprinkle of brown sugar on top.