Cheesy broccoli casserole made healthy! This version has protein-packed quinoa instead of instant rice, freshly grated cheese and natural mushroom soup instead of condensed cream of mushroom. 
Last year I revamped my mom's sweet potato casserole recipe. I made it vegan and gluten-free and it was absolutely delish. Everyone at our Friendsgiving loved it! Since that recreation went well, this year I decided to try my hand at making a healthier version of her broccoli rice casserole — with quinoa!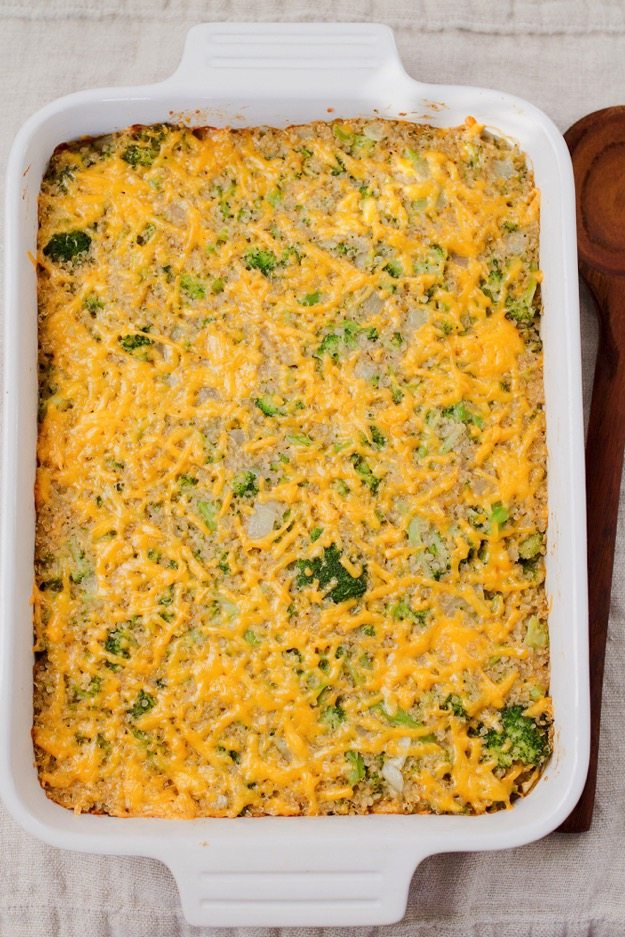 Isaac requested that I still use regular cheese so this version isn't dairy-free (I apologize to all my vegan friends) but it's still vegetarian, gluten-free and healthier than traditional broccoli cheese casserole. Woot woot!
I knew I didn't want to use canned condensed mushroom soup, but I also wanted to keep the recipe simple so I used a box of natural portobello mushroom soup. I really like the Imagine brand — it's the same one I use to make my Mushroom Kale Quinoa Risotto — and most grocery stores seem to carry it. That said, if you're feeling ambitious and want to make your own mushroom soup for this recipe, I'm all for it! Here's a homemade gluten-free, dairy-free cream of mushroom soup that should work perfectly.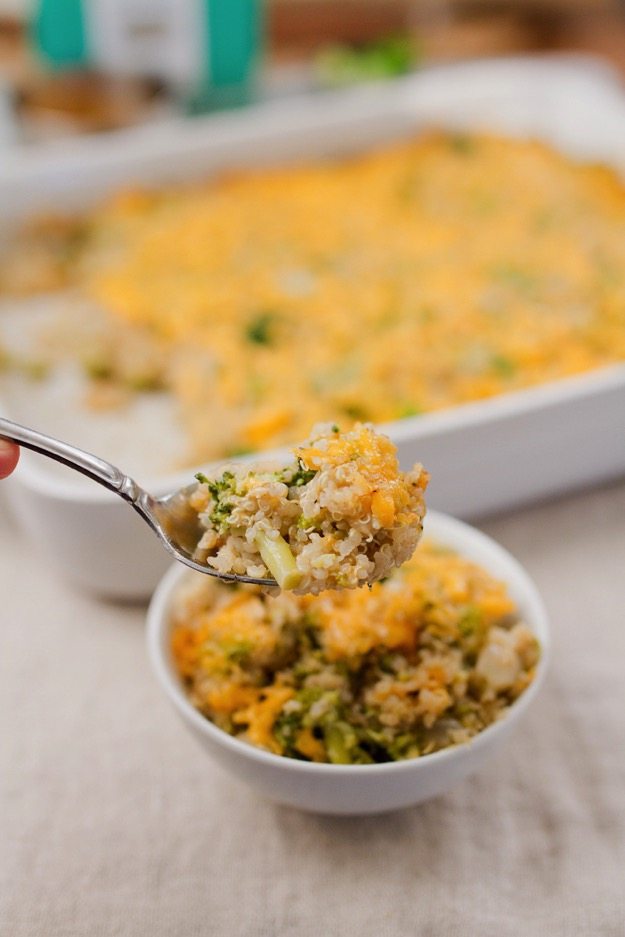 My mom always used store bought shredded cheese, however I went with block cheese for this recipe. It's certainly convenient to buy it pre-shredded, but most brands have added ingredients like cellulose powder and potato starch to keep the cheese shreds from sticking. Meh! Plus, block cheese is typically cheaper — an 8 oz block will give you about 3-4 cups of shredded cheese depending on how much you pack it down when measuring. So you get to skip the added ingredients and save money. Win, win!
Oh and shredding your own cheese takes only a few minutes. I used my food processor with the slicing blade and it was super simple.
All this said, I will not judge you if you use pre-packaged shredded cheese. 🙂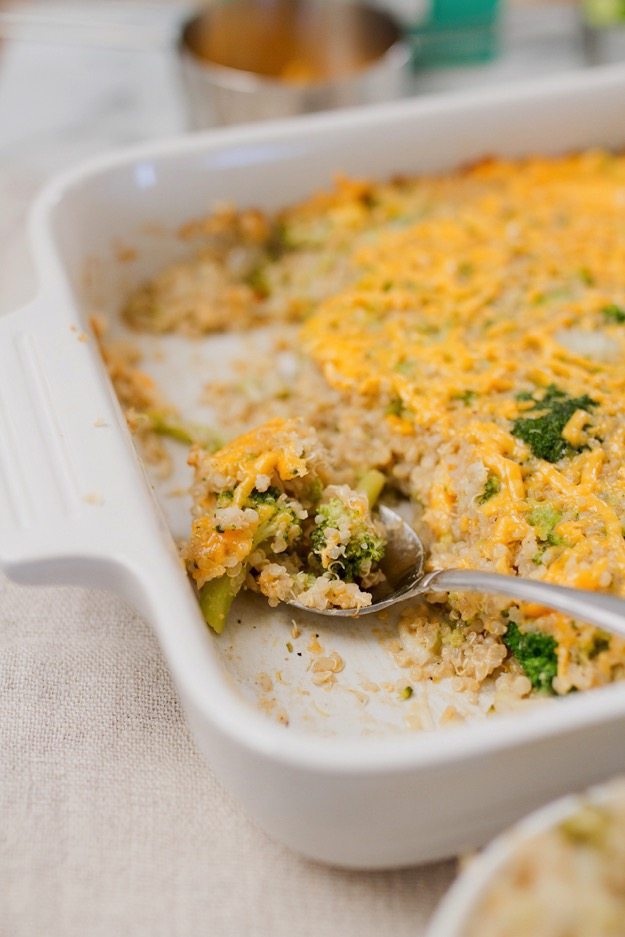 This casserole is almost identical to my mom's version. It's flavorful, cheesy and loaded with big broccoli florets (my favorite part)! I'm pretty sure my family would gobble this up without even realizing that I tweaked the recipe by using protein packed quinoa instead of instant rice, organic cheese and natural soup rather than the canned condensed stuff that's loaded with extra sodium and fat.
Try it with your family and let me know how it goes. 🙂
Print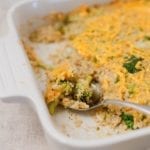 Cheesy Broccoli Quinoa Casserole
Author:

Prep Time:

25 mins

Cook Time:

40 mins

Total Time:

1 hour 5 mins

Yield:

10
---
Description
Cheesy broccoli casserole made healthy! This version has protein-packed quinoa instead of instant rice, freshly grated cheese and natural mushroom soup instead of condensed cream of mushroom.
---
Ingredients
1 cup uncooked quinoa (I love Ancient Harvest)
2 cups water or low sodium broth (for cooking quinoa)
2 10 oz. bags of frozen broccoli florets*
1/2 Tablespoon olive oil
1/2 large yellow onion, chopped
1 clove garlic, minced
1 8 oz block of good quality cheddar cheese
2 cups mushroom soup (not condensed), store-bought or homemade
sea salt, to taste
ground pepper, to taste
---
Instructions
Lightly coat a casserole dish (I used a 9 x 12 x 2 inch dish) with non-stick spray or lightly grease.
Prepare quinoa using water or broth, according to package directions. You should end up with about 3 cups of cooked, fluffy quinoa.
Preheat oven to 350°.
Place frozen broccoli florets in a colander and run cool water over them for a minute. They may not defrost completely but that's okay. Drain well and set aside.
Heat oil in a pan over medium high heat. Add onion and garlic and cook until soft and fragrant. Set aside.
Meanwhile, shred cheese by using a food processor with the shredding attachment or with a handheld grater. Measure out 1/2 cup to sprinkle on top of the casserole.
In a large bowl combine the onion and garlic mixture, quinoa, broccoli, shredded cheese and soup. Add in salt and pepper to taste. Transfer to greased baking dish and top with remaining 1/2 cup shredded cheese.
Cover and bake for 25 mins. Uncover and bake for 15-20 minutes more or until the casserole is heated through and cheese has melted. Serve warm.
---
Notes
*Definitely make sure you buy broccoli florets, not chopped broccoli. My mom used to buy the chopped broccoli and it's almost 100% stems. Stems are fine, but the casserole is so much better with the florets. 🙂
Adapted from Whole Foods Broccoli, Rice and Cheese Casserole.
---
Nutrition
Serving Size:

about 1 cup

Calories:

185

Sugar:

1g

Fat:

9g

Carbohydrates:

17g

Fiber:

3g

Protein:

10g
I'm excited for the weekend because we're getting started with the Thanksgiving festivities early by hosting a Friendsgiving feast. I can't wait to eat all the things! Have a great weekend, friends!