Guess what? I got a new computer yesterday! After being frustrated at how long it took me to do things on my old computer (a 5 year old Macbook) I decided to bite the bullet and bought a new Macbook Pro. It's light, fast and the screen looks absolutely amazing. For a girl that spends much of her time in front of the computer, this new machine is totally worth the investment. I also installed Abobe Lightroom for photo editing and started using MarsEdit instead of Ecto for blogging offline. Both are upgrades from the programs I was using before (I hope), but they take a little getting used to as well. Lots of changes going on over here!
In between downloading new programs and moving most of my files over last night, I prepped a little something to eat for dinner. Isaac picked up burgers from Ellwood's (black bean patty for me and grass-fed cheeseburger for him) and I took care of the sides. We had a ton of fresh veggies from Isaac's parents garden that were screaming to be used. I roasted some zucchini and squash and made a lovely side salad with green beans. Everything was so fresh and flavorful. It's amazing how much better food tastes when it's in-season, ripe and only travels 15 minutes to get to your kitchen.
I didn't really know what I was going to make when I started snapping the green beans, however I found a tasty looking salad on the Whole Foods website and tweaked it a bit to make what you see below. It turned out to be quite delicious!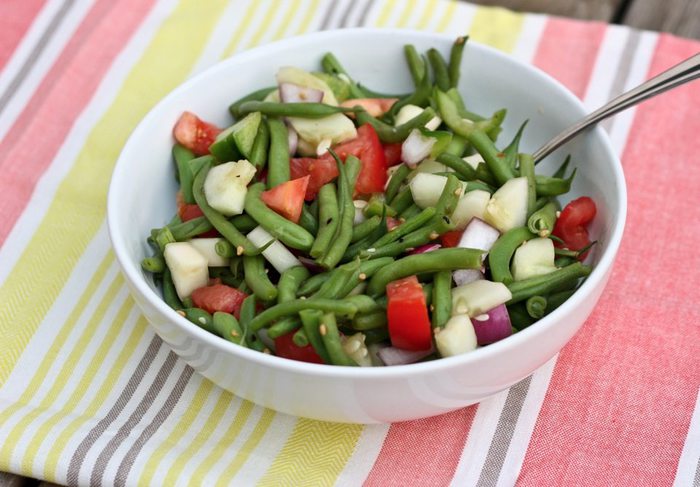 Print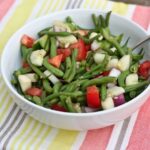 Fresh Green Bean Salad
Author:

Prep Time:

30 mins

Total Time:

30 mins

Yield:

4
---
Description
This light green bean salad comes together super quickly and has a nice crunch to it from all the fresh vegetables. Perfect for bringing to your next summer potluck or cookout. Adapted from Three-Bean Salad with Gouda.
---
Ingredients
1 1/2 cups steamed, cooled and chopped green beans (about 6 ounces raw)
1 large tomato, seeded and diced
1 medium cucumber, peeled and diced
1/2 red onion, diced
1 1/2 tablespoons honey or maple syrup
1 tablespoon white balsamic vinegar
1 tablespoon extra-virgin olive oil
1/2 teaspoon sea salt
1/4 teaspoon ground black pepper
---
Instructions
In a large bowl, whisk together agave nectar, vinegar, oil, salt and pepper.
Add all remaining ingredients and toss. Refrigerate and allow flavors to blend for at least 30 minutes.
Taste before serving and adjust seasoning if necessary.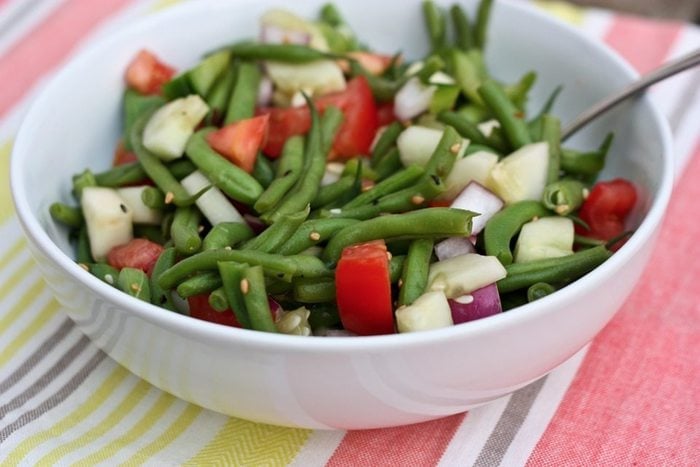 Have a lovely 3rd of July. I'm pumped because I'm off work the rest of the week and we're headed to my aunt and uncle's beach house for a little vacay. Woo-hoo! Do you have any big 4th of July plans?