Sweet Potato Puree
5
Published Oct 13, 2021, Updated Oct 31, 2023
Sweet potato puree is so easy to make. Just bake your sweet potatoes, peel and blend until smooth! It's a great first food for babies, but can also be used in baking recipes, mixed into oatmeal, added to smoothies or served as a side dish.
I've been on a kick of making my own fruit and veggie purees! It all begin when I started making baby food for Olivia, but it's definitely come in handy when local grocery stores are sold out thanks to all of the seasonal baking and holiday madness.
While it's definitely easier to pick up a can of puree at the store, I think people overestimate how hard it is to make your own puree at home. This recipe is so simple and hands off… anyone can do it. Promise!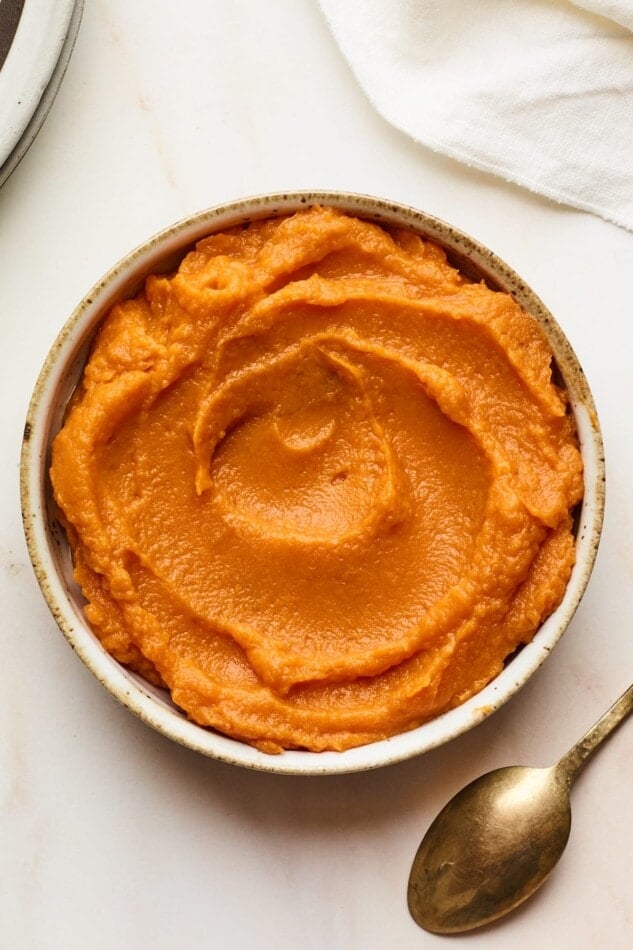 So today, I'm teaching you how to make an easy sweet potato puree that you can use in so many ways! First let's chat about sweet potatoes and why they are one of my favorite vegetables.
Sweet Potato Nutrients
Sweet potatoes are a powerhouse vegetable! They're packed with fiber, vitamins and minerals. They're also high in antioxidants which help protect your body against free radical damage.
Studies have shown sweet potatoes positively impact gut, brain, eye and immune health. And some studies have shown that certain antioxidants in sweet potatoes may protect against certain cancers. Bottom line? They're SO good for you and delicious! Now you have no excuses to not incorporate them into your diet. (Source)
Buying & Storing Sweet Potatoes
When shopping for sweet potatoes, look for firm, unwrinkled skins. Sweet potatoes come in all different colors – creamy white, deep orange and purple. I usually buy Beauregard, Jewel or Garnet sweet potatoes just because those varieties are typically available at my local grocery stores. That said, Beauregard sweet potatoes tend to be stringier so when given the option I go for Jewel or Garnet.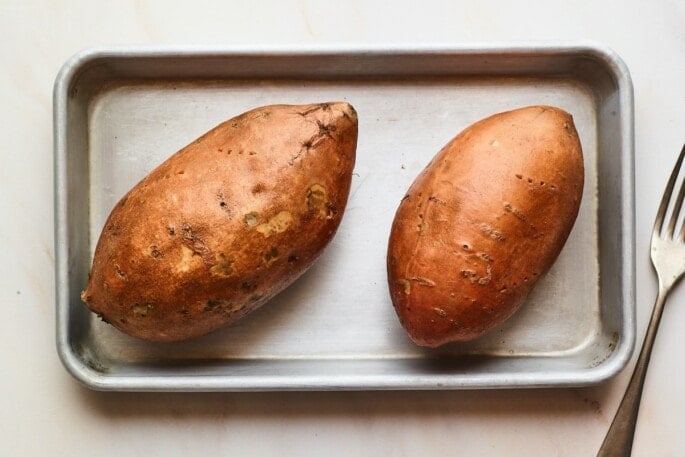 How to Cook Sweet Potatoes for Puree
The first step to making sweet potato puree is cooking the sweet potatoes. I have cracked the code to making perfect baked sweet potatoes so that's the method I tend to use, but you can also steam or boil them.
Bake
Start by washing your sweet potatoes well. Use a fork to poke several holes in each potato – I usually poke 4 times for each potato! Place the potatoes directly on a baking sheet and bake at 400ºF for 60 minutes. Some people like to wrap their potatoes in aluminum foil but that actually steams the potato so just pop them right in the oven! You'll know the potatoes are ready when they're a little wrinkly and can easily be pierced with a fork.
Steam
I've used this method for making pureed sweet potatoes for Olivia. It's a bit faster since you're chopping the sweet potatoes into small chunks. To steam, simply peel the sweet potato, cut into cubes, about 1 inch in size and steam. Add about 1-2 inches of water to pot, place the steamer basket in and add sweet potato cubes. Boil water, cover and let the sweet potatoes steam until soft.
Boil
Boiling is another quick option. Simply peel the sweet potato and cut into cubes, about 1 inch in size. Bring a pot of water to a boil and add sweet potato chunks. Reduce to a simmer and cook until tender, around 15 minutes.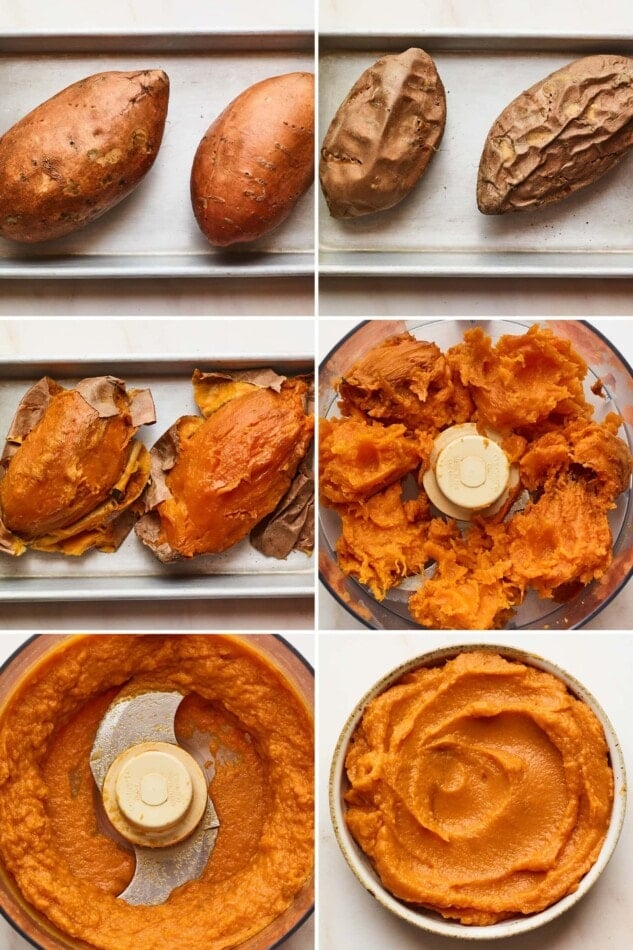 How to Puree Sweet Potatoes
After your sweet potatoes are fully cooked, remove them from the oven and set them aside to cool. Once you can hold them without burning yourself, use your hands to peel the skin away from the flesh, if you haven't peeled them already. You can toss the skin or snack on it if you want – it's loaded with nutrients!
When it comes to pureeing the sweet potatoes I usually use my food processor or Vitamix blender, but you can also use an immersion blender, potato masher or even a fork.
Food processor – Add the cooked potatoes to your food processor and blend until smooth.
Blender – Add the cooked potatoes to a high-powered blender and blend until smooth.
Immersion blender – Add the cooked potatoes to a large bowl or pot and blend until smooth.
Masher – Add the cooked potatoes to a large bowl or pot and use a potato masher (or fork) to mash the potato. This will result in a chunkier puree and is a great option when serving to older babies.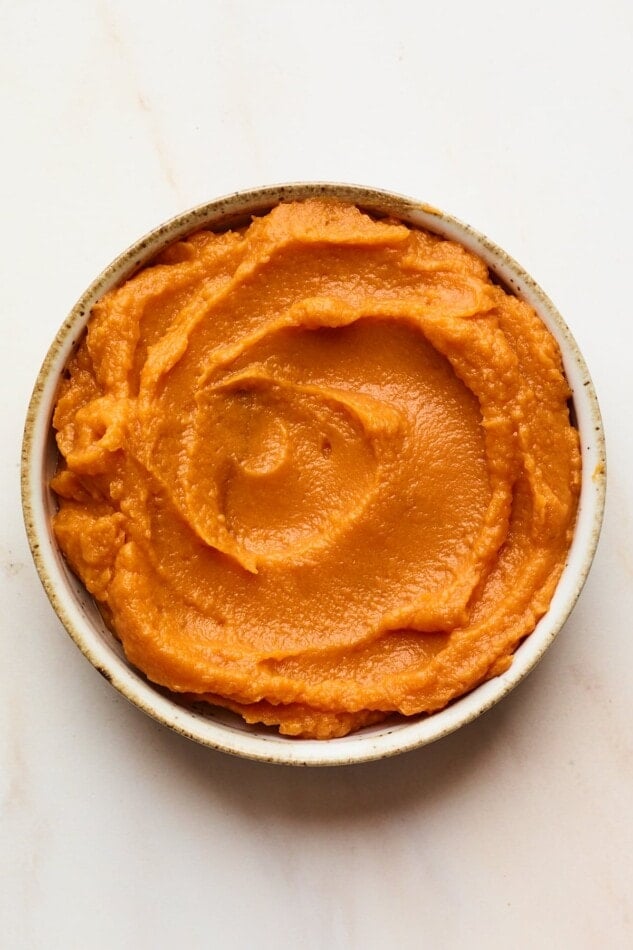 How to Use Sweet Potato Puree
Plain sweet potato puree is a great first food for babies. For more advanced eaters you can combine the sweet potato puree with another puree or even add it to yogurt or oatmeal. Check out more combo ideas for baby below!
Make a simple side dish by mixing in butter, salt and pepper and any fresh or dried herbs you'd like! You could also play off of the sweetness and make a coconut oil, cinnamon and salt version… yum!
Mix it into these delicious sweet potato brownie bites, sweet potato brownies, sweet potato breakfast cookies or sweet potato baked oatmeal.
Use in quick breads or muffins in place of applesauce or pumpkin puree. This helps keep the oil/fat content down while still making a perfectly light and fluffy baked good.
Add it to a smoothie for some added fiber and flavor. I think it would be delicious in place of the pumpkin puree in this pumpkin pie smoothie!
Add to oatmeal for extra color, flavor and creaminess!
Mix with creamy hummus for extra flavor and nutrients… plus it will make it a beautiful orange color!
Mix it into pancakes or waffles – follow this recipe for pumpkin pancakes but swap the pumpkin puree for sweet potato puree!
Tip!
If you're serving this sweet potato puree to a baby, you can thin it out a little by adding a splash of milk (regular or breast milk works great!).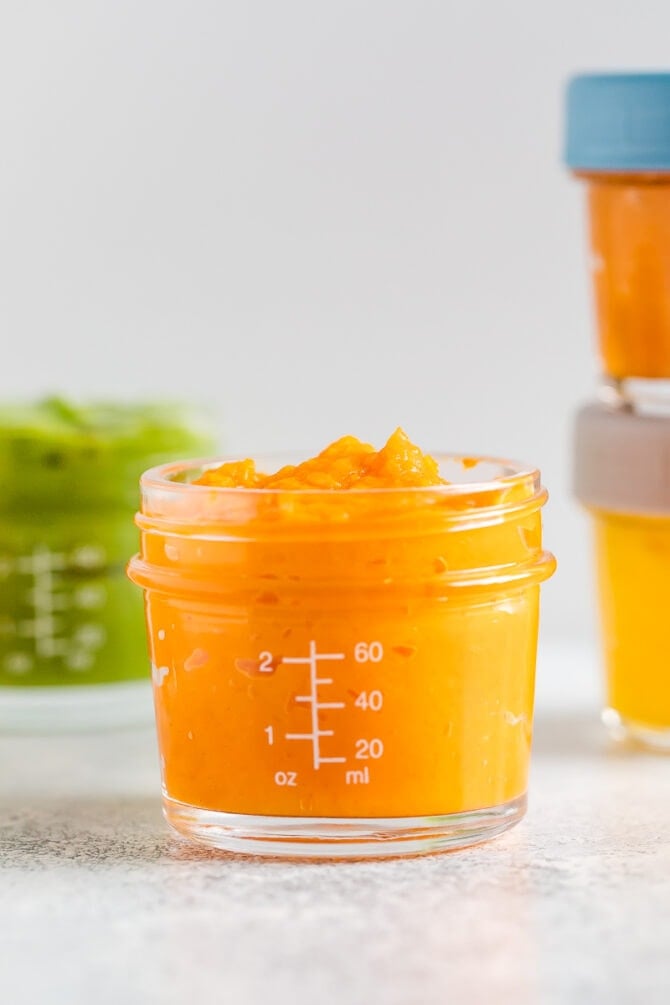 Sweet Potato Puree for Babies
When you start solids with your child, sweet potato puree is a great first food. It was Olivia's first food! I just mixed it with breast milk so it was super thin.
It's obviously delicious on it's own, but can be combined with a variety of other foods for stage 2 and beyond. I love the combo of sweet potato and apple that I shared in my baby food combinations post.
Foods That Will Pair Well with Sweet Potato Puree
Green veggies – kale, spinach, avocado, peas
Orange veggies – pumpkin, butternut squash, carrot
White veggies – cauliflower
Fruits – mango, pear, banana, apples, banana
Dairy – yogurt, cottage cheese, ricotta cheese
Grains – quinoa, oats, brown rice
Meat – chicken, beef
Seasonings and spices – curry, ginger, nutmeg, cinnamon
Sweet Potato Baby Food Combos Ideas
Apple, cinnamon and sweet potato
Sweet potato, carrot, apple and banana
Broccoli, sweet potato and butternut squash
Black bean, sweet potato and cumin
Sweet potato and spinach
Sweet potato and beets
How to Store Sweet Potato Baby Food
Fresh sweet potato baby food should be stored in the fridge and used within 3 days. For longer storage, I recommend freezing the sweet potato puree! I like using silicone ice cube trays and these 4 oz glass storage containers. The ice cube trays are great for younger babies who aren't eating as much volume because you can defrost one cube at a time. While the 4 oz jars are great for older babies who are eating more than 1 oz at a time.
How to Thaw Frozen Sweet Potato Puree
I recommend thawing frozen sweet potato puree in the fridge the night before you want to use it, but you can also thaw it quickly with a warm water bath. It thaws quickly if you're defrosting a small amount to serve to a baby.
More Puree Recipes to Try
The Most Popular Sweet Potato Recipes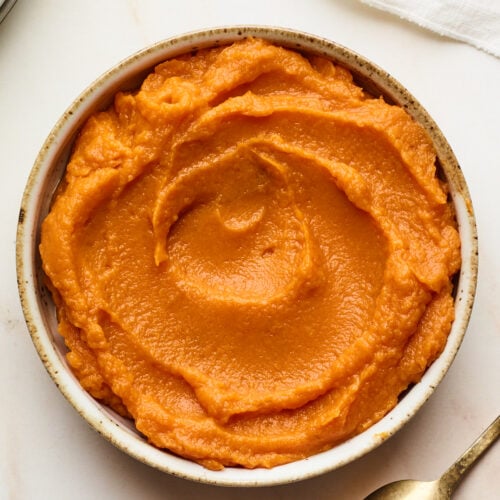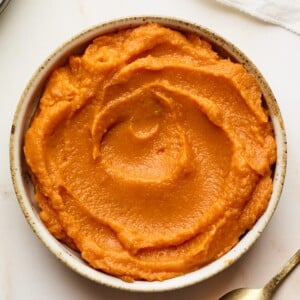 Sweet Potato Puree
Sweet potato puree is so easy to make. Just bake your sweet potatoes, peel and blend until smooth! It's a great first food for babies, but can also be used in baking recipes, mixed into oatmeal, added to smoothies or served as a side dish.
Instructions
Preheat oven to 400°F. Wash sweet potatoes and poke holes with a fork (about 4 for each potato). Place potatoes on a baking sheet and place in the center of the oven.

Bake for about 60 minutes or until the sweet potatoes are a bit wrinkly and fork tender.

Remove from oven and let cool. Once cool enough to handle, use your hands to peel the skin away from the flesh. Discard the skin (or snack on it).

Add potato flesh to your food processor and blend until smooth.

Use in recipes that call for sweet potato puree, serve as baby food or add seasonings to make a delicious side dish.
Nutrition
Serving:
1
cup
|
Calories:
75
kcal
|
Carbohydrates:
17
g
|
Protein:
1
g
|
Sodium:
48
mg
|
Potassium:
292
mg
|
Fiber:
3
g
|
Sugar:
4
g
Nutrition information is automatically calculated, so should only be used as an approximation.