Banana Puree for Babies
0
Published Jan 29, 2022, Updated Jun 12, 2023
Banana puree is a great first food when introducing solids to babies and can be made easily by mashing or blending fresh ripe bananas.
It seems like only yesterday we were starting our little one on solids! Bananas were one of her favorites foods, which was great because they're so easy to serve to baby because there's no need to cook the bananas before mashing or pureeing!
I know there are outliers but most babies tend to love bananas because of their sweetness so hopefully your babe will enjoy this banana puree too!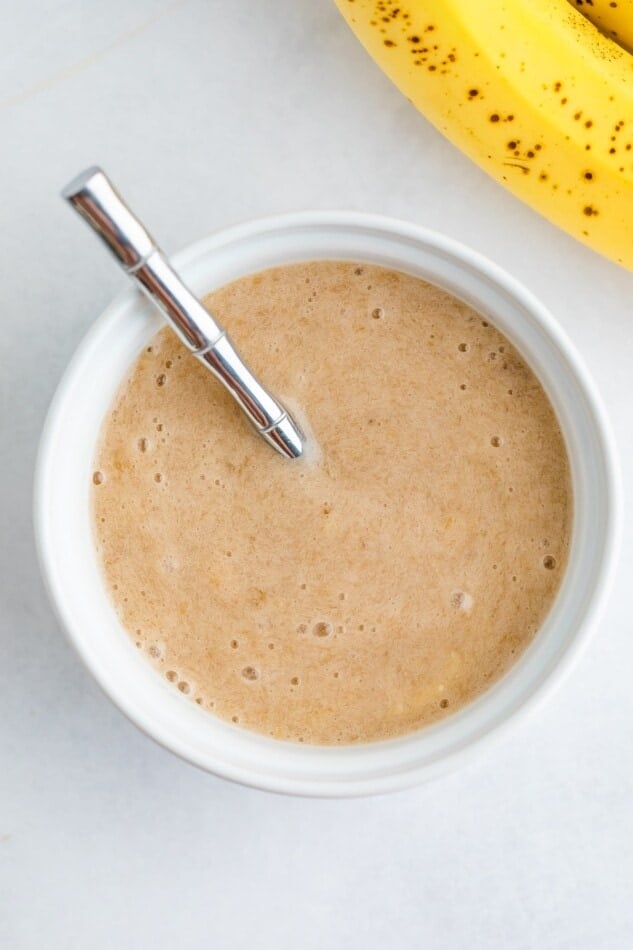 Why You'll Love This Recipe
Bananas are widely available and inexpensive.

Banana puree is a great stage 1 food for babies because it's sweet

and has a smooth consistency.
They are low on the allergy scale so they're often a safe choice to start baby on.
There are two easy ways to make banana puree and it's also easy to meal prep and store in the freezer!
Bananas Make a Great First Food For Babies
Bananas are a great first food to introduce to babies because they're naturally soft and mushy, easy to digest and loaded with vitamins and minerals. You can also easily mix bananas with rice cereal or oatmeal to add a little natural sweetness or just serve bananas straight up – mashed, pureed or you can serve larger spears or halves of a banana if you're following a baby led weaning approach.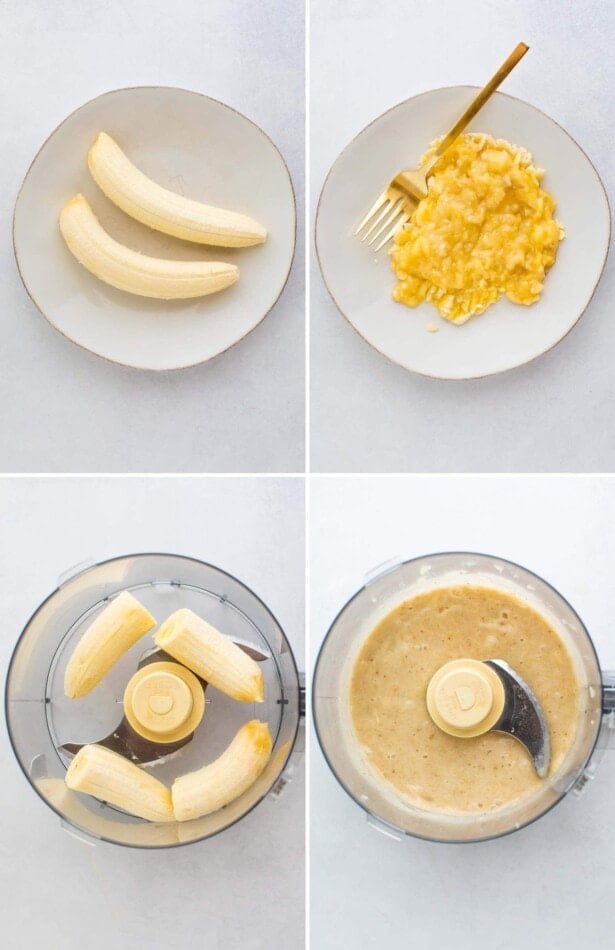 How to Make Banana Puree
Option 1: Mash
Mashing a banana is super simple and all you need is a fork! Place your banana on a plate and mash with a fork until the banana is the consistency you desire. Use in desired recipe or serve to baby as is.
Option 2: Blend/Puree
Blending the bananas in a food processor or blender makes for a smoother puree, which is perfect when you're just introducing babies to solid foods and need thinner purees.
Simply add 2 bananas into a food processor or blender and process until the bananas are smooth and creamy. You can make the puree thinner by adding a little breast milk or formula, if needed. Once you've made the puree, serve to baby as is or mix with another puree to make a new flavor. See some ideas below.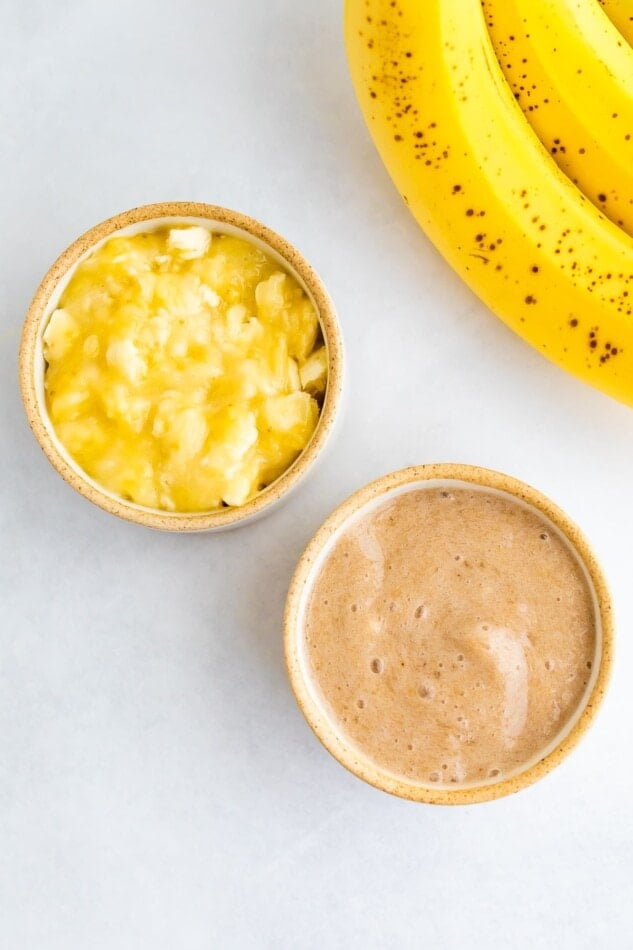 Foods That Pair Well With Banana Puree
Banana puree pairs well with so many things, especially veggies because its natural sweetness will make them more palatable to baby! Here are some ideas:
Green veggies – kale, spinach, avocado, zucchini, peas
Orange veggies – sweet potato, butternut squash, carrot
White veggies – cauliflower
Other fruit – mango, strawberries, peaches, apples, kiwis,
Dairy – yogurt, cottage cheese, ricotta cheese
Grains – quinoa, oats
Legumes – chickpeas, lentils
Seasonings and spices – curry, ginger, mint, nutmeg, cinnamon
Banana Baby Food Combo Ideas
Here are some banana baby food combos that might be fun to try:
Banana, peach and strawberry
Banana, cinnamon and oatmeal
Apple, banana and strawberry
Banana, zucchini and spinach
Yogurt and banana
Avocado and banana
Peas, banana and kiwi
Olivia also loved the combo of banana, blueberry, quinoa and flax that I shared in my baby food combinations post. This one has a lot going on so it's best for stage 2 eaters.
Banana Puree for Toddlers
For toddlers, banana puree can be used as a mix-in to sweeten up yogurt or baby oatmeal, as a dip for baby pancakes or put into reusable pouches for an easy, mess-free snack.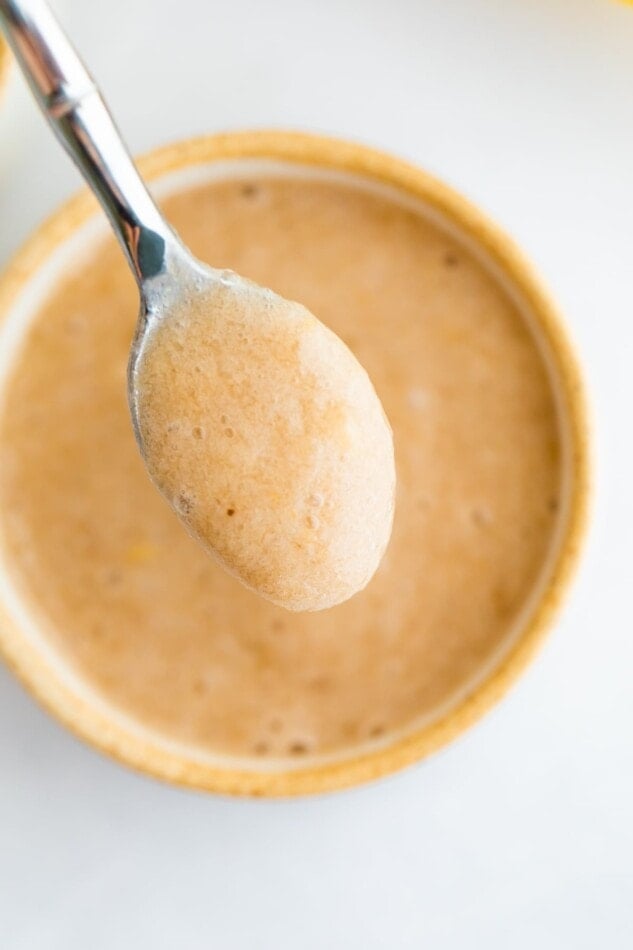 Bananas and Constipation
One thing to note is that bananas can slow digestion and in turn cause constipation. I know there were a couple times when we first started solids that Olivia dealt with constipation. Whenever it happened we tried to cut back on bananas knowing that they wouldn't help the situation. If your baby does deal with constipation, I recommend limiting bananas and trying to add in more foods with fiber like pea puree or prune puree or juice. We used prune juice a couple times and it worked!
How to Store
Fresh banana baby food should be stored in the fridge and used within 3-4 days. For longer storage, I recommend freezing the puree! I like using silicone ice cube tray or freezer safe jars because they make it easier to thaw smaller amounts for serving to babies.
How to Thaw
I recommend thawing frozen banana puree in the fridge the night before you want to use it, but you can also thaw it with a warm water bath. It thaws quickly if you're defrosting a small amount to serve to a baby.
Banana Puree FAQ
Can I use frozen bananas?
Yes! Using frozen bananas is an easy way to save ripe bananas before they go bad. Check out my tips on how to freeze bananas.
How can I tell if a banana is ripe?
Look for a banana that is yellow with some brown spots. Typically you will find green bananas or overly ripe bananas at the grocery store, so it's best to buy them a few days before you want to use them. Using a banana that is ripe will result in a slightly sweet flavor. If the banana is too brown it will be mushy and overly sweet.
Can I use a green banana?
Using a banana that is ripe is the most ideal, as it will result in a slightly sweet flavor. If the banana is too brown it will be mushy and overly sweet. Too green and it won't be very sweet.
Are bananas healthy?
Yes! Bananas are loaded with full of vitamins and minerals like potassium, vitamin B6 and vitamin C.
Can you quickly ripen bananas?
Bananas not ripe yet? There are a few things you can do! Start by keeping the bananas together, they will ripen faster when close together, and store them in a warm or sunny spot.

If you need them to ripen faster, you can place them in a brown paper bag with another high ethylene producing fruit, such as another ripe banana, an apple, potatoes, peaches, pears, avocados or blueberries. Fold the bag over a few times to trap the ethylene in the bag and allow the bananas to ripen. This will take about 1-2 days.
Other Ways to Use This Puree
Banana puree is great for babies, but there are so many other ways for older kids and adults to enjoy it too. Here are some ideas:
Topping for pancakes and waffles – level up your breakfast or brunch by topping pancakes or waffles with this puree. Try it on my almond flour pancakes!
Serve over ice cream – mix banana puree into your favorite ice cream or simply serve over top of ice cream or frozen yogurt for an extra touch of sweetness that packs in some nutrients!
Swirl into oatmeal, yogurt or chia pudding – add a boost of flavor and nutrition by adding banana puree to oatmeal or chia pudding. It's perfect for my banana bread overnight oats.
I also have a ton of banana recipes that require mashed or pureed bananas! Highly recommend my vegan banana bread or oatmeal chia cookies.
More Baby Food Purees
More Recipes and Resources
Be sure to check out my full collection of banana recipes as well as all of the baby food recipes here on EBF.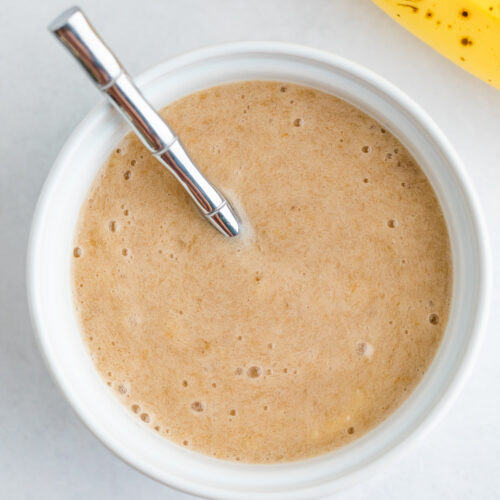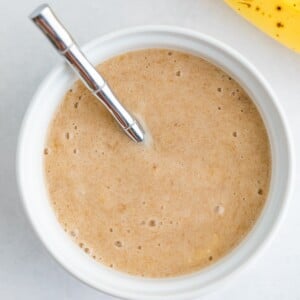 Banana Puree for Babies
Fresh banana puree is a great first food and baby will love it because it tastes sweet! Easily make it by mashing or blending ripe bananas.
Instructions
Smooth Banana Puree
Add 2 bananas into a food processor or blender and process until banana is smooth and creamy. Serve to baby as is or make the puree thinner by adding a little breast milk or formula.
Chunky Mashed Banana Puree
Place banana on a plate and mash with a fork until the banana is the consistency you desire. Use in desired recipe or serve to baby.
Nutrition
Serving:
4
ounces
|
Calories:
53
kcal
|
Carbohydrates:
13
g
|
Protein:
1
g
|
Sodium:
1
mg
|
Potassium:
211
mg
|
Fiber:
2
g
|
Sugar:
7
g
Nutrition information is automatically calculated, so should only be used as an approximation.