How to Make Carrot Baby Food
12
Published Jul 30, 2020, Updated Jun 02, 2023
How to make carrot baby food by cooking and blending carrots into a smooth and creamy puree. Carrot puree make a great stage 1 starter food for babies.
A couple weeks ago I shared all about introducing solids to baby, my approach with Olivia and what foods we'd tried so far. Honestly, I had no intentions of sharing baby food recipes, but I've been having so much fun making it for Liv and everyone has seemed really interested so here we are.
For this first post, I thought I would share a simple recipe for an easy stage 1 food for babies 4 month and up, homemade carrot puree.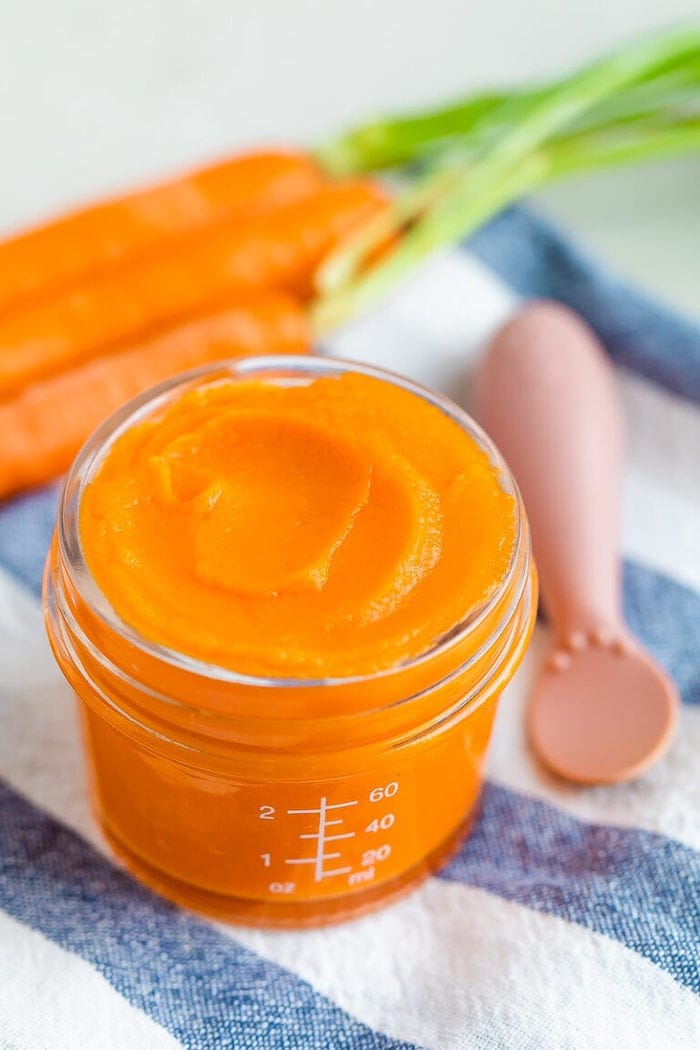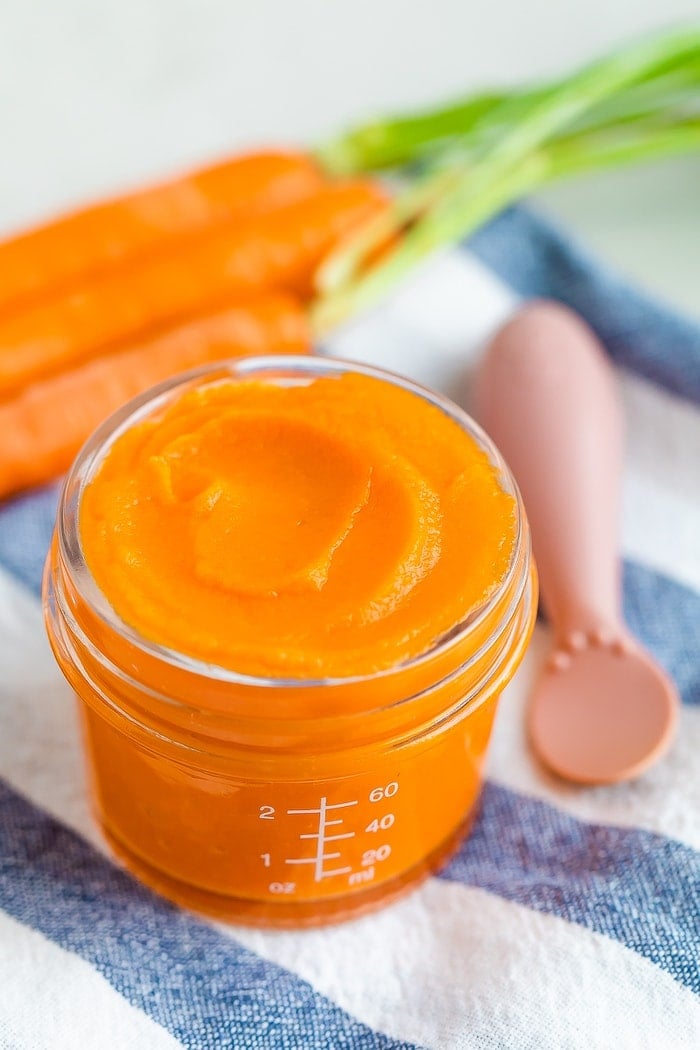 Like sweet potato and winter squash, carrot puree makes a great stage 1 food for babies because it can easily be pureed until thin. Carrots are also low on the allergy scale and easily digested by a tiny tummy.
Olivia's first food was sweet potato puree and then avocado, but carrots came quickly after these two foods.
Homemade Baby Food
Let me start by saying that I know homemade baby food isn't always an option and that's okay. When we were on vacation I bought a couple baby food pouches for Olivia. She gobbled them up. That said, the majority of her food is homemade because I really enjoy cooking and making food for Liv has been really fun for me. I also like knowing that she's eating fresh, nutrient-rich food that's been made with love. That might sound corny, but it's true.
When researching how to make homemade baby food I also researched how shelf-stable baby food is made. The shelf-life of jarred store-bought baby food is 2 years, which means you could be feeding your baby shelf-stable food that's older than they are! Isn't that wild to think about?!
And while I haven't tasted store-bought carrot baby food, I imagine that this homemade carrot puree tastes way better!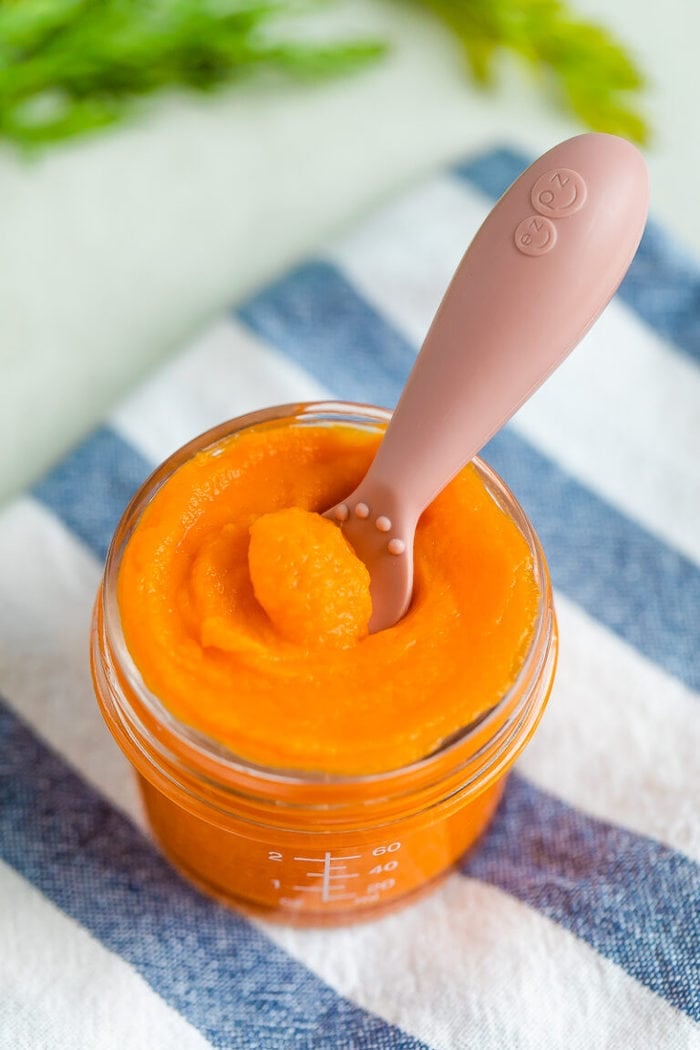 Carrot Nutrition for Infants
Carrots are a such a nutritious first food! They are high in beta-carotene, a red-orange antioxidant that converts to vitamin A in the body. Vitamin A is known to boost eye health and support the immune system. Carrots also contain vitamin C, iron, calcium and fiber, which can be helpful for normal bowel movements in babies.
What Kind of Carrots to Use
I like to use fresh, organic whole carrots. Just wash the carrots well and peel them before chopping and cooking. I know it's an extra step, but I do recommend peeling them to remove any dirt particles and/or pesticide residue. I also think removing the peel of the carrots makes them taste better. They taste super earthy to me when the peel is on. You can also use baby carrots, which makes the chopping process faster because they've already been peeled.
I personally like to buy organic foods for making homemade baby food, but also realize this isn't an option for everyone so buy what you can afford.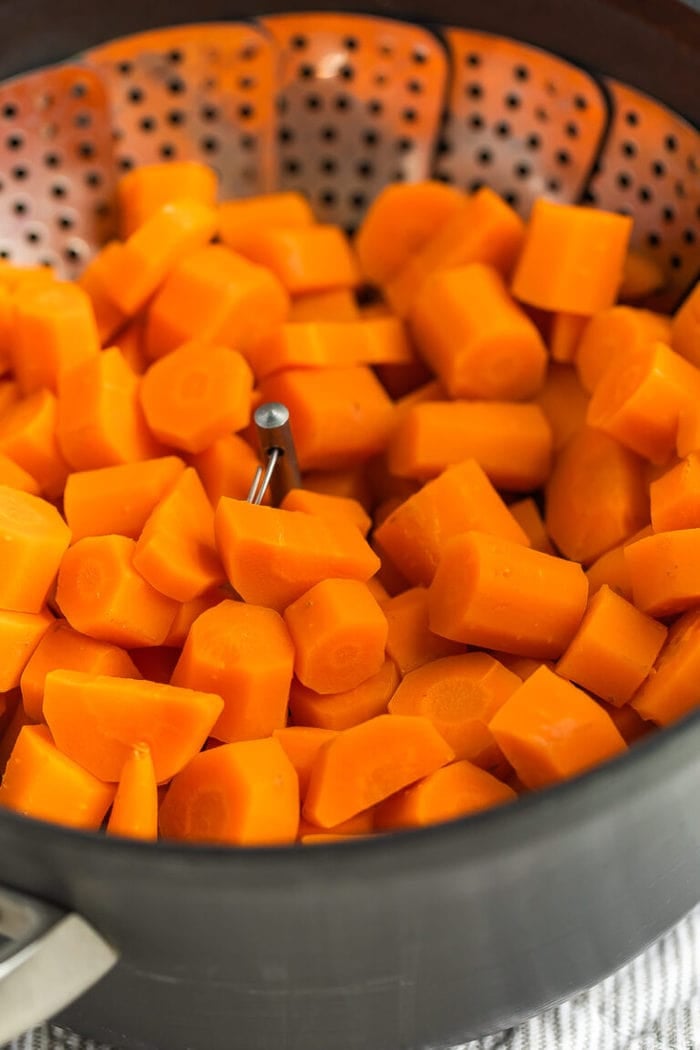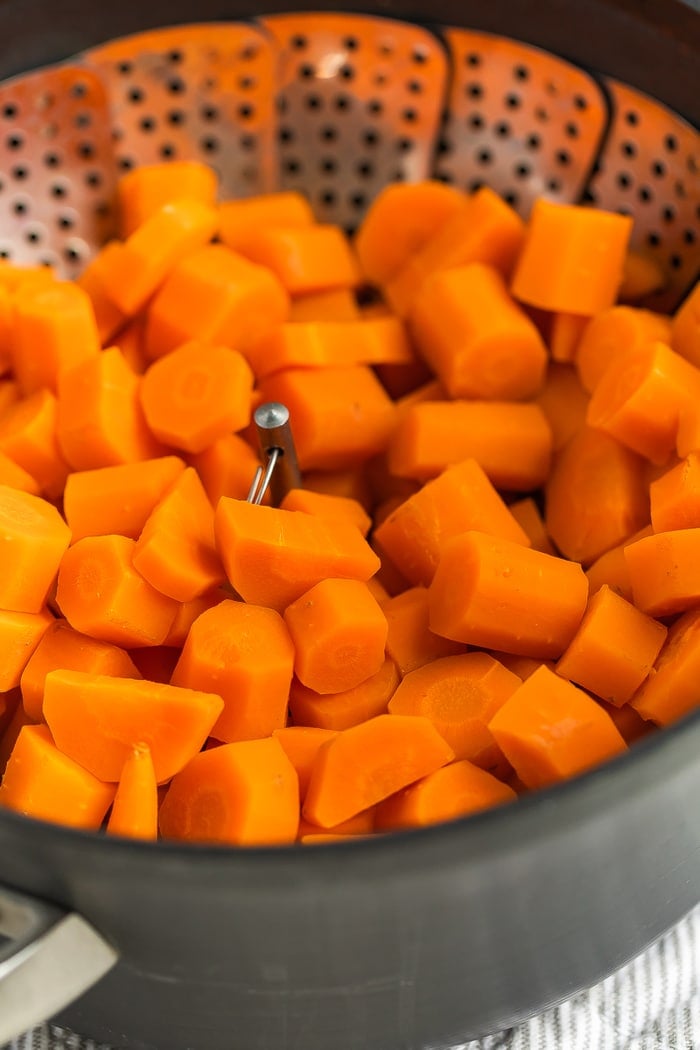 How to Make Carrot Puree
Peel and chop carrots.
Cook the carrot chunks by steaming, boiling or roasting.
Transfer cooked carrots to a blender or food processor. I've been loving my Vitamix for blending up baby food. It gets the purees super smooth!
Blend until smooth, adding breast milk, formula or water to thin – the carrot puree will likely be a bit too thick for stage 1 eaters without adding some sort of liquid to thin the puree. I like using breast milk or formula for extra nutrients, but you can use water as well (water used for the steaming or boiling process works great).
Let carrot puree cool and serve right away or portion into storage containers or ice cube trays for later use.
Carrot puree an be stored in the fridge for 3 days or in the freezer for 3 months.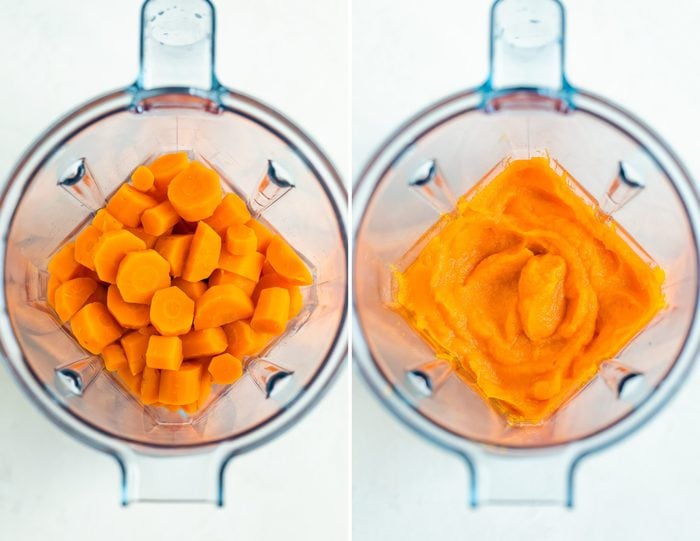 How to Store Carrot Baby Food
Once you have the carrot puree blended to the consistency you want, let the mixture cool and then transfer into BPA-free storage containers or into an ice cube tray. I've been using silicone ice cube trays and these 4 oz glass storage containers. The ice cube trays are great for younger babies who aren't eating as much volume because you can defrost one cube at a time. While the 4 oz jars are great for older babies who are eating more than 1 oz at a time.
We had the ice cube trays on hand and I just recently bought the WeeSprout glass storage containers that are specifically for baby food. I like that they have measurements on the side of the jars and that they're glass instead of plastic (no worry about BPA). They are also freezer, dish-washer and microwave-safe. Plus they come with colorful lids that you can write on with a dry eraser marker to note the item and date.
The fresh carrot puree will keep in the fridge for 3 days and in the freezer for up to 3 months.
Don't Forget to Label
I highly recommend labeling any baby food you make before storing! It's amazing how quickly you forget what day you prepped the food once it goes into the fridge or freezer. #mombrain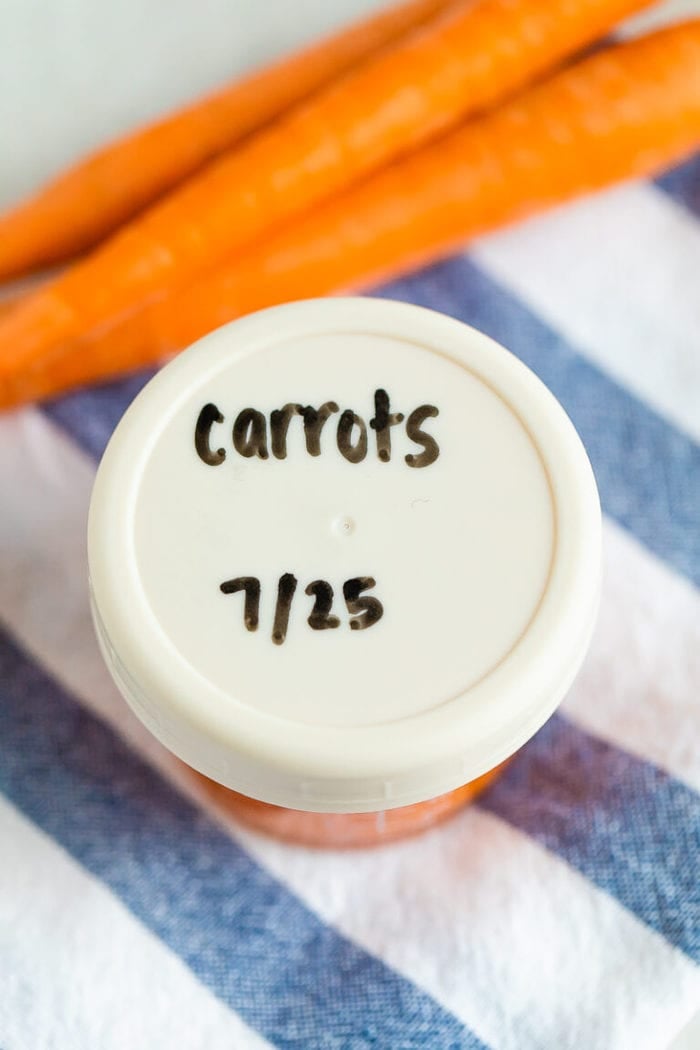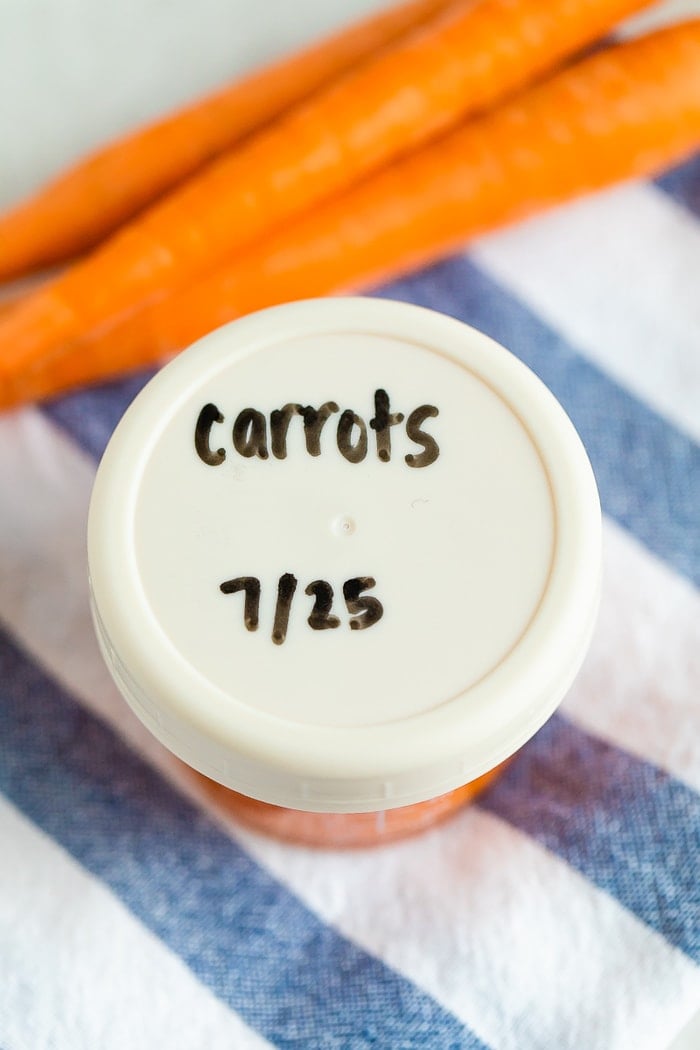 How to Reheat or Thaw Frozen Carrot Puree
To thaw frozen pureed carrots, I recommend taking the jar out of the freezer the night before you want to use it so it can defrost in the fridge overnight. If you need to use it right away, you can thaw it using a water bath. Some people will recommend microwaving the frozen puree using the defrost seating but I prefer these two methods:
Defrost in the refrigerator: Place frozen puree cubes into a jar or baby's serving dish, cover, and place in the refrigerator overnight. If you stored the puree in a jar or storage container, simply place the jar the fridge.
Water bath: Place frozen pureed cubes in a small container and set in another larger container with warm water. Replace the water as needed. Once defrosted, portion the food into individual bowls, cover, and refrigerate until serving.
Be sure to use any of the defrosted food within 48 hours of being defrosted and do not re-freeze.
Baby Food Combinations with Carrots
Once your baby is ready for stage 2 foods that are combinations, you can blend different fruits and veggies into the carrot puree. Here are some ideas of foods and spices that pair well with carrots.
Green veggies – peas, broccoli, green beans, zucchini, spinach
Orange veggies – butternut squash, sweet potatoes
Fruits – apples, peaches, pears
Carbs – brown rice, lentils, quinoa
Protein – beef, chicken
Herbs and Spices – cinnamon, ginger, cardamom, cumin, paprika, nutmeg, curry, mint
More Baby Food Recipes and Resources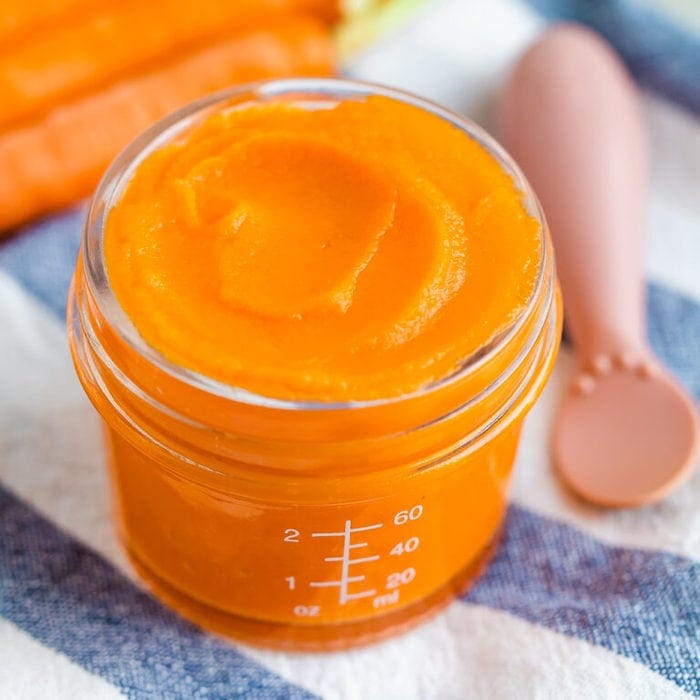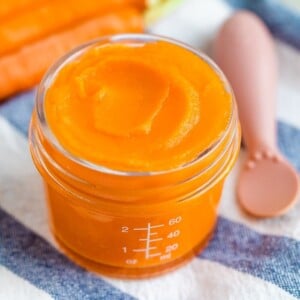 Carrot Baby Food
How to make carrot baby food by cooking and blending carrots into a smooth and creamy puree. Carrot puree make a great stage 1 starter food for babies.
Ingredients
1

lb

fresh organic carrots

1/4 – 1/2

cup

breast milk

,

formula or water, to thin

spices or herbs of choice

,

optional
Instructions
Peel carrots and chop into chunks. Try to make the carrot chunks around the same size so they will finish cooking around the same time. The smaller the chunks, the faster they will cook.

Fill a pot with about 1 inch of water, add carrots to a steamer basket and place inside of the pot. Bring water to a low boil, cover with lid and steam carrots for 15-20 minutes, or until fork tender. The cook time will depend on the size of your carrots.

Once carrots are tender remove pot from heat and allow carrots to a cool a bit before transferring to a blender or food processor. Puree carrots in the blender or food processor, adding liquid (breast milk, formula or water) as needed to get the desired consistency. If using water, the water leftover from steaming or boiling the carrots works great.

Transfer carrot puree into storage containers and store in the fridge for 3 days or freezer for 1 month.
Notes
You can boil or roast the carrots instead of steaming. See my tips in the blog post above.
Nutrition
Serving:
4
oz
|
Calories:
62
kcal
|
Carbohydrates:
14
g
|
Protein:
2
g
|
Sodium:
116
mg
|
Fiber:
4
g
|
Sugar:
9
g
Nutrition information is automatically calculated, so should only be used as an approximation.