Turn nutrient-rich sweet potatoes into a satisfyingly sweet dessert! Just bake and stuff with your favorite toppings. This particular dessert baked sweet potato is loaded with toasted coconut, coconut butter, cinnamon, almond butter, pecans and dark chocolate. Vegan, gluten-free and paleo-friendly.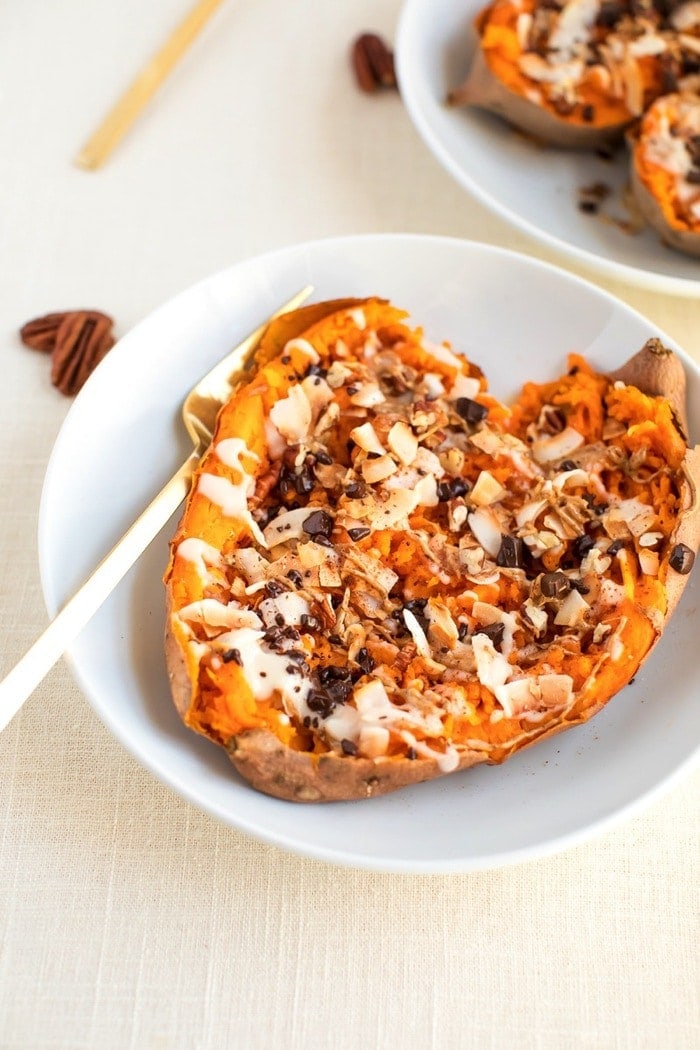 Sweet potatoes are one of my absolute favorite vegetables and over the years I've found so many different ways to enjoy them — from sweet potato fries to sweet potato toast, sweet potato croutons and sweet potato brownies, there's really nothing this veggie can't do.
On the nutrition front, they're rich in complex carbohydrates, dietary fiber, beta-carotene, vitamin C, manganese and potassium. And when it comes to satisfying a sweet tooth craving in a healthy, whole-foods fashion, sweet potatoes are the perfect solution, especially when baked until the potato is oozing caramelly goodness. This is when you know the sweet potato is going to be extra sweet!
Baked sweet potatoes topped with a little coconut oil, butter or ghee are already reminiscent of dessert, but it's totally possible to take things to another level with just a few additional toppings.
I'm giving you a ton of dessert sweet potato ideas below, but for the version I'm sharing today we've got a mix of cinnamon, coconut flakes, coconut butter and chopped pecans. I couldn't help myself and decided to add a drizzle of almond butter AND chocolate as well!
At first I wasn't sure the potato needed chocolate, but it definitely adds a little something and makes it feel even more like dessert.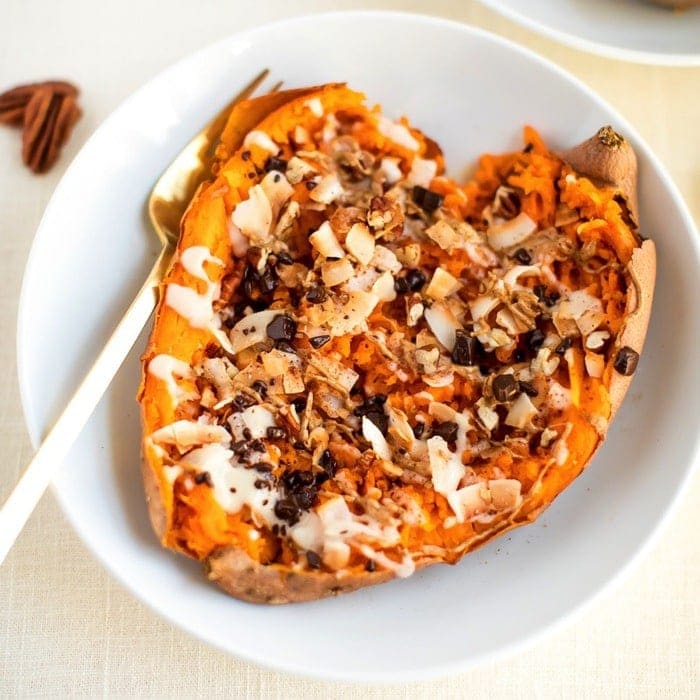 That said, if you're having this as part of your breakfast or just want to keep the sugar content a bit lower, you can skip the chocolate. If I were going to serve this for breakfast I'd likely eat it before or after my workout and pair one half of the sweet potato (and toppings) with a couple eggs, a protein shake or another good protein source. This would make for an ideal meal with complex carbs, protein and healthy fats!
Print
Dessert Baked Sweet Potato
Author:

Cook Time:

Inactive Time: Total Time:

Total Time:

Inactive Time: Total Time:

Yield:

1
---
---
Ingredients
1 medium sweet potato
1/2-1 Tablespoon coconut butter
1/2-1 Tablespoon almond butter
2 teaspoons toasted coconut flakes
2 teaspoons toasted pecans
2 teaspoons chopped dark chocolate (I used eatingevolved's cashew milk chocolate)
1/4 teaspoon cinnamon
---
Instructions
Preheat oven to 400° F. Pierce sweet potato several times with a fork. Place the sweet potato on a rimmed baking sheet lined with foil. Bake for about 45 minutes, or until sweet potato is completely tender and oozing a little bit.
Make a slit in the top of the sweet potato. Mash down each side and add toppings: coconut butter, almond butter, coconut flakes, pecans, dark chocolate and cinnamon. Enjoy warm.
---
---
Nutrition
Calories:

349kcal

Sugar:

10g

Sodium:

76mg

Fat:

23g

Saturated Fat:

10g

Trans Fat:

0g

Carbohydrates:

35g

Fiber:

7g

Protein:

6g

Cholesterol:

23mg
There are SO many different ways you can make a dessert baked sweet potato. Here are a few additional combos:
PB Banana: peanut butter & banana slices
Honey Cinnamon: ghee or coconut oil, honey & cinnamon
Coconut Pecan: cinnamon, toasted coconut flakes, toasted chopped pecans & coconut butter
Yogurt + Granola: Greek yogurt, almond butter/peanut butter & granola (grain-free granola or regular granola)
Sweet Potato Pie: cinnamon, toasted pecans, ghee or coconut oil & brown sugar
S'mores: marshmallows, graham crackers & dark chocolate