How make sweet potato toast in the oven and four different topping ideas for breakfast sweet potato toast. 
Sweet potato toast is all the rage right now and given that I'm a sweet potato lover I had to jump aboard the sweet tater toast train and see what all the hype is about.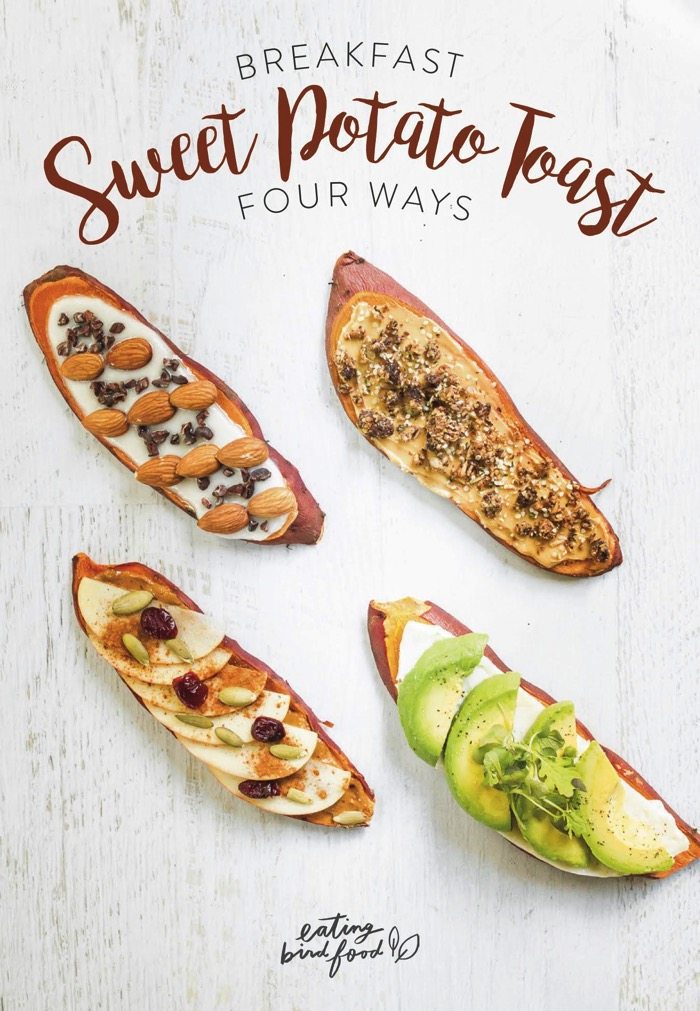 Funny story… I tried sweet potato toast for the first time a couple months ago and I did the toaster oven method, which (spoiler alert) was an epic fail. I thinly sliced my sweet potato and toasted it two times, but the sweet potato still wasn't cooked. It was hard and crunchy and on top of it, the toaster oven also set off the smoke detector. So yeah, maybe I didn't do it right, but for now I'm with Tasting Table on the fact that sweet potato in the toaster oven doesn't work.
That said, sweet potato toast is still possible and absolutely delicious. You just have to break out the big guns, AKA a real oven. It may take a bit longer, but the sweet potato actually gets cooked, plus you won't have to worry about your smoke detector going off. So worth it!
The oven method is actually simple and isn't very dissimilar from my recipe for coconut oil roasted sweet potatoes.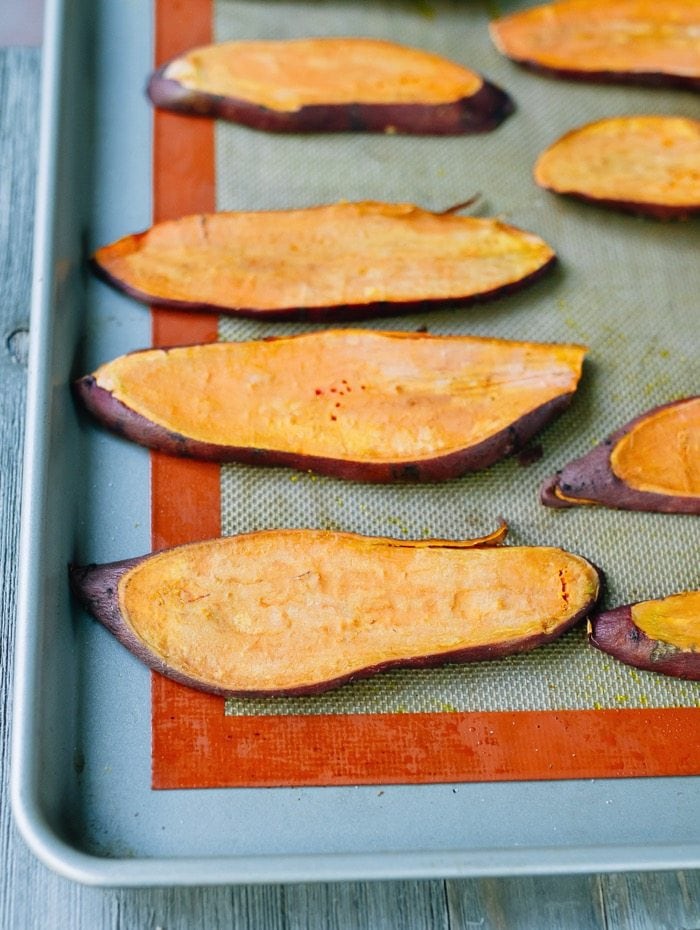 How to Make Sweet Potato Toast in the Oven
Wash your sweet potato.
Pre-heat oven to 400°.
Cut sweet potato lengthwise into thin slices, about 1/4″ thick. <— This is important.
Coat sweet potato slices with a small amount of oil. Season with salt and pepper and place on a baking sheet with a little room between each slice.
Bake for about 15-20 minutes, flip slices over and bake for another 15-20 minutes or until a fork can easily pierce the sweet potato. Don't overcook or the sweet potato toast will become mushy.
Remove from oven and top with your toppings of choice and enjoy.
This is where your toaster oven comes in handy because you can store any extra slices you've baked in the fridge and reheat them in the toaster oven. It works great for this!
Okay so once your sweet potato toast is cooked to perfection, you're ready for the fun part — the toppings!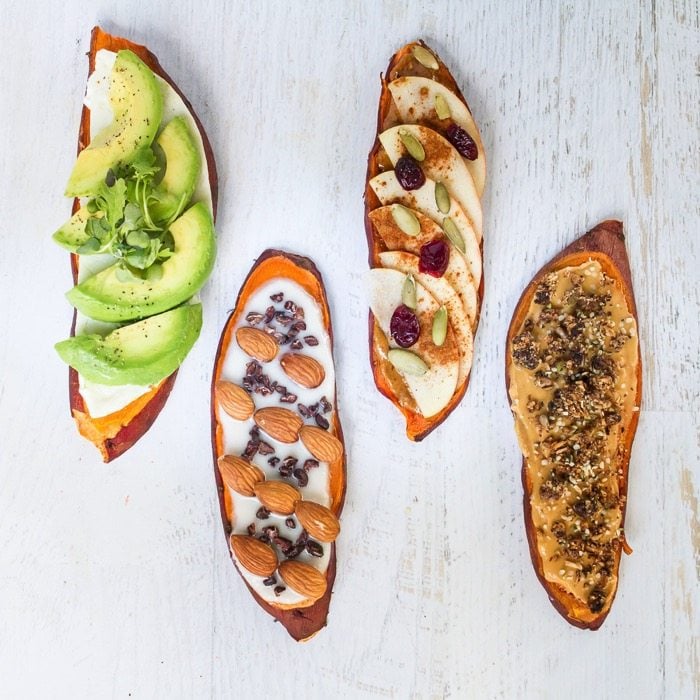 Maria and I had a blast coming up with the topping combos for this breakfast sweet potato toast and decorating each slice was like a fun little art project.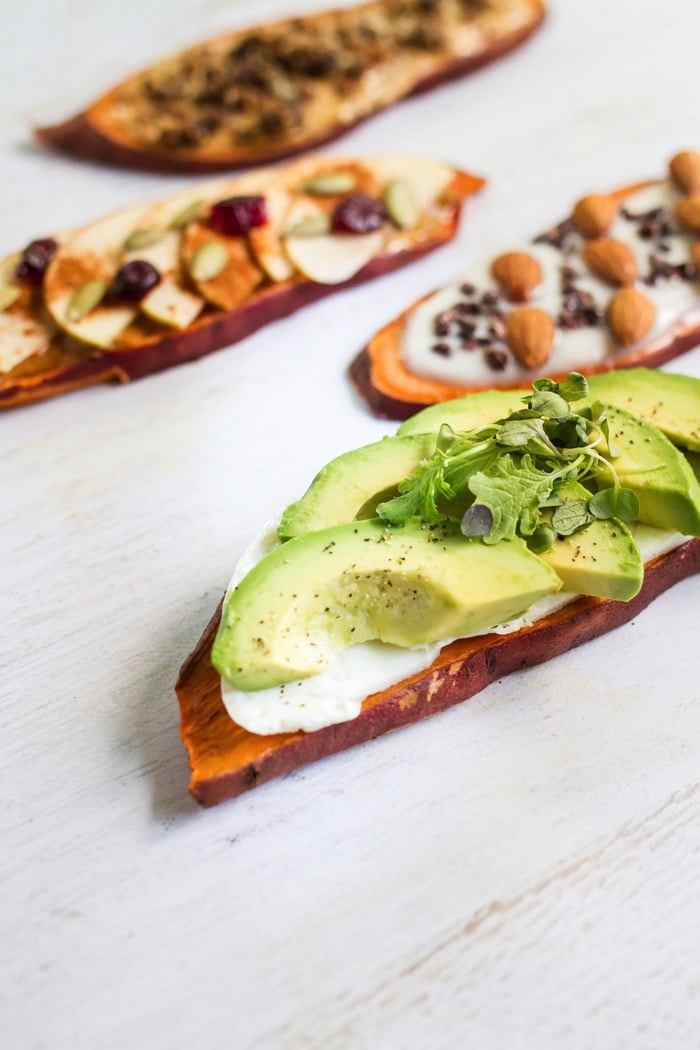 I love them all, but if you made me choose a favorite I'd probably pick the Apple Harvest with peanut butter, apple slices, cranberries, pumpkin seeds and cinnamon. Mainly just because I love peanut butter and I'm swooning over everything fall right now.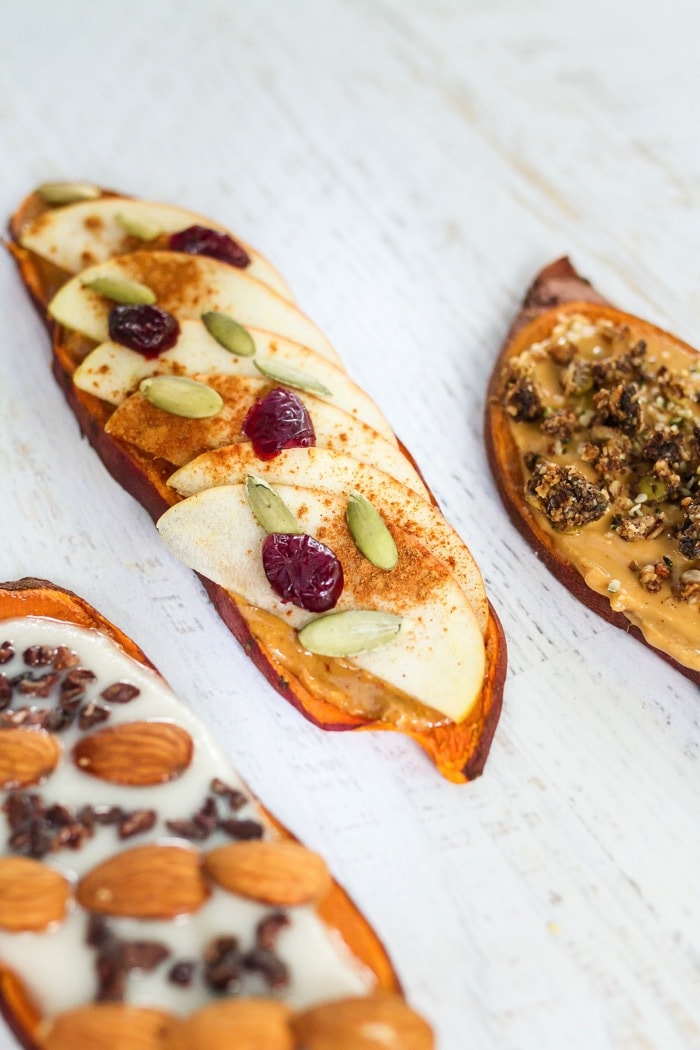 Okay so let's break down all four topping ideas!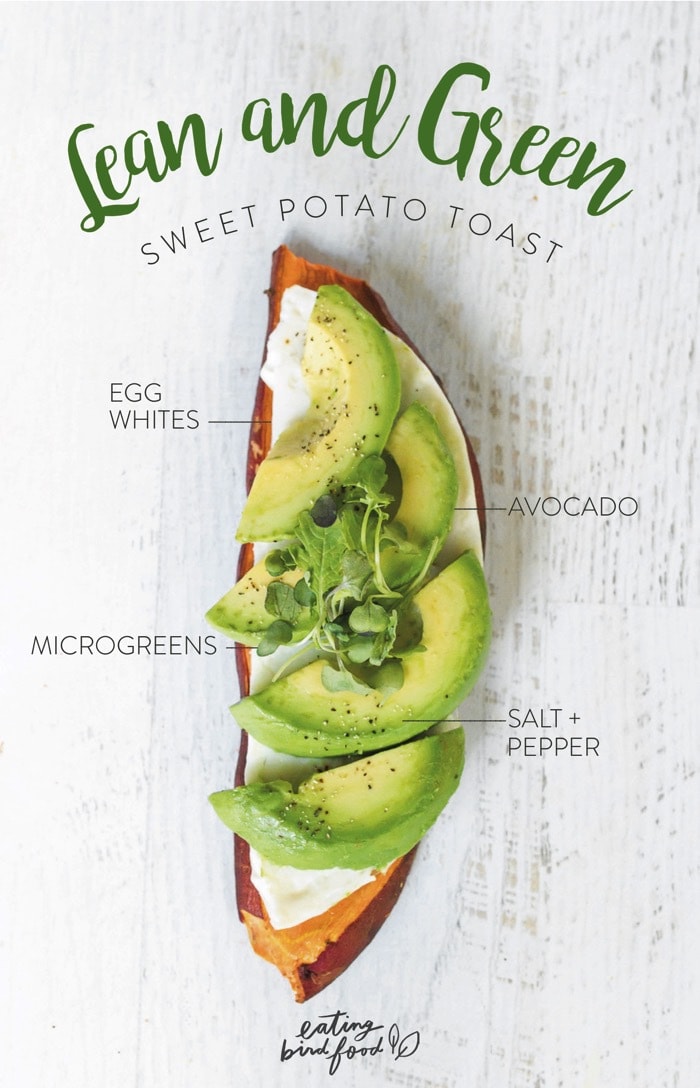 Lean and Green Sweet Potato Toast
egg whites
avocado
microgreens
salt + pepper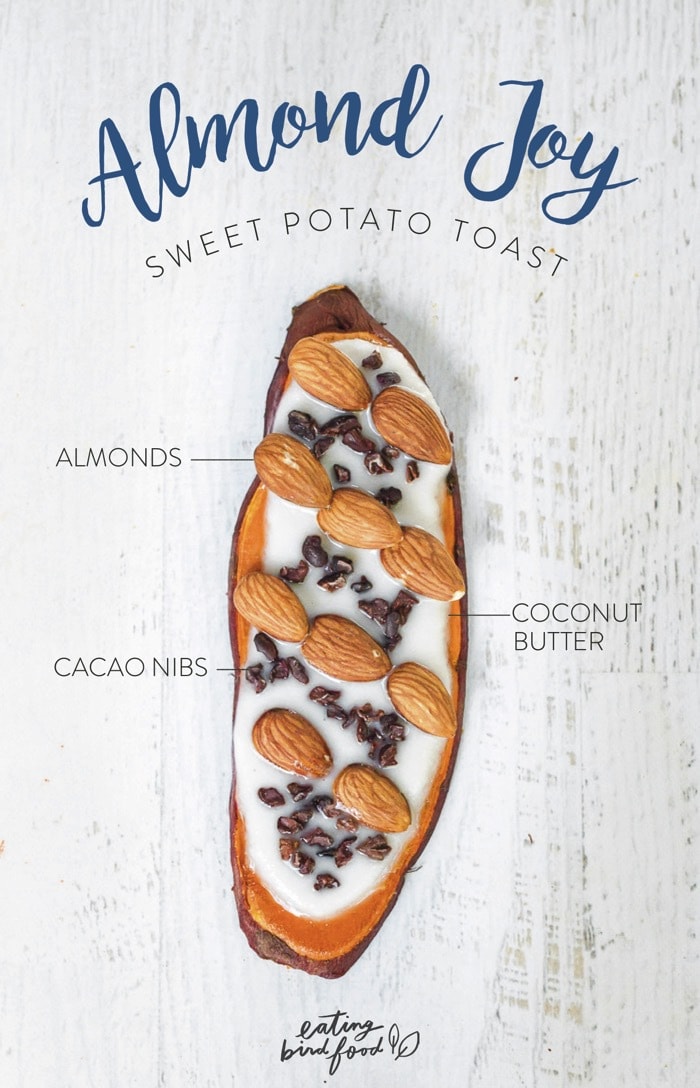 Almond Joy Sweet Potato Toast
Apple Harvest Sweet Potato Toast
peanut butter (I used Reginald's Homemade Bourbon Pecan)
thin apple slices
pumpkin seeds
cranberries
cinnamon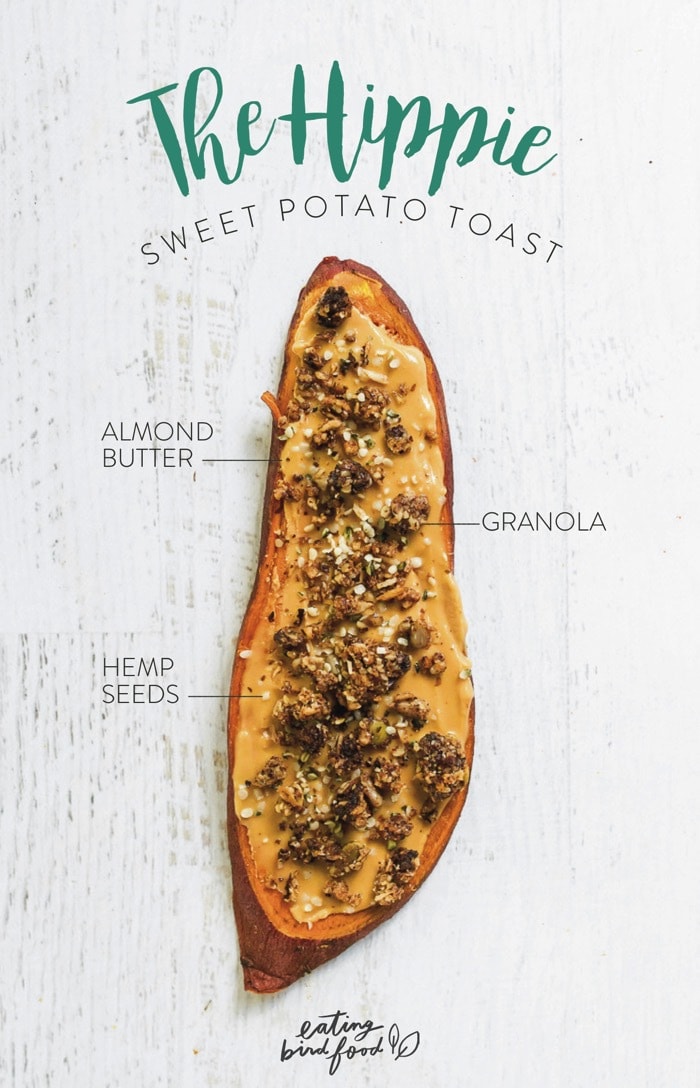 The Hippie Sweet Potato Toast
When it comes to eating sweet potato toast there are a few methods. You can use a fork and knife as you would other breakfast treats like waffles and pancakes or you can pick up the sweet potato toast and eat it like regular toast. Both options work great, it just depends on your preference. One note, if you're sweet potato slices are huge like mine, you might need to use both hands to hold it. With smaller pieces, you should be totally cool using one hand.
Have you tried sweet potato toast yet? If not, I highly recommend making some for breakfast tomorrow. You won't regret it. 
This post may include affiliate links. Thank you for your support.