Sweet Potato Toast (4 Ways)
41
Published Sep 05, 2022, Updated Aug 28, 2023
No bread? No problem! Here's how to make sweet potato toast using roasted sweet potato slices, plus four delicious topping ideas.
Move over avocado toast, sweet potato toast has taken over! Not only is it the perfect way to use up leftover sweet potatoes, but it provides a fun and tasty way to enjoy them. It's also super easy to make at home in the oven and the topping options are totally customizable!
I'm sharing 4 of my go-to topping variations below! They're all delicious, but if I had to pick just one that was my favorite I'd probably pick the apple harvest sweet potato toast with apple slices, pumpkin seeds, dried cranberries and a dash of cinnamon. Mainly just because I love peanut butter and I'm swooning over everything fall right now.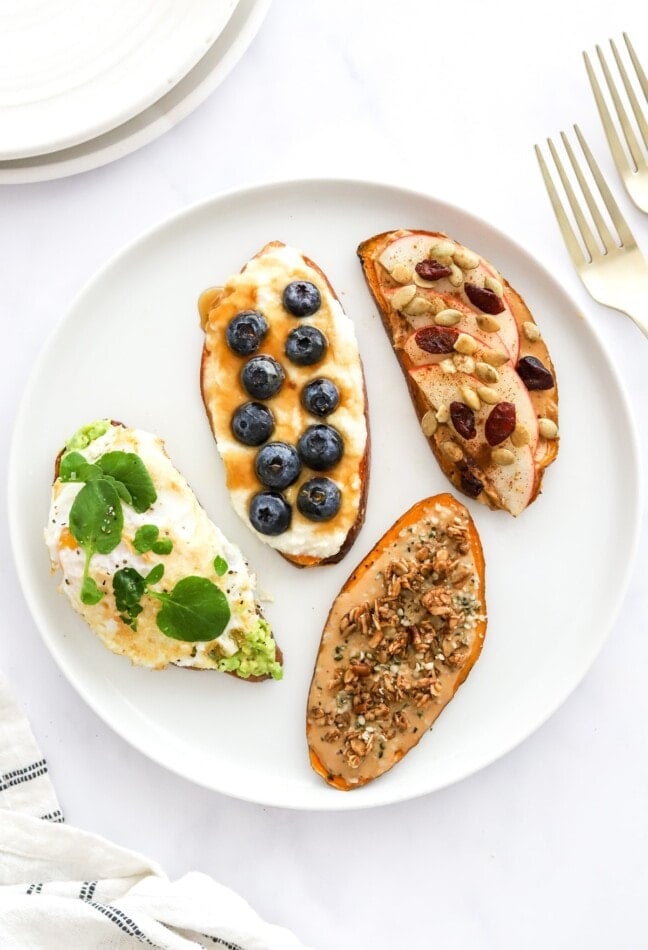 Why You'll Love This Recipe
It's gluten-free, grain-free + vegan-friendly!

Sweet potatoes are rich in minerals, vitamins, fiber and antioxidants.
It can be enjoyed at any time of the day… breakfast, lunch, dinner or a mid-afternoon snack.
It's completely customizable. I'm sharing my go-to variations below, but feel free to add your favorite toppings!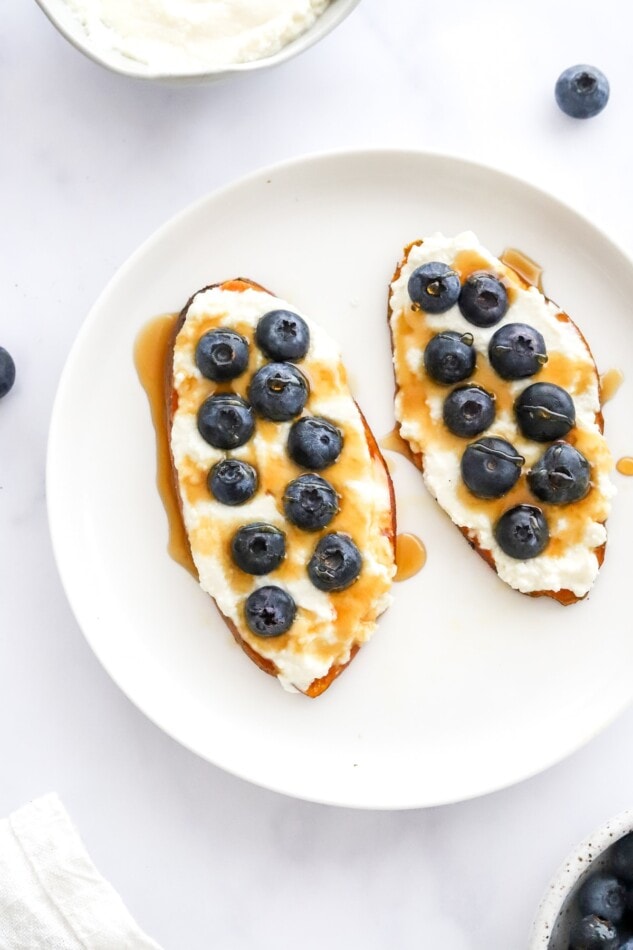 Sweet Potato Nutrition
Sweet potatoes are rich in minerals, vitamins, and fiber. They also include a lot of antioxidants, which help shield your body from the harm caused by free radicals.
According to studies, sweet potatoes have a positive effect on gut, brain, eye and immune health. And some research has indicated that some antioxidants in sweet potatoes may offer protection against some cancers. In conclusion? They taste delicious and are SO good for you! You no longer have an excuse for not including them in your diet.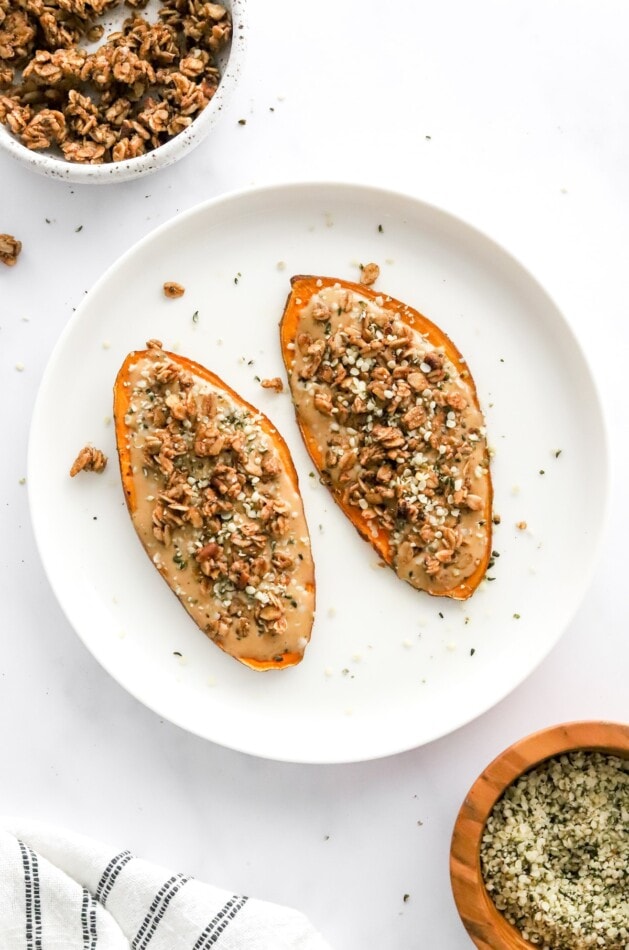 How to Pick The Best Sweet Potatoes
Look for thin, reddish-brown or orange skin sweet potatoes. These are usually considered the sweetest of all varieties.
The best ones will be the small to medium-sized potatoes that are firm and smooth with no cracks in the skin.
Avoid sweet potatoes with small dark holes, ones that look super dry/dehydrated, or any that have soft spots. These won't have as much flavor as a fresh sweet potato.
Sweet potatoes with tan or purple skin will be a bit more dry, starchy and have a neutral flavor. Other varieties will work but tend to not be as sweet.
Don't get confused with yams, which are long tubers with light brown skin. These would work, but won't be nearly as sweet or have much flavor.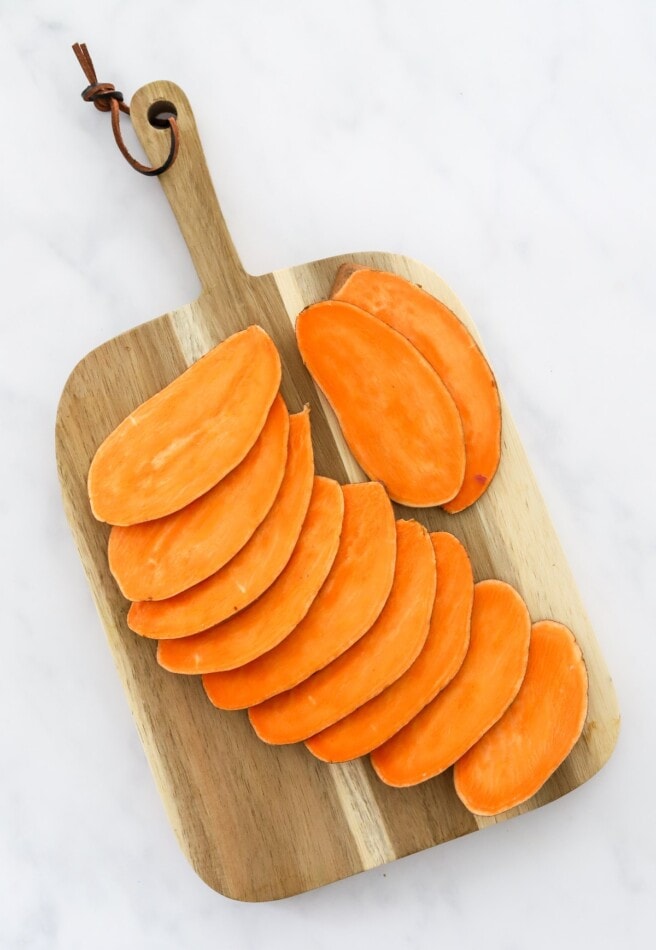 How to Cut Sweet Potatoes For Toast
The best way to cut sweet potatoes to get a toast-like form is to cut them lengthwise (about ¼-inch thick). This is important as they need to be thin to cook and crisp a little in the oven, but not too thin where the sweet potato slice isn't able to hold the toppings.
To cut your sweet potatoes use a large, sharp kitchen knife, or a mandoline slicer if you have one. An important rule for cutting sweet potatoes, since they are tougher than most vegetables, is to use a properly sharpened knife!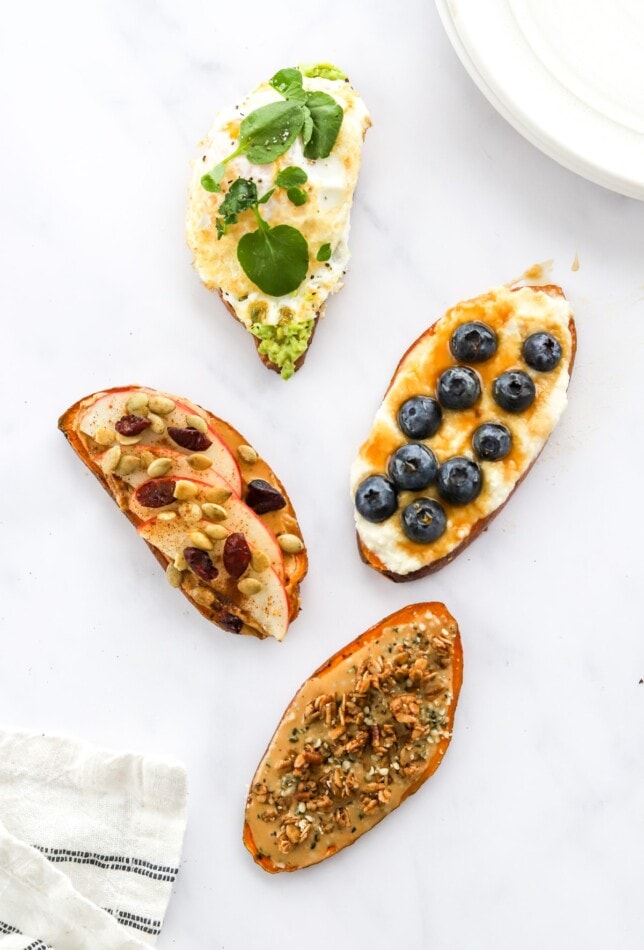 How to Make The Best Sweet Potato Toast
Pick good sweet potatoes. Look for sweet potatoes with orange/light brown skin that is smooth. Avoid sweet potatoes that look dry or ones with soft spots.
Use a sharp knife. Use a really sharp knife when cutting your sweet potatoes.
Make sure slices are the same size.

How thick or thin you slice your sweet potato toast determines how long they'll be in the oven for. It's best to cut them ¼-inch thick and to be sure they're all the same size.

Don't overcook slices. Keep an eye on your sweet potato slices in the oven. If you overcook them they could end up mushy instead of having that nice crunchy toast texture.
Leave the skin on. I suggest leaving the skin on because it adds some more fiber, just make sure to wash and dry your sweet potatoes before you begin cutting.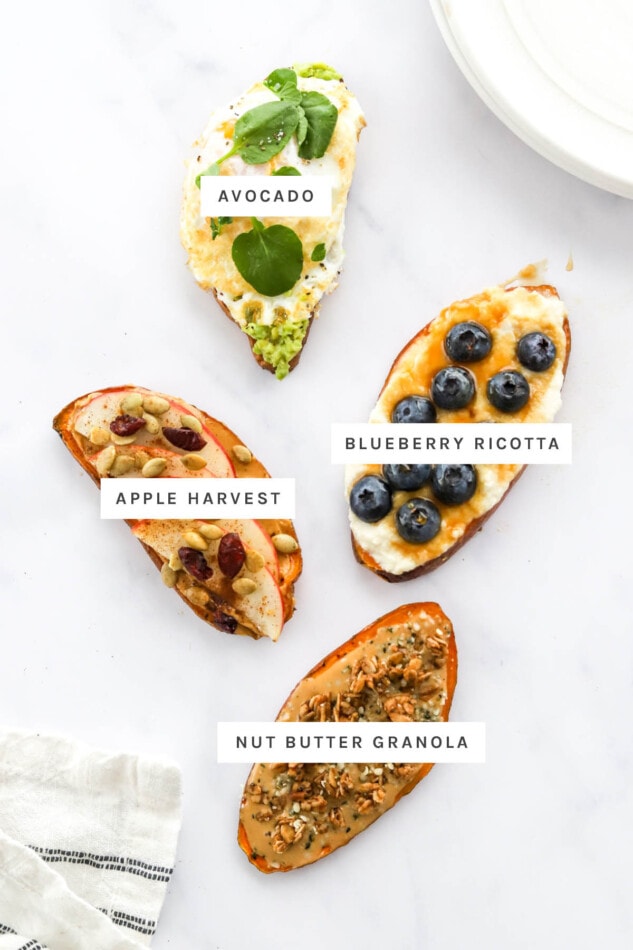 Sweet Potato Toast Variations
When it comes to sweet potato toast there are a few components to make basic sweet potato toast: sweet potatoes, oil and salt + pepper. From there, you can really add whatever toppings that sound good to you! I'm sharing 4 of my favorite variations below, but feel free to get creative with each variation.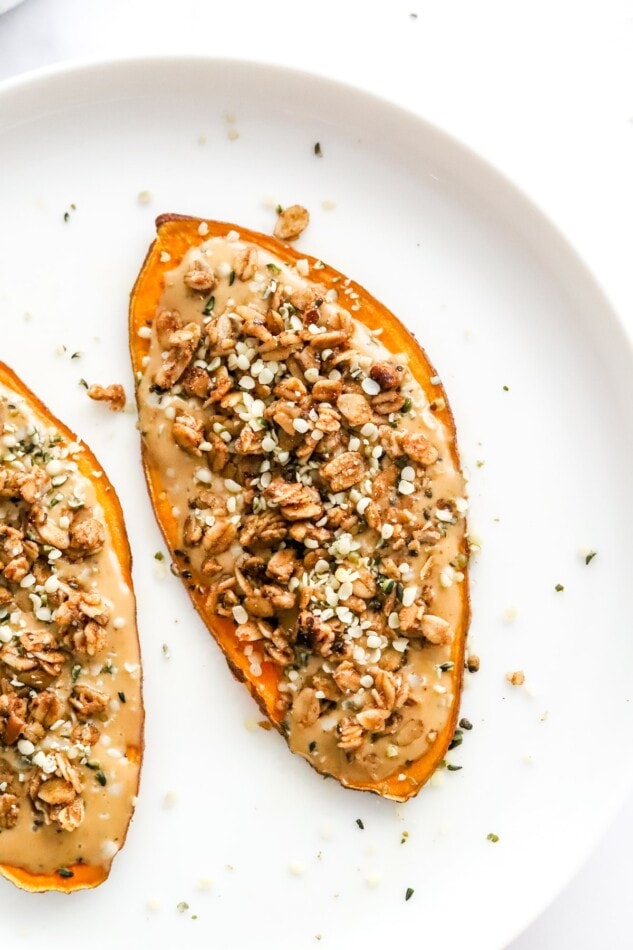 Nut Butter Granola
creamy almond butter
granola
hemp seeds
Apple Harvest
peanut butter
apple slices
pumpkin seeds
dried cranberries
cinnamon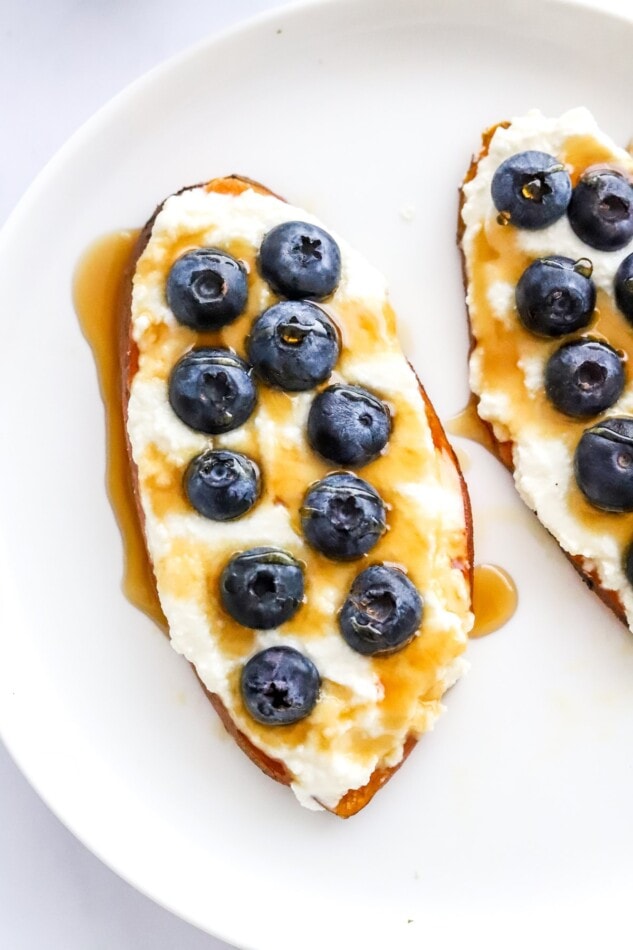 Blueberry Ricotta
ricotta cheese
fresh blueberries
honey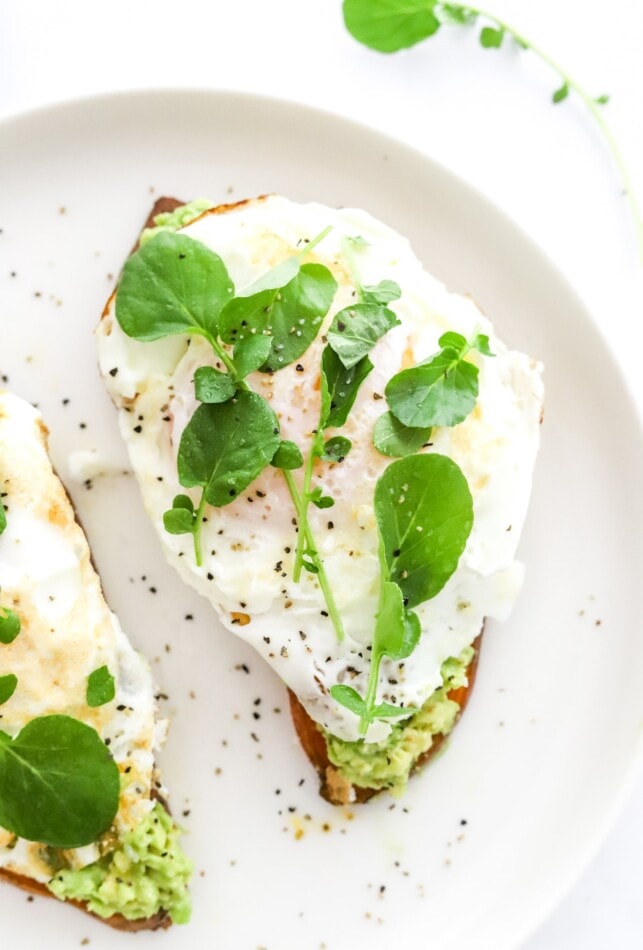 Avocado
avocado
egg
microgreens
salt and pepper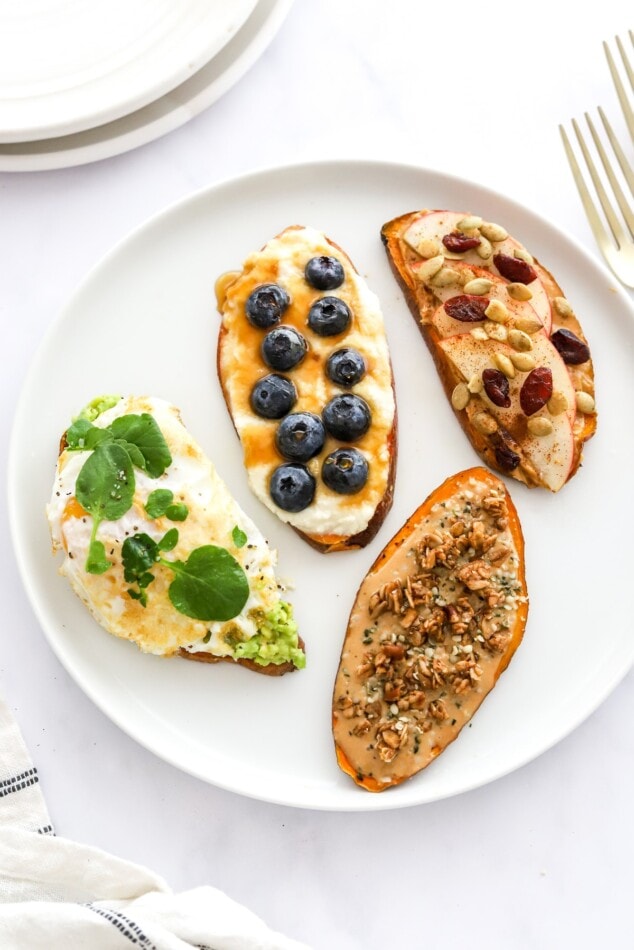 Other Topping Ideas
Fresh fruit – strawberries, raspberries, blueberries, bananas, and cherries would work well.
Dried fruit – raisins, cranberries, dates, and cherries.
Cooked fruit – plantain and apples.
Nuts and seeds – sliced almonds, pecans, walnuts, sunflower seeds, pepitas, chia seeds, flax seeds and hemp seeds.
Nut or seed butter – almond butter, peanut butter, cashew butter, tahini, sunflower seed butter, or coconut butter.
Jams – this easy fig jam or strawberry chia jam would taste amazing on sweet potato toast! But any store-bought jam works.
Fresh veggies – thinly sliced cucumbers, onions, tomatoes, zucchini, red bell pepper and carrots.
Leafy greens – you could either use fresh greens or lightly sautéed greens. Sautéed kale and spinach with some salt sounds delicious!
Protein – a great protein addition would be bacon, tempeh bacon, sausage, smoked salmon or black beans. These air fryer chickpeas would be a nice crunchy addition to any sweet potato toast.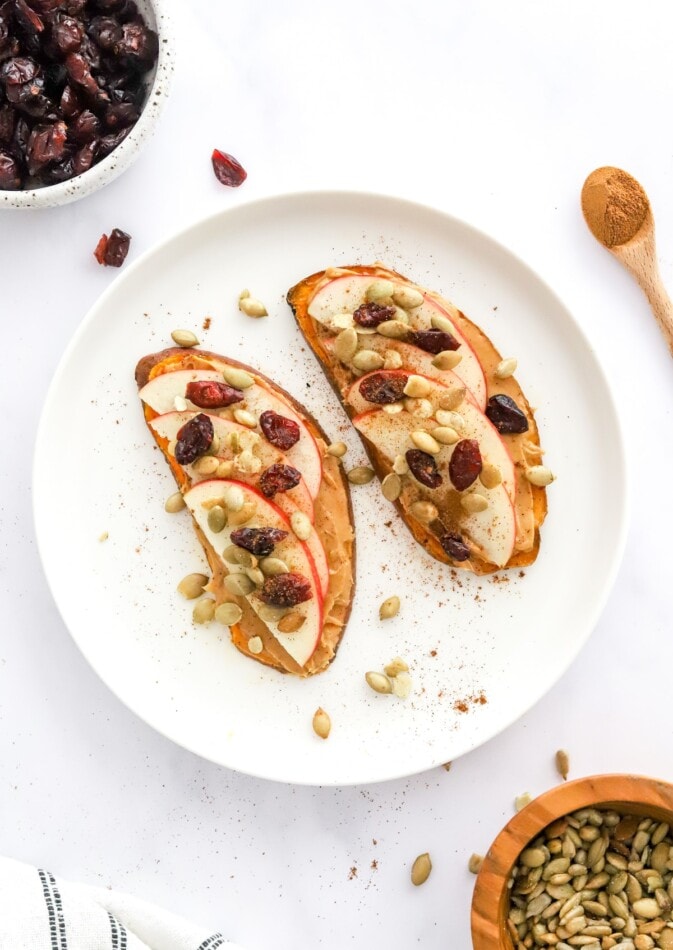 How to Eat Sweet Potato Toast
When it comes to eating sweet potato toast there are a few methods. You can use a fork and knife as you would other breakfast treats like waffles and pancakes or you can pick up the sweet potato toast and eat it like regular toast.
Both options work great, it just depends on your preference. One note, if your sweet potato slices are huge like mine, you might need to use both hands to hold them. With smaller pieces, you should be fine to use one hand.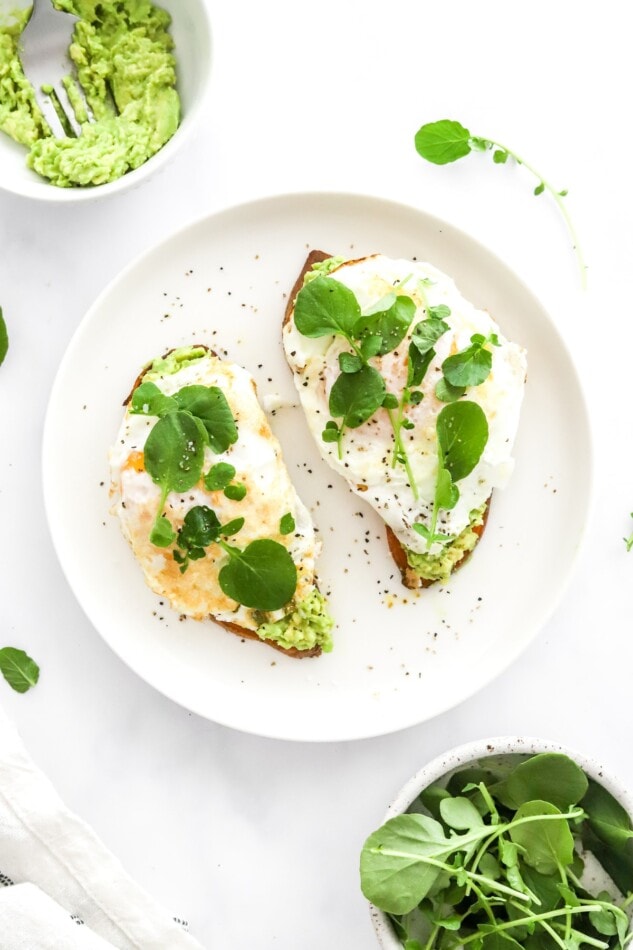 More Sweet Potato Recipes
More Toast Recipes
Be sure to check out all of the sweet potato recipes as well as the full collection of breakfast recipes on EBF!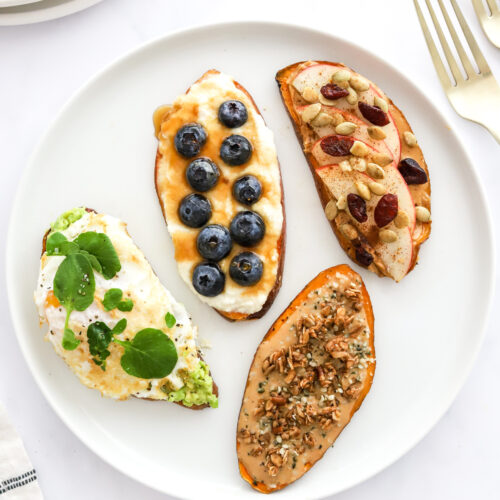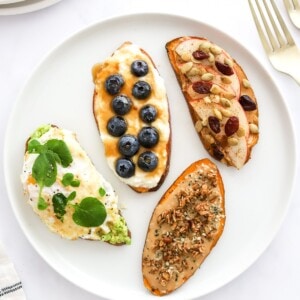 Sweet Potato Toast
No bread? No problem! Here's how to make sweet potato toast using roasted sweet potato slices, plus four delicious topping ideas.
Ingredients
1

sweet potato

Avocado or olive oil

Salt and pepper
Nut Butter Granola Sweet Potato Toast
1

Tablespoon

creamy almond butter

1

Tablespoon

granola

1

teaspoon

hemp seeds
Apple Harvest Sweet Potato Toast
1

Tablespoon

peanut butter

5-6

thin

apple slices

1

teaspoon

pumpkin seeds

1

teaspoon

dried cranberries

sprinkle

cinnamon
Blueberry Ricotta Sweet Potato Toast
1-2

Tablespoons

ricotta cheese

1

Tablespoon

fresh blueberries

Drizzle of honey
Avocado Sweet Potato Toast
¼

avocado

,

mashed

1

fried egg

1

Tablespoon

microgreens

salt + pepper

,

to taste
Instructions
Pre-heat oven to 400°F. Wash and dry your sweet potato.

Cut sweet potato lengthwise into thin slices, about 1/4" thick. This is important as they need to be thin.

Coat sweet potato slices with a small amount of oil. Season with salt and pepper and place on a baking sheet with a little room between each slice.

Bake for about 15-20 minutes, flip slices over and bake for another 15-20 minutes or until a fork can easily pierce the sweet potato. Don't overcook or the sweet potato toast will become mushy.

Remove from oven and top with your toppings of choice (see ideas above) and enjoy.
Nutrition
Serving:
1
slice
|
Calories:
201
kcal
|
Carbohydrates:
10
g
|
Protein:
5
g
|
Fat:
16
g
|
Saturated Fat:
2
g
|
Polyunsaturated Fat:
1
g
|
Monounsaturated Fat:
4
g
|
Cholesterol:
1
mg
|
Sodium:
391
mg
|
Potassium:
155
mg
|
Fiber:
2
g
|
Sugar:
3
g
Nutrition information is automatically calculated, so should only be used as an approximation.