Healthy stuffed French toast features a banana and almond butter filling between two slices of whole grain bread. 
Happy Friiiidaaayy! Hope you're excited for the weekend. Isaac's birthday is Sunday so we have a weekend full of celebrations ahead. Last year was his 30th and we did a brewery tour. This year is going to be toned down a notch, but I know for a fact that it will involve a night at Mekong, dinner at Lejha and a homemade German Chocolate cake. <– I'm not sure if it will top last year's Reese's Puffs cake, but we shall see.
And who knows, maybe I'll make him breakfast-in-bed French toast on Sunday morning.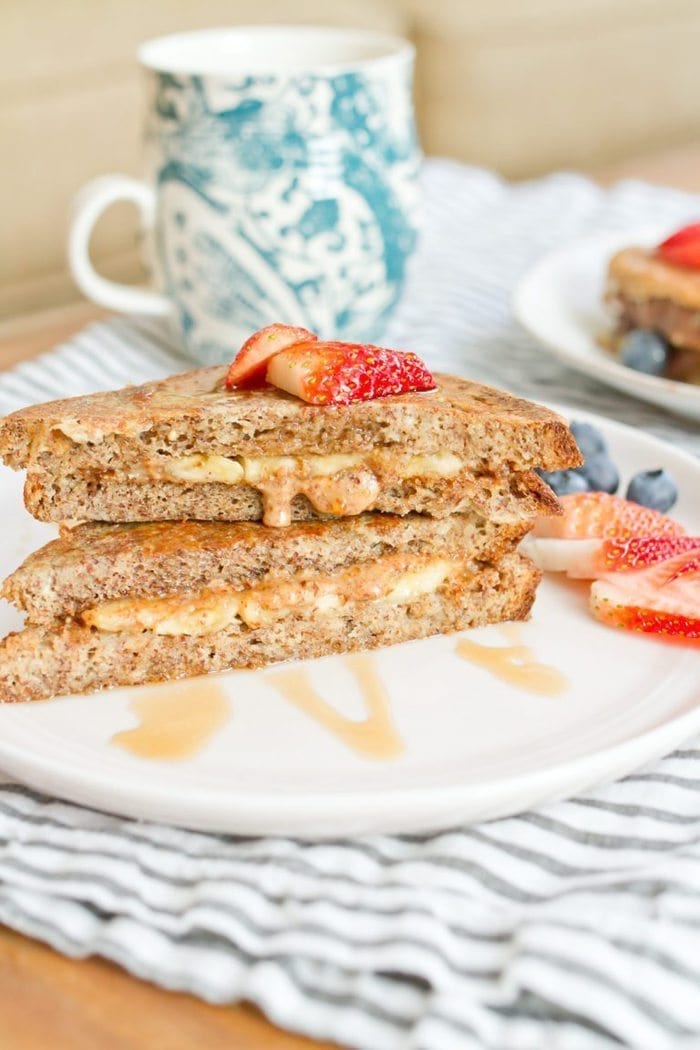 Healthy stuffed french toast with gooey almond butter and banana goodness, because why not?
Sounds like the perfect birthday breakfast to me! Or Valentine's Day breakfast for that matter.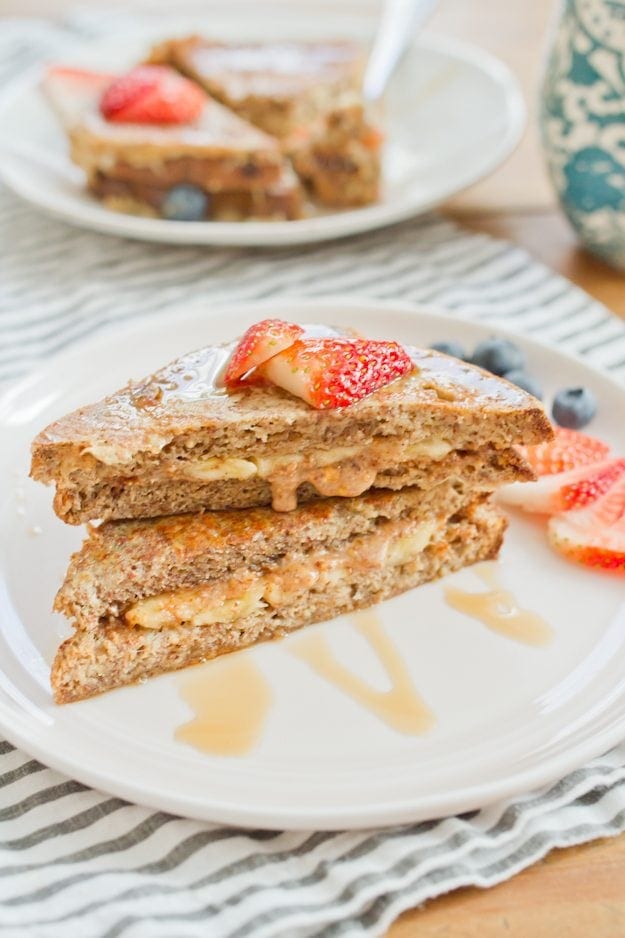 But honestly, you don't have to be celebrating anything special to make this French toast. It's not difficult at all to make (this is coming from the girl who had never made French toast before this recipe) and it's filled with good-for you ingredients! The recipe makes four servings and each serving (without toppings) is less than 200 calories, low in sugar and loaded with healthy fats and protein. Not too shabby.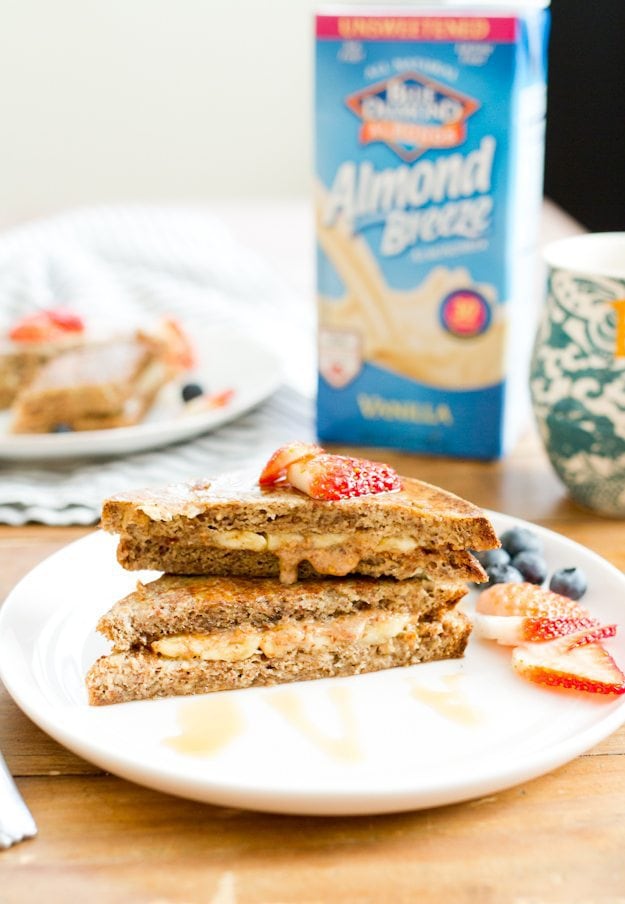 And if you're worried about rushing around in the morning and not having time, I know for a fact that you can cook a batch of this French toast ahead of time and reheat a slice in the toaster oven the morning you want to eat it. Easy peasy!
I made a batch last week and had a leftover piece for breakfast two days in a row. I actually loved the way it tasted from the toaster oven because the edges got a little crispy!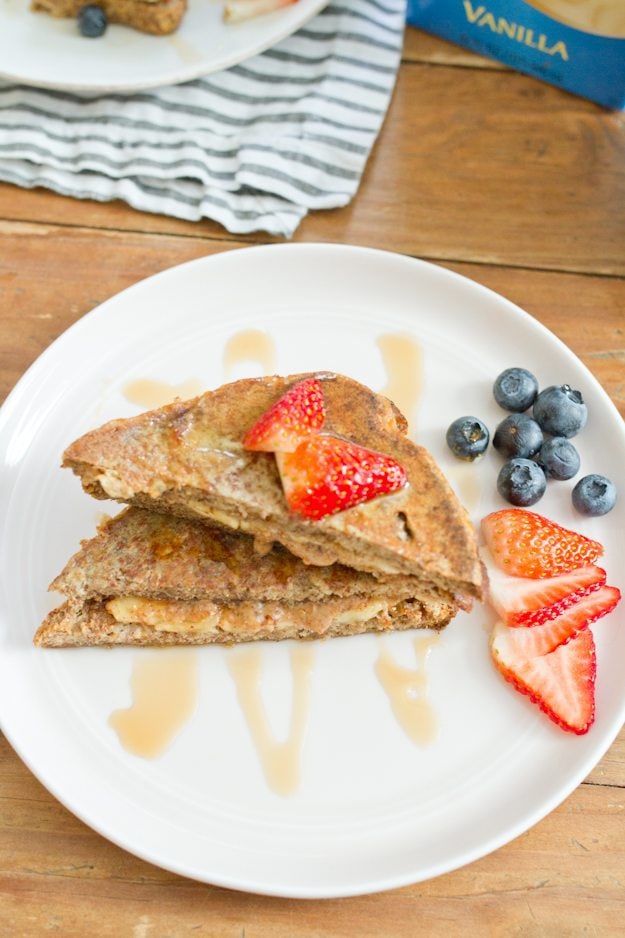 I hope you like this healthy stuffed French toast as much as we do! If you happen to try it, please let me know in the comment section or share it via social media. Don't forget to tag me (@eatingbirdfood) so that I see it. You have no idea how excited I get when you all make my recipes. <3
Print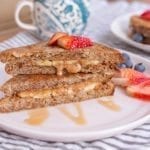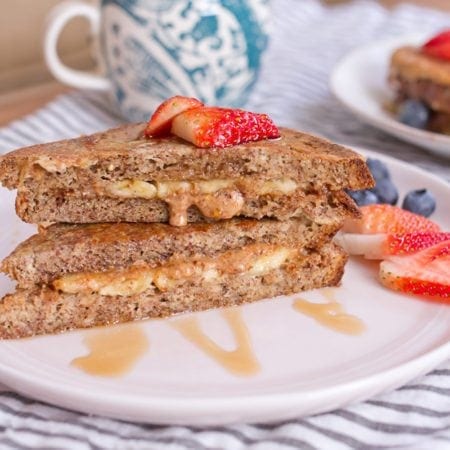 Clean Eating Stuffed French Toast with Almond Butter & Banana
Author:

Prep Time:

10 mins

Cook Time:

10 mins

Total Time:

20 mins

Yield:

4 servings
---
Description
A stuffed French toast recipe you can feel good about indulging in. It's not only delicious, but healthy too!
---
Ingredients
4 slices of whole grain bread (gluten-free, if necessary)
1/2 banana, thinly sliced
2 Tablespoons almond butter
2 eggs
½ teaspoon vanilla
½ teaspoon cinnamon
⅛ teaspoon sea salt
coconut oil, for pan
maple syrup and fresh berries, for topping
---
Instructions
Take your four slices of bread and create two almond butter and banana sandwiches. Each sandwich should have 1 Tablespoon of almond butter and a few banana slices.
Whisk together almond milk, eggs, vanilla, cinnamon and salt and pour in a container large enough to soak the sandwiches. One at a time, soak sandwiches on both sides until they are nice and moist — about 10 seconds on each side.
Pre-heat a non stick skillet on medium-high heat. Coat with coconut oil to prevent toast from sticking.
Place sandwich in pan and cook for 4-5 minutes on until the bottom side is golden brown. Flip sandwich, press on sandwich with your spatula and cook for another 4-5 minutes. Remove from pan and repeat the process with the second sandwich.
Cut each sandwich in half diagonally to make 4 servings. Serve with fresh berries and a drizzle of maple syrup.
---
Nutrition
Serving Size:

1/4 of recipe

Calories:

195

Sugar:

2g

Fat:

9g

Carbohydrates:

21g

Fiber:

4g

Protein:

9g