Hi and happy Monday to ya! I hope you had a great weekend. Mine started with a Friday morning Pure Barre class, ended by grilling out with the hubby and included lots of fun with friends in between. We went to the farmers market on Saturday morning and one of the local vendors had pie pumpkins for sale — I took this as a sign and spent most of Saturday afternoon baking up some pumpkin goodies including pumpkin cornbread muffins and pumpkin protein bars. Yup, pumpkin is back my friends!
Also, did you hear that Starbucks is releasing the Pumpkin Spice Latte this week?!? I haven't had a real deal PSL in years (they're too sweet for me), but I know folks go crazy for them so I thought I'd share that little tidbit of news. I kind of want to make my own homemade pumpkin spice latte to celebrate.
I am still sad that summer is quickly coming to an end, but I'm starting to get excited for everything fall. I actually bought an apple pumpkin Yankee Candle Car Jar  over the weekend and it smells amazing. I love getting in my car right now!
Anyhow, this post isn't pumpkin or fall related at all. It's about a simple and delicious way to cook everyone's favorite summer vegetable fruit, okra.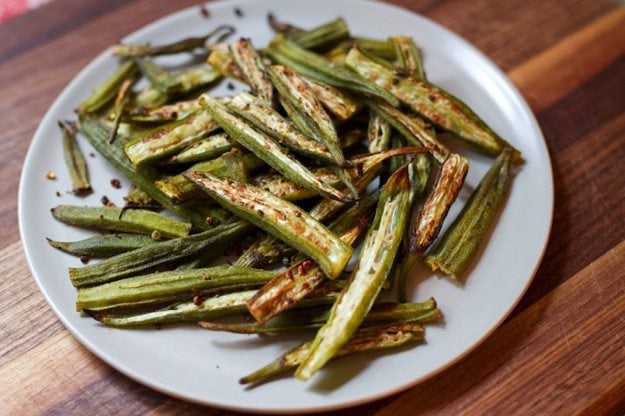 Could you sense the sarcasm there?
It's true, okra is technically a fruit and yes, I know there are plenty of people who think okra is weird and slimy, but trust me here — pretty much everything tastes better when roasted, including okra!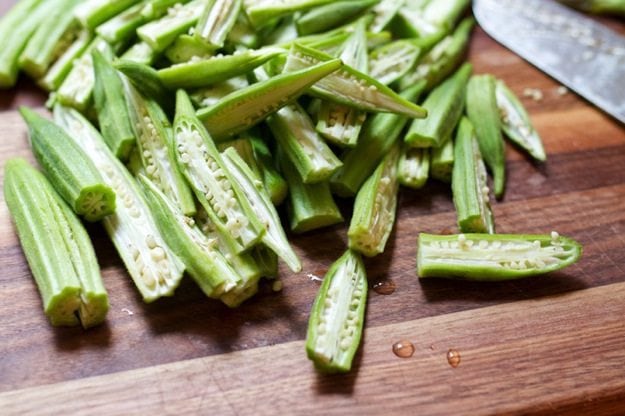 I won't lie, the chopping process can be a tiny bit slimy…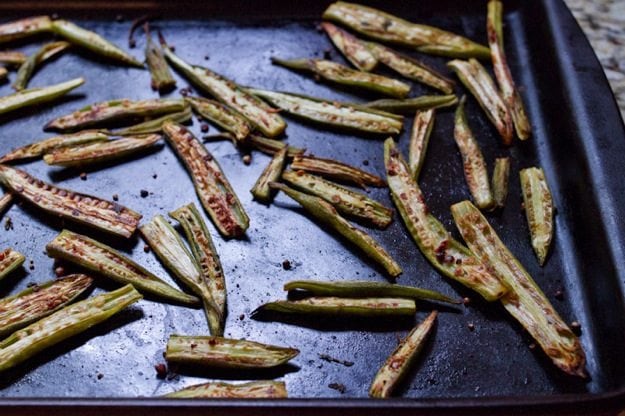 but throw a little olive oil and spices on those okra halves, toss them in the oven and roast for a good 20 to 25 minutes and you have yourself a tasty, healthy side dish sans the slime.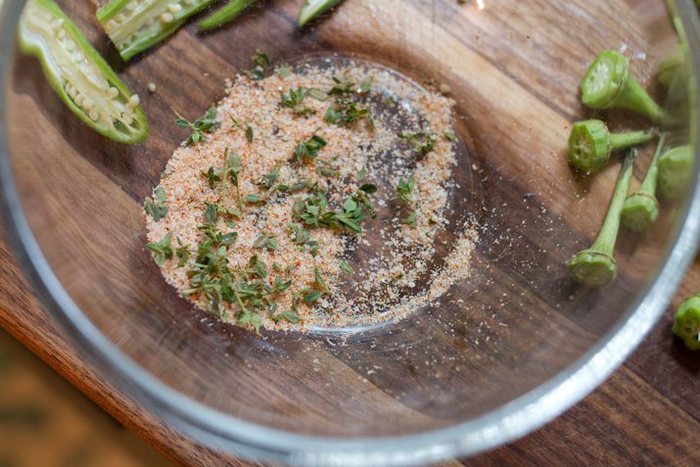 For you southerners, I know this isn't exactly fried okra, but hear me out — it's still crispy and it's way better for you!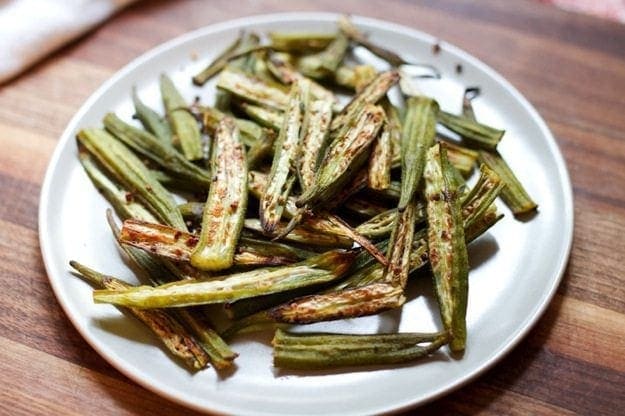 The only problem is that the okra does shrink down quite a bit and it's addictive. I almost ate the whole pan by myself. Lucky for Isaac, I was able to save him a few pieces. Literally it was jut a few. Oops!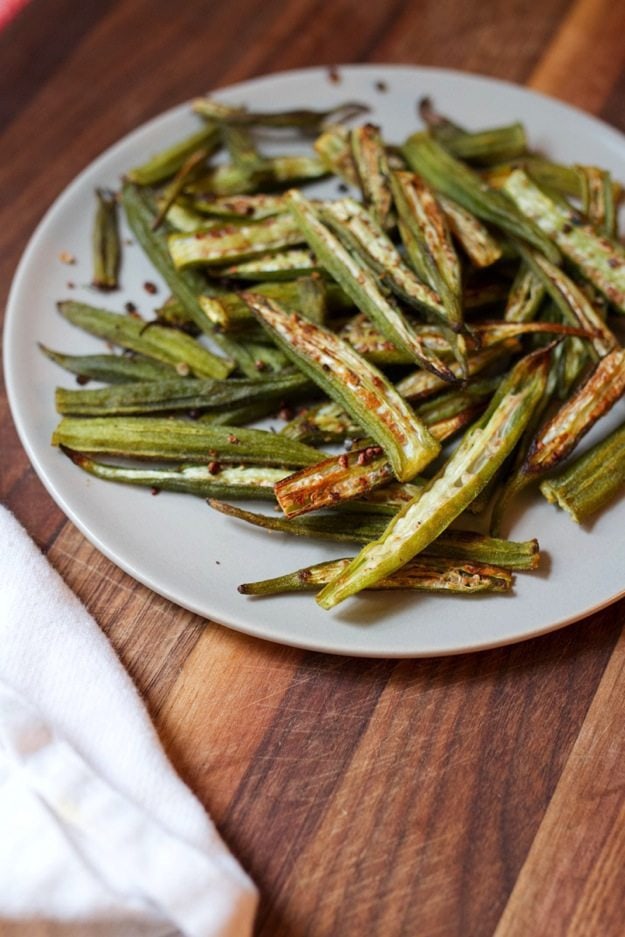 I have to say, I think that this is my favorite way to eat okra!
And if me saying it's my favorite doesn't convince you to try it, check out the nutrition stats — a 1/2 pound serving of okra (which isn't hard to consume when roasted) has a whopping 5 grams of protein. Bring on the okra.
Print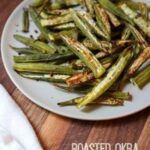 Oven Roasted Okra
Author:

Prep Time:

10 mins

Cook Time:

20 mins

Total Time:

30 mins

Yield:

2
---
Description
This simple okra side dish comes together quickly and tastes delicious.
---
Ingredients
1 pound okra, rinsed and dried
1/2 Tablespoon olive oil
2 teaspoons fresh thyme
1/4 teaspoon garlic powder
1/4 teaspoon sea salt
ground pepper, to taste
pinch of cayenne pepper (optional)
---
Instructions
Preheat oven to 450°.
Trim the okra by cutting away the stem ends and the tips, just the very ends. Then cut the okra in half, lengthwise.
Place okra in a large bowl. Add oil and spices and stir to coat the okra halves.
Place okra on a baking sheet in a single layer. Roast in the oven for 20-25 minutes, shaking or stirring the okra at least twice during the roasting time. You'll know the okra is ready when it's lightly browned and tender.
Serve hot — they tend to lose the crispy texture as they cool.
---
Nutrition
Serving Size:

1/2 pound

Calories:

101

Sugar:

3g

Fat:

4g

Carbohydrates:

17g

Fiber:

7g

Protein:

5g