How to Make Roasted Garlic
11
Published Mar 07, 2016, Updated Dec 13, 2021
How to make delicious roasted garlic and how to use it in healthy cooking. Spoiler: it adds a ton of flavor without a ton of extra calories!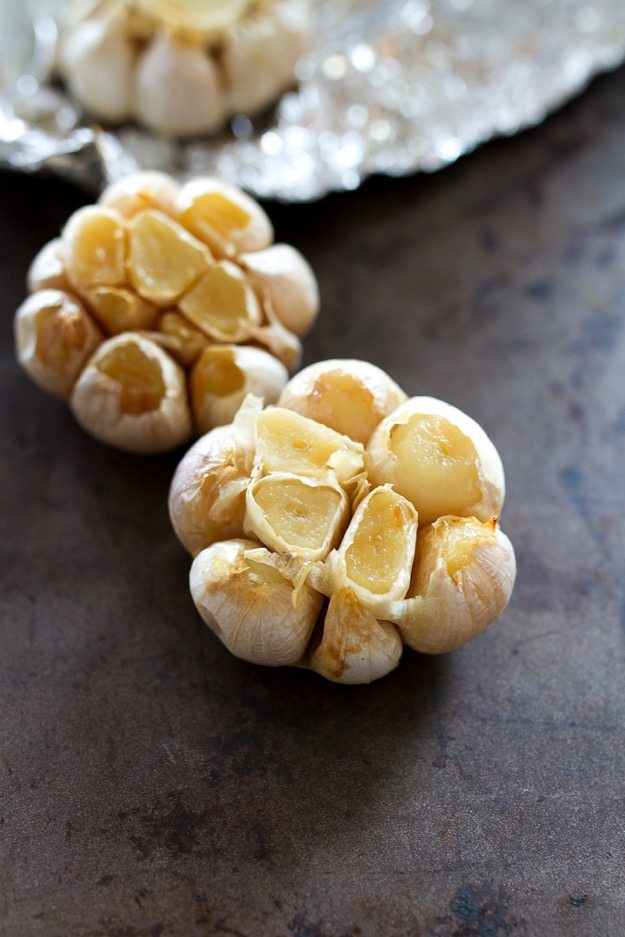 If you were to ask me my favorite vegetable I'd probably say broccoli or sweet potatoes, but I'd be forgetting about a simple vegetable that I eat almost every day… GARLIC. I guess I've always thought of it as an herb/spice but it's technically a veggie, just like onions, shallots and chives.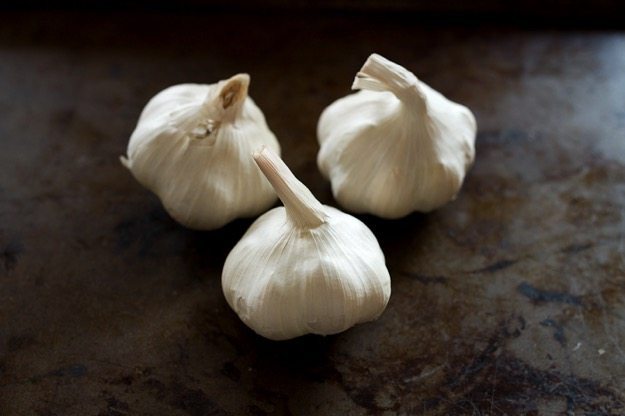 Raw garlic has antibacterial, anti-viral and anti-fungal properties. It also helps to boost the immune system. For these reasons it's been used medicinally to help treat cold and flu symptoms for ages. Eating garlic raw (chopped/crushed and set to rest for a few minutes) is best if you're looking to take advantage of all the great health benefits, but if you're just looking for a way to add an amazing amount flavor to your dinner, cooked garlic is where it's at.
Raw garlic has a pungent and spicy flavor, while cooked garlic has a sweeter, mellow flavor that adds nice depth without being abrupt or particularly spicy.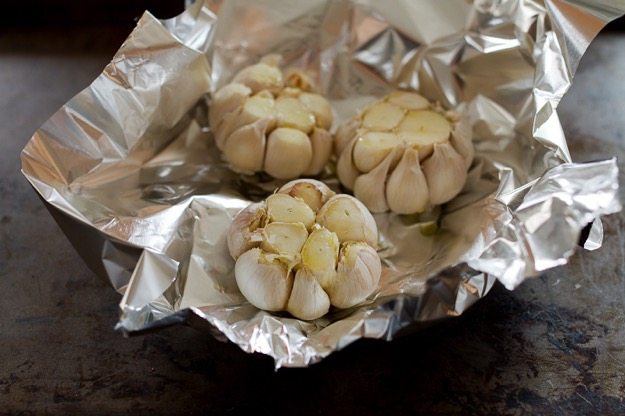 Roasting is 100% my favorite way to prepare most veggies and garlic is no different.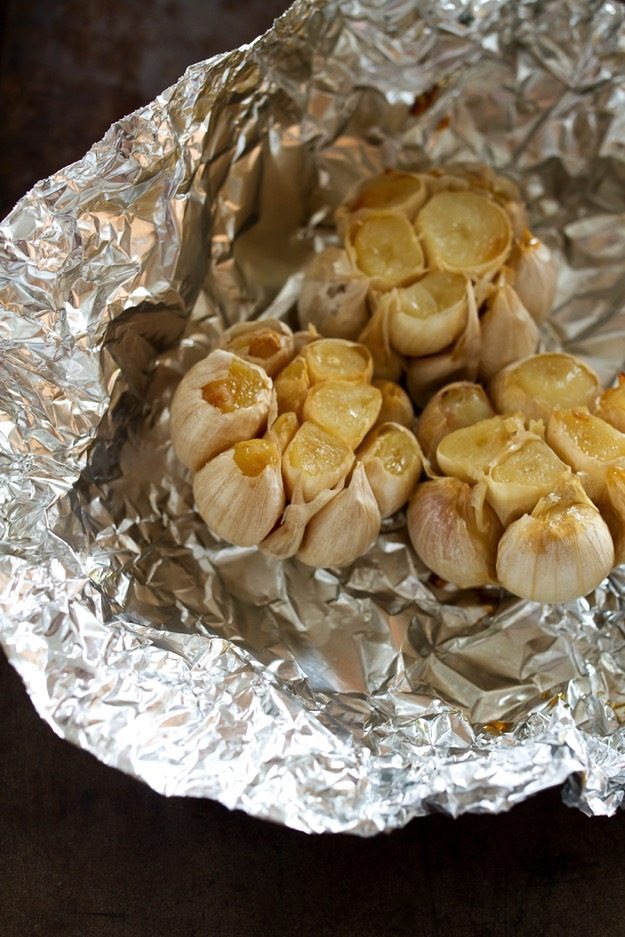 The whole roasted cloves get soft, warm and caramelized and come out tasting mild and sweet — the cloves can be eaten on their own, used as a spread for bread and crackers and/or add to soups, baked dishes and stir-fries for a boost of flavor. The possibilities are pretty much endless and I've found that roasted garlic is an awesome way to add a huge amount of flavor without adding a ton of additional calories to a dish. It's great for health-conscious cooking!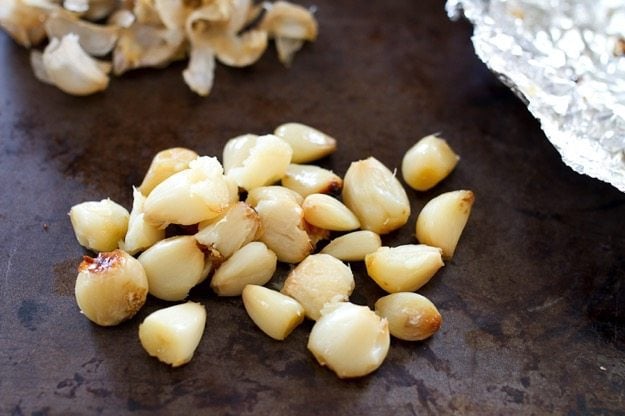 Since roasted garlic is something I use in my cooking often I wanted to share a quick recipe to show just how easy it is!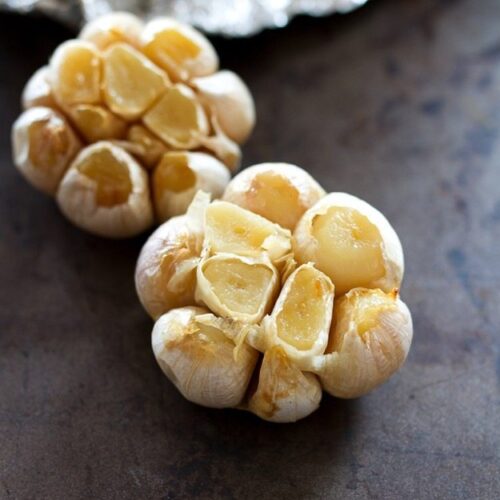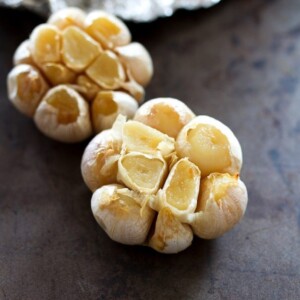 How to Make Roasted Garlic
How to make delicious roasted garlic and how to use it in healthy cooking. Spoiler: it adds loads of flavor without a ton of extra calories!
Ingredients
1

head garlic

,

outer paper leaves peeled off and discarded

1

teaspoon

olive oil

aluminum foil
Instructions
Preheat oven to 400°F.

Cut the garlic bulb at the top (about 1/4 inch down) so you're cutting off a small bit of each clove.

Place aluminum foil under garlic bulb, drizzle 1 teaspoon of olive oil over top to cover all the exposed cloves. Wrap the foil around the bulb and place in the oven.

Roast for 30-40 minutes or until garlic is soft and golden brown on top. Remove from oven and let cool.

Once cool, remove each clove from it's paper. Some cloves will pop right out and stay intact while others will be so soft they will need to be squeezed out. You'll notice that sometimes the cloves get mushier than others — this just depends on how long you cook the garlic, the size of the bulb, the variety and it's age. You can experiment with different types of garlic and the roasting time to find your favorite variety and what cook time works best.

Use the roasted garlic right away or store it for later. It will last about 2 weeks in the fridge or 3 months in the freezer.
Nutrition
Serving:
1
bulb
|
Calories:
140
kcal
|
Carbohydrates:
20
g
|
Protein:
4
g
|
Fat:
5
g
|
Fiber:
2
g
Nutrition information is automatically calculated, so should only be used as an approximation.