Chili is only go my favorite fall meals. It's so easy to make and there are so many different varieties. I never get bored with it. Plus, it's the perfect meal to feed a crowd.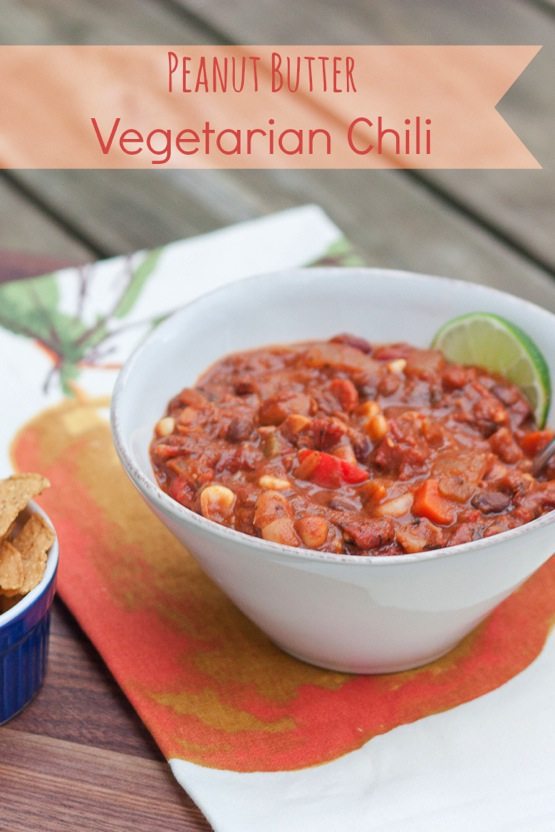 This weekend we had a couple of friends coming over to watch the Redskins game so I decided to make a big pot of veggie chili for the group to enjoy. I started with my normal recipe, which includes the standard sautéed veggies, a mixture of beans, corn and seasonings. Then added a few secret ingredients.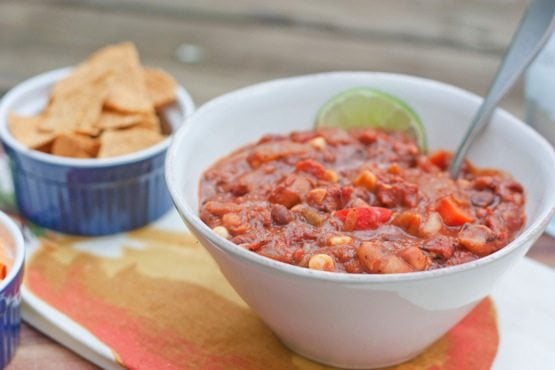 Chili recipes are known for secret ingredients — many folks swear by adding beer, honey, brown sugar, chocolate (I'm a big fan of this one), masa flour, cinnamon or lime juice (another one I'm a fan of). I recently read somewhere that peanut butter can also be a great addition to chili. This was like music to my ears. Obviously, I had to try it.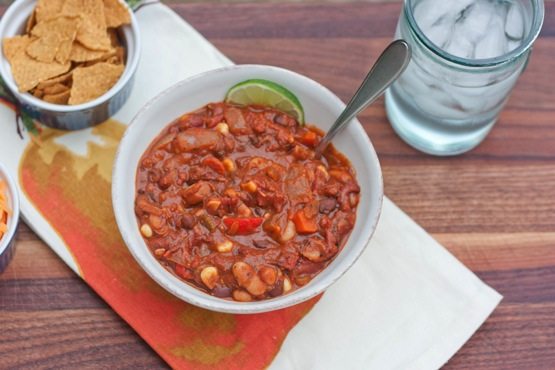 For this batch I used all-natural (nothing but peanuts), freshly ground peanut butter because I didn't want any added sugars or oils added to the chili. Oh man… I'm so glad I tried this little trick! Turns out the peanut butter didn't add a strong peanut flavor but instead a rich, fatty flavor (that is often times lacking in vegetarian chili). It also helped to thicken the sauce a bit. Of course, I still added my normal secret ingredients, cocoa powder and lime. Cocoa powder enhances the flavor of chili, adds a deep tone and a bit of richness and adding a splash of lime juice at the end adds a hint of tang and makes the flavors pop.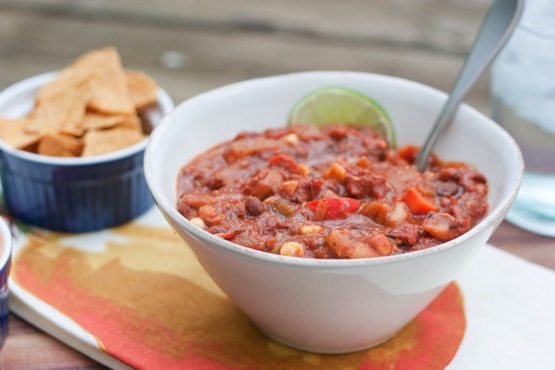 This chili was probably the best chili I've ever made so I'm pretty sure I'll be adding peanut butter to all my chili recipes from now on! The only thing missing from this meal was the cornbread. I love cornbread but ran out of time to make any so we had crackers and sweet potato tortilla chips with the chili instead. Must not forget the cornbread next time. 🙂
Peanut Butter Vegetarian Chili
6-8
adjust servings
Ingredients
1

Tablespoon coconut oil

1/2

medium yellow onion, peeled and chopped

1

large red bell pepper, chopped

1

clove of garlic, minced

2

carrots, peeled and grated

2

Tablespoons chili powder

1

teaspoon red pepper flakes

Sea salt and fresh ground black pepper

1

- 28 oz can fire-roasted canned tomatoes

1

- 8 oz can tomato sauce

1

can can cannellini beans, rinsed and drained

1

can red kidney beans, rinsed and drained

1

can black beans, rinsed and drained

1

cup frozen sweet corn

1 1/2-2

cups low-sodium vegetable stock

1

chili pepper, halved, seeded and chopped

2

teaspoons, dried oregano

2

teaspoons dried basil

1/2

Tablespoon cocoa powder

2

Tablespoons creamy natural peanut butter

Juice of one fresh lime
Instructions
In a Dutch oven or large pot, warm coconut oil over medium heat. Add onion, pepper, garlic and grated carrot and sauté until onion becomes soft and translucent. Stir in chili powder, red pepper flakes, sea salt and black pepper. Cover and cook over low heat for 10 minutes, stirring occasionally.
Add all remaining ingredients except lime juice. Blend well. Cover and let simmer for 20 minutes. Remove from heat, squeeze lime juice into the pot and stir. Serve immediately. The chili can be served over brown rice and topped with cheese or greek yogurt for a hearty variation.
So there you have it — another recipe that proves peanut butter makes everything taste better!