This minestrone soup is packed with fresh veggies, beans and seasonings. Pop everything in your slow cooker and come home to a warm and comforting meal. 
I'm typically all about soup throughout the fall, but this year with the warmer weather I simply haven't had a craving for it. Last week we had a little spurt of cold weather and I got all excited. I immediately took out my crockpot and whipped up a soup.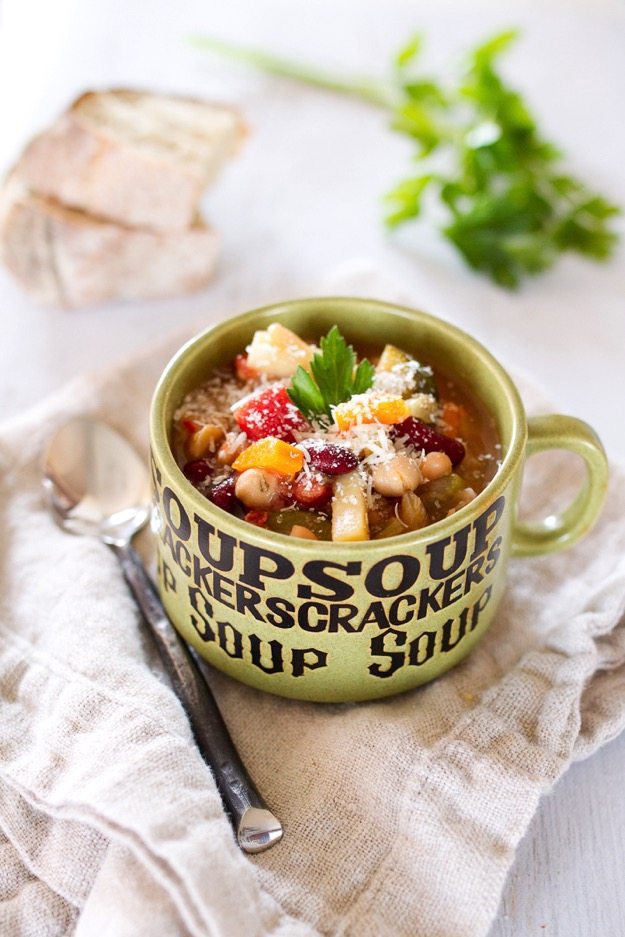 It's funny because I actually really dislike cold weather, but if there's ever I time I can tolerate it, it's during the holidays. Temps in the high 60s and 70s around Christmas just doesn't feel right. Plus, with how warm it's been I feel like we're going to be dealing with winter weather until late March. Ugh!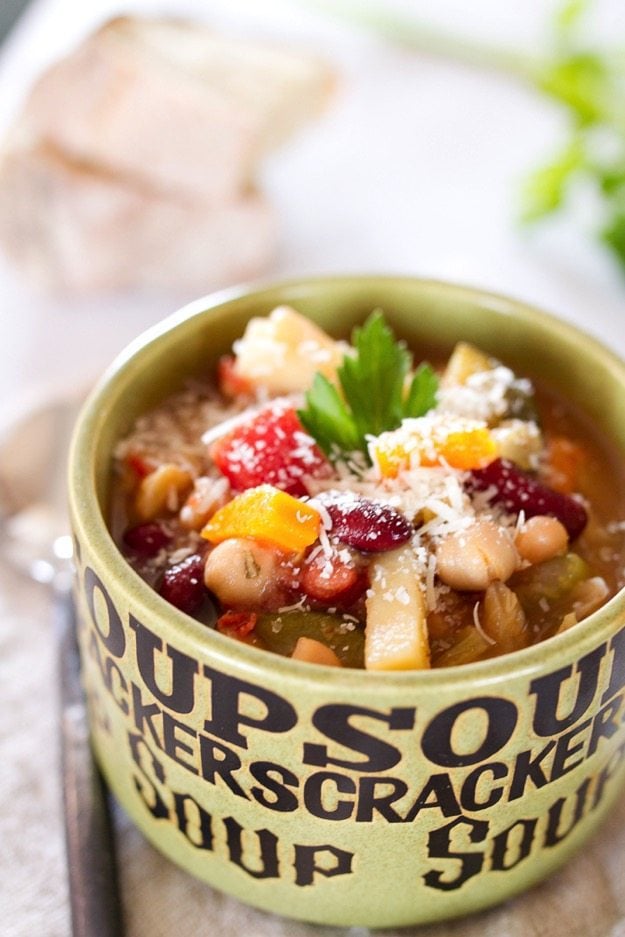 Anyhow, enough about the weather. Let's talk about this soup. It's loaded with veggies, fiber-rich beans and a lovely Italian flavor. It tastes great the first night, but even better the next. Isn't that always the case with soup?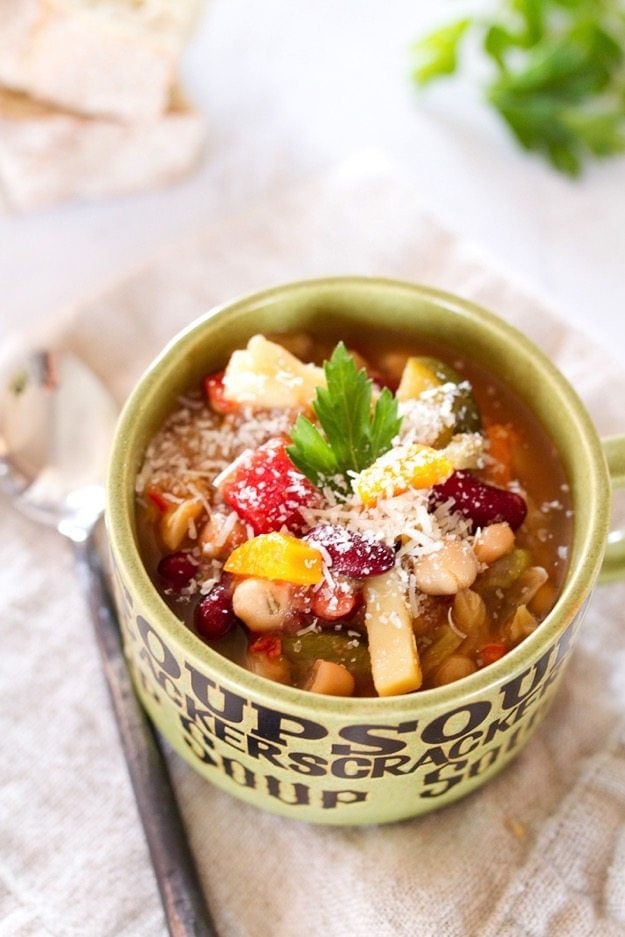 I made this last week while my cousin and her family were in town for the evening. I wanted something easy so that I could spend time visiting with her sweet babies rather than cooking in the kitchen. This soup fit the bill. And everyone loved it.
Like most minestrone soups this one is a little brothy, which I like, but it's nice to have something (like bread or crackers) to dip. Isaac brought home a loaf of crusty bread from Idle Hands Bread and it was perfect! I should also note that I added a hefty squeeze of sriracha into my bowl of soup for some extra heat — I highly recommend it. 🙂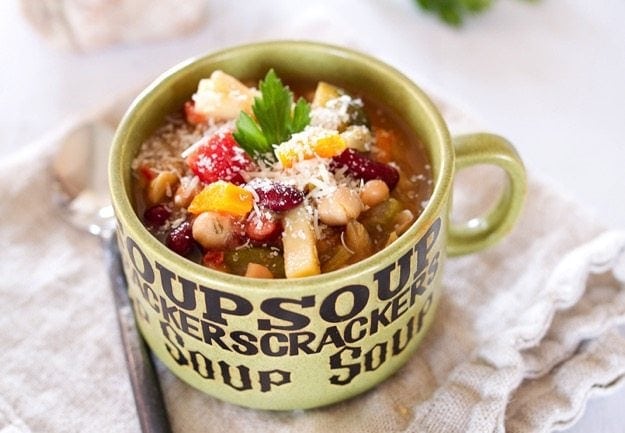 Slow Cooker Minestrone Soup
8
adjust servings
Ingredients
1

Tablespoon olive oil

2

carrots, chopped

1

yellow onion, chopped

2

celery hearts, chopped

3

cloves garlic, minced

1 14-oz

can of diced tomatoes

1

white potato, peeled and chopped into cubes

1/2

head savoy cabbage, thinly sliced

2

medium zucchini, chopped into small cubes

1 15-oz

can garbanzo beans, drained and rinsed

1 15-

oz can red kidney beans, drained and rinsed

1 15-oz

can white beans, drained and rinsed

1

teaspoon dried basil

1

teaspoon dried oregano

1/4

cup fresh parsley, chopped

1

rind from 2 oz. of parmesan cheese

1

bay leaf

2

cups water

32

oz container chicken or vegetable stock

1 1/2

teaspoon sea salt

1

teaspoon black pepper

Freshly grated Parmesan cheese for serving
Instructions
Heat oil over medium heat. Add carrots, onion and celery and cook until onions are translucent and fragrant. Add in garlic and sauté for 5 minutes more.
Add sautéed veggies and all remaining ingredients into the slow cooker. Cook on high for 4 hours or low for 6-8 hours or potatoes are cooked. Taste the soup before serving and season with additional salt and pepper if needed. Remove parmesan rind and bay leaf. Portion soup into bowls and top with parmesan cheese.