Sharing 20+ healthy recipes to make for Mother's Day brunch with everything from frittatas and quiches to muffins and salads.
Mother's Day is right around the corner so I thought I would share a round up of healthy recipes to make for a delicious weekend brunch! I always love when there is a variety of sweet and savory dishes at brunch. The more variety, the better!
What to Serve on Mother's Day
I personally love serving light, refreshing recipes for Mother's Day. And with any brunch, I always make sure there are a variety of flavors, textures and temperatures. You want to make sure you have something for everyone.
Savory – Egg bakes, frittatas, quiches and breakfast casseroles… these egg-based dishes are always a hit for brunch. And the nice thing about making breakfast casseroles is that you can prep and bake them ahead of time and then just reheat the morning of.
Sweet – I love a simple fruit salad but also enjoy baked oatmeal, muffins or other small dessert bites like macaroons, cookies and brownies. These items are lovely to pair with coffee.
Refreshing – You know me… always on team salad. It's always nice to have a refreshing side salad as a brunch option… add some color and life to the table. 😉
20+ Healthy Mother's Day Recipes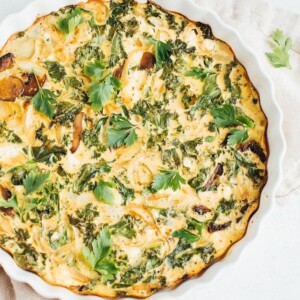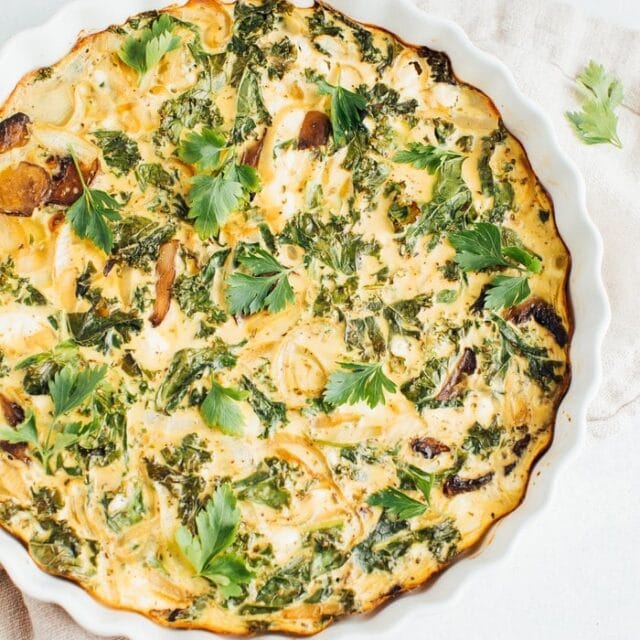 Kale and Feta Crustless Quiche
This crustless quiche is such an easy low-carb meal that can be served for breakfast/brunch, lunch or dinner. You'll love the delicious combination of kale, onions, mushrooms and feta.
View Recipe
I hope all these recipes are helpful! I can't wait to hear what Mother's Day recipes you decide to make!