10+ Ways to Use Shredded Chicken
5
Published Jan 22, 2021, Updated Nov 18, 2021
Shredded chicken is such a versatile protein for meal prep. Here's how to make shredded chicken and over 10 shredded chicken recipes! This post is sponsored by Kroger.
Every time January rolls around it seems like we all need a collective reset. Some set goals, some let go of the past and others (like me) try to just get back to my routines.
One of those tried and true routines is menu planning and meal prep. If you aren't used to it, I understand how overwhelming it is. After regularly meal planning for over 10 years (!) I have one main tip: cook once and use multiple times!
What do I mean by that? Let's take shredded chicken for example. Make it once and then eat it in a variety of ways throughout the week. There are so many different ways to flavor it, you'll never get bored!
The same goes for staple whole grains like quinoa, rice and couscous. You can make a big batch as part of your meal prep and use it in a variety of dishes.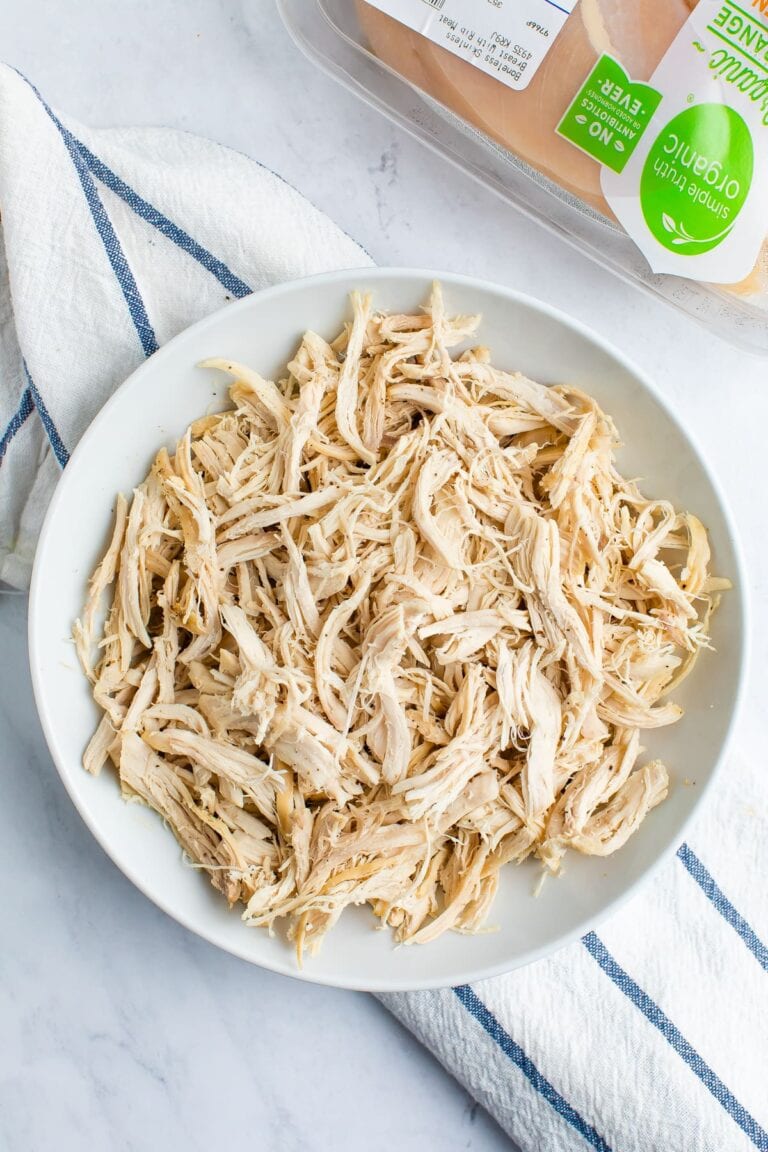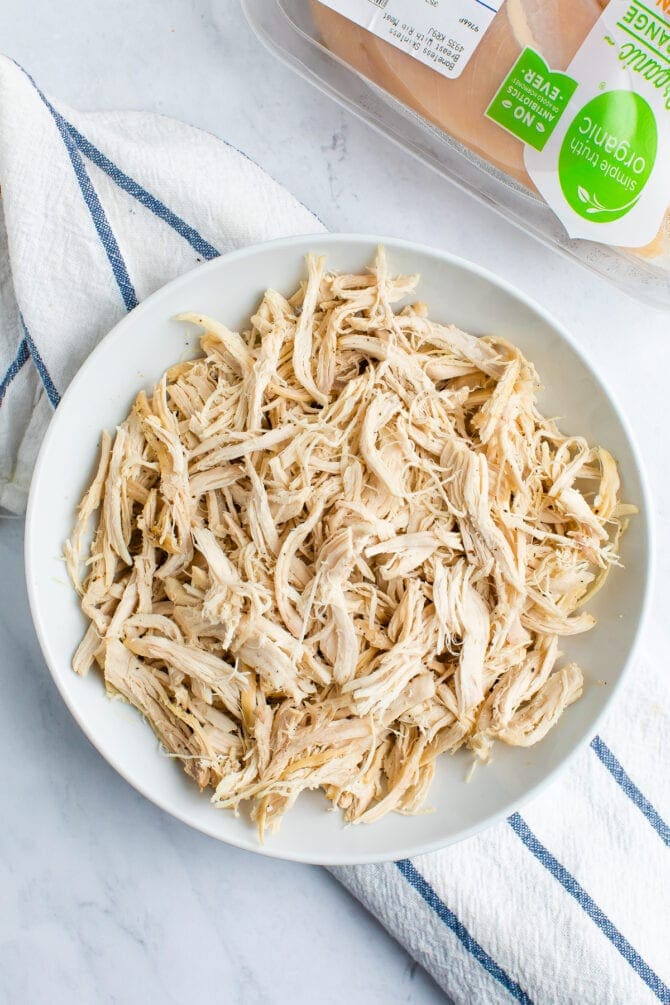 Meal Prepping With Shredded Chicken
As you probably know, I'm a huge fan of Kroger and use their online ordering for grocery pickup and/or delivery frequently!
They carry so many great healthy brands, but I find myself reaching for their Simple Truth line the most. The Simple Truth line has a wide range of products with easy-to-spot packaging where you can easily select organic, natural and "Free From" products. Whenever you see "Free From" on their package, you can know that the product is free from over 101 artificial preservatives and ingredients.
I picked up the Simple Truth Organic chicken breasts for meal prep this week and used it to make three different recipes. This sort of method of cooking once and using leftovers to make a variety of meals is the best! It saves so much time and energy.
With this in mind, I thought it would be helpful for me to share how to make perfect shredded chicken (in a variety of methods!) as well as 10 recipes to use shredded chicken once you have it prepped!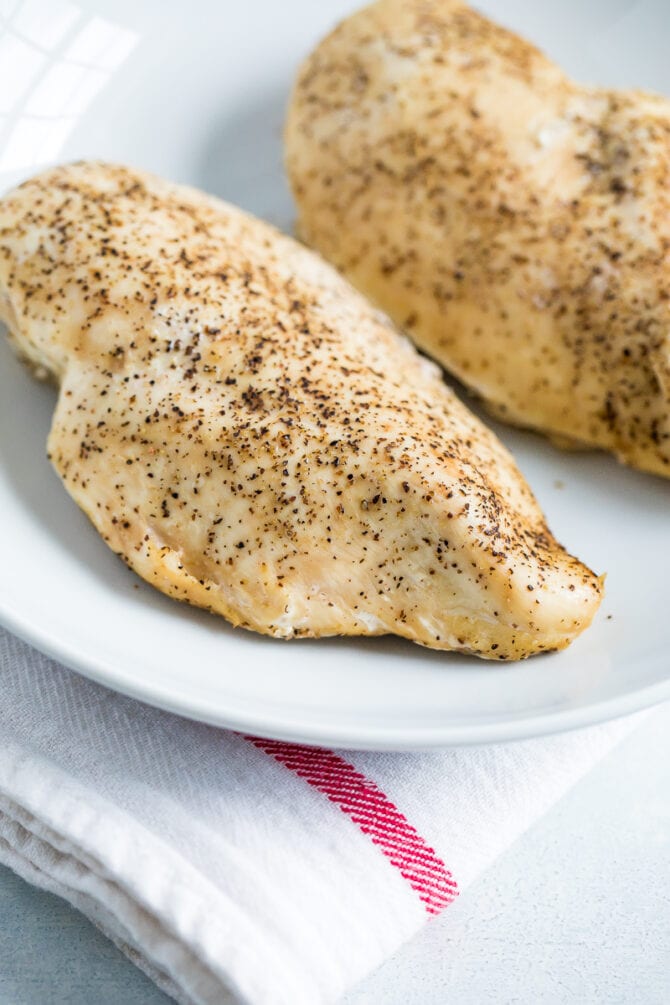 How to Cook Chicken Before Shredding
I have made shredded chicken in every way possible, but my favorite is still slow cooker shredded chicken. I love the simplicity of this "set it and forget it" method and I like the flavor and texture of shredded chicken using this method as well. That said, there are other ways to make shredded chicken so I'll share them all here!
Slow Cooker: As I mentioned, this is my fave method! To make it, simply put your boneless skinless chicken breasts or boneless skinless chicken thighs in the slow cooker, season with any seasonings you want to add, cover and cook on low for 3-4 hours or on high for 2 hours. That's it! I know it's tempting to want to add liquid, like water or broth to the slow cooker with your chicken, but you don't need it — the chicken will release its own juices and it won't dry out! I do like adding a little apple cider vinegar to help tenderize the meat, but it's optional.
Instant Pot: This method is new to me as I didn't get on the Instant Pot train until about a year ago, but it's awesome because it is SO FAST! Place four boneless, skinless chicken breasts in the Instant Pot and add 1 cup broth or water and any seasonings you'd like. Put the lid on, turn to seal, cook for 15 minutes and then quick release the pressure. Remove the chicken and shred with two forks or by hand. Shredded chicken in under 30 minutes? YUP!
Stove-top: Place chicken and any vegetables or seasoning in a saucepan or pot. Cover the chicken completely with broth or water and bring to a boil. Reduce heat and simmer for 20 minutes or until chicken is cooked through. Remove the chicken and shred with two forks or by hand. This method is awesome because you can cook tender, shredded chicken without any kitchen appliances on the counter!
Oven: Place chicken in a baking dish and add any seasonings you'd like. Add a little bit of water to the bottom of the pan and cover with foil or an oven-safe lid. This makes sure your chicken doesn't come out super dry! Bake at 375ºF for 25-35 minutes, until the chicken is cooked through. Remove from the oven and shred away!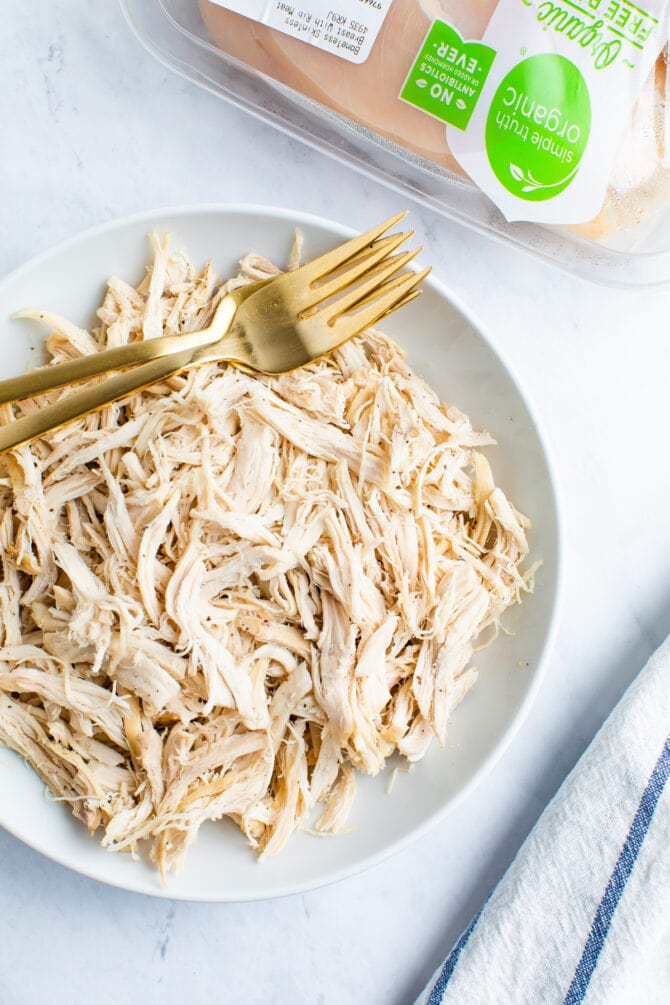 How to Shred Chicken
Once the chicken is cooked, you'll just transfer it to a plate or shallow bowl, let it cool down a bit and then shred it.
I recommend shredding the chicken while it's still warm because it's much easier than shredding cold meat. I like the old-fashioned way of shredding the chicken with two forks, but sometimes it can also be easier to use your hands to pull the meat apart! Just be sure the chicken is cool enough to touch if you're using your hands.
I also just learned that you can shred chicken in a stand-mixer or food processor. Mix or pulse small batches at a time, making sure you don't over-process. If any large chunks remain, simply shred by hand!
10+ Recipes to Make with Shredded Chicken
Once you have your shredded chicken prepped there are sooooo many ways to use it. Here are some of my favorite shredded chicken recipes.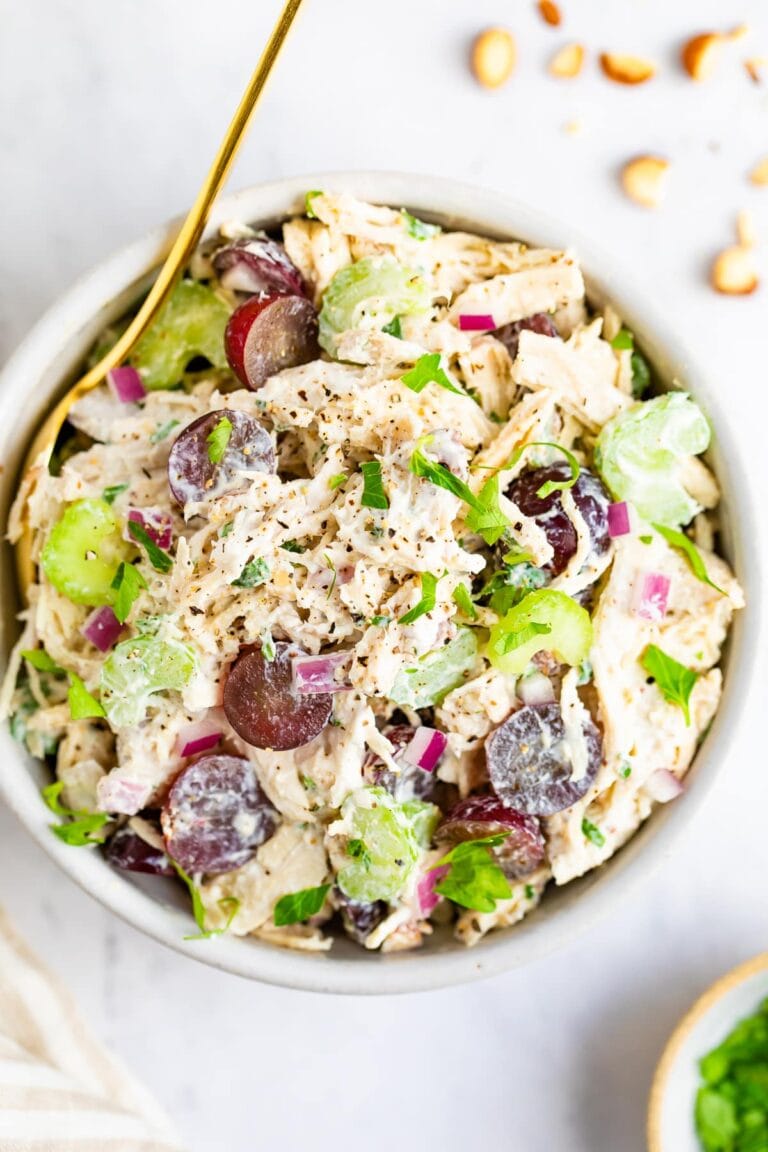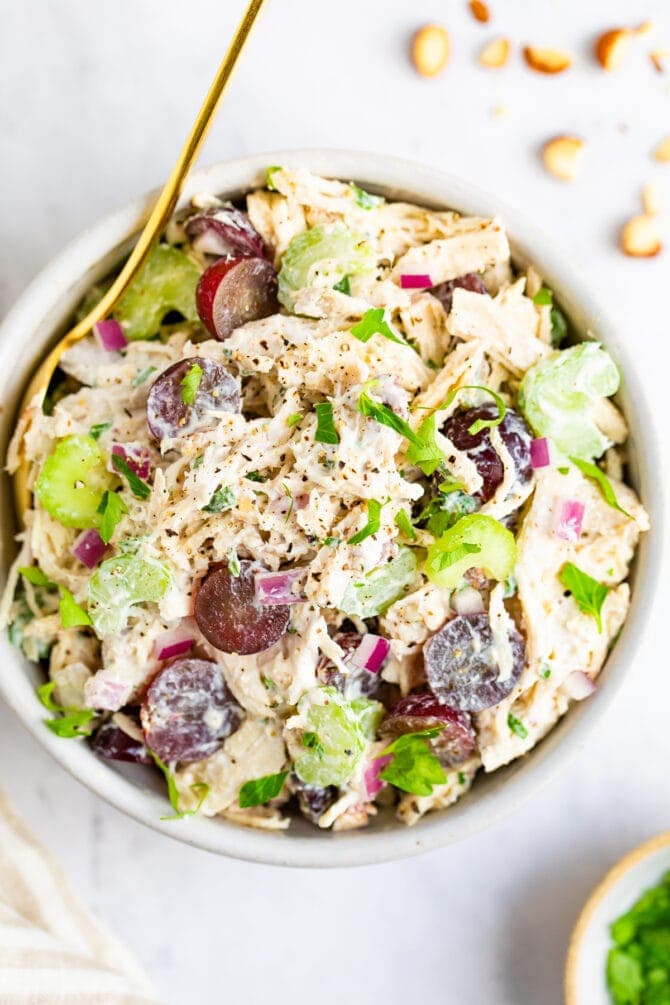 Greek Yogurt Chicken Salad – This easy Greek yogurt chicken salad uses protein-rich Greek yogurt instead of mayo. It's lighter in calories, but still loaded with flavor.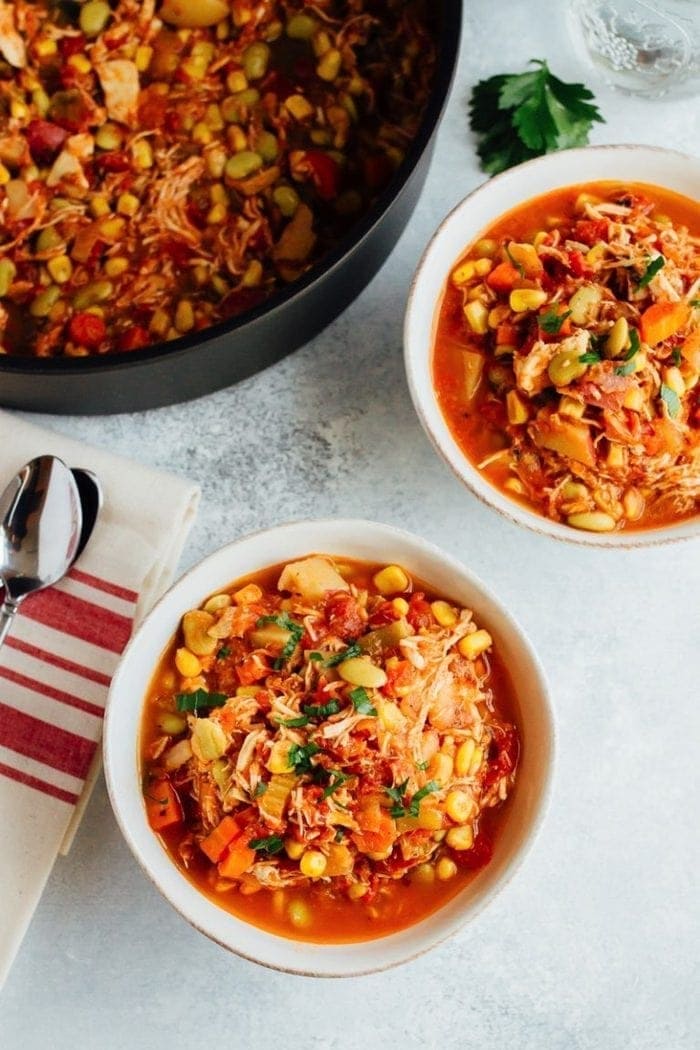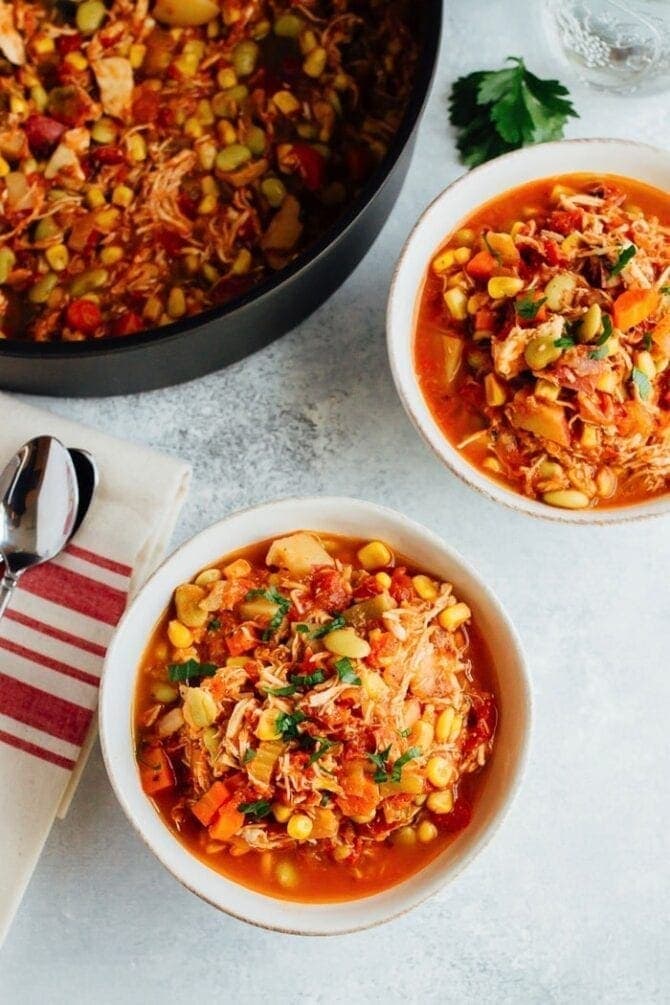 Healthy Brunswick Stew – This healthy Brunswick stew is just like the southern classic, but made with simple and wholesome ingredients — no ketchup or bbq sauce needed!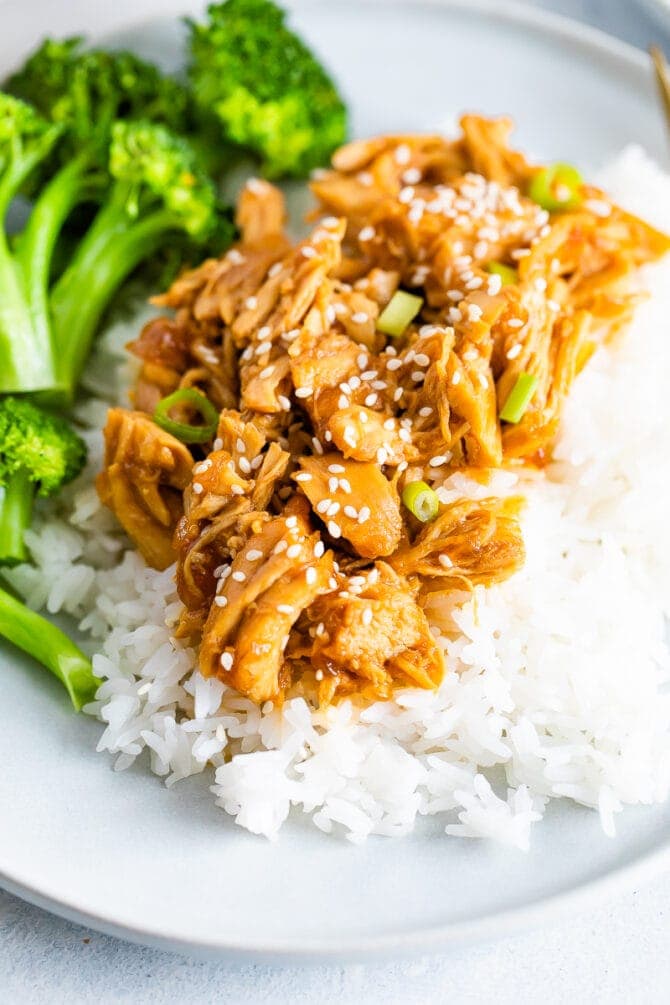 Slow Cooker Teriyaki Chicken – The original recipe cooks the full chicken breast in teriyaki sauce, but if you have pre-cooked and shredded chicken that works too! Simply mix with teriyaki sauce and serve with rice and steamed broccoli.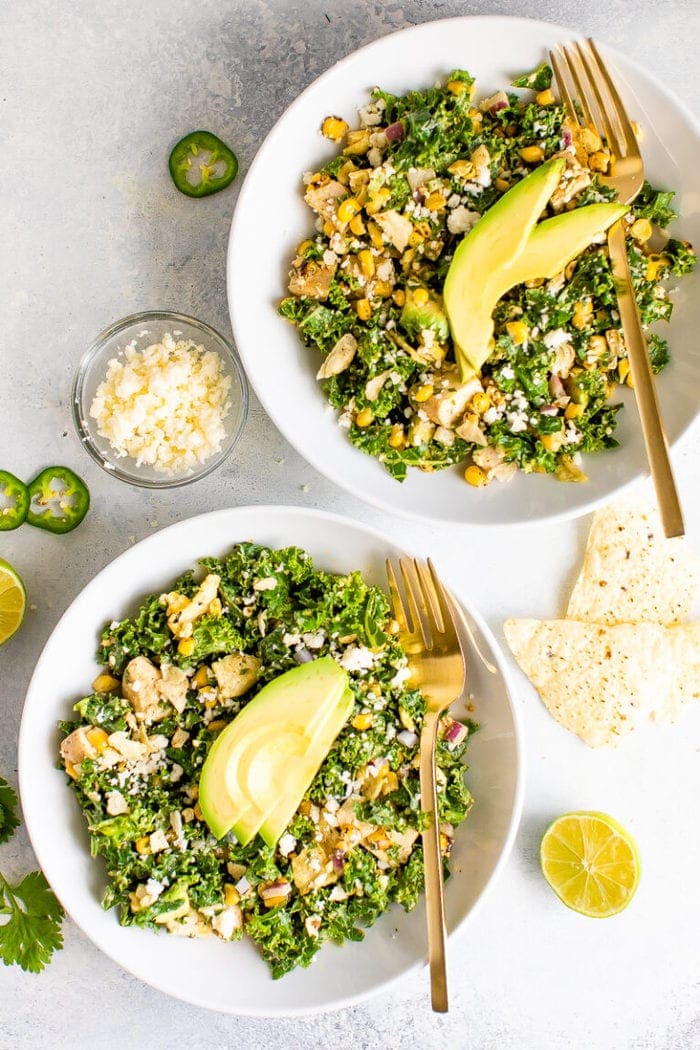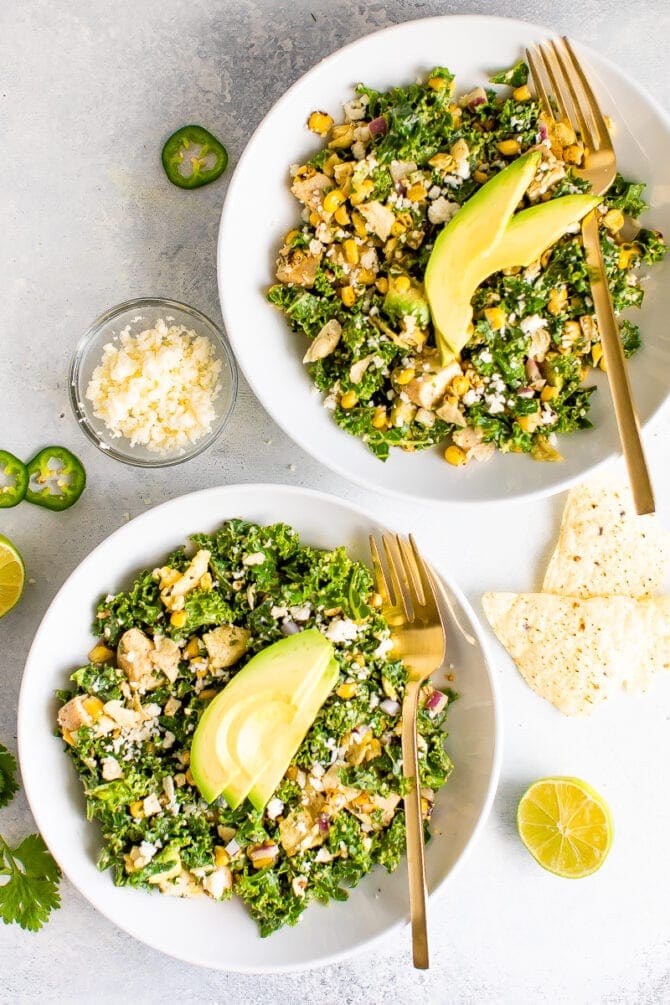 Mexican Street Corn Kale Salad – This salad turns esquites into a meal-sized salad with shredded kale, chicken, avocado and tortilla chips! I used grilled chicken in the original recipe but shredded chicken would be delicious!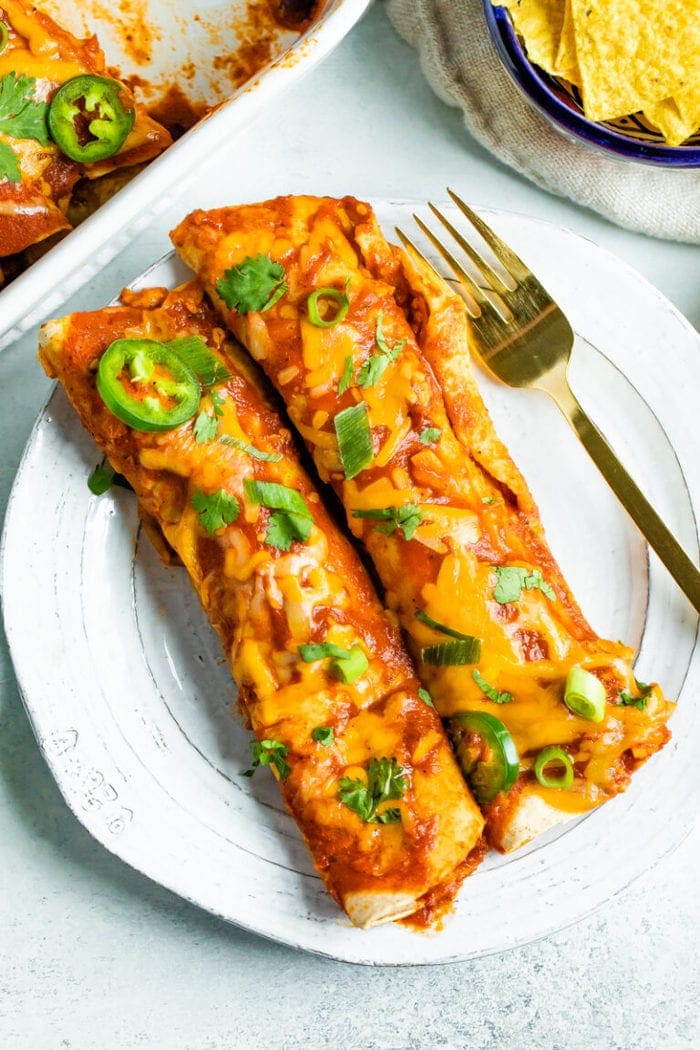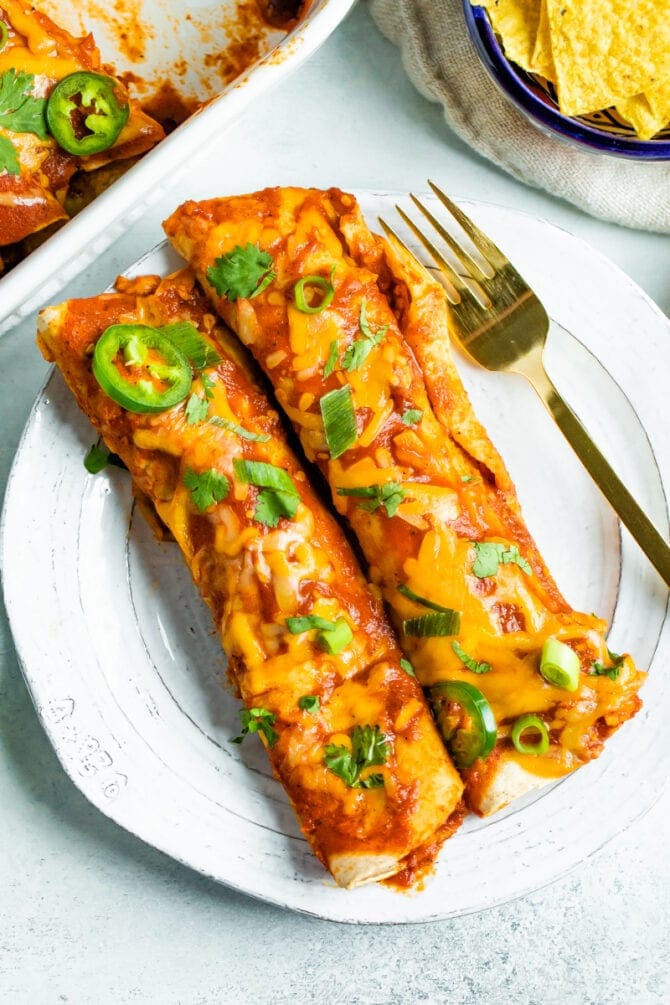 Healthy Chicken Enchiladas – The star of this recipe is the homemade enchilada sauce. With pre-shredded chicken, this dinner will come together in a flash!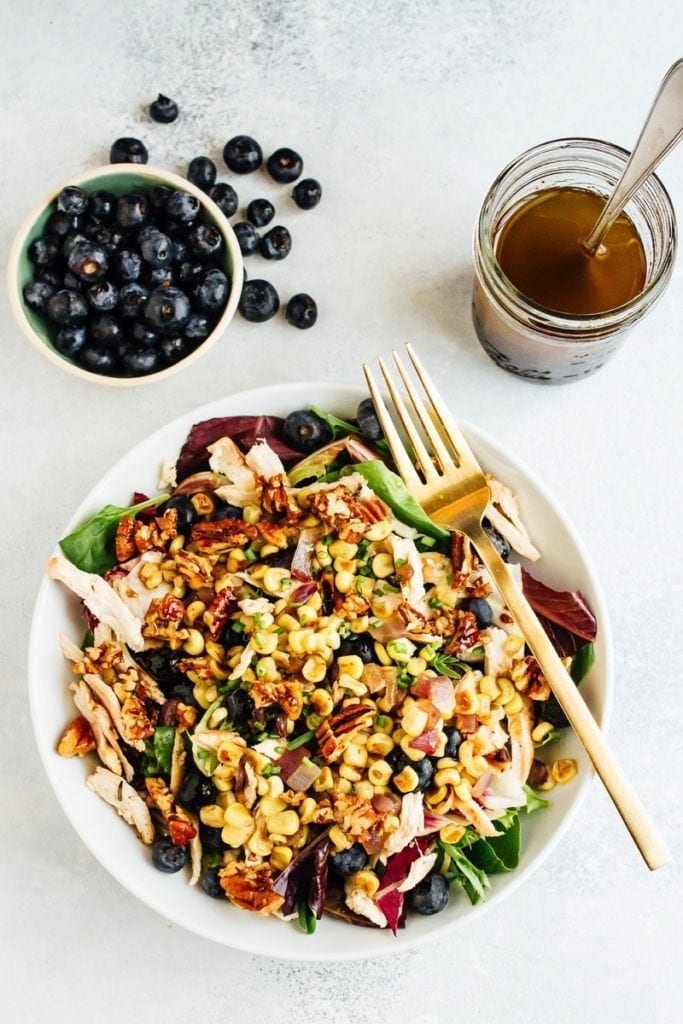 Blueberry Corn Chicken Salad – One of my favorite salads! Pair grilled corn with shredded chicken and a maple balsamic dressing for Southern comfort food made healthy!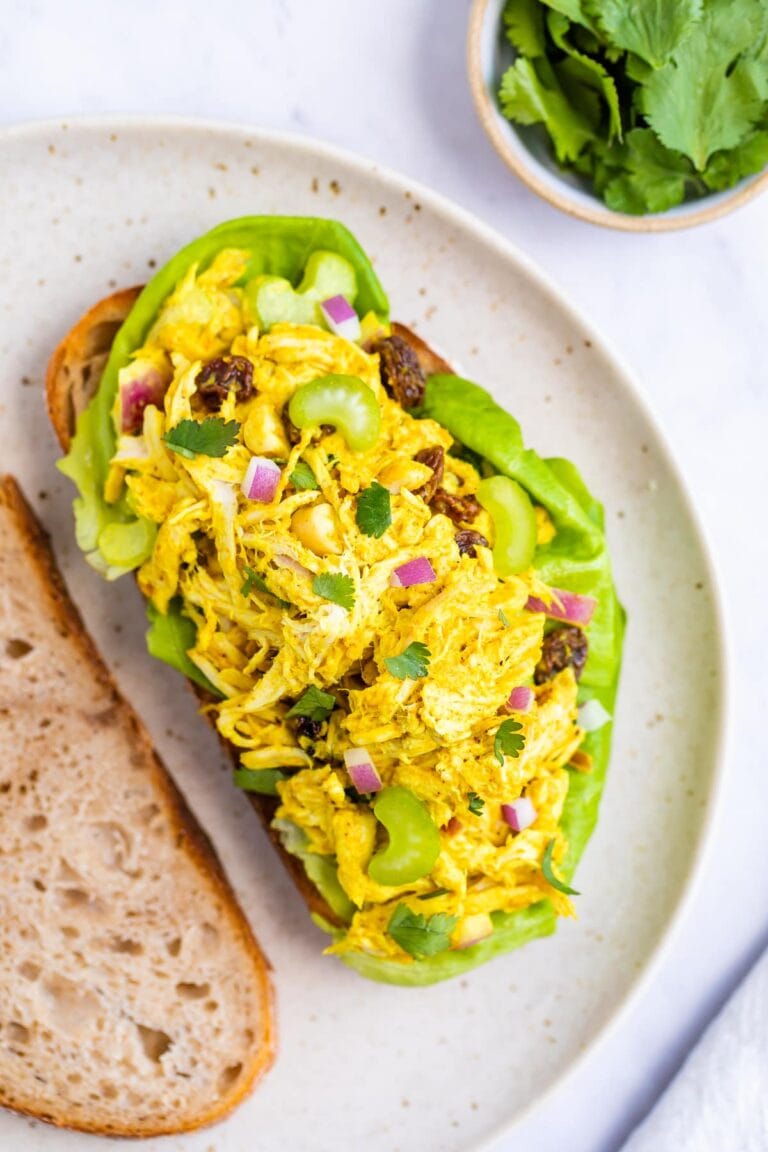 Curry Chicken Salad – Chicken salad is one of my all time favorite ways to use shredded chicken! Get ready for a flavor explosion in your mouth with this curry version.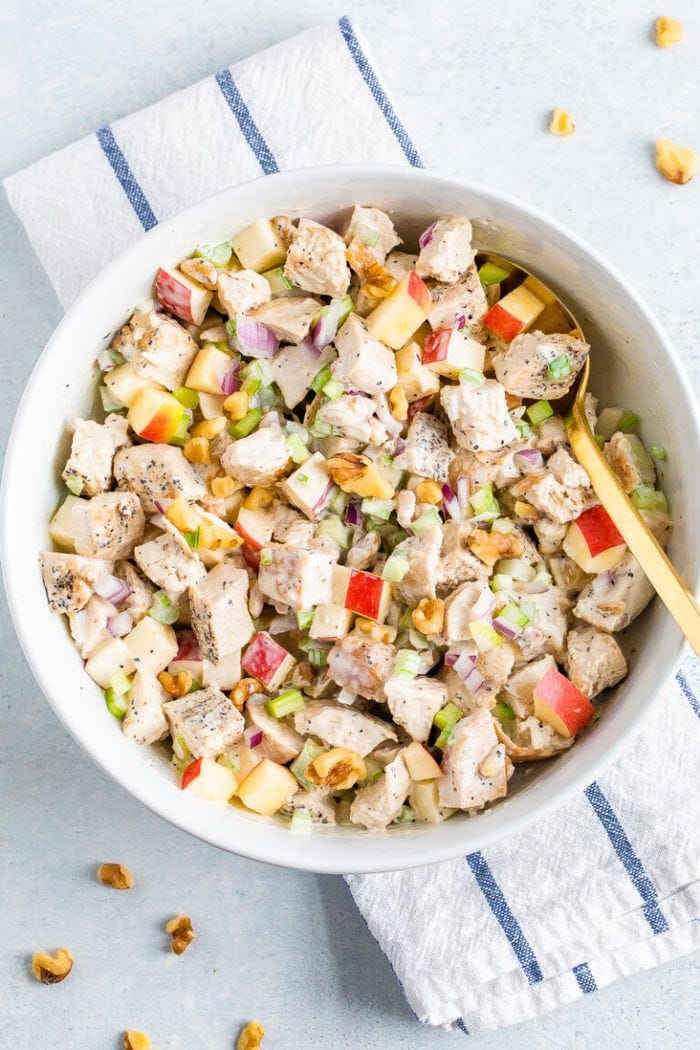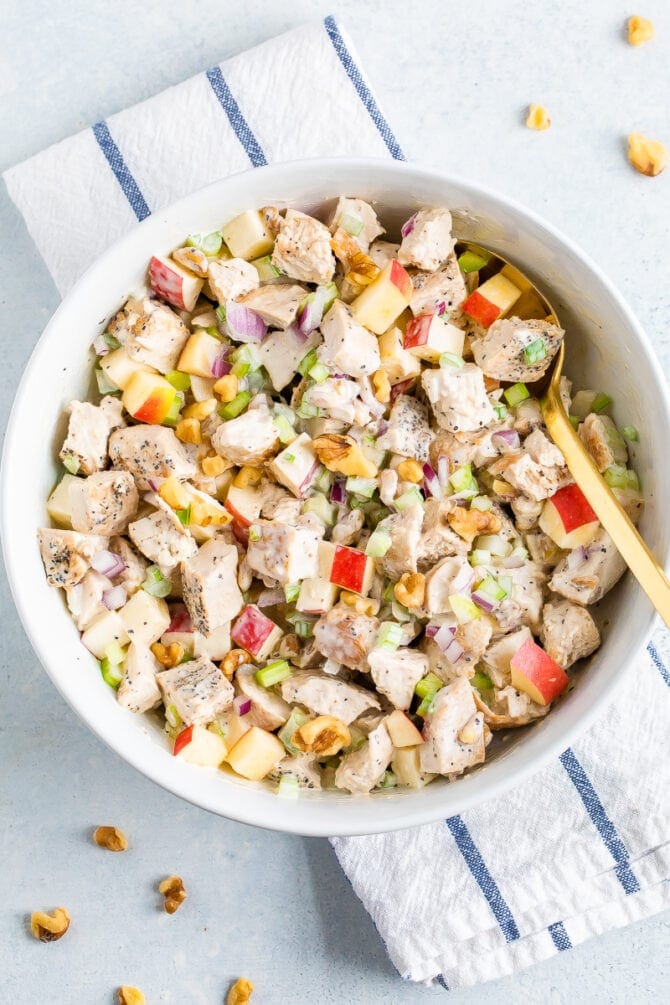 Waldorf Chicken Salad – Technically this salad uses grilled chicken that's cubed, but I promise it will be just as delicious with shredded chicken!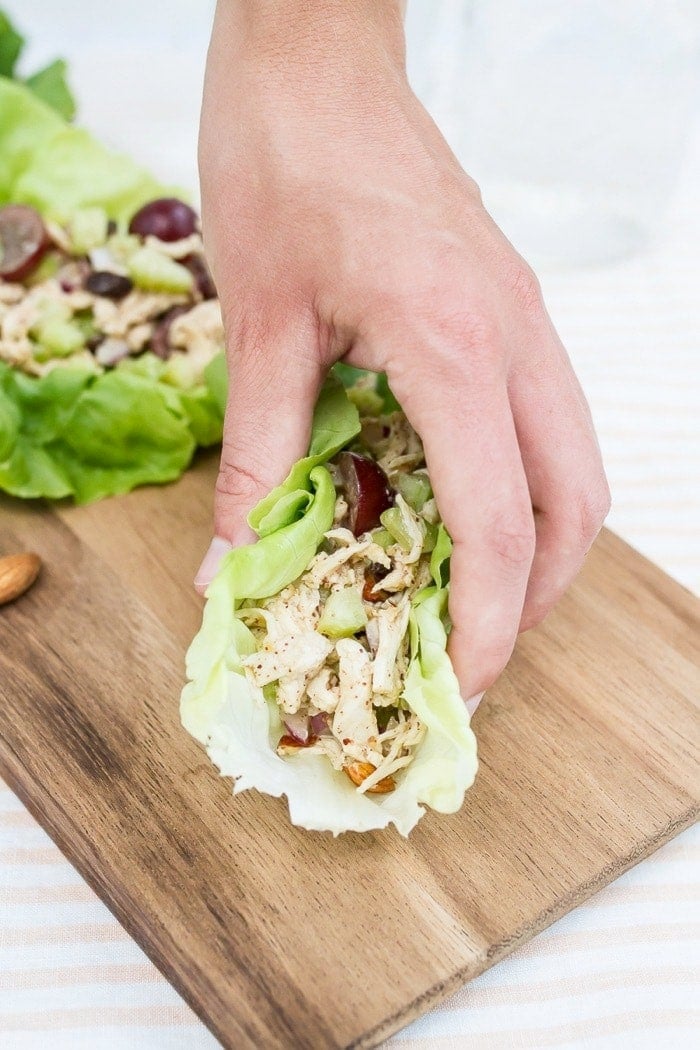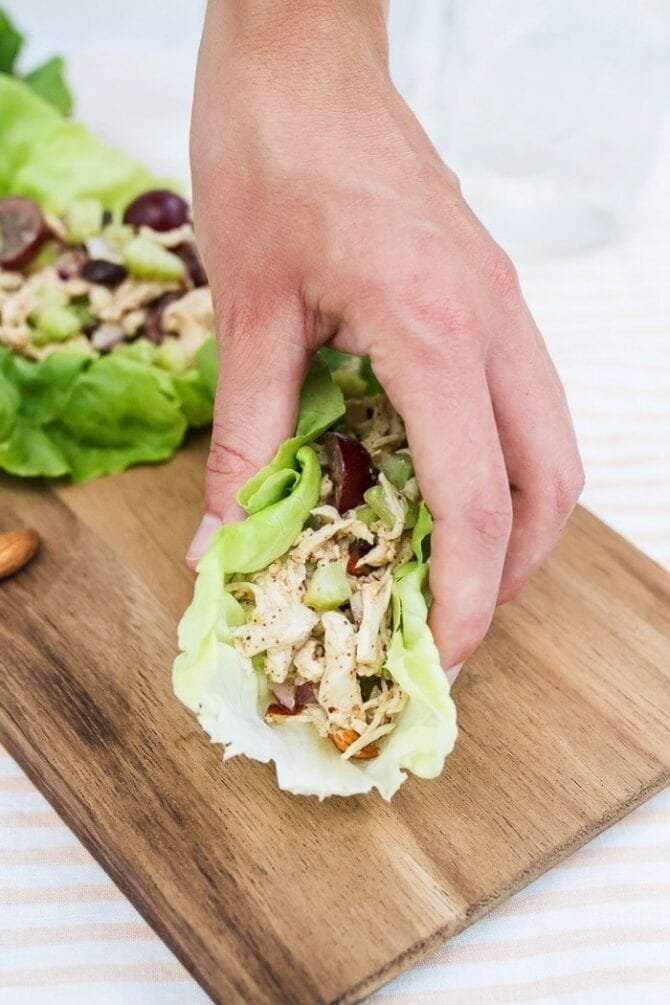 Almond Butter Chicken Salad – Another chicken salad recipe that is mayo-free! There's an almond butter + apple cider vinegar dressing that is so dang good.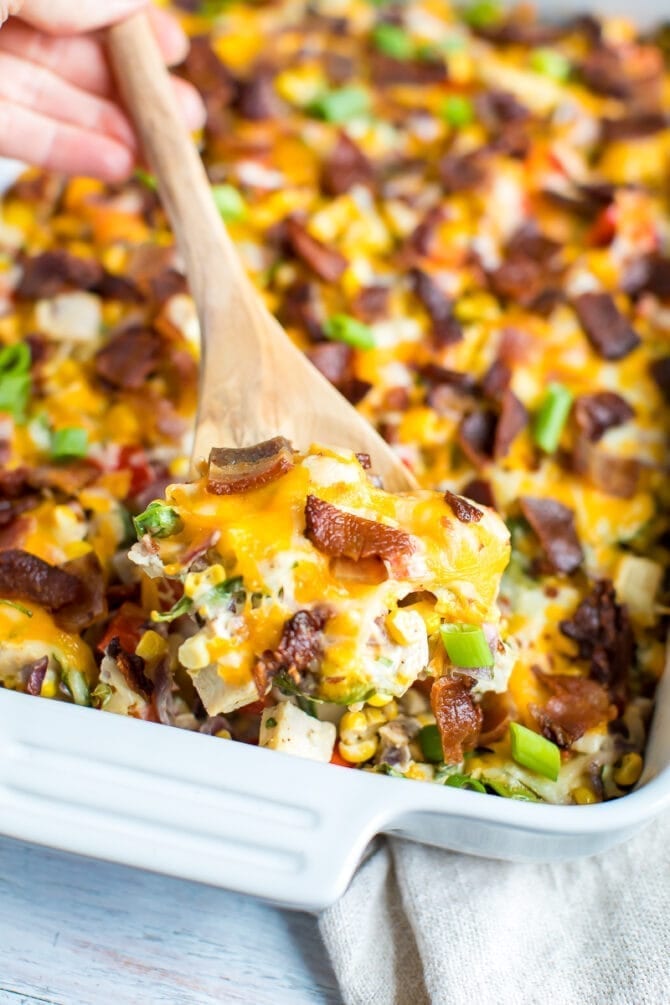 Confetti Chicken Casserole – This casserole will come together in a flash with pre-cooked chicken!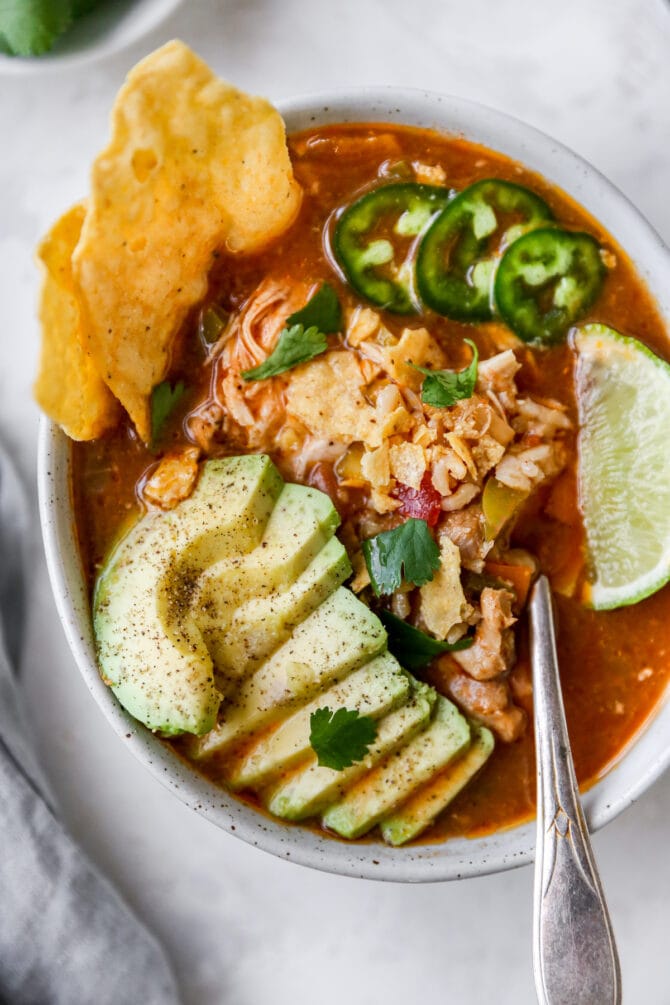 Chicken Fajita Soup – Craving Mexican food? With pre-made chicken, this fajita soup will come together in no time at all! It's a comforting and healthy meal with a hint of spice.