Renting a house or condo for the week and in need of easy, healthy meals for the family? Here are my go-to vacation recipes with lots of easy dinners, meal prep snacks, breakfast ideas and even a few cocktails!
Quick Breakfast Ideas
I love waking up to breakfast already prepped and ready to go, especially while I'm on vacation. All of these recipes are great for meal prepping ahead of time and can easily serve a crowd! Some will need to be doubled or tripled depending on the servings so just check the recipe.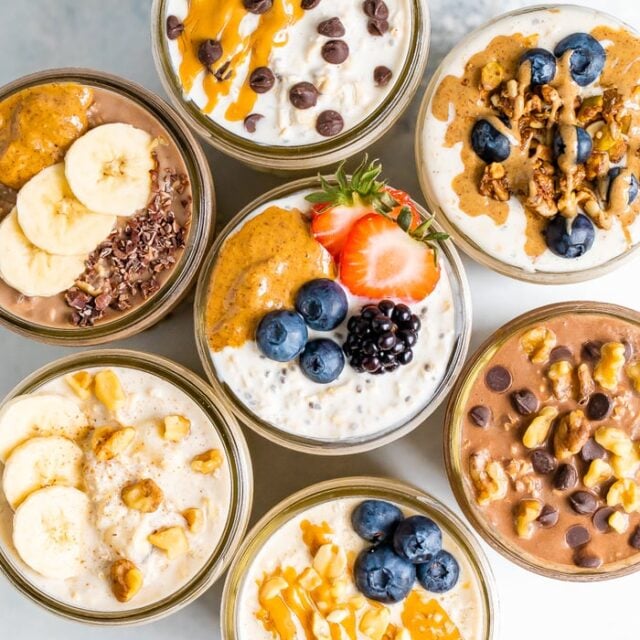 Easy Overnight Oats
Here's the basic recipe for overnight oats with rolled oats, milk, yogurt and chia seeds. They're delicious, so easy to make and perfect for meal prep.   
View Recipe
Easy Lunch Ideas
I'm all about simple, protein-packed salads when it comes to vacation lunches. I love a good pasta salad and bound salads (like tuna and egg salad) are great for sandwiches and wraps.
Simple Dinner Recipes
These dinner recipes come together in about 30 minutes and are meals the whole family will love! Plus, most are made in one pan, which means easy clean-up… because no one wants to be doing tons of dishes on vacay.
Healthy Snack Ideas
I love meal prepping healthy snacks like my baked oatmeal cups or protein balls to have on vacation. And you can easily double or triple these recipes to make a big batch depending on how many people you'll have with you.
Healthy Dessert Recipes
These are some of EBF's fan faves when it comes to desserts. They're all healthy, delicious and perfect for the whole family.
Cocktail Recipes
I'm all about having a few cocktails while on vacation and these are my go-to skinny cocktails that are refreshing, light and perfect for vacation mode!
More Recipe Collections You Might Enjoy