Is there anything better than making an entire meal on one pan? No there is not. I complied over 20 healthy sheet pan dinners that make weeknight meals a breeze!
What is a sheet pan dinner you may ask? The best creation in the food world. Half kidding, but they are pretty incredible! Here's what you need to know about sheet pan dinners:
You'll need a sheet pan.
Nine times out of ten your entire meal goes on that sheet pan.
Meal prep and baking is a breeze.
When the oven timer goes off, your entire meal is ready. WHAT!
I've decided that I need more sheet pan dinners in my life. The best thing about them is obviously that they only use one pan! Team less dishes for life. I also love how the flavors all kind of combine and mesh on the pan… not in a bad way but in a true, put together meal way!
These meals are amazing fresh out of the oven but really great as leftovers as well. Repurpose as is, eat over grains, eat over greens for an easy meal-sized salad – the options are endless!
Here I'm sharing a few sheet pan recipes I've created, but also featuring some of my friends and recipe creator pros in the blogging world!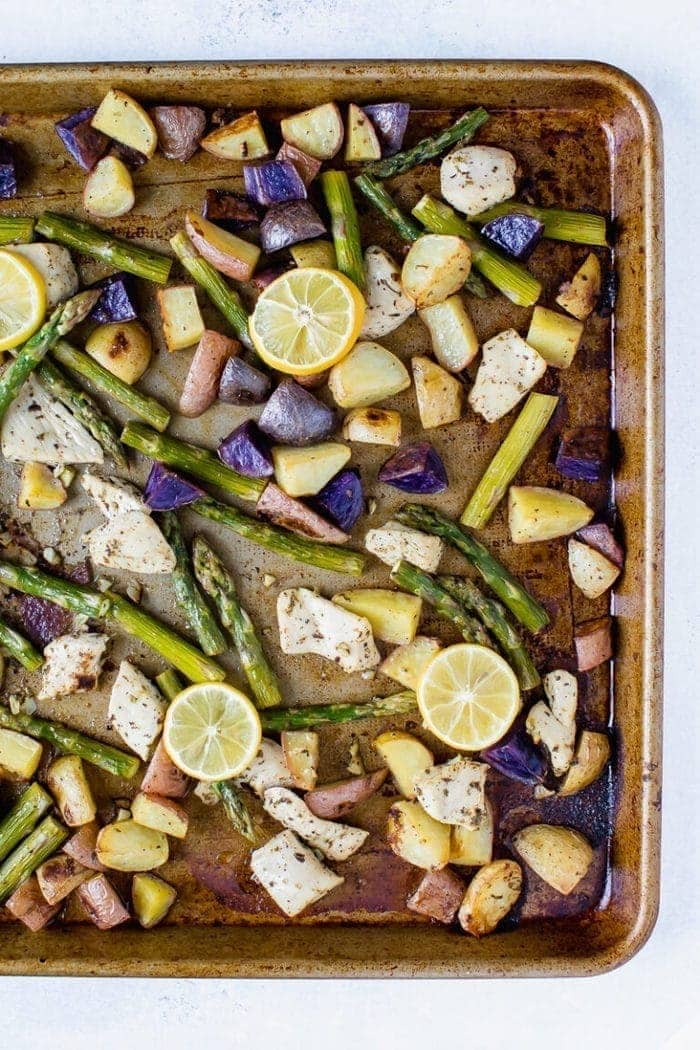 Lemon Garlic Chicken Sheet Pan Meal – A quick and easy lemon garlic chicken sheet pan meal that combines chicken, asparagus and potatoes all in a light lemon garlic sauce. Perfect for busy weeknights.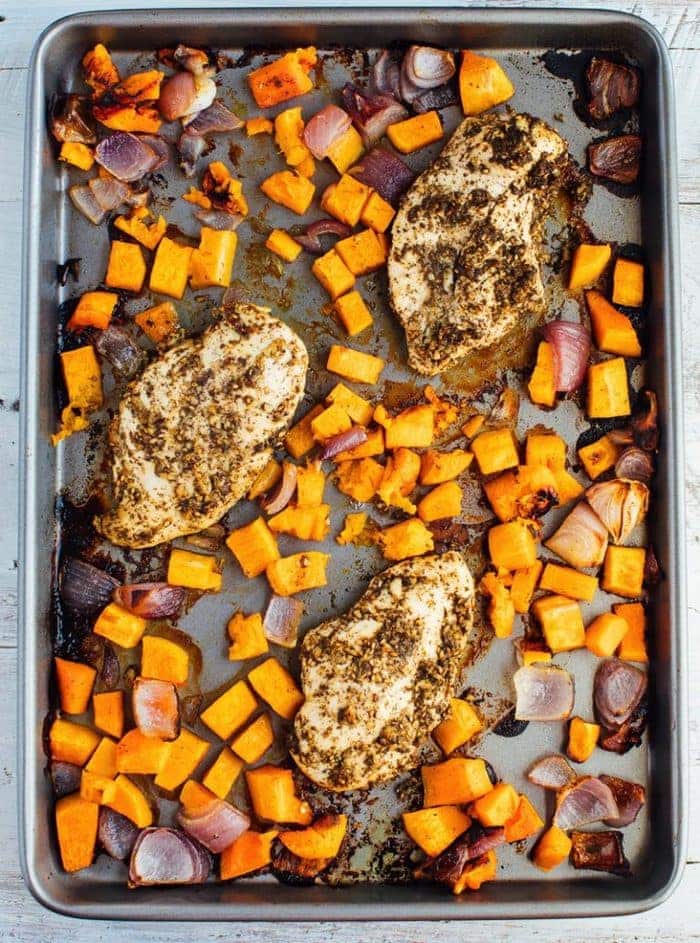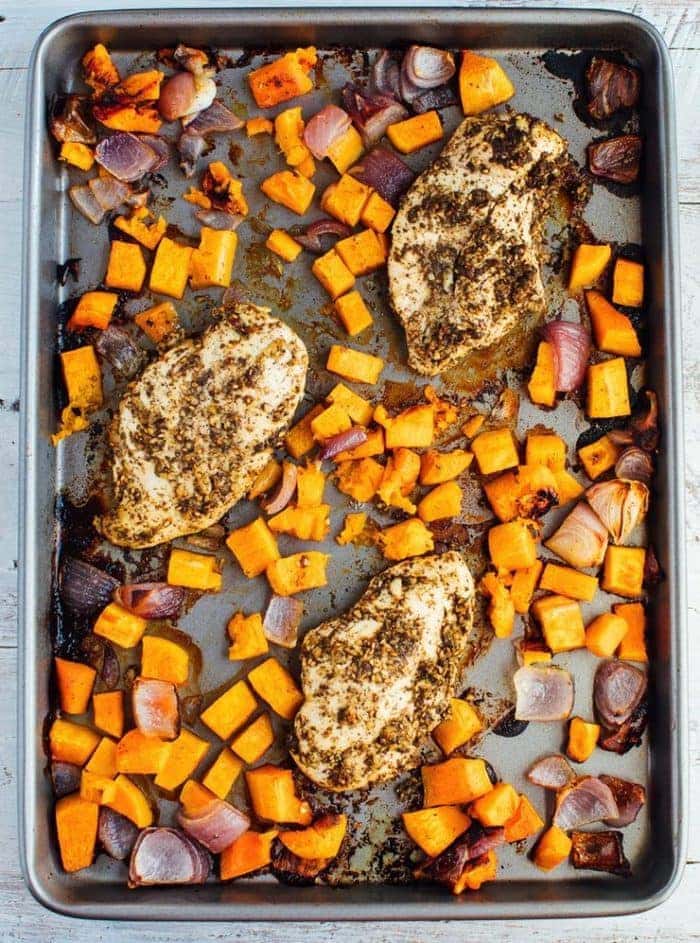 One Pan Za'atar Chicken Bake – I love this Middle Eastern sheet pan dinner with za'atar roasted chicken, red onion and butternut squash. It's especially delicious topped with tahini sauce!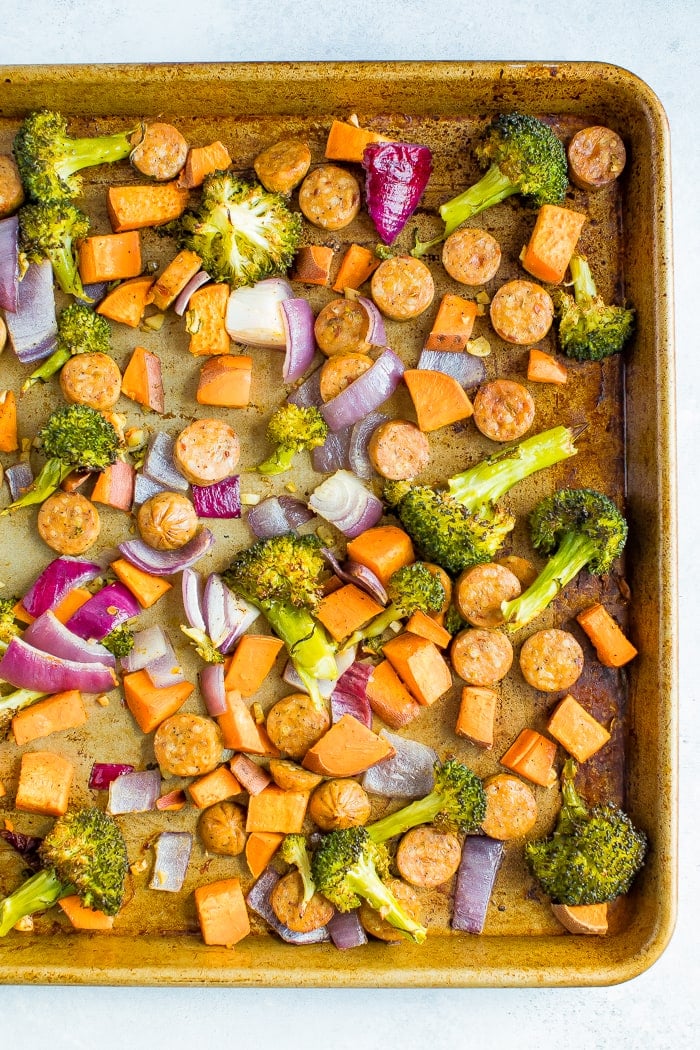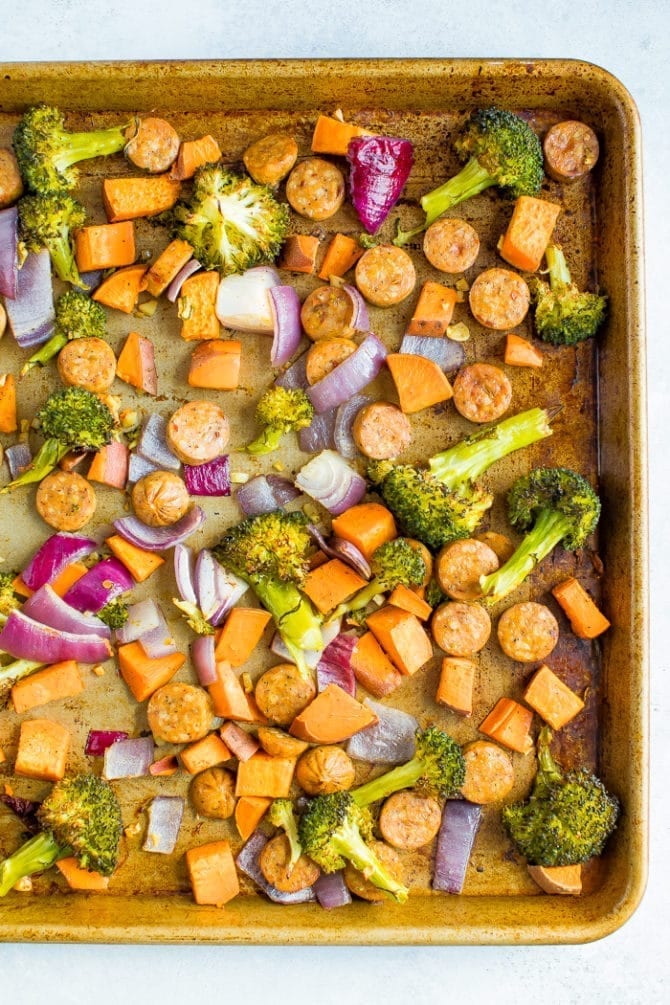 Sheet Pan Chicken Sausage and Roasted Veggies – Broccoli, sweet potatoes and red onion come together with chicken sausage for a simple, healthy sheet pan meal that's delicious and perfect for busy weeknights.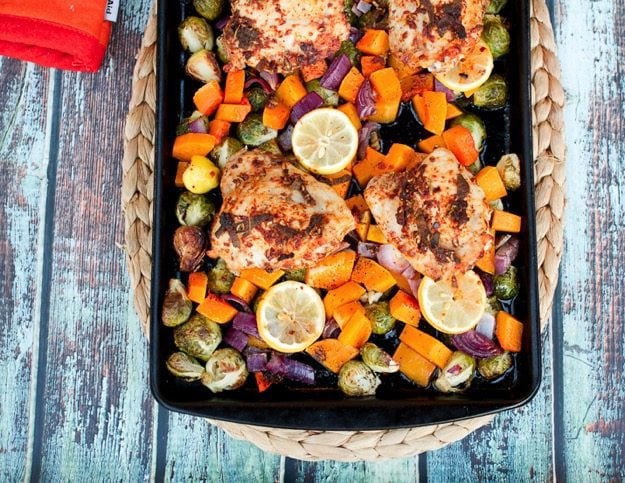 One Pan Roasted Chicken with Butternut Squash and Brussel Sprouts – One of my most popular dinner recipes here on EBF. This roasted chicken sheet pan dinner is so easy to throw together and the combo of butternut squash, red onion and brussels is delish.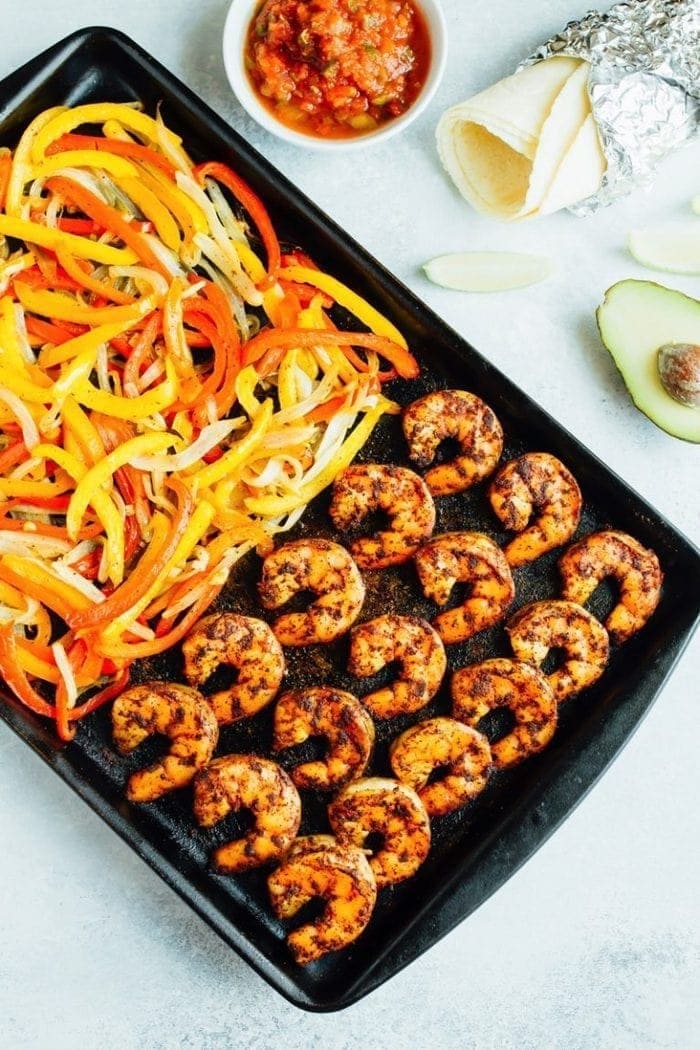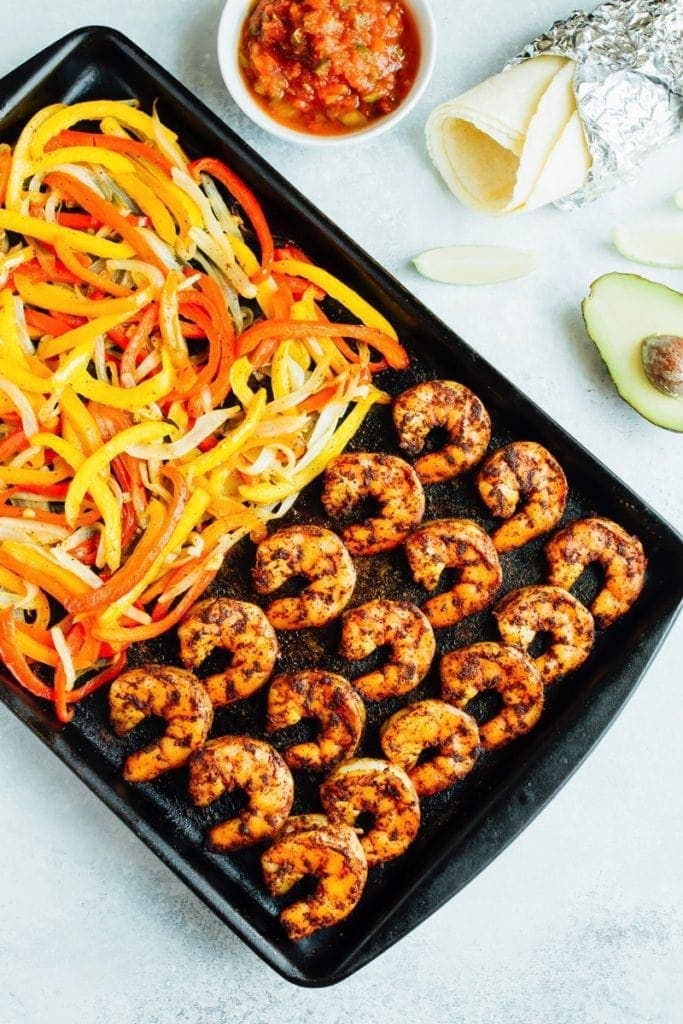 Sheet Pan Shrimp Fajitas – Fajitas made on one sheet pan? You got it! One of my favorite dinners just got easier. 😉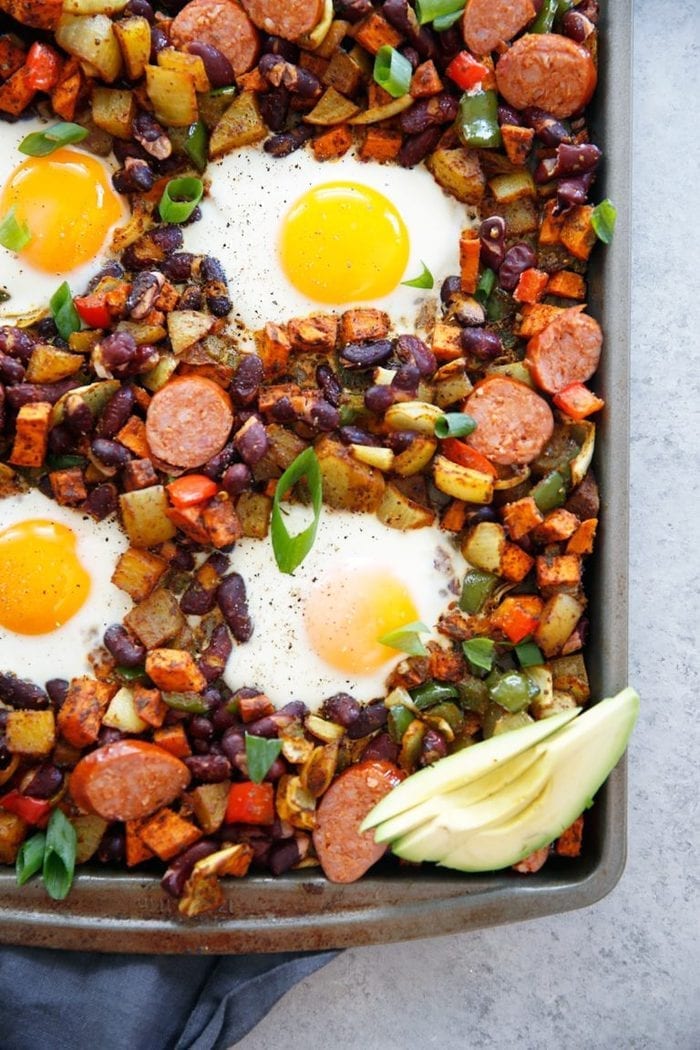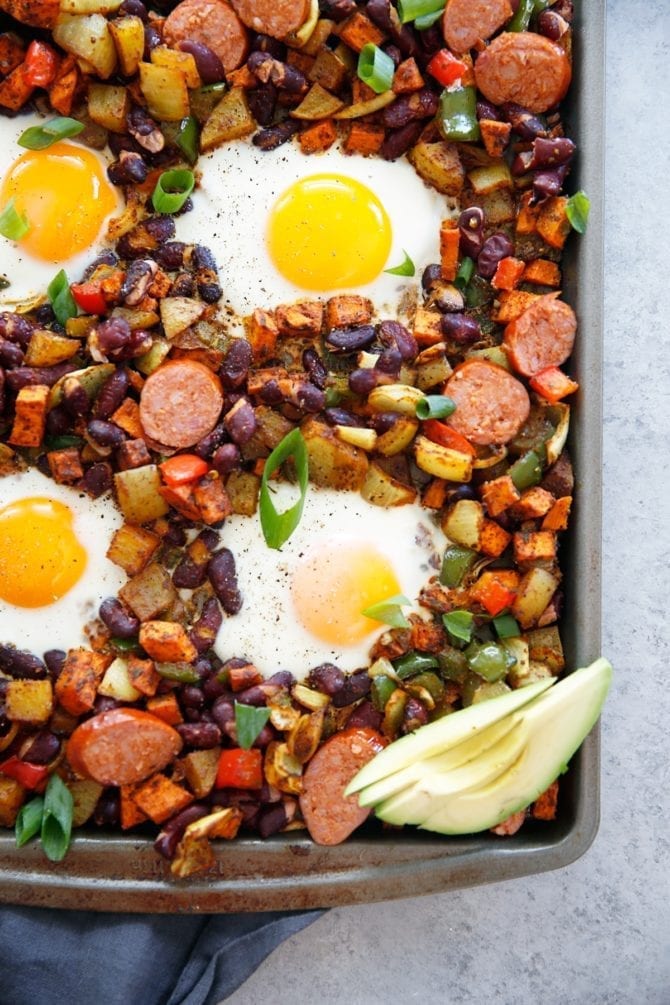 Sheet Pan Egg Chorizo and Egg Bake by Lexi's Clean Kitchen – Whether you make this for breakfast or for dinner, this sheet pan meal is like a hash on a pan. SO GOOD.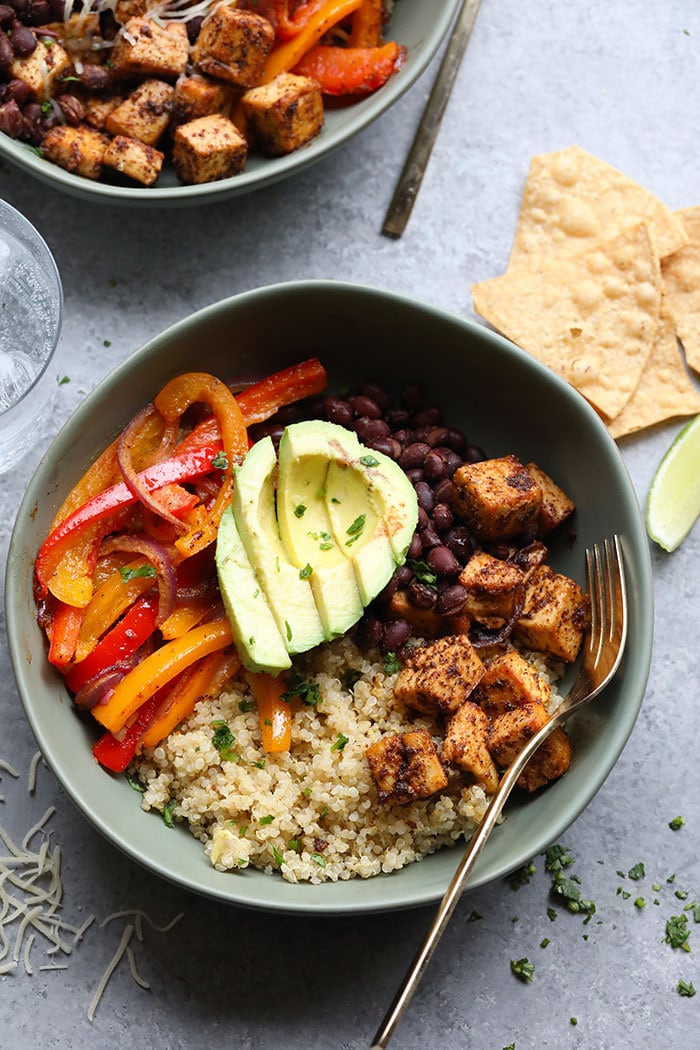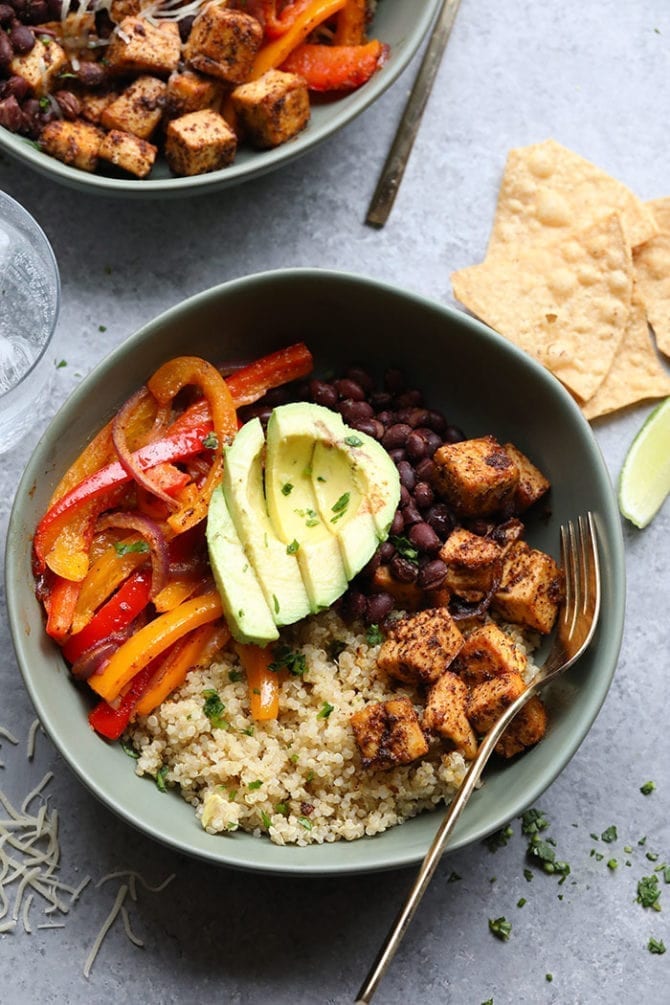 Sheet Pan Meal-Prep Tofu Quinoa Burrito Bowls by Fit Foodie Finds – You know I love my bowl meals. And bowls that only dirty one pan get bonus points from me.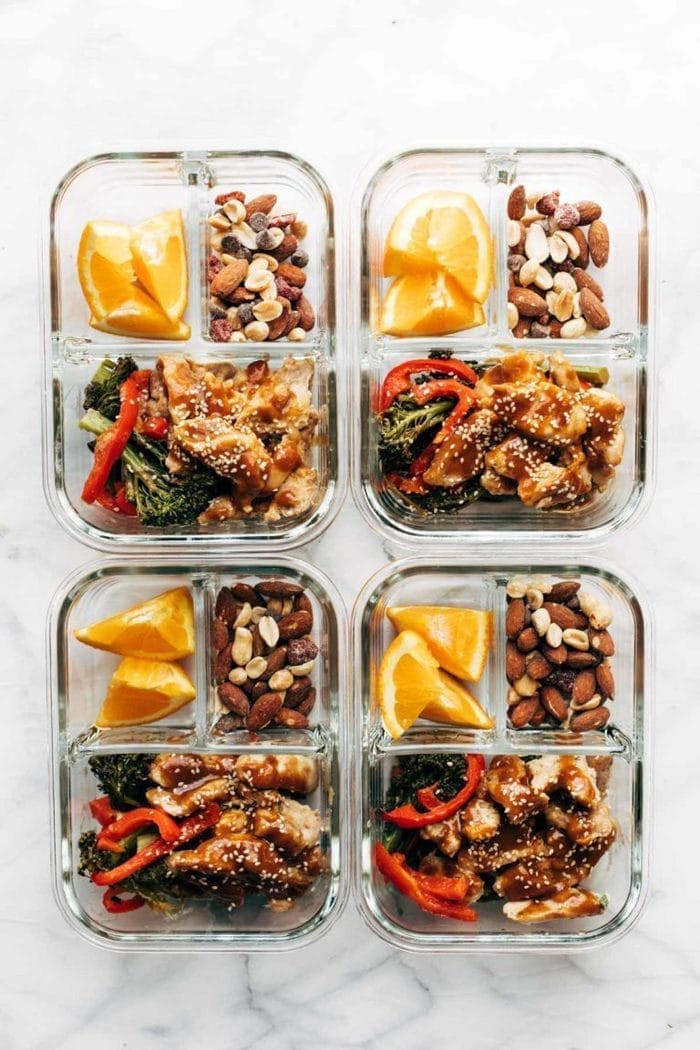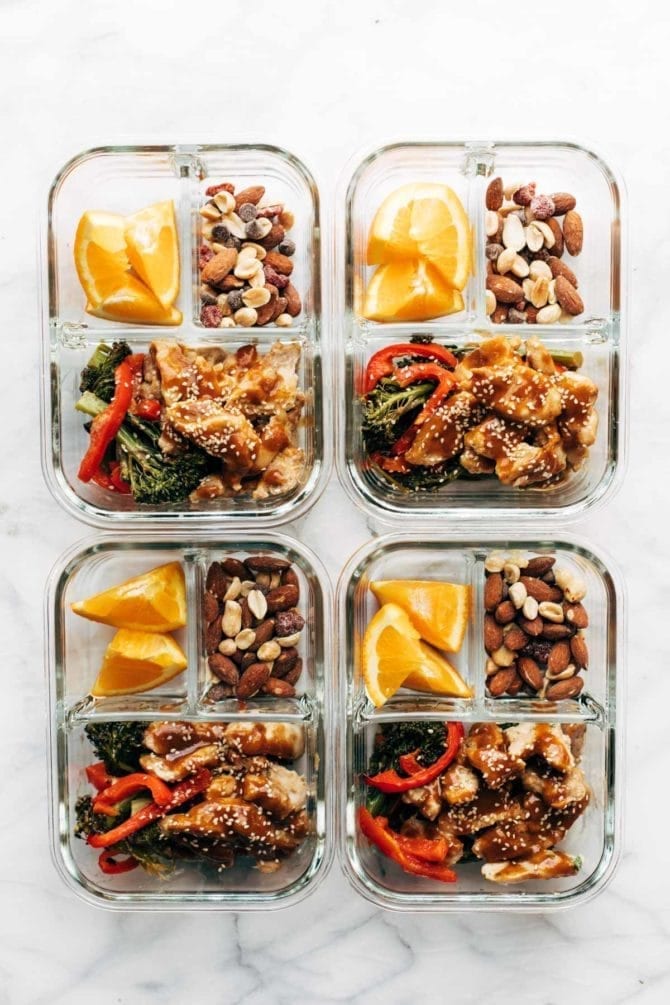 Sheet Pan Garlic Ginger Chicken & Broccoli by Pinch of Yum – As you can tell from the picture, this garlic ginger chicken and broccoli is absolutely perfect for meal prepping.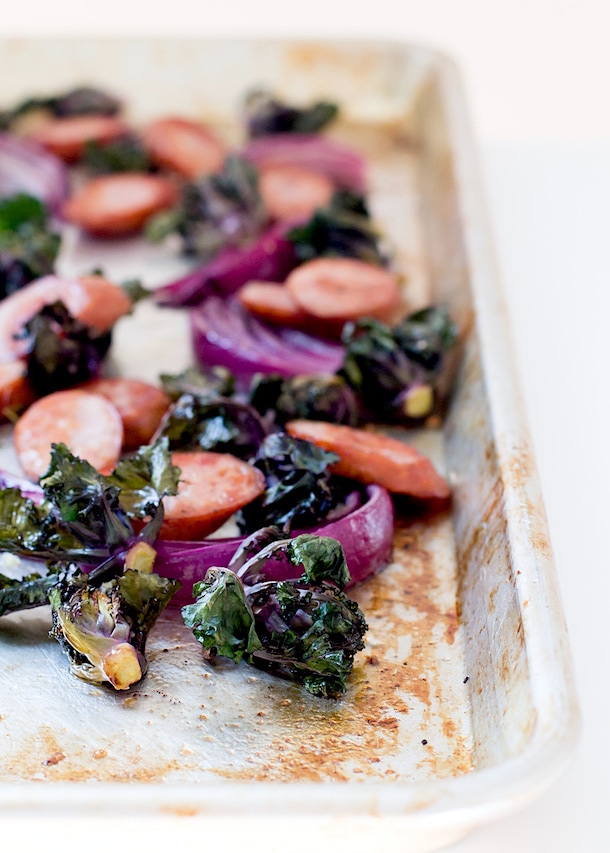 Chicken Sausage, Kalette and Red Onion Sheet Pan Supper by Heartbeet Kitchen – I love when simple ingredients work together to make a delicious meal. This is one of those meals. Plus, how cute are those kalettes?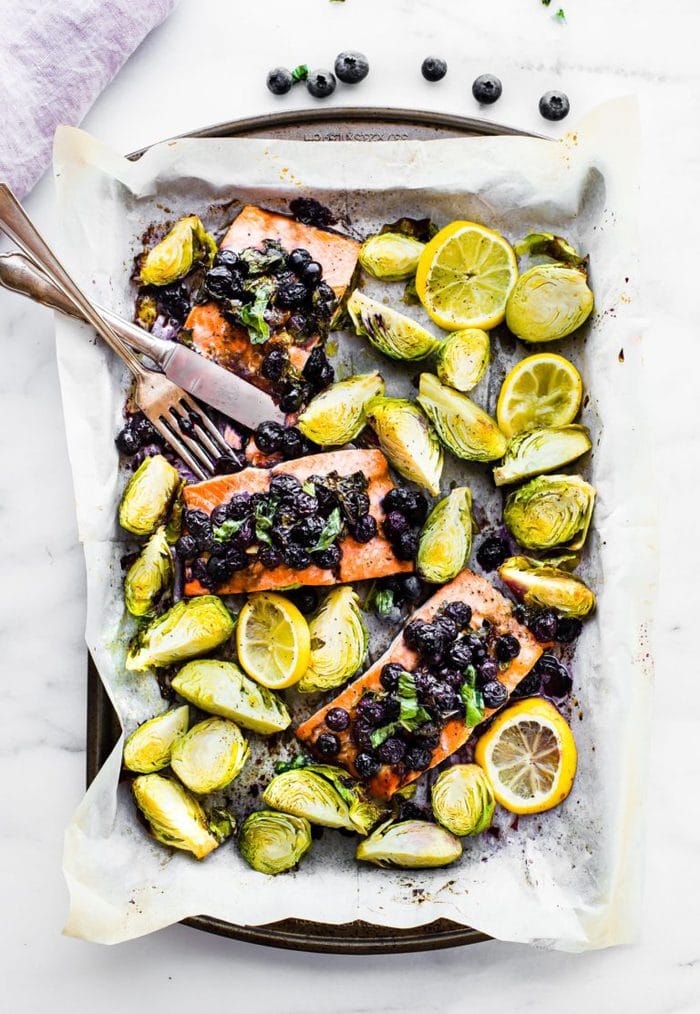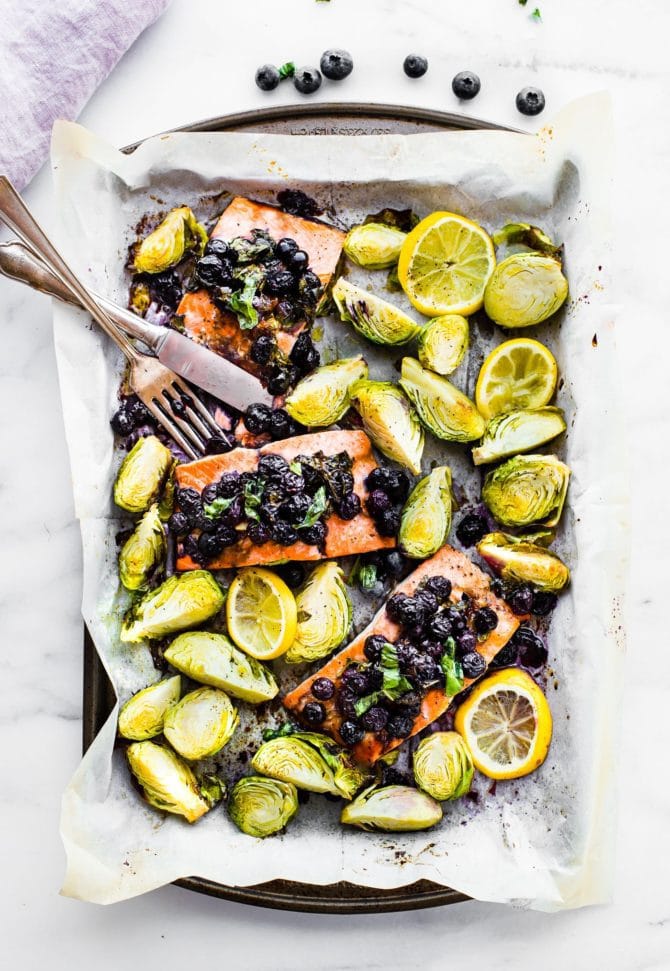 Superfood Baked Salmon by Cotter Crunch – Salmon and sprouts is one of my favorite combos, but this sheet pan meal takes things to the next level. The blueberry basil mixture on the salmon looks out of this world!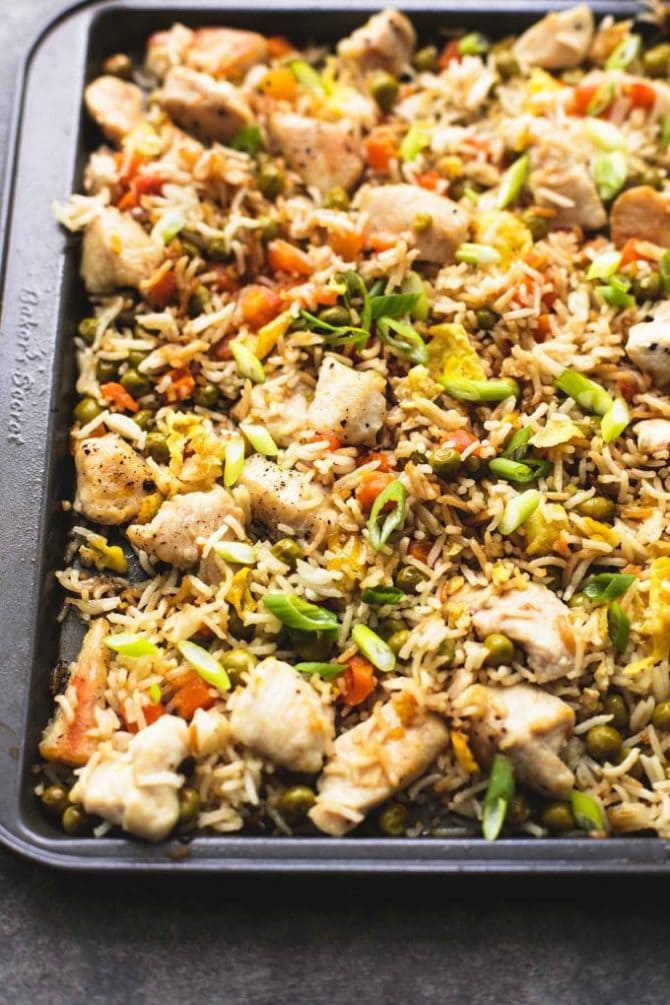 One Sheet Pan Chicken Fried Rice by Creme de la Crumb – Who knew you could make fried rice on a sheet pan? Not me, until now! So excited to try this meal.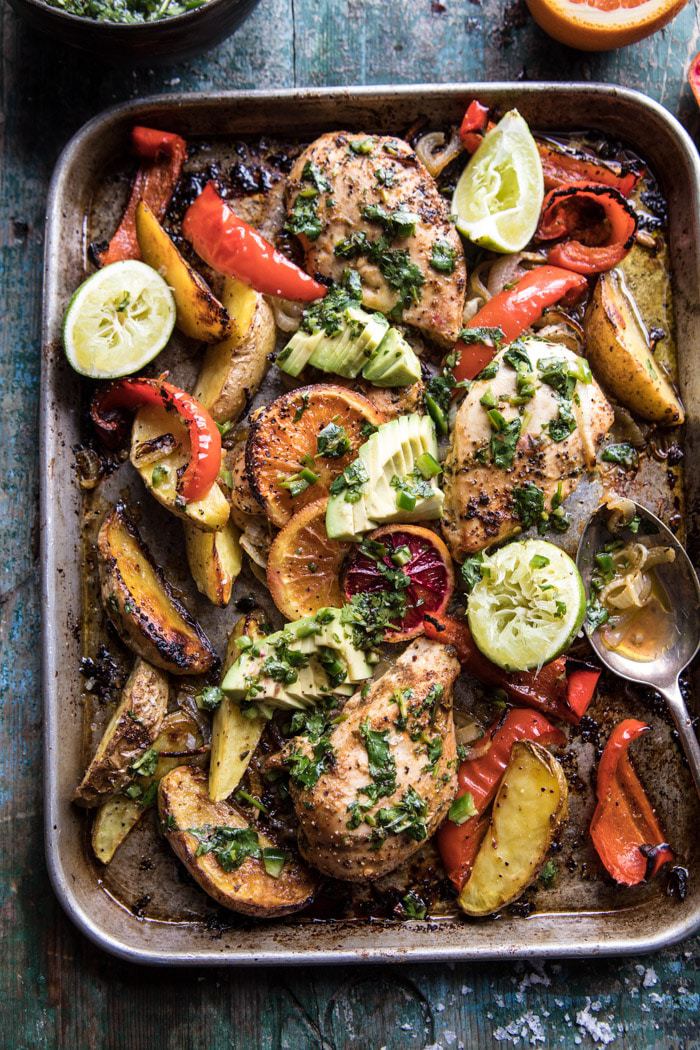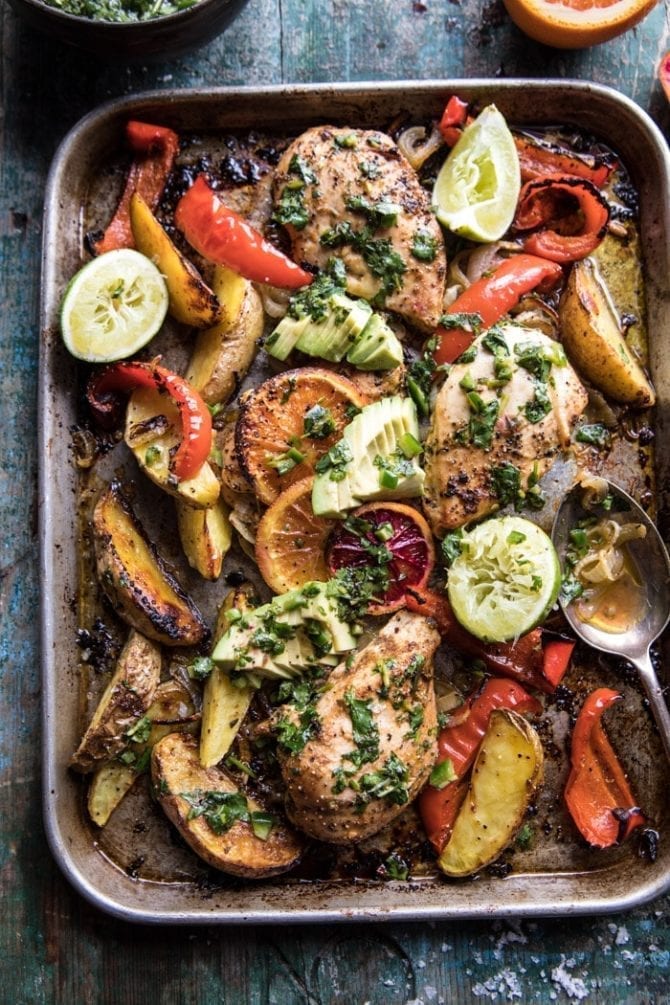 Sheet Pan Cuban Chicken with Citrus Avocado Salsa by Half Baked Harvest – You had me at "Cuban". This sheet pan dinner looks incredible and the citrus avocado salsa has me drooling.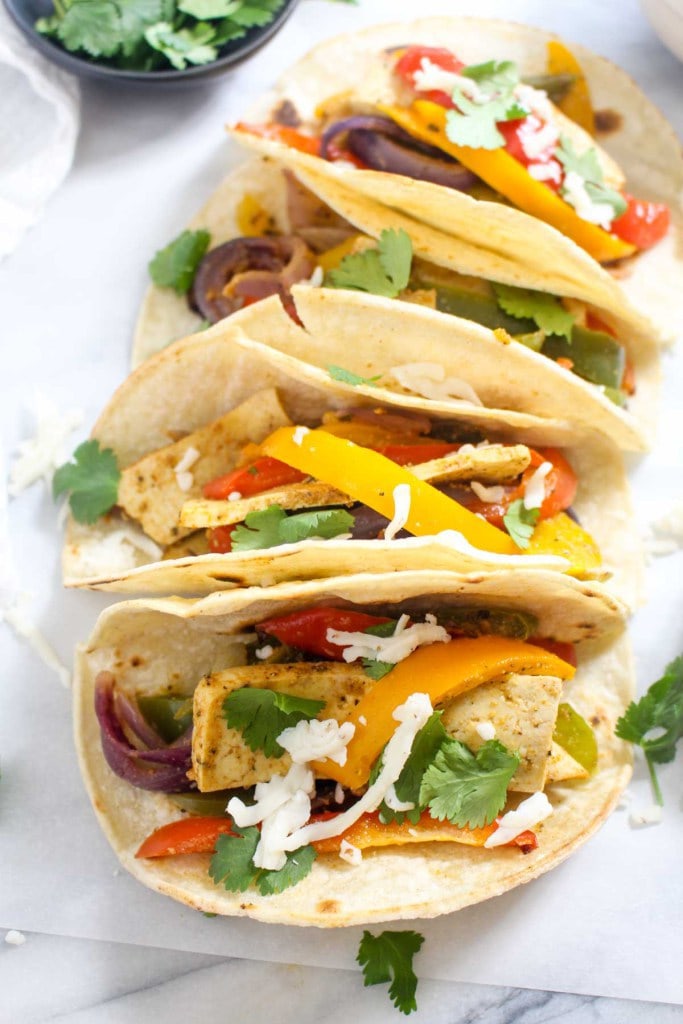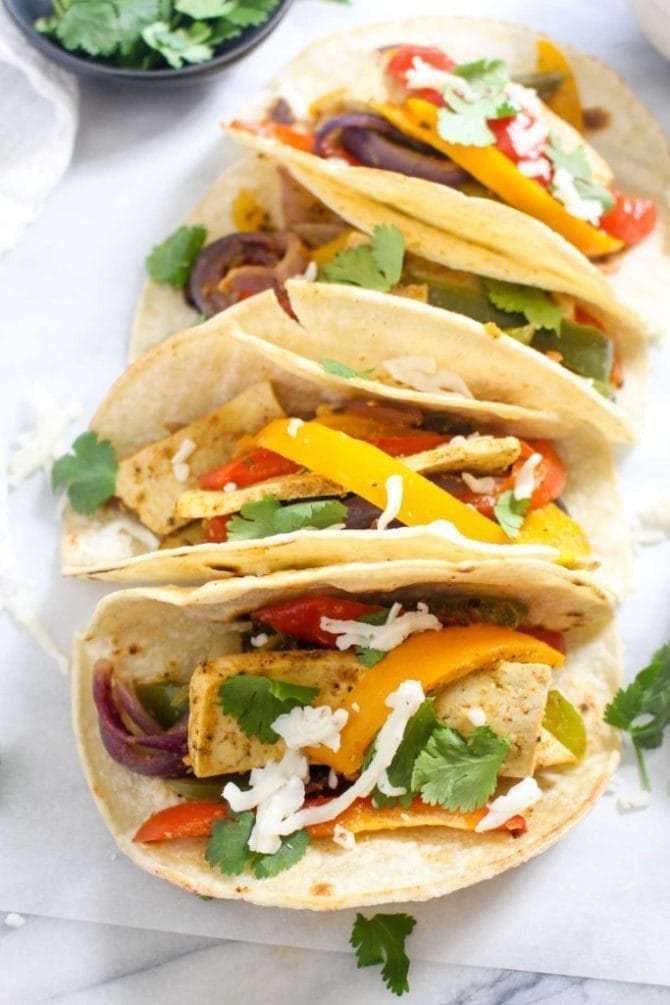 Sheet Pan Tofu Fajitas by Catching Seeds – Another fajita recipe, but using tofu so it's vegetarian! The perfect "Meatless Monday" meal!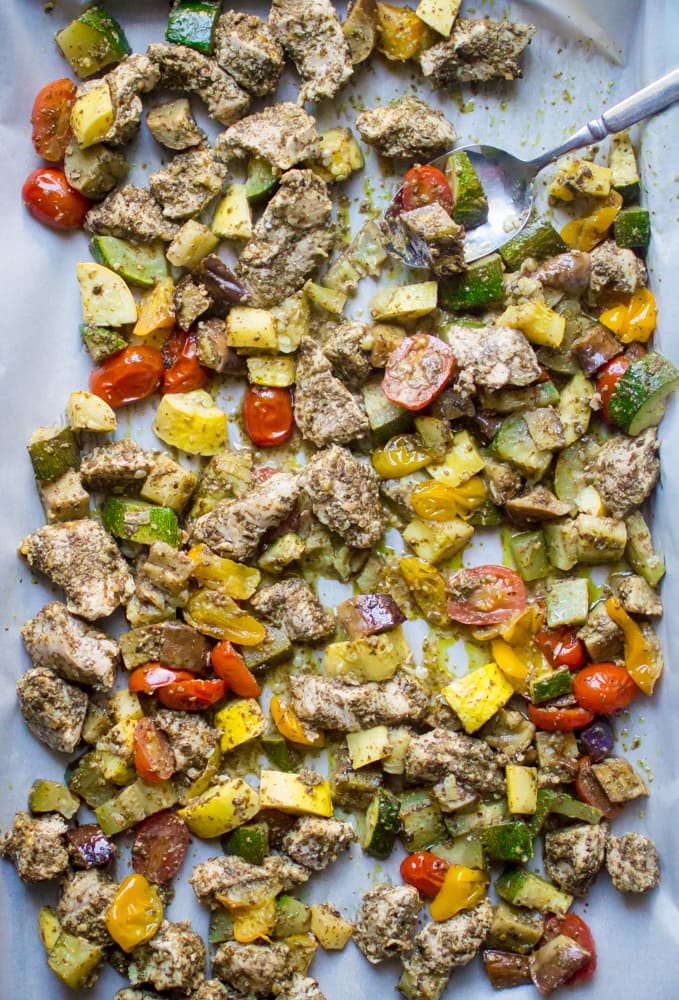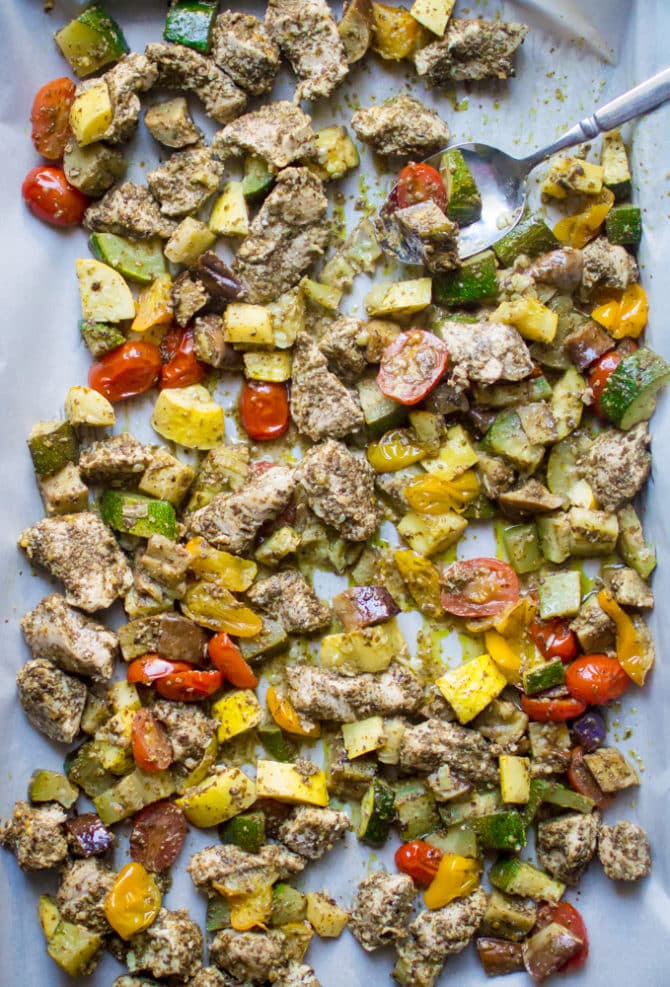 One-Sheet Pan Pesto Chicken & Summer Veggies by The Natural Nurturer – This is summer on a sheet pan. It's times like these that I dream of having a garden to grow all of these delicious veggies!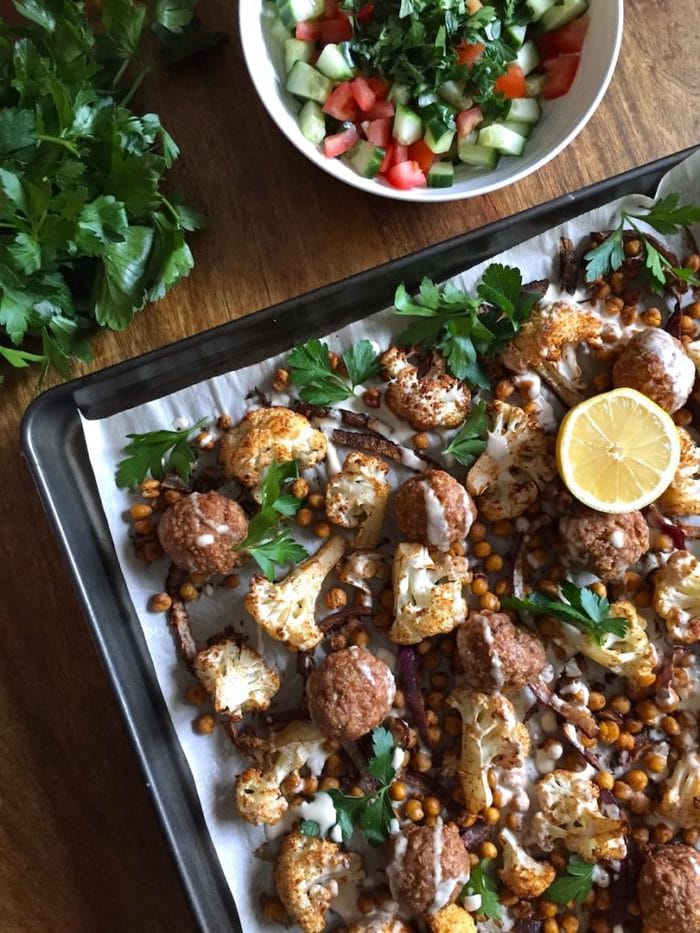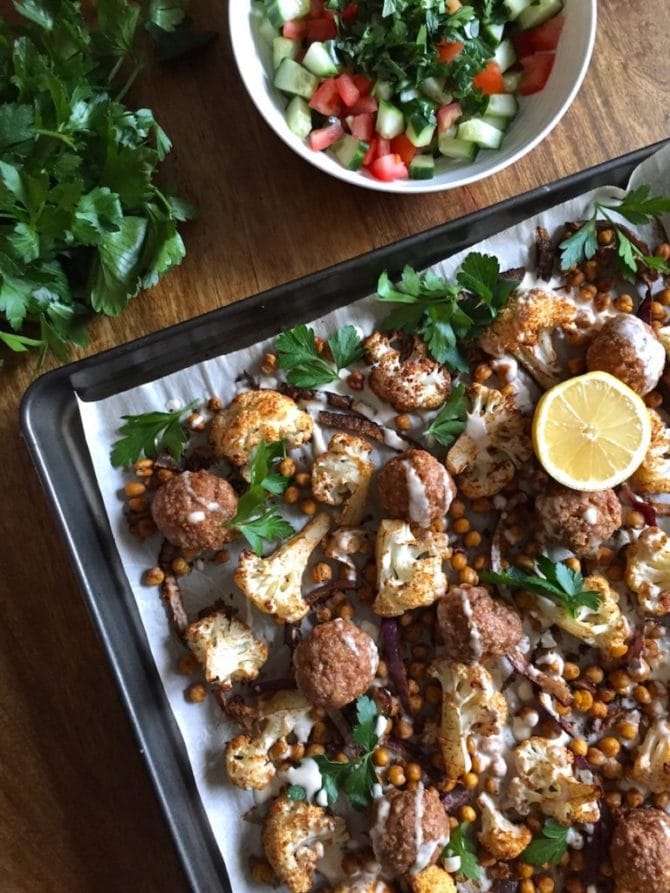 Middle Eastern Turkey Meatballs Sheet Pan Dinner by How To Eat – You know I'm obsessed with Middle Eastern food. Cannot wait to make this sheet pan dinner!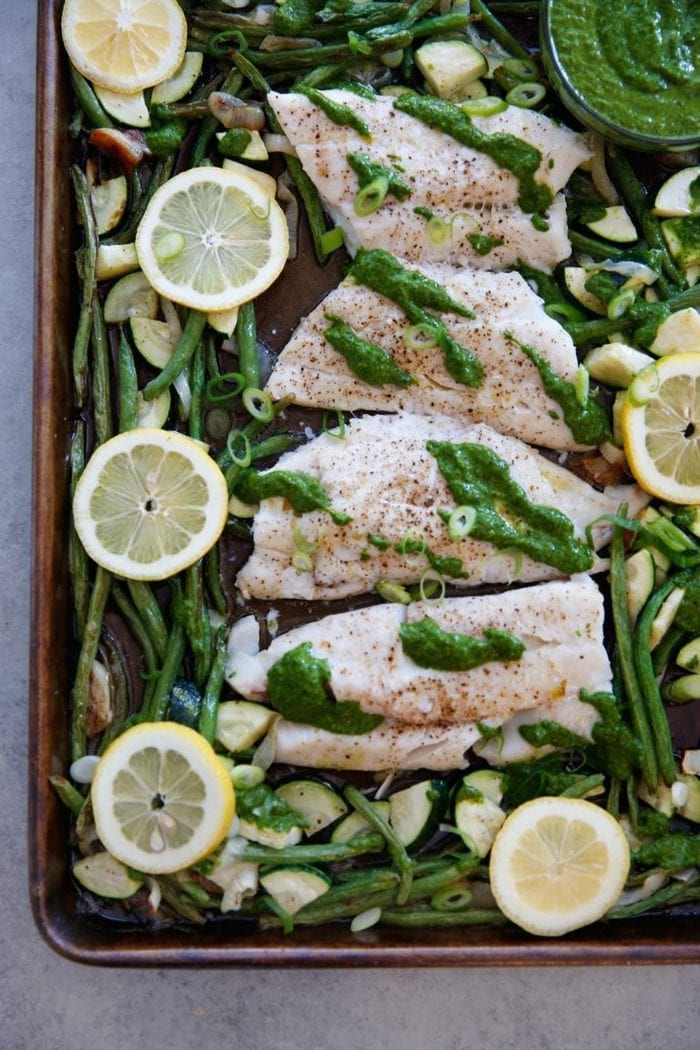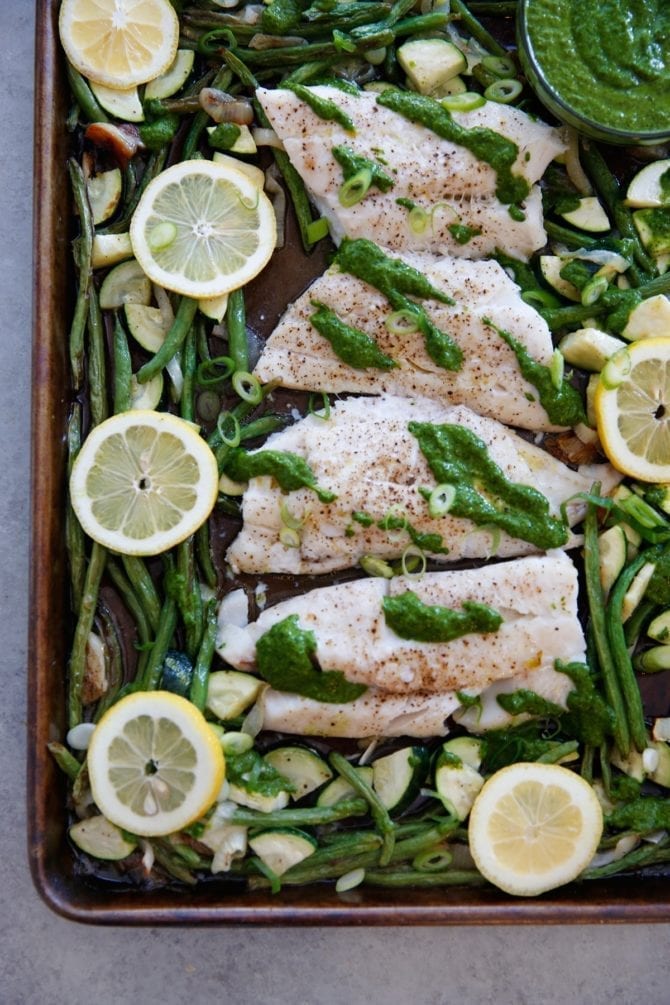 Sheet Pan Cod with Vegetables in Lemon Herb Sauce by Lexi's Clean Kitchen – I've been trying to incorporate more fish in my diet so this meal will definitely be happening soon!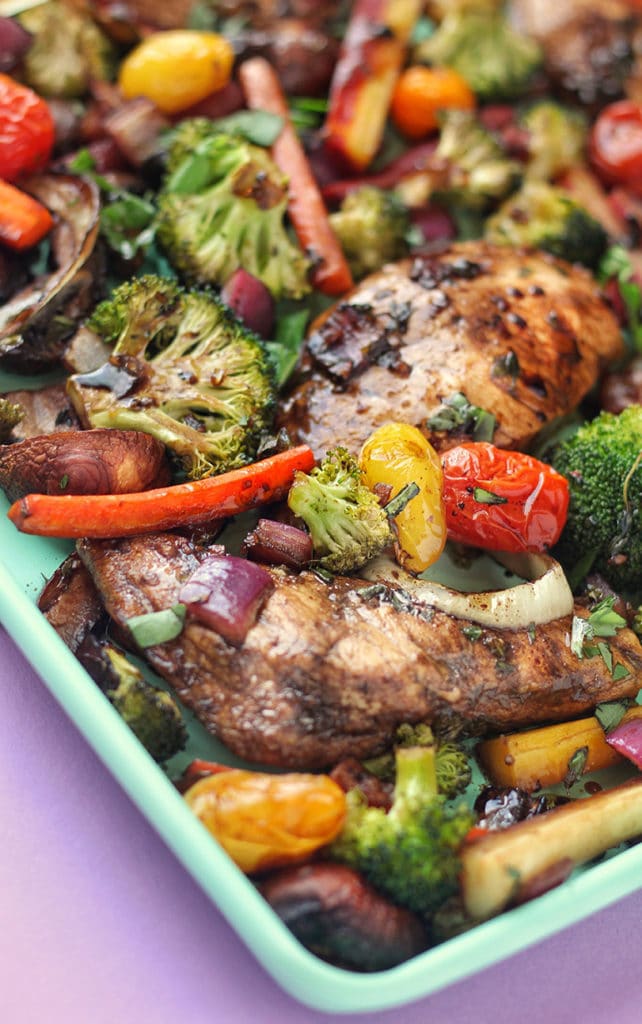 Balsamic Chicken and Veggies Sheet Pan Dinner by Nosh and Nourish – I can see this going into my dinner rotation. Eat this as is, on grains or even on greens!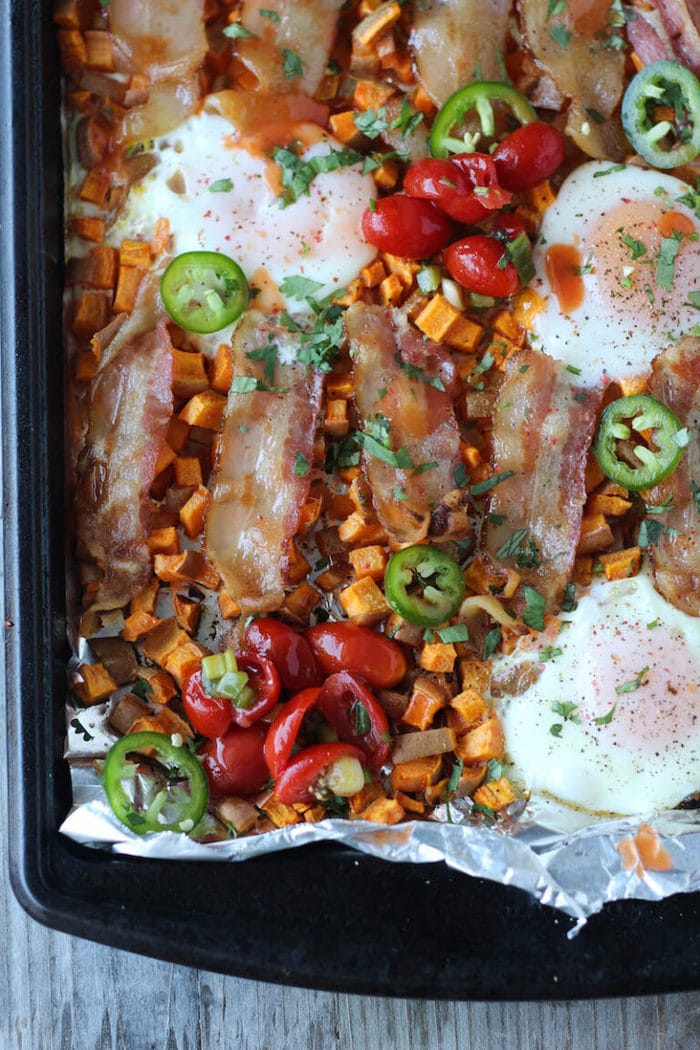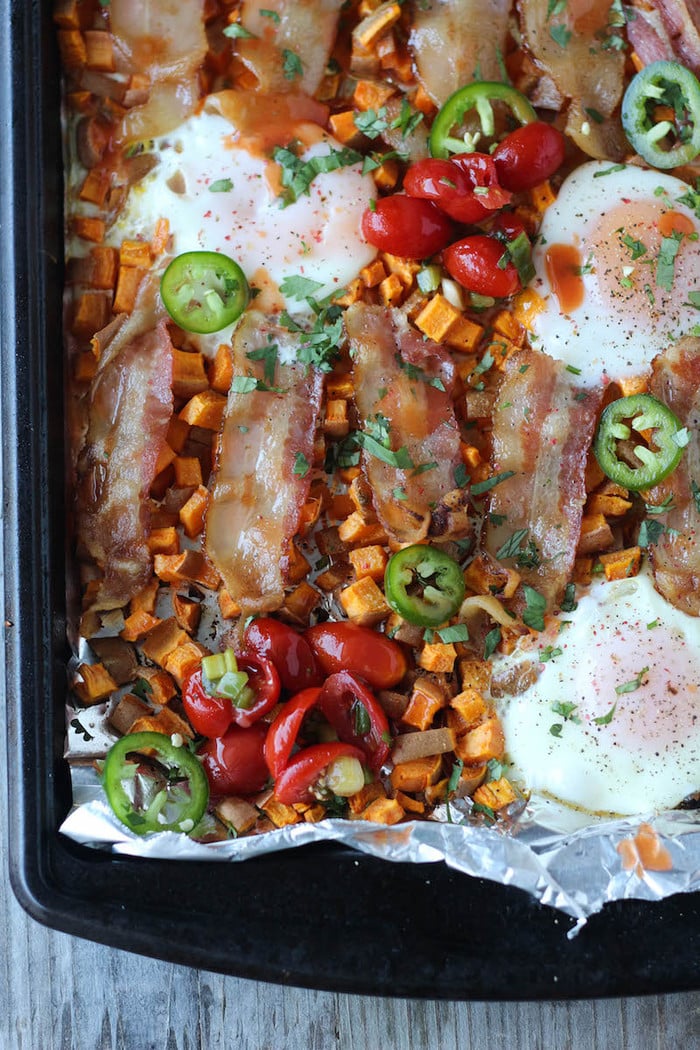 Sheet Pan Breakfast Bake by PaleOMG – Another "brinner" or "breakfast for dinner" option that looks incredible. I love that you can throw everything on one pan and pop it in the oven! So much easier than making breakfast with my usual 13 pans. 😉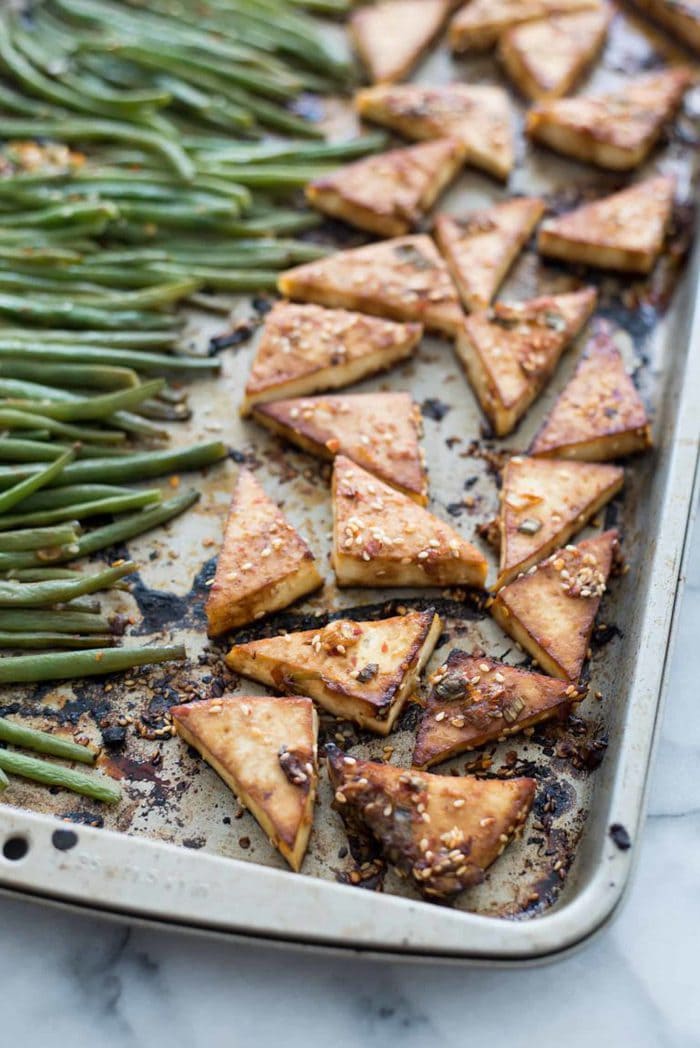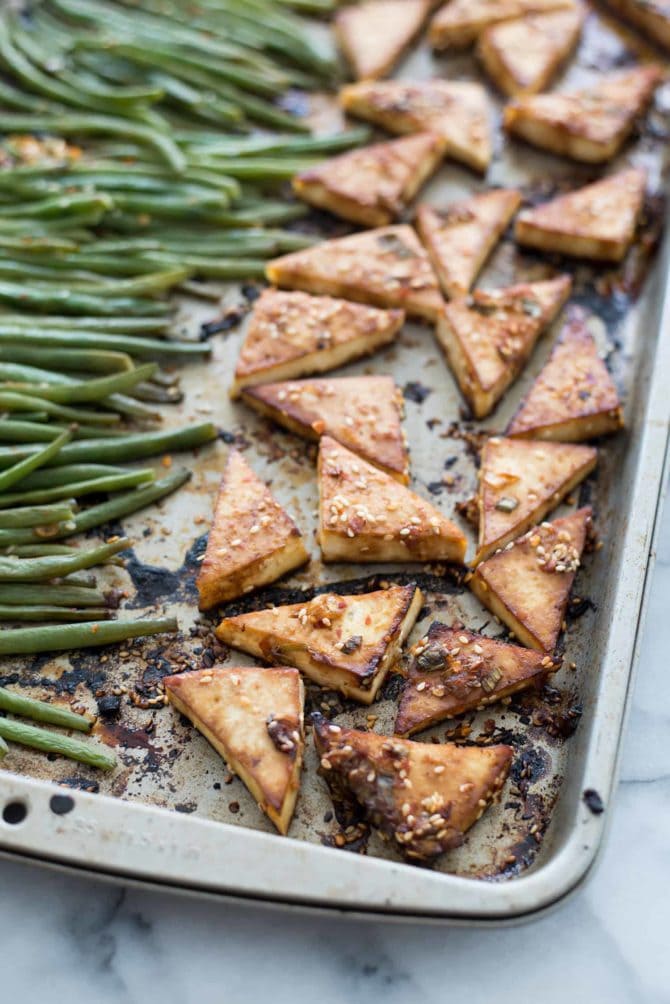 Sheet Pan Spicy Tofu + Green Beans by Delish Knowledge – Spice + tofu is my jam. I would probably eat this over cauliflower rice… looks so delicious!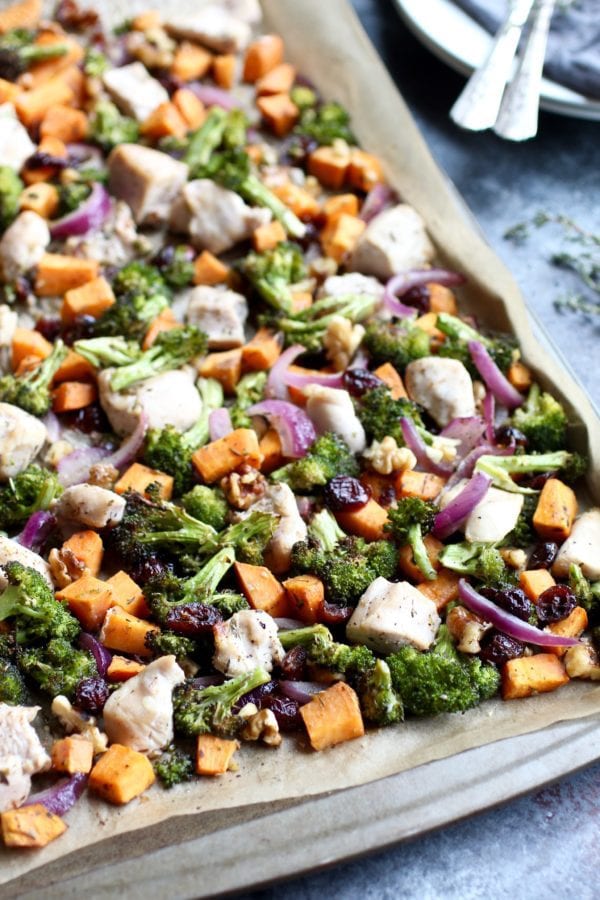 One-Pan Sweet Potato Broccoli Chicken Bake by The Real Food Dietitians – Have you guys roasted your veggies with dried fruit before? For some reason I always forget about the delicious fruit/veggie combo but this is happening ASAP.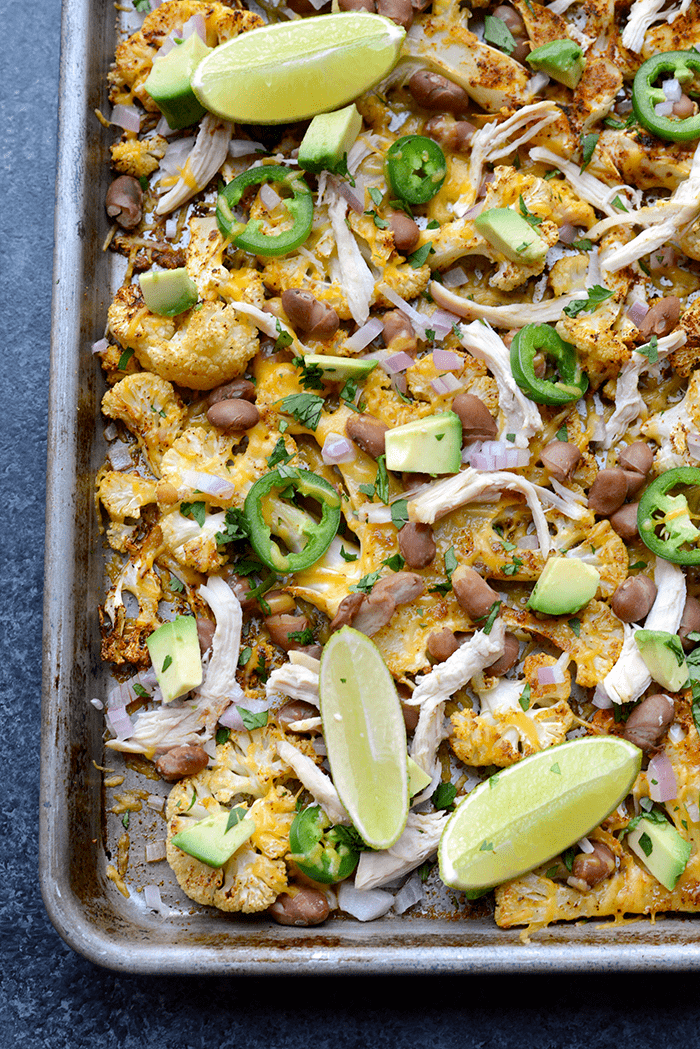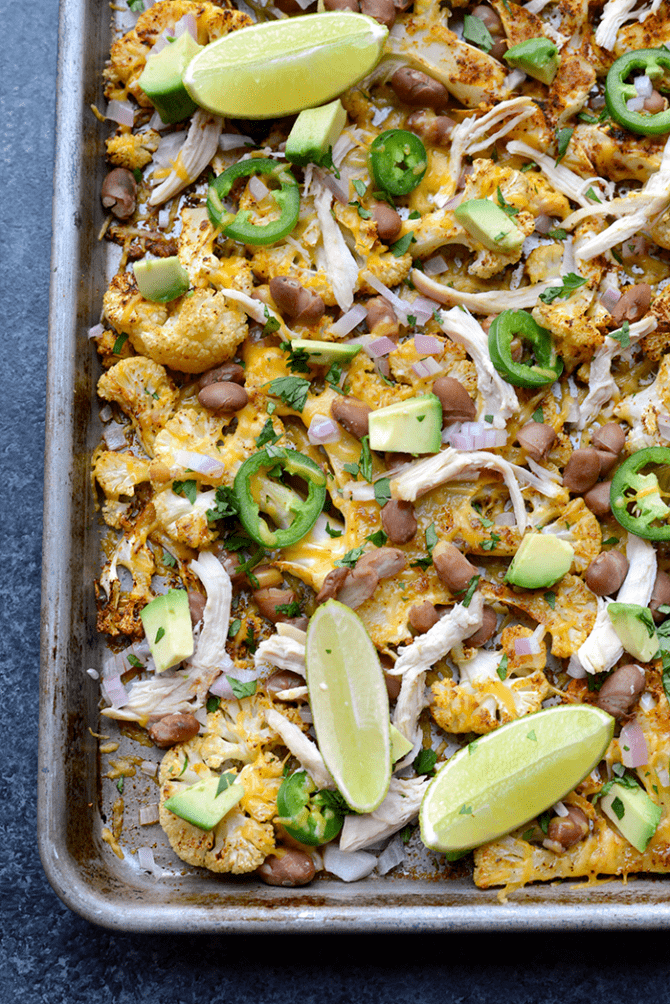 One-Pan Cauliflower Nachos by Fit Foodies Finds – I'm obsessed with this idea of using cauliflower instead of chips for upgraded nachos!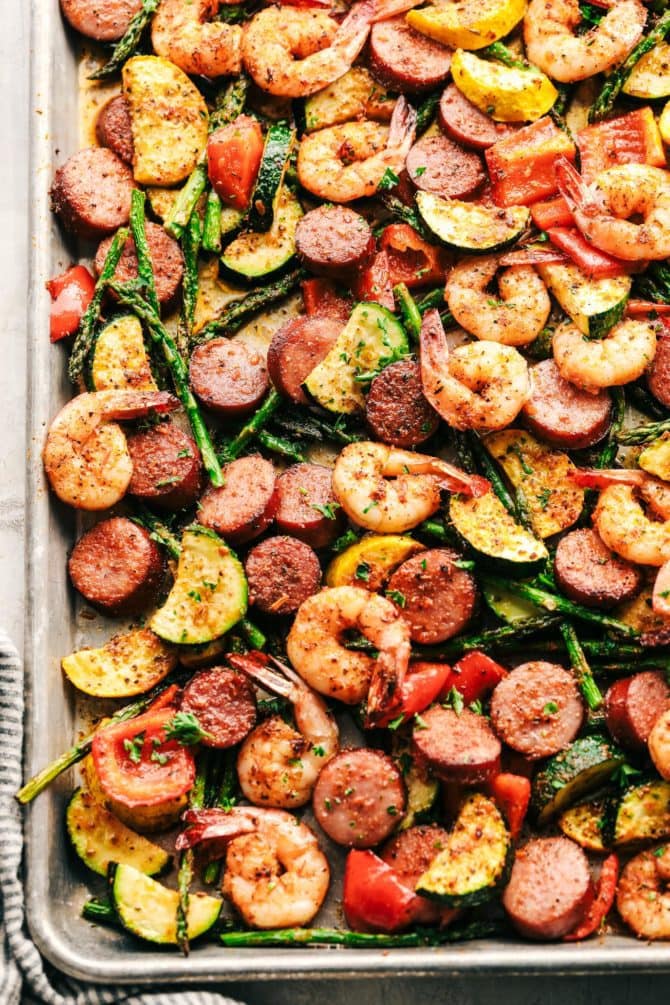 Cajun Shrimp and Sausage Vegetable Sheet Pan by The Recipe Critic – I feel like most cajun recipes are really involved and take a lonngggg time. Not this one! Love the combo of spices and veggies in this dish.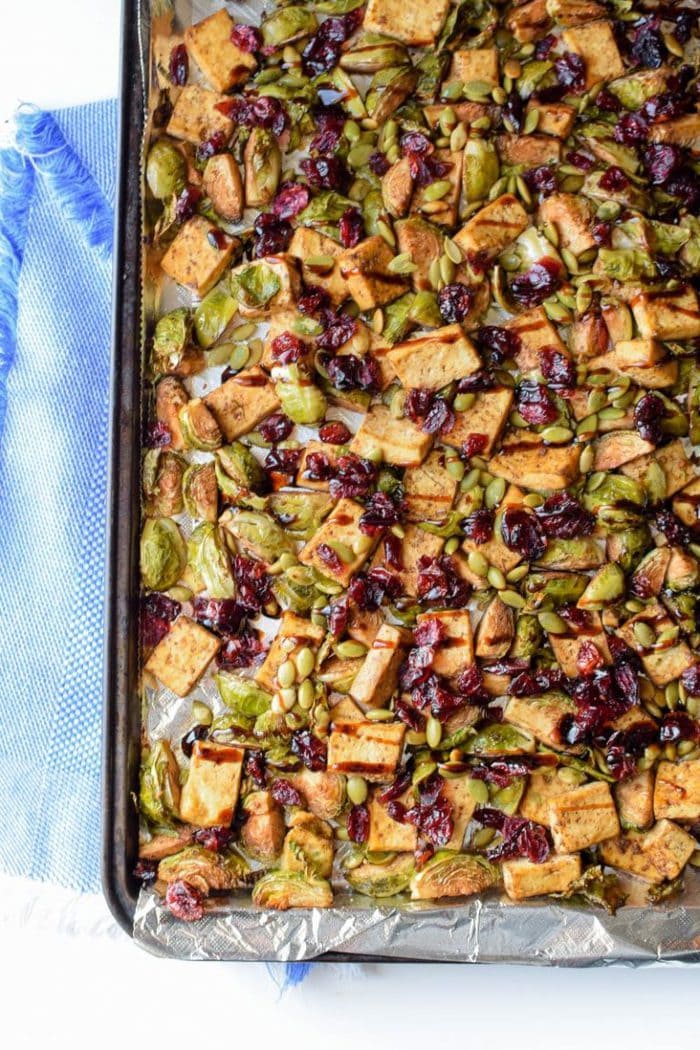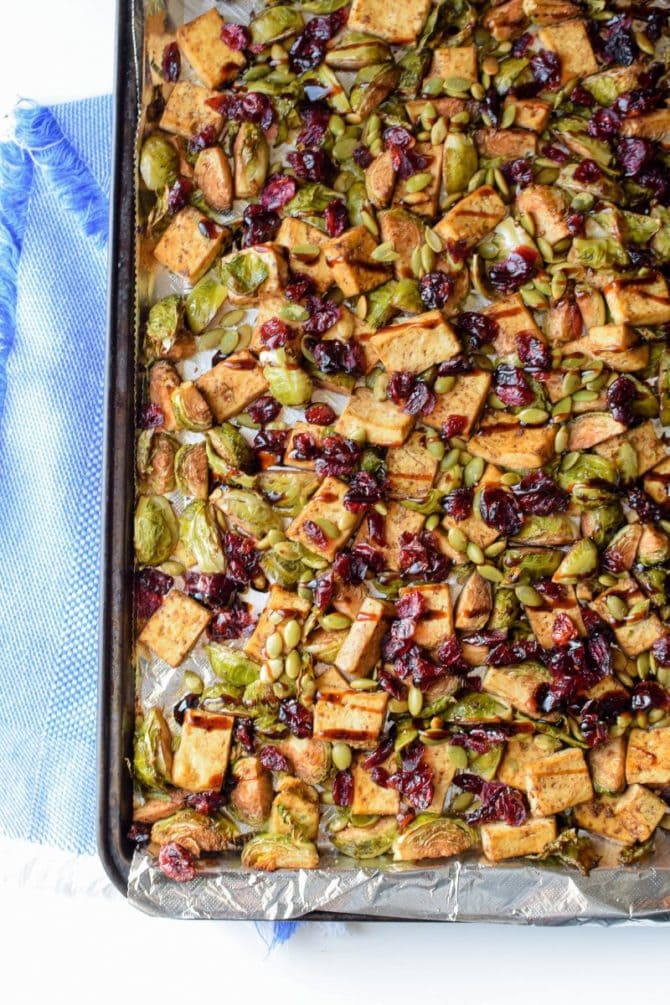 Sheet Pan Garlic Tofu & Brussel Sprouts by Emily Kyle Nutrition – This meal has it all: veggies, fried fruit, seeds, a balsamic glaze. So excited to have this delicious fall dinner!
Do you love sheet pan dinners as much as we do? Have a favorite sheet pan recipe? Please share it below!
SaveSaveSaveSave
This post may include affiliate links. Thank you for your support.