Is there anything better than making an entire meal on one pan? No there is not. I compiled 26 healthy sheet pan dinners that make weeknight meals a breeze!
What is a sheet pan dinner you may ask? The best creation in the food world. Half kidding, but they are pretty incredible! Here's what you need to know about sheet pan dinners:
You'll need a sheet pan.
Nine times out of ten your entire meal goes on that sheet pan.
Meal prep and baking is a breeze.
When the oven timer goes off, your entire meal is ready. WHAT!
I've decided that I need more sheet pan dinners in my life. The best thing about them is obviously that they only use one pan! Team less dishes for life. I also love how the flavors all kind of combine and mesh on the pan… not in a bad way but in a true, put together meal way!
These meals are amazing fresh out of the oven, but really great as leftovers as well. Repurpose as is, eat over grains, eat over greens for an easy meal-sized salad – the options are endless!
Here I'm sharing a few sheet pan recipes I've created but also featuring some of my friends and recipe creator pros in the blogging world!
Sheet Pan Dinners With Chicken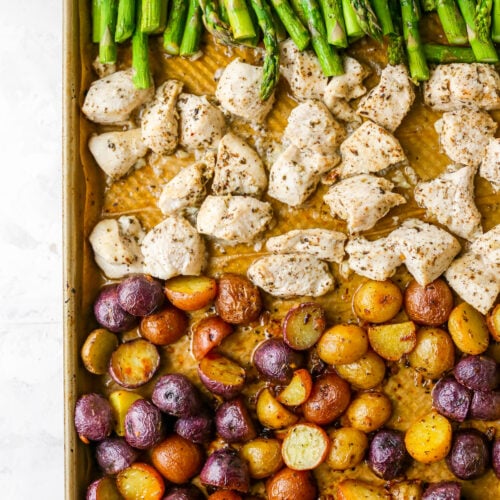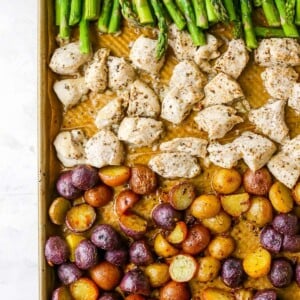 Lemon Garlic Chicken + Veggies Sheet Pan Meal
A quick and easy lemon garlic chicken sheet pan meal that combines chicken, asparagus and potatoes all in a light lemon garlic sauce. Perfect for busy weeknights. Gluten-free + diary-free.
View Recipe
Sheet Pan Dinners with Seafood
Vegetarian Sheet Pan Meals
Sheet Pan Meals with Eggs
Do you love sheet pan dinners as much as we do? Have a favorite sheet pan recipe? Please share it below!
More Collections You Might Enjoy
Love these ideas? Be sure to check out all of the popular dinner recipes on EBF!
SaveSaveSaveSave