This vegan power bowl is loaded with roasted sweet potatoes and kale, spicy chickpeas and a creamy white bean and apple cider vinegar dressing. Recipe from Terra's Kitchen. Vegan + Gluten-free. 
I know you hear me talk about Terra's Kitchen all the time — how I really like the service, their eco-friendly containers, the FOOD and the fact that all of the meals take less than 30 minutes to whip up. But I realized that I've never actually shared any of the recipes with you. So today I'm sharing one of my recent favorites so you can get a taste (pun intended) of Terra's Kitchen.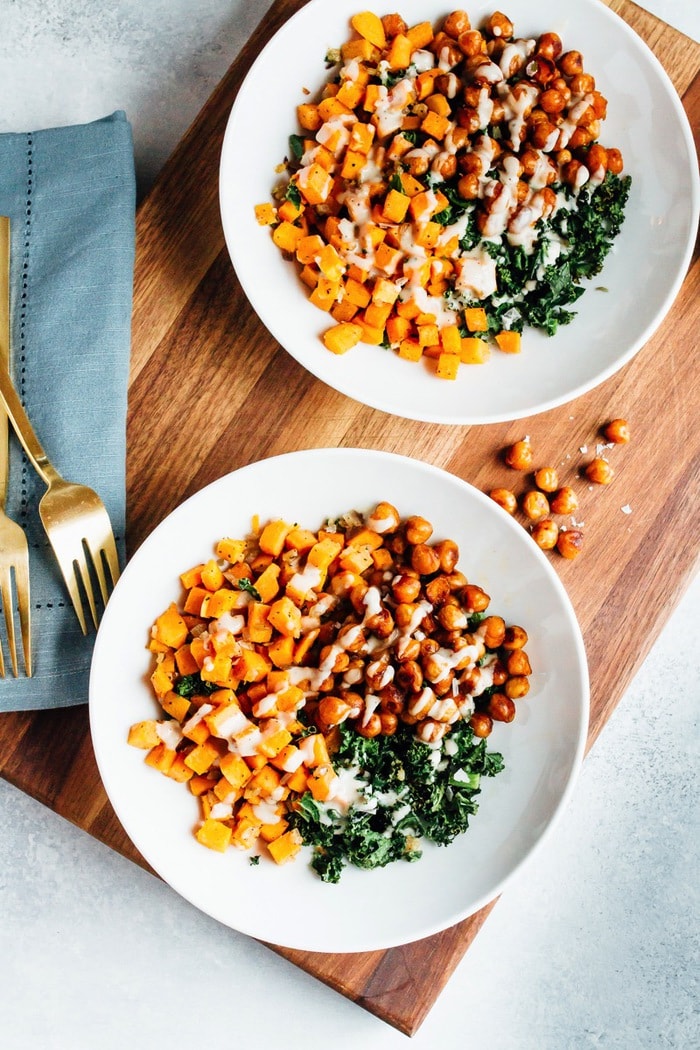 Full disclosure, this post isn't sponsored, but I am partnering with Terra's Kitchen this year. The partnership came out of my love for their service, which I've been using semi-regularly for about a year now. (Read my first review here.) Although some of my weekly deliveries have been complimentary as part of our partnership, there have been times where I have paid for the service myself and I truly do enjoy the service and feel like it's worth the cost. If I didn't I wouldn't be working with them. You all know I only work with brands I love, but I just thought I would mention it again. 🙂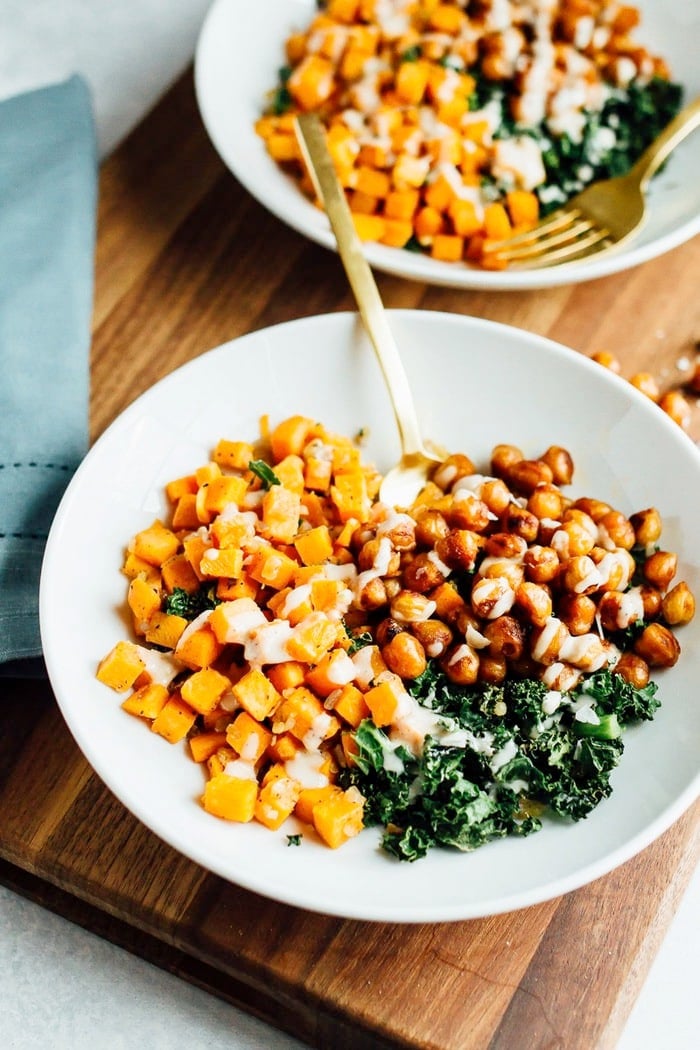 Alright, so let's talk about this vegan power bowl! I was immediately drawn to it when placing my order because it reminded me of my kale and sweet potato brown rice bowls. For me anything with roasted sweet potatoes and kale = LOVE.
The bowls are definitely similar ingredient-wise, but the flavor, cooking preparations and dressing make vegan power bowl super unique. I've found this to be true with most of the Terra's Kitchen recipes we've tried. They use simple ingredients, but cook or combine them in a way that's creative. With every meal I find myself learning something (a new flavor pairing or cooking idea), which is really fun for someone who spends a ton of time in the kitchen. With this bowl I learned that white beans make such a creamy and delicious sauce and that browning chickpeas in a skillet with brown sugar makes them crazy good.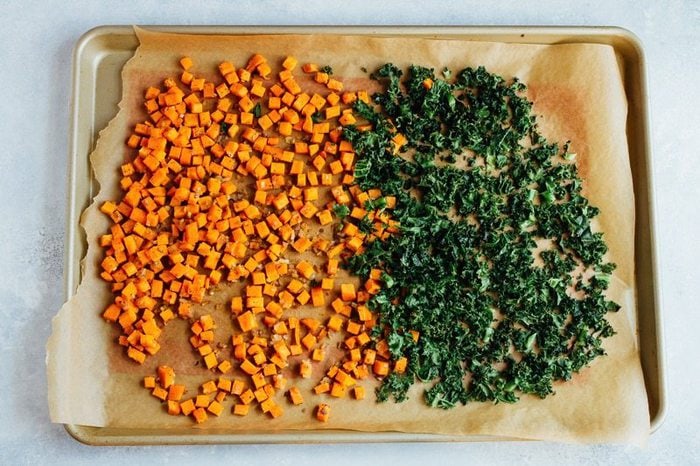 Fun facts about this recipe:
The kale and sweet potatoes are roasted on the same pan to save on time and clean up. Plus, the kale gets crispy, almost like kale chips.
The dressing is made from white beans and apple cider vinegar so it's super creamy with a subtle flavor. Once blended, you'd never guess that there are white beans in the sauce.
The chickpeas are sautéed with a little brown sugar, chili powder, salt and pepper. It gives them a marvelous semi-crunchy texture and a sweet and spicy flavor.
You can turn the recipe into a meal prep bowl. See how I did it here.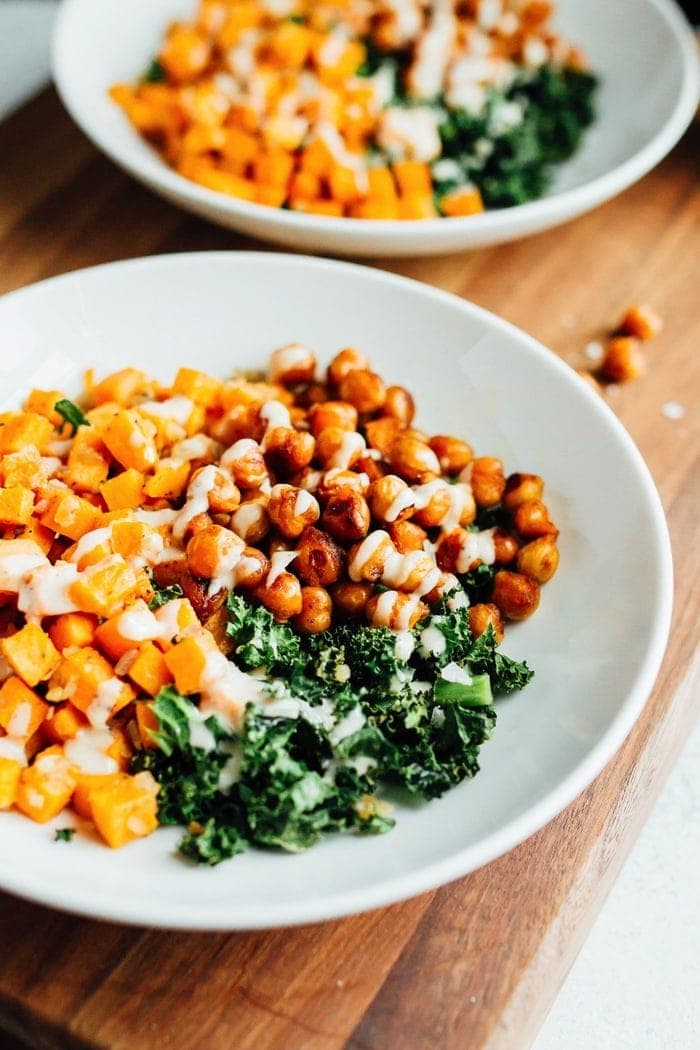 I hope you enjoy this vegan power bowl as much as we do. Just remember that when you order the meal with Terra's Kitchen, all the ingredients are chopped and prepped, saving you a ton of time. That said, making this recipe from scratch will probably take a little longer than 30 minutes. I'll also note that I've had some of the white bean dressing left over every time I've made this. I recommend saving the leftover dressing in the fridge and using it over a salad or another roasted vegetable dish.
Print
---
Description
This vegan power bowl is loaded with roasted sweet potatoes and kale, spicy chickpeas and a creamy white bean and apple cider vinegar dressing.
---
Scale
Ingredients
3 tablespoon

s +

2 teaspoon

s olive oil, divided

1/4 teaspoon

cumin

1

lb sweet potato, peeled and chopped into chunks

3 oz

chopped curly kale

1/4 cup

diced red onion

3/4 cup

canned chickpeas

1/2 Tablespoon

brown sugar

1/2 teaspoon

chili powder

3/4 cup

cannellini beans

1 Tablespoon

apple cider vinegar

1/2 teaspoon

ground pepper, divided

1 1/4 teaspoon

sea salt, divided
---
Instructions
Preheat oven to 400° F. Line a baking sheet with foil or parchment.
Prep Vegetables: Chop sweet potatoes and kale.
Roast Vegetables: Spread sweet potatoes and onion onto the baking sheet and toss with 1 tablespoon of olive oil, ½ teaspoon salt, ¼ teaspoon pepper and ¼ teaspoon cumin. Spread out in an even layer and roast for 10 minutes. Use a spatula to flip over and push to one side of the tray. Add kale to the empty side of the baking sheet and drizzle with 2 teaspoons olive oil and a pinch of salt and pepper. Roast for 10 minutes more.
While vegetables are roasting, heat a skillet (we like cast iron) to medium.
Season Chickpeas: Add the chickpeas to a mixing bowl with the brown sugar, ½ teaspoon chili powder, ¼ teaspoon salt and a pinch of pepper. Use your hands to coat the chickpeas well.
Cook Chickpeas: Add 1 tablespoon olive oil to the hot skillet. When oil starts to shimmer, add seasoned chickpeas and cook, stirring occasionally, until browned (about 8 minutes). Note: Don't be alarmed if they look like they are burning…they aren't!
Make dressing: Into a blender, add beans, 2 tablespoons warm water, 1 Tablespoon apple cider vinegar, 1 Tablespoon olive oil, ½ teaspoon salt, ¼ teaspoon pepper and a pinch of ground cumin if desired. Blend until smooth and creamy. Add more water if necessary for a thinner dressing.
To Serve: Divide roasted vegetables between two bowls, top with chickpeas and drizzle with dressing (or serve dressing on the side).
---
---
Notes
Recipe from Terra's Kitchen.
---
Nutrition
Serving Size:

1 bowl

Calories:

585

Sugar:

15g

Fat:

27g

Carbohydrates:

80g

Fiber:

19g

Protein:

14g


Love this recipe and interested in giving Terra's Kitchen a try? Use code BIRDFOOD for $30 off your first order!