Falafel Bowls (Homemade Cava Bowls)
15
Published Jun 07, 2019, Updated Apr 06, 2023
Inspired by Cava Grill, these falafel bowls are loaded with all your favorite Mediterranean toppings including hummus, tzatziki, feta, and tahini.
Have you ever had falafel? I will be 100% honest and say that I never tried falafel (or hummus) before college. Crazy, right?!
Isaac is Jewish so naturally, he grew up eating this kind of stuff and quickly introduced me to both falafel and hummus once we started dating. I distinctly remember the first time he made hummus for me in college… using a boxed mix that you just add water and olive oil to… long before hummus was in every grocery store! It was warm and creamy and unlike anything I'd ever tasted.
And that's when we fell in love… j/k that came a little later.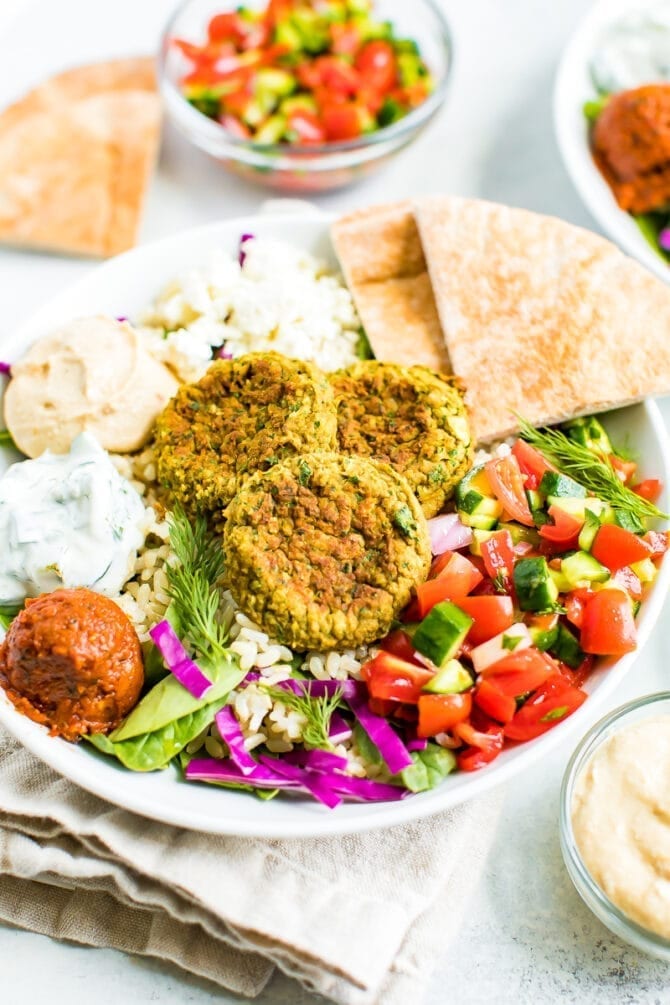 I started to enjoy Middle Eastern/Mediterranean food the more Isaac introduced me to things, but it wasn't until our trip to Israel that I became totally hooked and started really experimenting on my own. The first thing I shared was an Israeli salad and then I went on to make homemade baked falafel. Since then I've added a few more Mediterranean basics to EBF, like homemade baked pita chips and homemade tzatziki sauce. As you'll see, these falafel bowls put all of these recipes to good use!
This plant-based meal is one of our new go-to's. It includes a base of baby spinach, brown rice, purple cabbage, baked falafel, and a variety of delicious sauces to top it all off.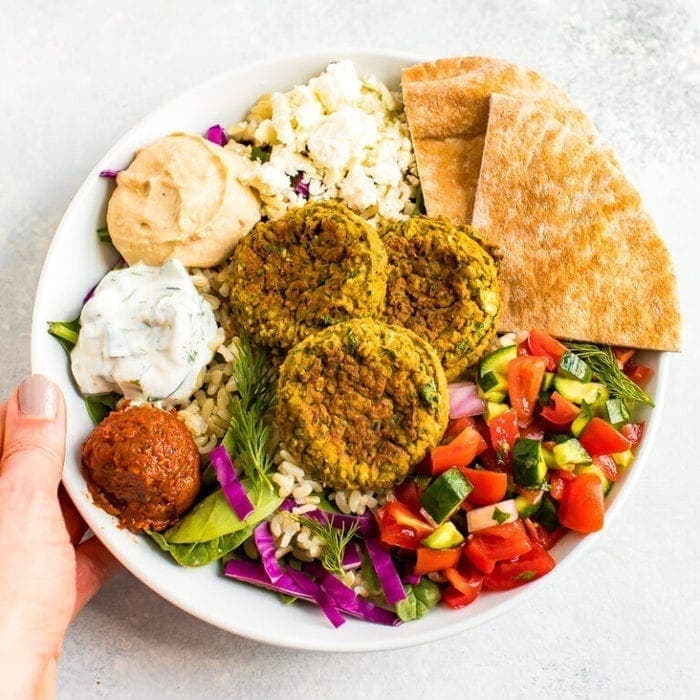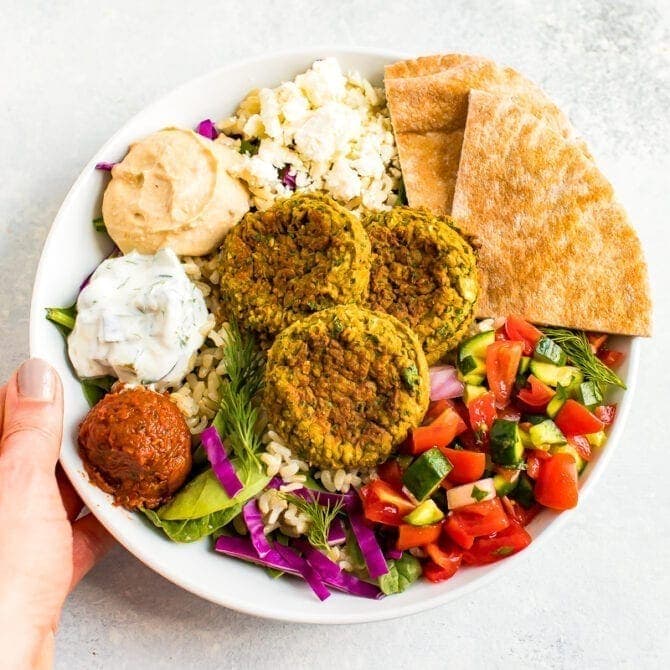 What is Falafel Made of?
The short answer? Chickpeas! The long answer? I like to make my falafel with chickpeas, chopped onions, fresh garlic, fresh parsley, lemon juice, and a variety of spices. The end result is a high protein, vegetarian, flavor bomb!
What Should I Serve With Falafel?
There are soooo many options when it comes to serving falafel! You can obviously make this delicious falafel bowl, you can eat falafel on their own, eat them with hummus or tahini sauce, in a pita sandwich, on top of a salad… see I told you the options were endless.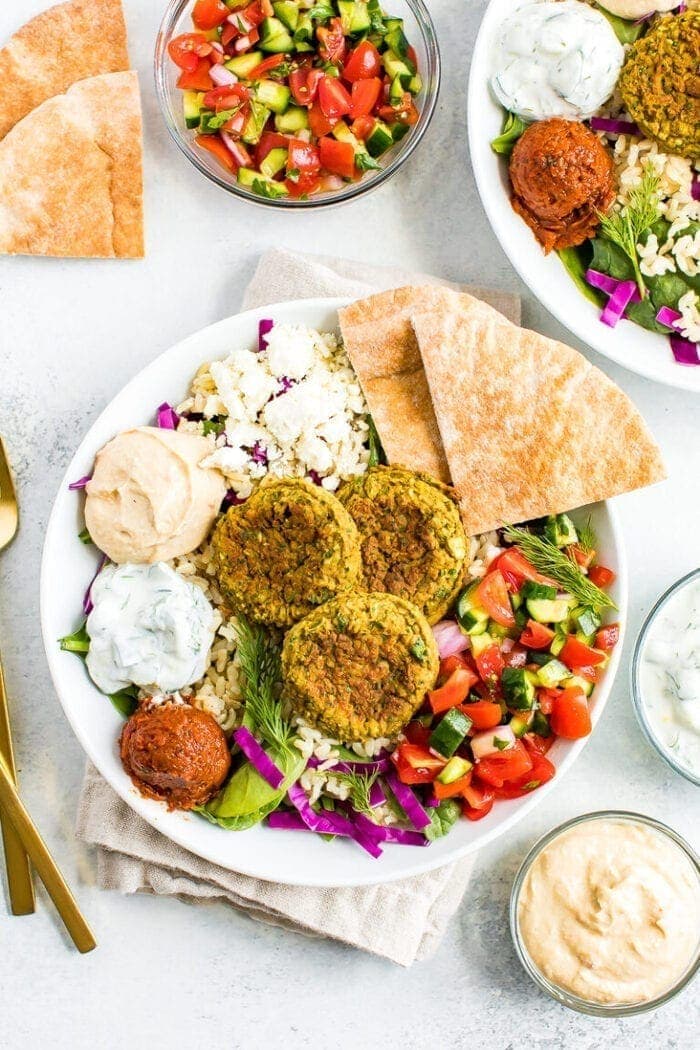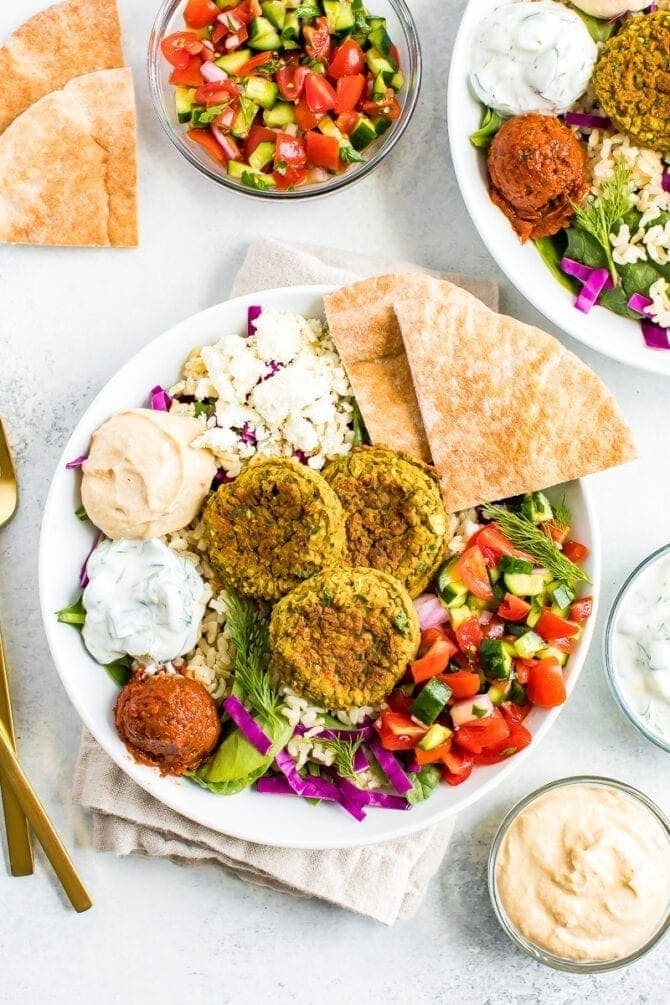 How to Make a Falafel Bowl
Start by prepping all of the components in advance. I like to meal prep a lot of the components on Sunday so I can quickly make the bowls for lunch or dinner throughout the week. Feel free to prep the falafel, Israeli salad, hummus, tzatziki, and tahini dressing ahead of time if you want!
Now comes the fun part: putting it all together! Start by adding baby spinach, brown rice, and cabbage to the bowl – you can layer this, mix it, or arrange it for a pretty Instagram picture. 😉 Top each bowl with falafel patties, Israeli salad, hummus, tzatziki, harissa, feta, and pickled onions. These bowls almost don't even need a dressing because all of the toppings are so flavorful and act as a dressing, but I love my zesty tahini dressing and highly recommend making a batch to serve on the side with these bowls! New favorite meal = done and done.
Falafel Bowl Shortcuts
Another option is to buy store-bought toppings instead of making your own. Store-bought hummus and tzatziki are great options if you're short on time. I was inspired by Cava for these bowls and they actually make a ton of their toppings and sell them at Whole Foods, including their hummus, tzatziki, and harissa.
Cooking brown rice is super easy, but in a pinch, I'll pick up frozen brown rice from Trader Joe's or Whole Foods. It cooks up in 3 minutes and is a total time-saver for busy weeknights.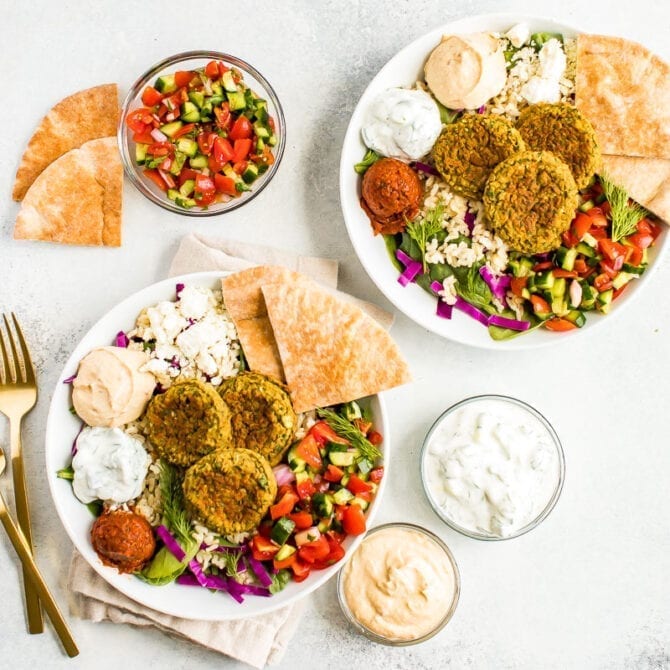 More Middle Eastern Recipes
More Bowl Recipes to Try
Be sure to check out all of the vegan recipes as well as the full collection of dinner recipes on EBF!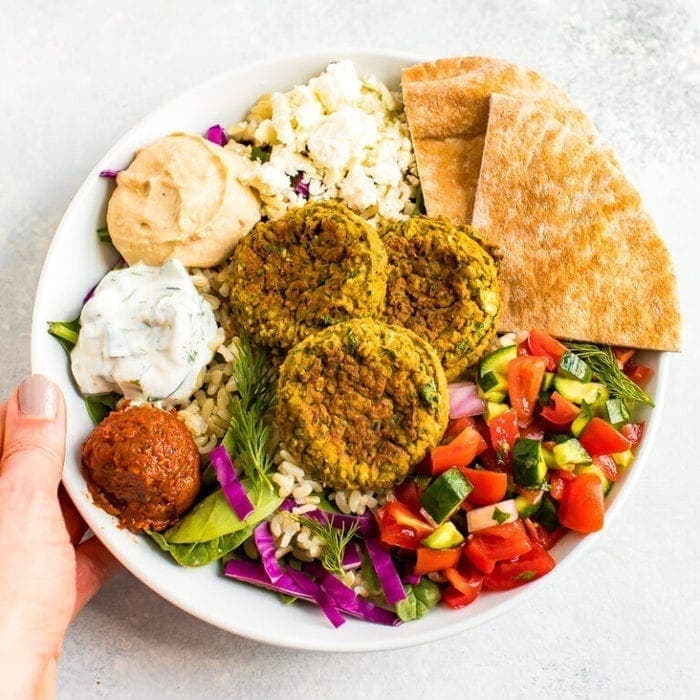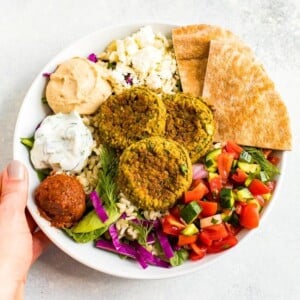 Falafel Bowls (Homemade Cava Bowls)
A plant-based Mediterranean meal that you can prep ahead of time for delicious meals all week long. 
Instructions
Prep all falafel, Israeli salad, hummus, tzatziki, and tahini dressing by following linked recipes.

Combine bowls by adding 1 cup chopped baby spinach, 1/2 cup brown rice, and 1/4 cup chopped purple cabbage to each bowl.

Top each bowl with 3-4 baked falafel patties, 1/2 cup Israeli salad, 2 Tablespoons hummus, 2 Tablespoons tzatziki, 1 Tablespoon harissa, 1 Tablespoon feta and pickled onions, if using. Serve bowls with zesty tahini dressing on the side so each person can add the dressing to taste.

Serve with a side of fresh pita bread or baked pita chips.
Notes
Harissa is super spicy and might be hard to find. If you don't like spicy foods or can't find it, simply omit it from the recipe.
If you want more protein, my apple cider vinegar chicken would be an awesome addition!
Nutrition
Serving:
1
/4 of recipe
|
Calories:
535
kcal
|
Carbohydrates:
58
g
|
Protein:
20
g
|
Fat:
29
g
|
Fiber:
14
g
|
Sugar:
9
g
Nutrition information is automatically calculated, so should only be used as an approximation.